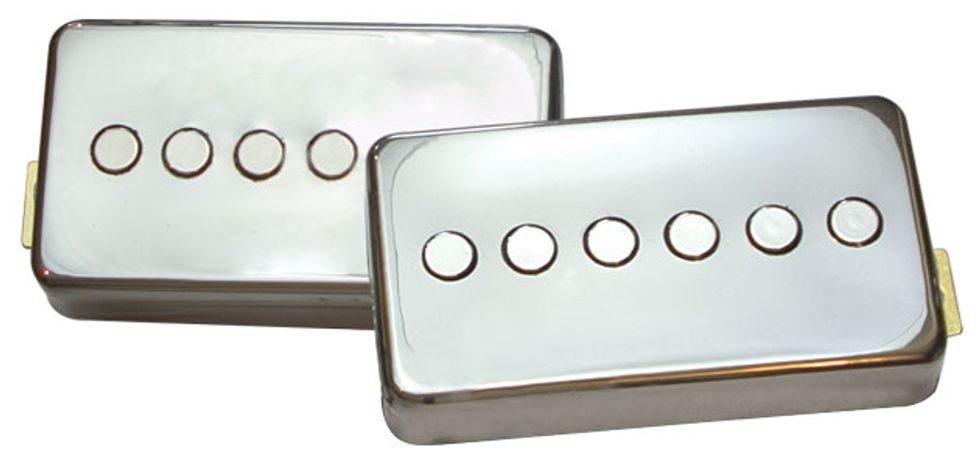 Harmonic Design Z-90 Set
Ratings
Pros:
Fat, aggressive tones. A unique take on a classic design.
Cons:
More muscle and less snap than most P-90s.
Tones:


Versatility:


Build/Design:


Value:


Street:
$100 (each)
Harmonic Design Z-90 set
harmonicdesign.net
Harmonic Design Z-90 Set
You can tell at a glance that Harmonic Design's Z-90 pickups venture farther from vintage P-90 roots than most of the models in our roundup. Their covers look like nickel, but they're actually made of plastic. According to Harmonic Design's Scott Petersen, "Metal covers of any type alter the sound of any pickup. We make the thin-wall molded covers because it's the only way to have a pure, sonically transparent cover."
Metal covers do alter a pickup's magnetic field, though there's not much agreement on whether they do so for better or worse. Either way, if you're a player who removes pickup covers, you'll get the same result here without stripping down. That said, the plastic covers are prone to buckling at the edges where they meet their base plates, and given how thin they are, one couldn't be blamed for wondering whether they'll withstand aggressive, Pete Townshend-style playing or multiple installations in different guitars. But once installed, the Z-90s do look nice.
Another Z-90 design departure is the presence of fixed pole pieces in lieu of adjustable screws, and they're extra-large, too—a design that can sometimes enhance bass response. It certainly does here: The Z-90s churn up powerful lows. They're also relatively high output, capable of kicking your amp into overdrive if you want.
But the Z-90s boast more than mere muscle. While they don't have quite the articulate snap of some of the lower-output models in our roundup, they sound open and airy when you pull back the gain, despite that ever-present fatness. If the clean tones of other P-90s are too prickly for your taste, the Z-90s may feel just right.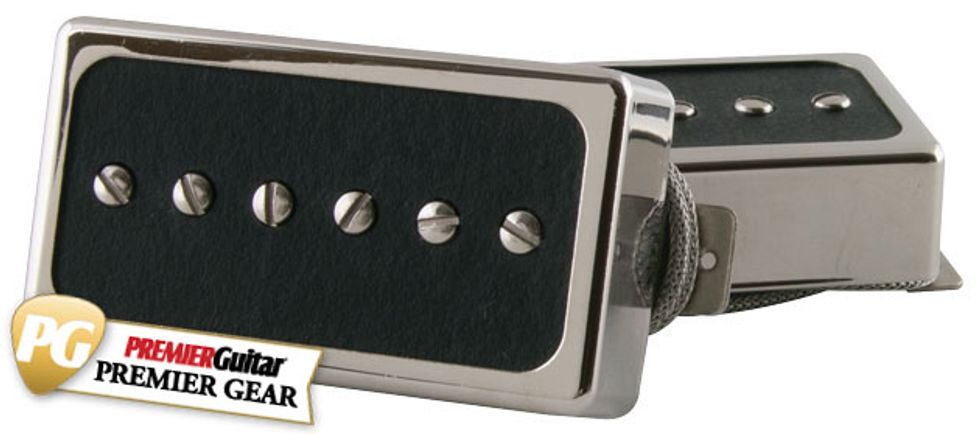 Lollar Single-Coil for Humbucker Set
Ratings
Pros:
Rich, vintage-style tones. Even response. Tons of character. Lovely to look at.
Cons:
Somewhat pricey. Can get boomy when heavily overdriven.
Tones:


Versatility:


Build/Design:


Value:


Street:
$135 (each)
Lollar Single-Coil for Humbucker Set
lollarguitars.com
Lollar Single-Coil for Humbucker Set
With their eye-catching black-and-nickel design and subtle curves, Jason Lollar's take on humbucker-sized P-90s may be the prettiest of our contestants. They're bold pickups with a sophisticated sound. Fatter in the low-mids than most of their rivals, they emphasize warmth and complexity over snappy attack. They're not exactly dark sounding, but they've got an old, vintage vibe—as if the magnets have softened over time.
Lollar P-90s sound smooth and smoky in the best possible way (think well-aged whiskey). They track dynamics superbly—notes never seem to leap out more than intended—and this consistent response will flatter many players.
They're definitely some of the thicker-toned models in our roundup, and they can get a bit boomy when heavily overdriven, but that's nothing a tweak of your amp's bass knob won't fix. The Lollars would be a great choice for brighter-toned guitars. (I'd love to hear it in a Tele.) They're gorgeous pickups, rich in personality and detail.


Seymour Duncan Phat Cat Set
Ratings
Pros:
Clear and bright. Maintain definition when overdriven. Great price.
Cons:
May be too tight and bright for some guitars or players.
Tones:


Versatility:


Build/Design:


Value:


Street:
$79 (each)
Company
seymourduncan.com

Seymour Duncan Phat Cat Set
Duncan's Phat Cats are bright and articulate single-coils that deliver strong note attack, with lots of "stringiness." Chords and single notes snap and pop, making them a great choice for fingerstyle playing, funky rhythm work, country licks, or any other style where clarity is essential.
Despite their modest output and crisp, clean tones, the Phat Cats don't disappoint when overdriven. They don't gush like some of the hotter pickups in this group, but they provide fine high-gain sounds. Even at 11, tones stay focused, with sculpted low mids and tough-edged attacks—enough to convincingly pull off early Sabbath sounds. In fact, despite their name, the Phat Cats bark more than purr.
If your humbucker guitar sounds like it's trying to sing with marbles in its mouth, a set of Duncan Phat Cats will make it spit 'em out, pronto. They excel at styles that demand crisp precision, and they're a fine option for darker-toned guitars. And at $79, they're a good deal.