Hum-Cancelling Humbucker-Sized P-90s
As previously mentioned, humbucker-sized P-90s are structured differently than original P-90s, so it's nearly impossible to make them sound exactly like vintage models. That's even truer when you introduce a second coil. But if your goal is to give a humbucker-routed guitar more snap and sizzle without suffering a single-coil's 60-cycle hum, a P-90-flavored humbuckers may be your solution.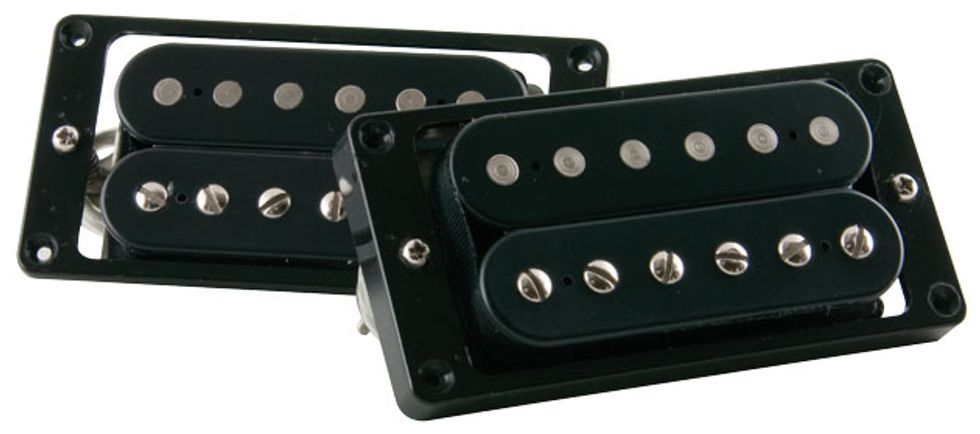 DiMarzio Bluesbucker Set
Ratings
Pros:
Fat, clear tones. Humbucker performance with greater snap and definition. Bargain price.
Cons:
Less vintage P-90 vibe than other models here.
Tones:


Versatility:


Build/Design:


Value:


Street:
$70 (each)
DiMarzio Bluesbucker set
dimarzio.com

DiMarzio Bluesbucker Set
"A humbucker-sized pickup that hums never sounded like fun to us," says DiMarzio's Steve Blucher, which explains why the company's only P-90-sized humbuckers, the Bluesbuckers, look and perform like a conventional humbucker.
With their modern-style ceramic magnets, the Bluesbuckers veer pretty far from the vintage P-90 recipe. Besides being the only models here without alnico magnets, they're also the only pickups in the roundup that aren't available in separate neck- and bridge-position models—that is, the two Bluesbuckers I tested had the same specs.
I suspect the Bluesbuckers' tones are exactly what many humbucker players envision when they contemplate switching to single-coils: Basically, they're humbuckers with uncommonly crisp attack and clear mids. Despite their clarity, they're loud—they want to rock. They're great for those "furry," not-quite-clean tones that are a hallmark of P-90s. But squeaky-clean tones are lovely as well, with none of the nasty glassiness you sometimes get from ceramic magnets. With gain cranked, note attack remains clear and the highs keep ringing. It's a fine compromise between humbucker mass and single-coil clarity.
True to their name, these are excellent blues pickups, though they excel at any style where brightness and definition are needed for both clean and distorted sounds. And they're a steal at $70 apiece.


Lindy Fralin P-92 Set
Ratings
Pros:
Bright, ringing highs. Taut lows. Powerful fundamentals. No hum. Cool look.
Cons:
Somewhat pricey.
Tones:


Versatility:


Build/Design:


Value:


Street:
$140 (each)
Lindy Fralin P-92 Set
fralinpickups.com
Lindy Fralin P-92 Set
The Fralin P-90 in a Humbucker Cover set reviewed earlier in this roundup consists of two true single-coils, but the company also makes humbucking P-92 models. They come in a cool-looking design with offset treble and bass pole pieces. Following Lindy Fralin's recommendation, I installed them with treble pole pieces nearer the bridge.)
The P-92s maintain the superb dynamic response of Fralin's single-coil P-90. When you go from heavy to light playing, you darn well hear the difference! You get similarly powerful fundamentals, especially on the wound strings. With the P-92s in our test Les Paul, you can easily feel like you're hearing a longer-scale instrument.
But the harmonic spectra of Fralin's 90 and 92 models differ substantially. The P-92 has more glassy sparkle on top and thicker low mids. I find the Fralin P-90s a bit more attractive in our test guitar, though I can imagine preferring the P-92s in another instrument. (I suspect these would sound fab in a Tele.) And there's no 60-cycle hum. The sole drawback: At $140 a pop, the P-92s are the priciest pickups here.
Conclusions
After so much P-90 time, you'd think I'd long for a good, old-fashioned humbucker. Nope—I've fallen for these bright, high-impact sounds. The reference recordings of our test guitar's stock '57 Classics strike me as somewhat listless in comparison—and those are perfectly lovely PAF-style humbuckers!
Who's the winner? That's a tough call. Yeah, I know that sounds like wishy-washy guitar-mag speak, but I truly dig aspects of all eight pickup sets. I don't yet own a guitar with humbucker-sized P-90s, but I'm going to get one just for the pleasure of playing some of these inspiring pickups.
Among the higher-priced options, my favorites in our test Les Paul are Fralin's ravishing P-90 in Humbucker Cover set and Lollar's subtle, sophisticated Single-Coil for Humbucker set, though I can easily imagine preferring the Fralin P-92s in a slightly darker guitar, or the smoothly voiced Gibson P-94s in a brighter one.
The three mid-priced models are impressive in different ways. The Harmonic Design Z-90s are big, bold pickups that can still sound refined. The Seymour Duncan Phat Cats win the Good Diction Award—they're second to none in snappy clarity. And the ceramic-magnet DiMarzio Bluesbucker set is an excellent option for players seeking brighter tones and stronger note attack without straying too far from a modern humbucker sensibility.
And the $34 GFS Mean 90s? They don't sound quite as fat or smooth as the pricier competition, but they're shockingly decent sounding, and a great choice for players on a budget.