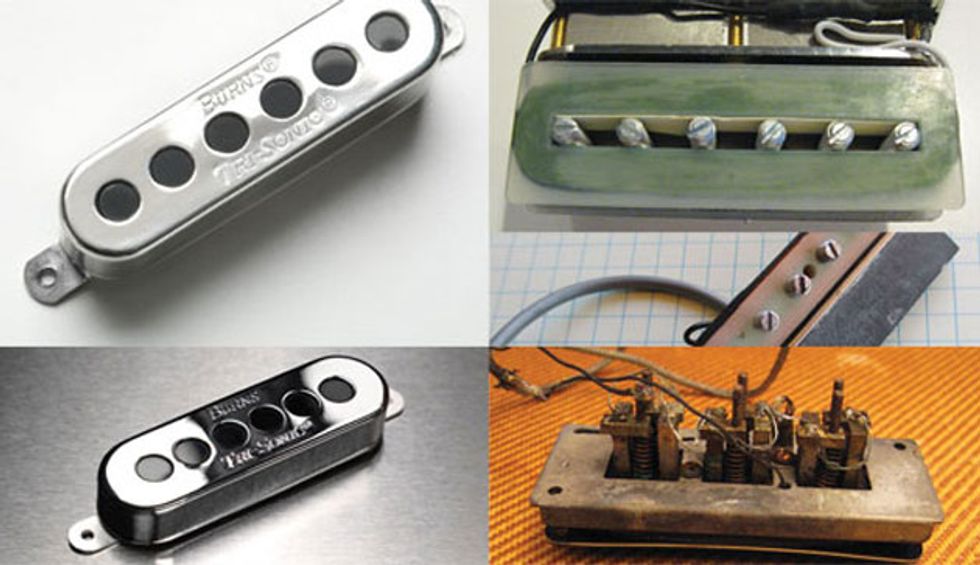 Pickups are simple devices with only a few parts: magnets, wire, bobbins or coil-formers, and mounting hardware. But those parts interact in endlessly complex ways. Even a small change in materials, measurements, or physical layout can have massive effects on tone. Given that, it's hardly surprising that we have so many different pickups to choose from, each with a unique voice.
Yet a few designs tend to command most of our attention. It's no mystery why humbuckers, P-90s, and Fender single-coils are so popular: They sound excellent, perform consistently, and are suitable for many musical styles. But here we'll sidestep those universally admired classics and focus on a half-dozen great-sounding vintage models from the 1950s and '60s that have never quite gotten their due.
"I make a killer Strat pickup, but where's the fun in
doing that all day?" —Curtis Novak

The good news is, originals tend to appear in relatively affordable guitars. Most are also available in historically accurate modern reproductions, thanks to the efforts of manufacturers who love the old designs enough to resurrect them even though they may never be top sellers. As Curtis Novak, one of the experts I spoke to while preparing this story, said: "I make a killer Strat pickup, but where's the fun in doing that all day?"
Pickups appear in alphabetical order, not ranked by coolness. They're all cool.