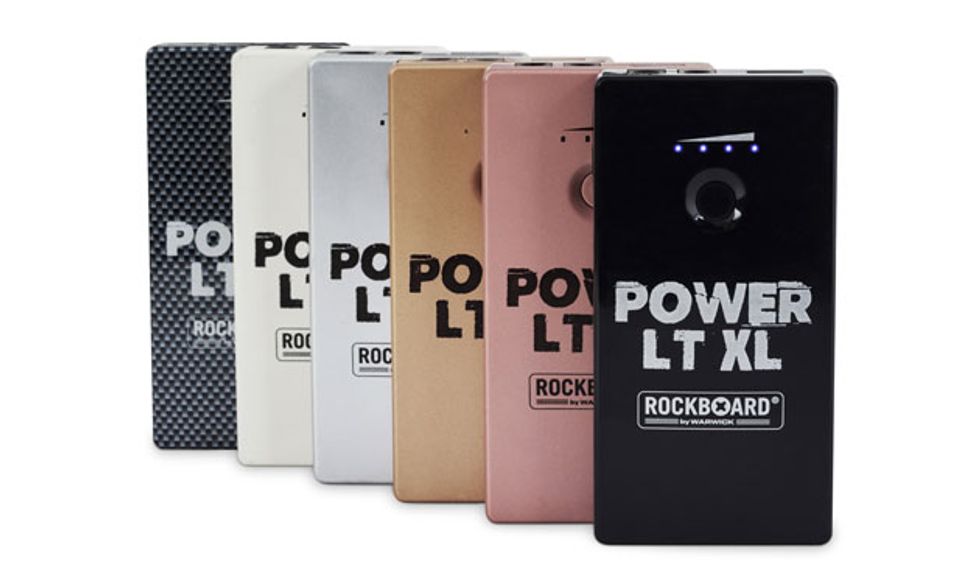 Germany (July 5, 2017) -- The RockBoard Power LT XL has facilitated its mobile power to countless guitarists and bassists worldwide since October 2015. The RockBoard Power LT XL is a mobile, space-saving, lightweight, rechargeable, high-performance, and cost-effective power supply for 9V DC effect pedals with an additional USB port for chaging mobile phones and devices.
No more worrying about your 9V batteries dying mid song. You can also forget about searching for a wall outlet on stage to power your pedal board. The RockBoard Power LT XL is equipped with powerful, long-lasting, rechargeable lithium-ion batteries to supply effects pedals up to approx. 50 hours or more with hum free 9V DC current. Recharge time for the unit is approximately 7 hours.
Musicians aren't the only ones who need RockBoard Power LT XL. It stores enough energy to charge smart devices and mobile phones, etc. via a USB port four to five times before it has to return to the power station itself. The RockBoard Power LT XL can also be charged during use.
The RockBoard by Warwick Power LT XL features charge while playing ability, 2 separate 9V DC outputs, additional USB output (5V) to charge mobile phones and smartphones, input for charger, On/Off Switch and a battery charge level indicator with 4 LEDs.
From the end of July 2017 onwards, this popular mobile power station, (except for Black- available now), will also be available in the following stunning finishes: Carbon, Gold, Rosé Gold, Silver and Satin White. In addition to a new, color tube-style packaging, all RockBoard Power LT XL versions offer a sophisticated update of useful features and practical accessories:
Mobile rechargeable power station for effect pedals
Three high-performance li-ion batteries
6,600 mAh battery capacity
Rechargeable while in use
Can also be used to charge smartphones and other USB devices
ON/OFF button
2 x separate 9V DC outputs, 2,1 x 5,5 mm, polarity (-) center (1,000 mA each)
1 x USB output (5V, 1,000 mA)
1 x micro-USB input (5V, 1,000 mA) for charging
Charge level indicator with 4 LEDs
Incl. power supply/charger (5V, 1,000 mA)
Dual Power, incl. multiple power adapters, for worldwide use
Incl. 1 x USB to micro-USB cable (50 cm)
Incl. 2 x power cables (50 cm)
Incl. 1 x daisy chain cable with 5 outputs (155 cm)
Incl. 5 x plastic caps for covering unused daisy chain outputs
Incl. new user manual
Charging time approx. 7 hrs.
Available in gold, white, black, rose gold, silver and carbon fiber
Dimensions (W x H x D) 115 × 22 x 58 mm
Weight 230 g
For more information:
W Music Distribution