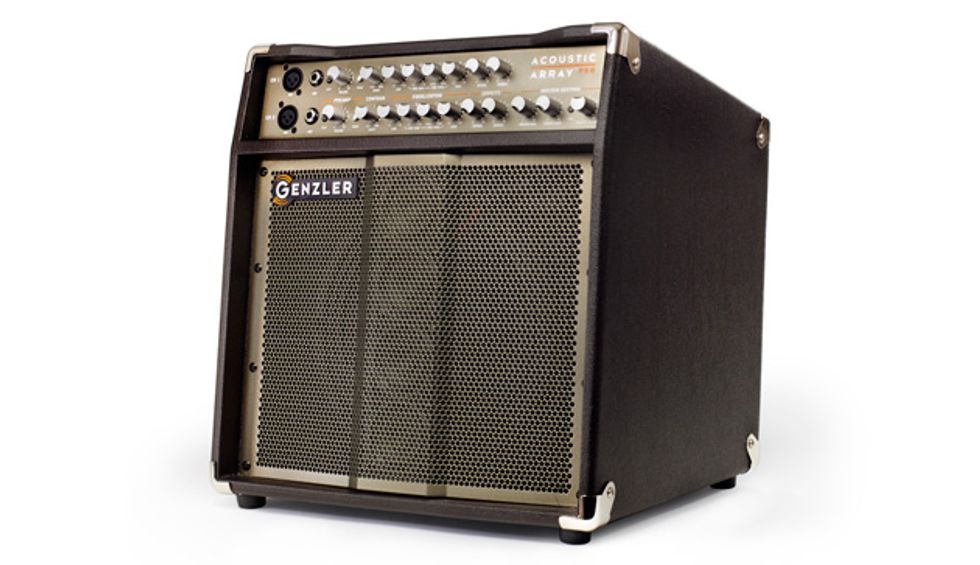 Brooklyn, NY (October 2, 2017) -- Genzler Amplification announces the addition of their first acoustic instrument amplifier to their product line, the Acoustic Array PRO. Building upon years of heritage in innovative acoustic amplification design and build, the Acoustic Array PRO brings a fresh, advanced approach to acoustic guitar amplification.
The AA-PRO offers a full featured preamp design with two identical channels, both with mic and instrument inputs, along with a 150-watt / 300-watt class D power amplifier. The focal point of this lightweight, compact combo is a sophisticated speaker system design. Based upon GENZLER's Bass Array format from their bass guitar cabinets, the AA-PRO speaker system features a 10" woofer in a ported chamber along with the performance and pattern control of a proprietary line array column which is mounted forward of the woofer in the center of the speaker baffle. This line array utilizes 4 custom designed 2.5" neodymium cone-drivers and the placement of the line array provides exceptional clarity and ultra-smooth response, along with broad dispersion and projection. And since there is no tweeter in the design the mid and high frequencies produced by the line array are clear, natural and authentic to the acoustic instrument. The AA-PRO provides excellent reproduction for a variety of acoustic stringed instruments. Other features include:
Mic and Instrument Inputs on Both Channels
Unique Contour Circuitry for Quick and Simple EQ Set-up
Active EQ w/Parametric Mid Control
Digital Effects on Both Channels
High Powered Class D Amplifier Design
Compact, Lightweight, 27 lb. Combo
Full Featured D.I. Interface
Bottom-mounted Stand Adaptor
The blend of this innovative speaker system along with a full featured preamp and amplifier platform offers an acoustic amp like no other. The Acoustic Array PRO is ideal for a variety of acoustic instruments and performance venues. An optional heavy-duty cover will also be offered.
USA Price: $999.99
AVAILABLE: November 2017
For more information:
Genzler Amplification