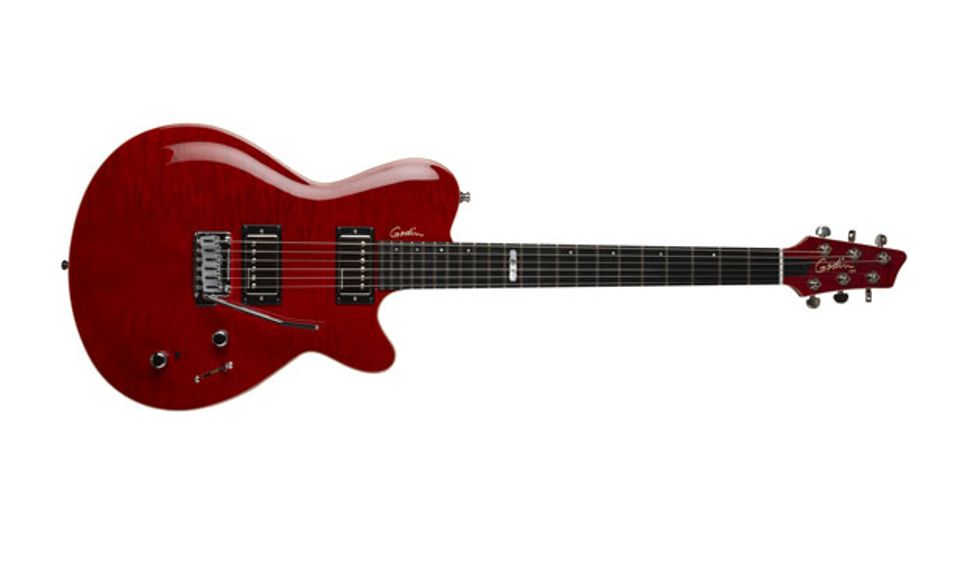 Montreal, QC (January 17, 2019) -- Godin Guitars is proud to unveil the Daryl Stuermer DS-1 Signature Edition guitar at the 2019 Winter NAMM show. Built to the legendary guitarist's specifications, the DS-1 comes with plenty of rocking tonal possibilities, thanks to a Seymour Duncan Jazz SH-2 neck pickup and a Seymour Duncan Custom/Custom SH-11P in the bridge. A 5-way switch ensures a variety of tonal possibilities between the pickups.
The long time Phil Collins guitarist's model comes standard with a Canadian Laurentian Basswood body with a AA Flame Top in a high-gloss Trans Red finish. Other notables include a 25.5" scale length, Richlite fingerboard, Godin Tru Loc Tremolo system, and the Godin High Definition Revoicer - which conveniently changes the EQ curve of the pickups at the press of a button.
Winter NAMM show attendees will have the opportunity to experience the DS-1 before it hits the retail market post-NAMM.
Godin Daryl Stuermer DS-1 Signature Edition ($1,650.00 USD street price)
For more information:
Godin Guitars