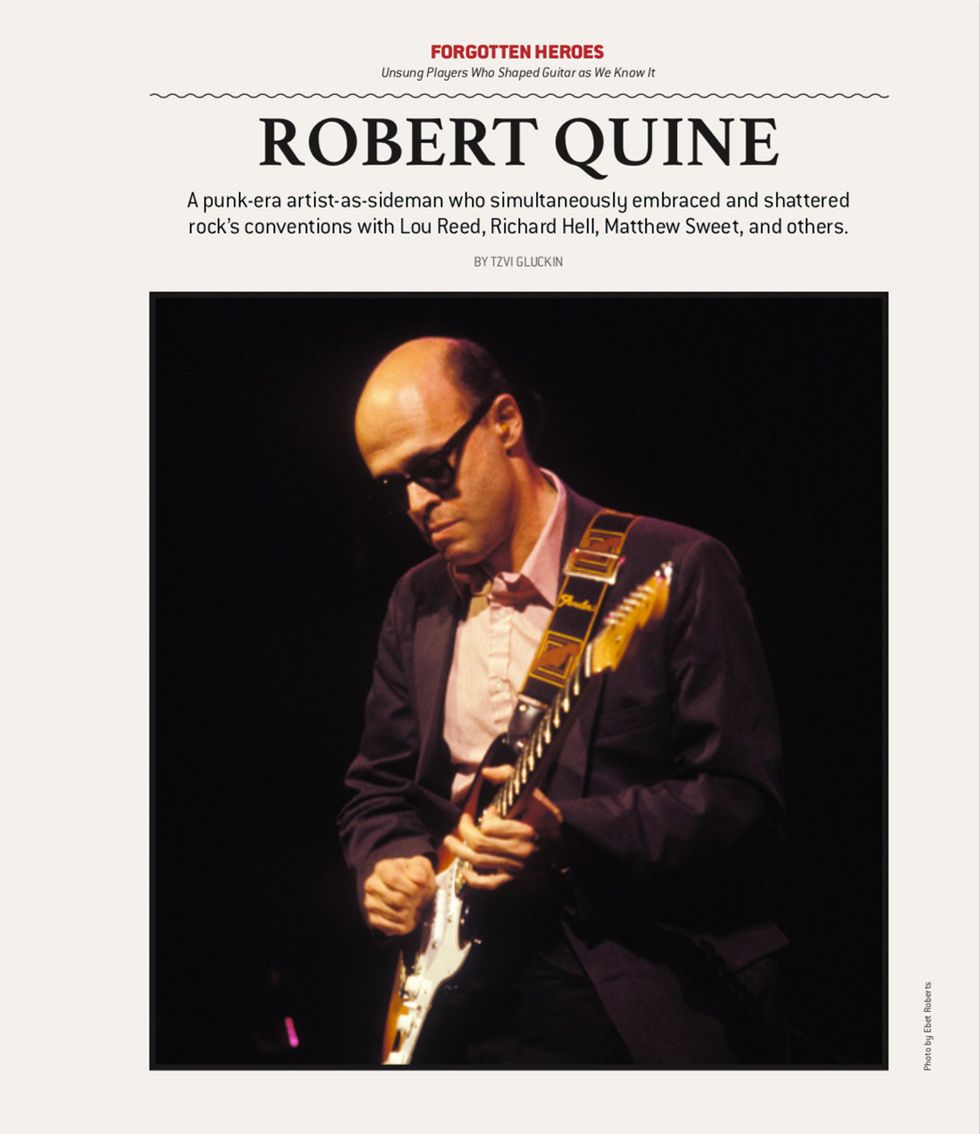 Robert Quine owned a variety of guitars, but his stage favorites were Stratocasters and Telecasters, and in his historic roles with Richard Hell and Lou Reed, he almost exclusively played Strats onstage. Photo by Ebet Roberts
Much has been written about New York City's late-'70s punk scene. The term "punk" was coined by critics and applied to a disparate collection of artists working at CBGB, a grimy hole-in-the-wall on the Bowery. It didn't represent a genre as much as a scene, and applied to the lifestyle and fashions of its participants as much as the music. The hype, if you believe it, idealized a raw, visceral return to basics, and implied—at least musically—amateurism and a distinct lack of chops.
Except that wasn't the case.
Whether you're talking about the polyrhythmic complexity of bands like the Talking Heads, the understated virtuosity of Television's Richard Lloyd and Tom Verlaine, or even the deep chops of drummer Marc "Marky Ramone" Bell (Dust, Voidoids, Ramones), the punk scene was a wellspring of talent. Punk's focus, for the most part, was song-centric and eschewed extended jamming, and the scene's musicians prized restraint, as opposed to flash. But ability—despite their short hair, leather, and safety pins—wasn't lacking. They were a reaction to the milquetoast fluff on popular radio (Debbie Boone, the Eagles), and took pains to distinguish themselves as misfits. But even the punks had their outliers, and a prominent delegate was guitarist Robert Quine.
Quine was an idiosyncratic force of nature. He was much older than most of his colleagues, he didn't dress like a punk—he wore sport coats and cheap button-down shirts, and his guitar playing was a synthesis of his eccentric, yet specific, aesthetic. He was a master musician, but he wasn't a jack-of-all-trades, and his instrumental voice was cultivated and singular.
Quine's breakout recording, Richard Hell and the Voidoids' Blank Generation, was released about a month before his 35th birthday, in 1977. It was an unconventional and abrasive, yet sophisticated and important, release. Over 40 years later, young artists still cite it as a primary influence. The Voidoids recorded their follow-up, Destiny Street, in 1982, but by that point, punk's glory days were nearly a distant memory and Quine was on to other things. His next major project was a contentious, yet fruitful, stint with Lou Reed, followed by about 20 years as a sideman with numerous artists.
Quine was a niche player, yet somehow fit in multiple contexts—whether commercial pop or confrontational art—and was at home on projects by artists as diverse as Matthew Sweet, John Zorn, Lloyd Cole, and Lydia Lunch. He played for the song, didn't overplay, but stood out anyway. You can always identify Quine on a track, even though his playing is tasteful and song-appropriate. It's also high-mid focused and unpredictable. He preferred plugging into a Deluxe Reverb's left channel and cranking it up.
When Quine died in 2004, he had never released a solo album. He was a sideman, except that he wasn't a studio ace. He's not that anonymous guitarist on countless jingles and hits. He was an artist and a stylist. He was complex, and his career—like most things Quine—was a paradox.
"I just don't give a shit, maybe because I'm such a lovable genius." —Robert Quine
"The fact is that critics like me because I am a cult figure, which means I'm not really successful," Quine told writer Jim DeRogatis in an interview for his book, Let It Blurt: The Life and Times of Lester Bangs, America's Greatest Rock Critic, published in 2000. "I'm not big enough of a target. About every five years, I do a record with someone and magazines are interviewing me again. It works for me a lot where I can do no wrong. I'm not a major success or anything, but I seem to have been a survivor, and I play better than I ever have. When I look around at other people from the era, I seem to have done OK, and the reason is I truly don't give a fuck. I honestly believe that rock 'n' roll was pretty much finished by 1961. The atrocities I've pulled ... I just don't give a shit, maybe because I'm such a lovable genius." Quine was an enigma, but he cared more than he let on.
For this feature we spoke with Quine's bandmates Richard Hell and Ivan Julian, his longtime collaborator Fred Maher, songwriters Matthew Sweet and Lloyd Cole, disc jockey and author James "the Hound" Marshall, and others.
Becoming a Voidoid
Robert Quine was born on December 30, 1942, and grew up in Akron, Ohio. Music was a constant from early on—from his interest in Gene Autry to whatever his parents played around the house."I was 12 in '55, when rock 'n' roll hit," Quine told Jason Gross in a 1997 interview for Perfect Sound Forever. "It just completely transformed me. I was getting into Frank Sinatra before that. But when that hit, it was all over. It was raw. The first rock record I bought was Frankie Lymon and the Teenagers' 'Why Do Fools Fall In Love?' The sax solo in the middle was completely inappropriate. It almost sounds like Albert Ayler. But it was lyrical. That was my obsession."
That music—early rock 'n' roll, but with an ear for the freest streams in jazz—was a constant throughout his life. He was passionate about guitarists like Link Wray, Mickey Baker, and James Burton—not to mention Buddy Holly and Chuck Berry, whom he saw on a double bill in high school—as well as Ornette Coleman, Albert Ayler, Impulse!-era John Coltrane, and Miles Davis' '70s electric output. That formed the foundation of his playing, especially in the ways he phrased his lines and took risks in solos, and it was how he connected with bandmates and friends.
Quine started playing the guitar as a teenager. He learned Chuck Berry songs and played along to Ventures albums. He bought a Strat in 1961—inspired by Ritchie Valens—and that was the model he used for most of his career, although his initial inspiration was a Telecaster.
"I remember him telling me about the thing that really made him want to get a guitar," says James "the Hound" Marshall, a close friend of Quine's throughout his years in New York. "There's a bowling alley in Akron called the Fairlawn Lanes, and the Caps were playing. The Caps were like the local rock stars. They had this almost-hit called 'The Red Headed Flea.' They were either sound-checking or rehearsing, and Quine remembers the guitar player sitting on his amp with a Tele and a cigarette dangling out of his mouth, just playing whatever, and that was the coolest thing he'd ever seen."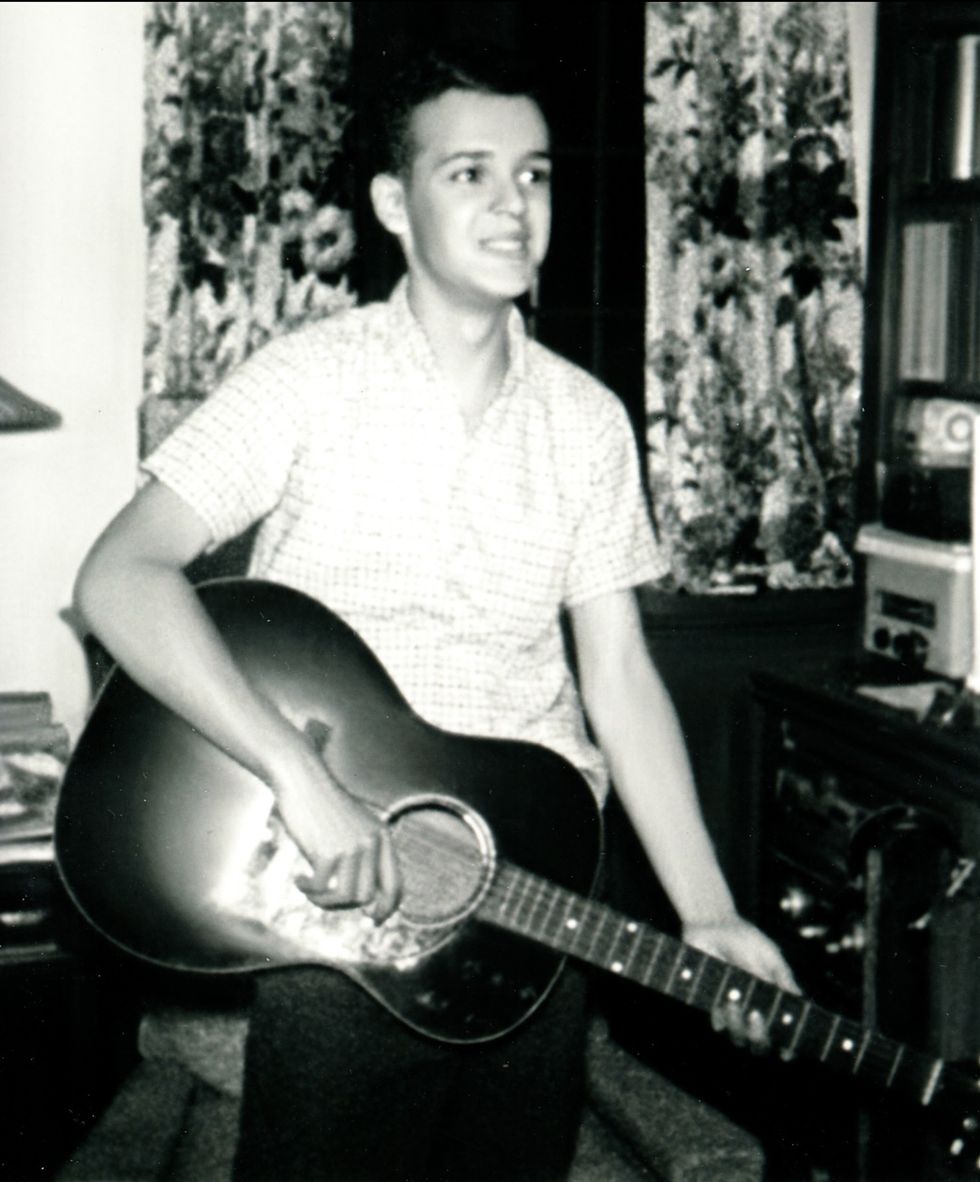 Robert Quine was 12 when he first heard rock 'n' roll in 1955. "It just completely transformed me," he told Jason Gross in a 1997 Perfect Sound Forever interview. "When that hit, it was all over. That was my obsession." Photo by Willard Van Orman
Quine graduated from Earlham College in Indiana in 1965 and earned a law degree from Washington University in St. Louis. He passed the Missouri Bar and in the late '60s moved to San Francisco. While still in college, he discovered the blues and listened to John Lee Hooker and Lightnin' Hopkins, as well as jazz, from artists like Ramsey Lewis and Bill Evans, to the more adventurous musicians mentioned above.
Quine played in bands throughout college and law school, usually covering songs by groups like the Kinks, the Rolling Stones, and the Byrds. He was also one of the earliest, and most dedicated, fans of the Velvet Underground. He was a regular audience member, befriended the band, and taped hundreds of hours of material at concerts in San Francisco and St. Louis. In 2001, Polydor Records released three discs gleaned from his recordings as Bootleg Series Volume 1: The Quine Tapes.
"The second album [1968's White Light/White Heat] completely changed my life," Quine said in that same interview with Jason Gross. "I spent thousands of hours on headphones wearing that out. What Lou Reed did, he actually listened to Ornette Coleman, and deliberately did off-harmonic feedback and the deliberate monotony of it. This stuff is like Jimmy Reed—it's monotonous or it's hypnotic. For me, it was hypnotic."
Quine relocated to New York City in the early 1970s. He got a job writing about tax law for a New Jersey-based law journal, but by 1975, he'd had it. He was already in his 30s and wanted to try making it as a musician. He quit the law journal and started working at Cinemabilia, a Greenwich Village film memorabilia shop, which was where he met coworkers Richard Hell and Tom Verlaine, both—at that point—from the band Television.
Quine's efforts at landing a gig were fraught with frustration. He was bald, which in hyper-fashion-conscious mid-'70s New York was a major liability. He didn't dress the part, was a decade older than many of his peers, and his sometimes caustic personality rubbed people the wrong way.
"He didn't have a shag haircut," Marshall says about Quine's struggles finding work. "At one point, through mutual friends, he tried for a job playing with Art Garfunkel. He got drunk and told him he thought Simon & Garfunkel were for people too stupid for Bob Dylan. Garfunkel punched him in the nose."
By early 1976, Richard Hell was no longer with Television. He had also left his next project, the Heartbreakers, which he started with former members of the New York Dolls. He was offered a production deal, which he accepted, and recruited Quine for his new band, the Voidoids.
"This was the chance Quine had been waiting for, for a long time," Hell says. "Nobody wanted to put a bald-headed old guy in a band. He knew this was like his big break. But he was kind of an alien in this theater of CBGB and he wasn't sure what I wanted from him, and he was tentative. He was definitely tentative. But I knew what he was capable of, because we'd become really good friends. I spent night after night over at his house listening to records with him. He had a few tapes of his bands from college. I knew what he liked in music, which corresponded almost exactly to what I liked, and I could hear on the live tapes of his college band that he could really tear it up, if he could shake the inhibitions and anxieties or whatever. But as it turned out, I really had to push him."
---