Photo by Brittany Durdin
The rising guitar star blends classic and psych-rock, Motown, and more influences with modern pop flourishes in songs replete with fat, fuzzy, fizzy tones from her new Epiphone Sheraton signature.
For so many artists, the return of live shows means the return of the thrill of performing, much-needed income, and, in a way, purpose. The third definitely goes for guitarist Emily Wolfe, who, when asked about her goals, immediately responds, "I just want to play arenas every night for the rest of my life. When I go up there, something could hit me at any point—an emotion that I felt 10 years ago could come out in a bend on the low E."
---
As she sharpens her sound, Wolfe is helping to keep the rock genre alive—not by mimicry or séance, but by taking the grit of the past and expanding it with a broader emotional vocabulary, confidently concise guitar work, and pop-inspired arrangements.
Wolfe, who's toured and performed with Gary Clark Jr., the Toadies, Heart, and the Pretenders, doesn't get why people can be so confounded by the third descriptor. "Some of my rock friends say, 'Pop isn't relevant,' and I'm like, 'What are you talking about—it's everywhere!' It's so sticky for people, and that's really fascinating to me. I want my music to have that quality … but also the realness of a raw guitar tone."
Epiphone Exclusive | "No Man" by Emily Wolfe
What's exciting about her latest full-length release, Outlier, is how she captures exactly what she's talking about. The songs bleed like a wounded gunslinger over a silvery backdrop of deftly layered synths, tight vocal harmonies, and blended acoustic and electronic drums. Over the course of the album, she sings, "I just can't get close enough to you," ("Vermillion Park"), "I'm addicted to the broken," ("Never Gonna Learn"), and "I'll chase you 'til my lungs give out," ("My Lungs Give Out"). It's through her adept genre fusion and aching romanticism that Wolfe offers her audience something to connect with that's not just clever, but also powerful.
"An emotion that I felt 10 years ago could come out in a bend on the low E."
Stone Age Methods
Outlier was produced by Michael Shuman, bassist of Queens of the Stone Age, who Wolfe describes as "like, the coolest guy that I've ever seen in my life." It started out as a long-distance project, as she's based in Austin and Shuman is in Los Angeles. They sent demos back and forth before Wolfe went into the studio in the fall of 2020. (She was later joined by bassist Evan Nicholson and drummer Clellan Hyatt.) With Shuman's encouragement, Wolfe set aside perfectionist leanings and took a more adventurous approach to the recording process than she had in the past.
Emily Wolfe's semi-hollow Epiphone signature model, the Sheraton Stealth, is a modern take on John Lee Hooker's longtime favorite, the Sheraton. It has a layered maple body with a mahogany neck, signature inlays, a Tune-o-matic bridge, CTS pots, two volume controls and one tone control, and Epiphone's Alnico Classic PRO pickups.
Photo by Barbara FG
On her 2019 self-titled first album, Wolfe exacted every tone before entering the studio, but this time around, she allowed more room for spontaneity, which made things far more relaxed. "It was easy to get into the flow and be really present," she says. "I think I'll probably do the next record like that because it was a lot more fun." One trick she made use of with engineer Michael Harris involved an MPC (music production center) controller and a few floppy discs of drum samples. Throughout the recording process, the samples were layered on top of the acoustic drums.
But that experimentalism came with some apprehension. "I said to [Shuman], 'How am I going to replicate this sound live?'" Wolfe says. "He was like, 'It doesn't matter, dude, just make the best record you can and figure out the live stuff later.'" Shuman's attitude toward recording contributed to the flexible atmosphere that enabled Wolfe to evolve, but not without some challenges. "There was one instance when, on 'Damage Control,' I didn't have anything prepared [for the solo]," she says, "and he was like, 'Go up to my living room and write something and come back down when you have it.'"
"If I get a new piece of gear, I have to figure out every single part of it before I can really use it."
The Persistence of Pop
On Outlier,Wolfe's ambition was to create a golden blend of classic eras, drawing upon '60s Motown, '70s glam, '80s synth-pop, and '90s grunge to produce something as enduring as those styles. "If you listen to Motown, in the first minute or so, the hook is there. I wanted to bring that in, too," she relates. "There's so much rawness [to classic rock]; the edges are not perfect, but there's a magic in that. There's also the side of modern stuff where the edges are really perfect and very computerized. I wanted to mix those together and see what would happen."
Wolfe believes that modern pop stars are not given enough credit for their work ethic, daring, and conceptual talent. If you doubt that, consider Carly Rae Jepsen, who wrote 200 songs in the course of producing her albums Emotion (2015) and Dedicated (2019). And there's the prolific Ed Sheeran, who in 2015 sold out the 90,000-capacity Wembley Stadium for three nights in a row as a solo act, and Swedish writer and producer Max Martin, who's written 25 No. 1 hits (split among 10 different artists), which is five more than the Beatles have as a band. "I have a theory that Max Martin is an alien. He's in the Illuminati, I swear to God," says Wolfe, laughing.
Emily Wolfe's Gear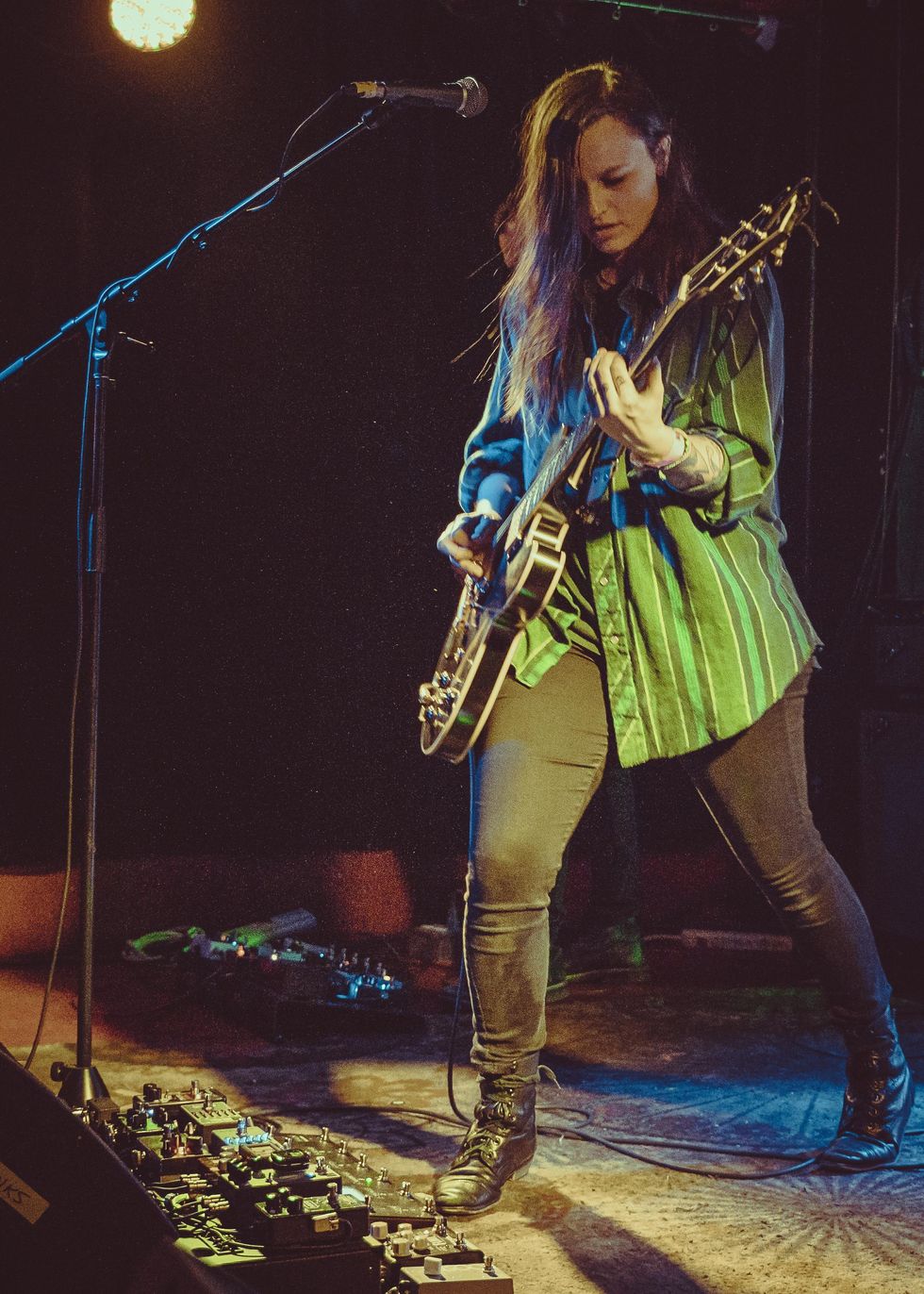 Although she has just two albums, Wolfe' caught here onstage at Cambridge, Massachusetts' Middle East nightclub in November 2021, released three singles and an EP before her first full-length, Emily Wolfe, arrived in 2019. Her new Outlier shows remarkable album-to-album growth.
Photo by Brent Goldman
Guitars
Epiphone Emily Wolfe Sheraton Stealth
2018 Gibson Firebird
Amps
Fender Hot Rod DeVille 4x10
String and Picks
Ernie Ball Slinky Cobalt (.010–.046)
Dunlop Tortex Jazz III .88 mm picks
Effects
RJM Mastermind PBC/10 switcher
Origin Effects Cali76
Dunlop Cry Baby Q Zone
EarthQuaker Devices Tentacle
EarthQuaker Devices Dirt Transmitter
MXR Six Band EQ
Fulltone OCD
Klon KTR
Walrus Audio Julia Analog Chorus
MXR Carbon Copy
Strymon Flint Tremolo and Reverb
Vertex Boost
"The backbone of so much of our industry is pop," she continues, expressing her admiration for artists like Demi Lovato and Ariana Grande, and pop production as a whole. "I try to dive in and analyze: 'How did this producer make this song stick in my head immediately and live in my soul?' If it comes on in a restaurant and I know every word.… I want my music to have that."
An Ear for Overdrive
We mentioned earlier that Wolfe can be exacting when it comes to finding the right tone. She fuels those analytical tendencies with as much gear knowledge as she can imbibe, saying that she feels lost if she doesn't know something about a piece of gear in her palette. "If I get a new piece of gear, I have to figure out every single part of it before I can really use it," she says.
TIDBIT: Wolfe's latest album was produced by Michael Shuman, bassist of Queens of the Stone Age. The guitarist describes Shuman as "like, the coolest guy that I've ever seen in my life," and he encouraged her most adventurous work.
In her spare time, Wolfe explores every pedal she can get her hands on and entertains herself by searching for the perfect combination for her signature sound. She's put together a "desert island board" comprised of three pedals: the EarthQuaker Devices Tentacle analog octave-up pedal, running into a Fulltone OCD, and an MXR Six Band EQ. "That's the sound that belongs to me," she says. The sequence creates a "crazy fuzztone" from the overdrive. Then she uses the EQ to reduce some of the lows and boost the mids for a sound she says will get her guitar to cut through any mix.
She says she never really liked using chorus until she stumbled across the Walrus Audio Julia Analog Chorus/Vibrato pedal. "It's pretty inspiring. 'My Lungs Give Out' was pretty much because of that pedal," she shares. "It kind of wrote the intro for me." The song's gentle vocal and subtle use of the pedal in the intro, followed by her singing paralleled by quietly distorted guitar in the pre-chorus, calls St. Vincent to mind. That's a comparison Wolfe responds to favorably.
Rig Rundown - Emily Wolfe
On top of her signature pedal combination, Wolfe now has a signature guitar. In March, Epiphone debuted the Emily Wolfe Sheraton Stealth, a black, semi-hollowbody electric guitar with diamond-shaped soundholes and gold hardware, set up with two Alnico Classic PRO humbuckers. "The Stealth is my dream guitar and gift to the music community," says Wolfe. "Playing it is like putting on a perfectly worn-in pair of jeans. It just fits. The guitar is the perfect frequency range for my soul." And for her music—from her stinging blues-rock bedrock to the expressionist colors of her newest work. (It was first featured in our Rig Rundown above.)
Melodic Mindfulness
Wolfe was only 5 when she found herself intensely drawn to the guitar after seeing one hanging on the wall at a thrift shop. That instrument became her first. But it wasn't until she was in high school that she fell in love with it, which is also when Wolfe first got into songwriting. Her early creative process involved writing down lyrics by L.A. indie-rockers Rogue Wave, her favorite band at the time, on one side of a page, then writing her own lyrics on the other. "They obviously weren't great," she says, "but over time I sharpened that skill."
Wolfe has a reputation for high-energy shows that bring the bones of her songs and the classic rock and blues foundation of her guitar playing to the fore.
Photo by Brent Goldman
Today, she fosters a kind of spiritual connection with her music. "Whenever I get an idea, I try to nurture it and treat it like this thing that wants to be born, then listen to it and what it wants to be," she says. She remembers that someone once suggested she pray to the song she wants to write, to make sure it comes from her and no one else. This advice made a lasting impression. "I was like, 'Oh shit, okay,'" she laughs. "Sometimes I'm like, all of these artists that have passed away—where did their talent go? Where did their songs go? Maybe they're sending these songs down to other people."
In a more concrete sense, Outlier is a departure from Wolfe's first album, which was slightly more traditional and featured a guitar solo on almost every song. Switching her mental focus to hooks and arrangements breathed new life into her writing. While she still feels proud of her earlier work, Wolfe feels she's headed in the right direction. "I wanted to make something that would be classic 10, 20, 30 years from now," she says. "That was the goal, and I think we achieved it."
Emily Wolfe - Damage Control (live in the studio)
The Tour Collection is defined by a minimalistic, vintage-inspired aesthetic, top-of-the-line components, and a simplified electronics configuration featuring new, custom pickups by Supro.
Available in the collection is the 16-inch-wide double-cutaway DC, the 15-inch-wide single-cutaway SS, and a 14-inch-wide Mini DC. Each model comes in three finishes: Slate Blue, Solid Wine, and Solid Black.

Every detail of the Tour Collection was chosen to achieve retro minimalism. Small diamond fingerboard inlays match 1930s-style diamond f-holes, and an undersized Throwback Scroll-style headstock achieves excellent head-to-body balance. The collection also features satin nickel hardware and custom Vintage Deluxe Grover tuners with a 15:1 gear ratio. Each model also features a simplified two-knob electronics configuration with 50s-style wiring to retain top-end clarity upon rolling off the volume knob. The neck shape in the Tour Collection is similar to the slim C-shape found throughout the D'Angelico line, but with more thickness in the shoulder to allow for snug hand fit as well as extra sustain. Medium Jumbo fret wire and a 12-inch fingerboard radius allow for quick navigation of the fingerboard while also prioritizing comfort for both rhythm and lead playing.
In 2020, Supro and D'Angelico became part of the same family of brands under Bond Audio. At that time, EVP of Product Ryan Kershaw and CTO Dave Koltai began designing custom pickups under the Supro name for the Tour Collection project.
"Supro Bolt Bucker pickups were designed to offer the tone of the most sought-after vintage "PAF" pickups from the late 1950's. Scatter wound, just like the originals, Supro Bolt Buckers utilize 42-gauge enamel wire along with a mixture of Alnico II (neck) and Alnico V (bridge) magnets to provide the perfect balance of warmth and clarity with unrivaled articulation and note bloom." - Dave Koltai, Chief Technology Officer at Bond Audio.
Introducing the Excel Series Tour Collection | D'Angelico Guitars
All models are available for pre-order and will be in stock this holiday season. US MAP $1499. For more information, please visit dangelicoguitars.com.
The Cream Amp is a handmade low-gain overdrive pedal based on the Electra Distortion circuit.
The Cream Amp was designed to deliver full dynamics amp-like dirt to your clean and crunch amp or to another pedal in the chain without altering your tone too much. To add some grit at low volume or to make your amp sound more full, use the Drive control to set the gain and the Level control to match with your amp.
​Two knobs to control Volume and Drive
Shielded inputs/outputs to avoid RF
Filtered and protected 9VDC input
Daisy-chain friendly
Current draw: 7.5mA
The Cream Amp pedal is hand-made in Barcelona with carefully selected components and has a price of 100.00€. The pedals are available and can be purchased directly from the Ananasheadonline store.
For more information, please visit ananashead.com.
The Red Sea was born out of the vision to provide complex signal routing options available to the live/performing musician, that up until now, are only found in a studio mixing environment.
​Introducing the Red Sea, an all-analog signal routing matrix, designed for countless stereo and mono signal path routing options. The Red Sea was born out of the vision to provide complex signal routing options available to the live/performing musician, that up until now, are only found in a studio mixing environment. The Red Sea has accomplished this in a compact, easy-to-use, and cost-effective solution.
Wet | Dry | Wet
The Red Sea gives you the ability to run a FULL Stereo wet dry wet rig using only 2 amps or just 2 signals to the FOH, while also giving you complete control over your Wet & Dry mix! Use the Blend knob to control the overall mix between stereo wet effects and mono dry/drive signals.
Stereo Dual Amps
Run dual amp modelers if full stereo w/ stereo effects. Gone are the traditional ways of one amp in the Left channel and another in the Right channel. Now use the Red Sea to seamlessly blend between two separate amps in true stereo. Think of this as a 2-channel amp where you can blend anywhere between both amps.
Stereo Parallel FX
Red Sea has two independent stereo FX loops. Use each FX loop to run stereo delay's and reverb's in parallel, where each effect does not interact with each other. Huge soundscapes can be achieved with washy reverbs and articulate delay repeats while being able to blend between each FX loops mix level.
The Red Sea can also do the following routing options:
Wet | Dry utilizing a single amp
Clean Wet | Dry | Wet (drives DO NOT run into wet effects)
Wet | Dry | Wet with dual delays (one in the L channel & other in R channel)
Parallel Dual Amps (run dual amp modelers in FULL stereo)
Convert a tube amp's serial FX Loop to a parallel FX Loop
Stereo and Mono analog dry through (avoid latency in digital pedals)
Stardust V3 was designed to capture the sound and response of 3 distinct amplifier models.
Stardust V3 was designed to capture the sound and response of 3 distinct maxed-out amplifier models. An all-analog signal path with discrete gain stages featuring MOSFET transistors provides juicy overdrive tones with great note separation that clean up to that sparkly sound that we all love and heard in recordings of the past. Set gain and tone and control everything from your guitar. Sparkly clean to crunchy mean are all there.

You can select the amplifier voicing via the onboard toggle switch.
BSM: Voiced after a blackface amp head that was primarily targeted for bass guitar players but got famous for electric guitar classic rock tones.
VLX: Voiced after a chimey 2x10" combo offering the perfect amount of controllable crunch
DLX: Voiced after one of the most popular low wattage 1×12″ combo amps that have found their way in countless recording studios and clubs around the world.
​Stardust V3 now comes with top-mounted jacks and soft-click true bypass via a high-quality relay. The pedal has loads of output volume and enhanced headroom provided by 18V DC (boosted internally) so that it can also be used as a preamp going straight into your Power Amp or AudioInterface when combined with a separate speaker simulation device.
Street price: 199 Euro / 199 USD.
For more information, please visit crazytubecircuits.com.