Rig Rundown: Butch Walker
The big-hit producer (Taylor Swift, Green Day, Weezer) and guitarist opens his RubyRed Productions to catalog his custom creations from the West and Far East. Plus, he reveals how Keith Urban forever changed his guitar-playing world.
Facing a mandatory shelter-in ordinance to limit the spread of COVID-19, PG enacted a hybrid approach to filming and producing Rig Rundowns. This is the 13th video in that format, and we stand behind the final product.
Butch Walker can't be pinned down by sweeping generalizations. He grew up in rural, small-town Georgia, but his love for '80s glam metal took him out west. He produces some of the biggest radio-friendly hitmakers (Taylor Swift, Green Day, Fall Out Boy, P!nk, Rob Thomas, Adam Lambert, and Keith Urban), but his own indie-songwriter music focuses on colorful storytelling and significant substance. He appreciates and owns vintage gear, but he's not a museum-piece collector and one of his favorite tools is a digital Line 6 HX Stomp. His brand-new album American Love Story is a sonic homage to his youth centered around the hooks and melodies showering the airwaves in 1979 (think lively Toto crossed with the Police shimmer), but the lyrics are a cutting dissection of society and life in the 21st century.
Following the release of his ninth studio album in May 2020, the straight-shooting artist welcomed PG's Chris Kies into his studio, RubyRed Productions. The "clueless" gear dork chats about embracing happy accidents from incorrect custom-instrument commissions, designing a one-off triple-humbucker, ES-335 killer with the Yamaha Custom Shop, gravitating towards a purring EL34 Bad Cat, and giving praise to Keith Urban for pick advice.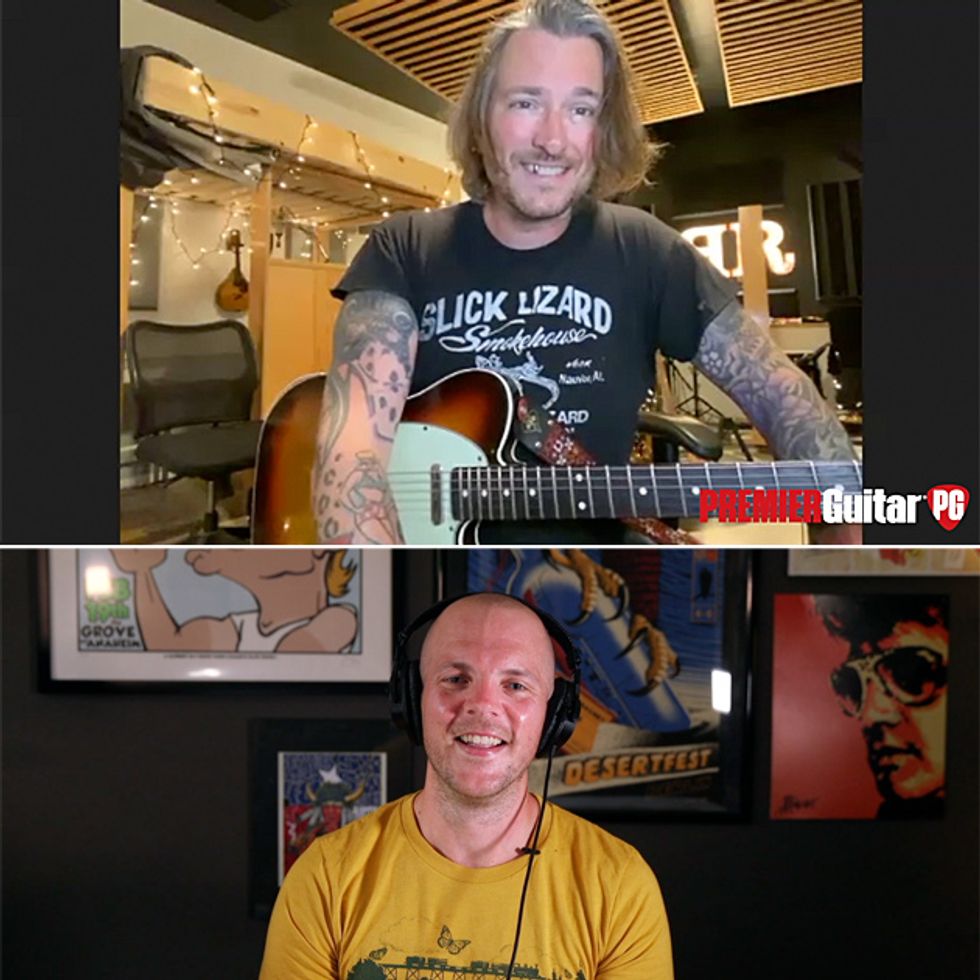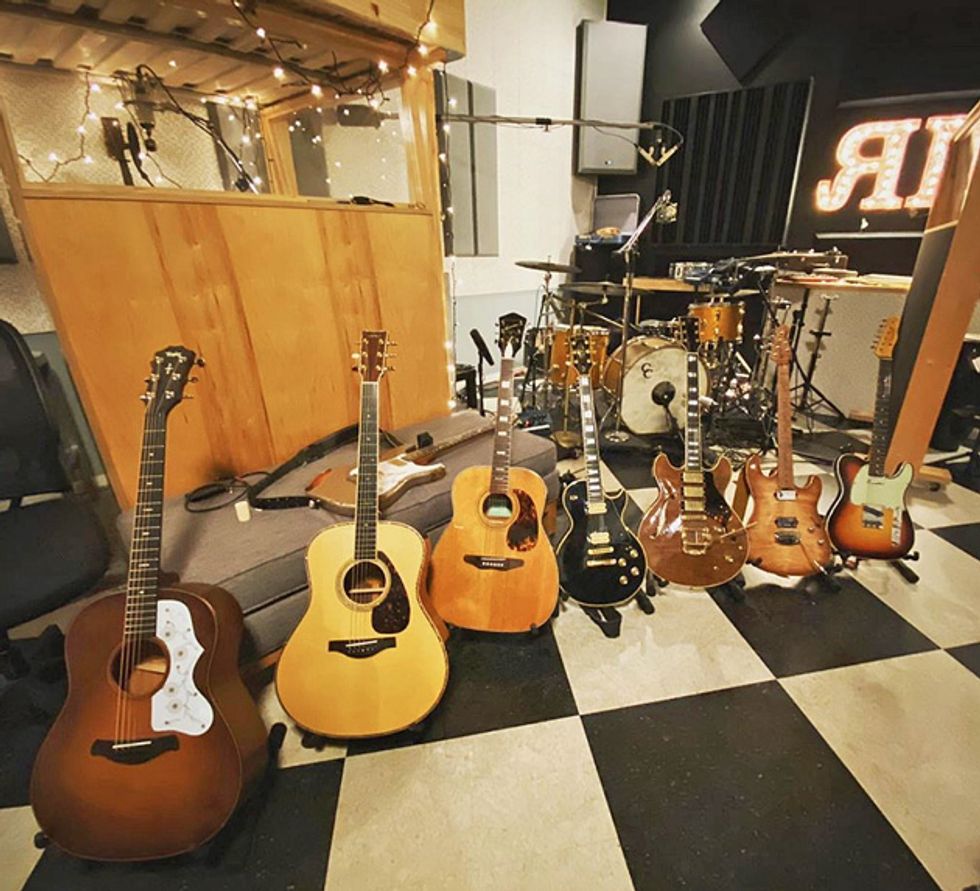 While RubyRed Productions in Santa Monica has a superb stash of gear, for the Rig Rundown, songwriter-guitarist-producer Butch Walker gathered these 6-string sweethearts that he uses to create on a daily basis.
(Far left) Butch's newest tool in the chest is this Taylor 517e Grand Pacific Builder's Edition V-Class finished in a wild honey burst. The round-shoulder dreadnought features Taylor's new V-Class bracing designed by PG contributor Andy Powers, torrefied Sitka spruce top, and tropical mahogany back and sides decked out with sapele binding. Butch bonded with it because of its unique, pronounced midrange voice. He says in the Rundown its natural mid-heavy voice lets it potently sit in the mix even among full instrumentation from drums, bass, and electrics.
To its right, Butch has a Japanese-made Yamaha LL56 Custom ARE (an updated, evolved continuation of the company's LL53 favored by John Denver). Butch loves its beefier voice that works well accentuating electric parts for a wider sound.
The last of three acoustics is one of his oldest flattops, but it's had a complete makeover to give a second life. From a glance, it appears to be a vintage 1960s Harmony Sovereign completely overhauled, upgraded, and rebuilt by luthier Scott Baxendale. He disassembles the instrument piece by piece and starts from scratch (including reconstructing the bracing into his own formula of scalloped X-bracing heavily influenced in his 30 years of specializing in pre-war Martins). The "new" instrument has its original tonewoods is original, but that's it. The rest is reformed by way of Baxendale's expertise and attention to detail. Butch's opinion on its resurrection: "it plays and sounds like butter."
The far-left electric is a 1972 Gibson Les Paul Custom he bought from Norman's Rare Guitars. It's his only Les Paul in California and the guitar only had one previous owner before Butch— illustrious studio-and-stage guitarist Jimmy Stewart (not the guy from It's a Wonderful Life). Stewart put that Custom to good and featured it on over 1,200 recordings, worked prominently alongside Gábor Szabó, added guitar to Broadway productions (West Side Story, Bye Bye Birdie, How to Succeed in Business Without Really Trying) and TV (The Mike Douglas Show and The Tonight Show) and authored Guitar Player's "The Complete Musician" column from 1971-1981. You'll see Stewart added some mini toggles to open up the pickups for even more tonal options by splitting/isolating coils.
Next one on the right is a custom, one-off triple-humbucker Yamaha SA2200 semi-hollow loaded with Lollar pickups. Walker went mad scientist on the normal SA2200 layout and requested that it have a master volume (moved that to where the original pickup selector was) and master tone (normally each pickup has its own independent controls). He used the allocated cavity space to add mini toggles to split the humbuckers' coils, and moved the pickup selector to the pickguard.
Another new friend to the collection is a 2020 Ernie Ball Sabre with a honey suckle burst. Butch has really enjoyed playing and recording with this double-hum guitar because it's "spanky, spongy, has a pleasing top-end clarity, and can still bite for solos or rocking."
Last up is a Fender Custom Shop Telecaster Custom that screams Andy Summers and Joe Walsh. Butch had put in an order to the heralded custom shop for a Telecaster. The wrong guitar (the sunburst Tele Custom) showed up, but before letting Fender know their error, he plugged it in. Game over—he wasn't parting ways with this stud so he cancelled the other order with Fender and has rocked with this one ever since.
All of Butch's electrics take Ernie Ball Power Slinkys (.011–.048) and he bashes away with Herco HE211P Flex 75 1.01 mm.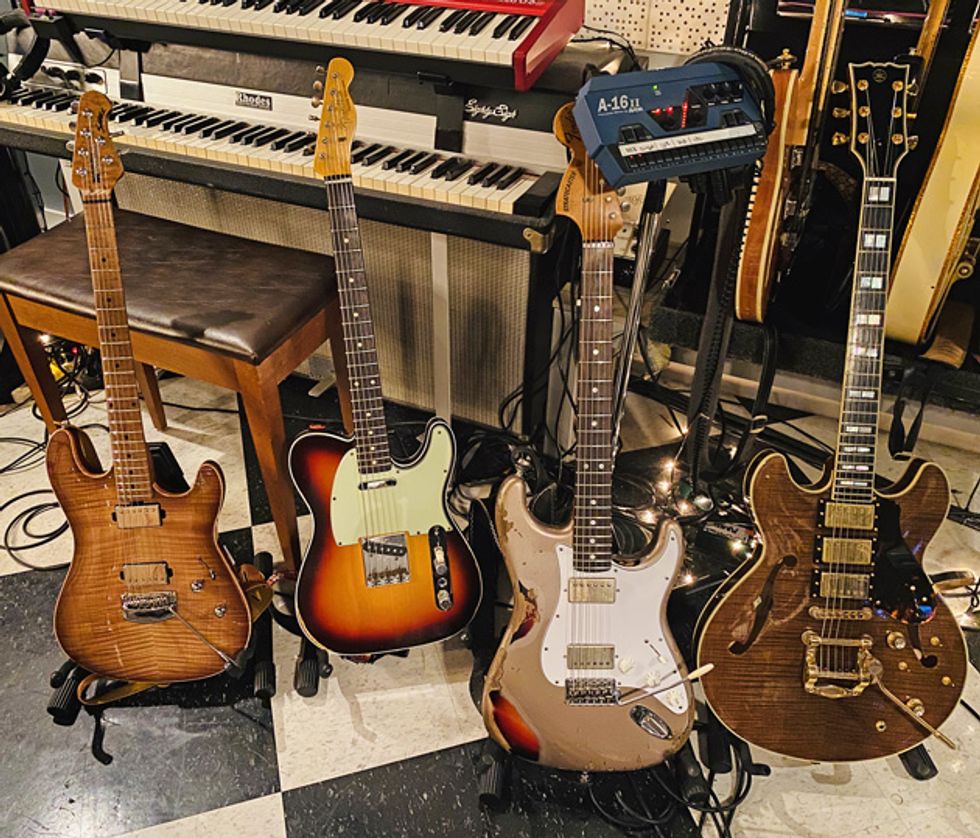 Three of these were in the previous frame except for the shedding Strat in the middle-right position. It's a Fender Custom Shop 1960 Stratocaster Relic Shoreline Gold over 3-Color Sunburst Frankenstein'd with a '69 reverse headstock, left-handed neck, and beefed up with a pair of Fender ShawBuckers.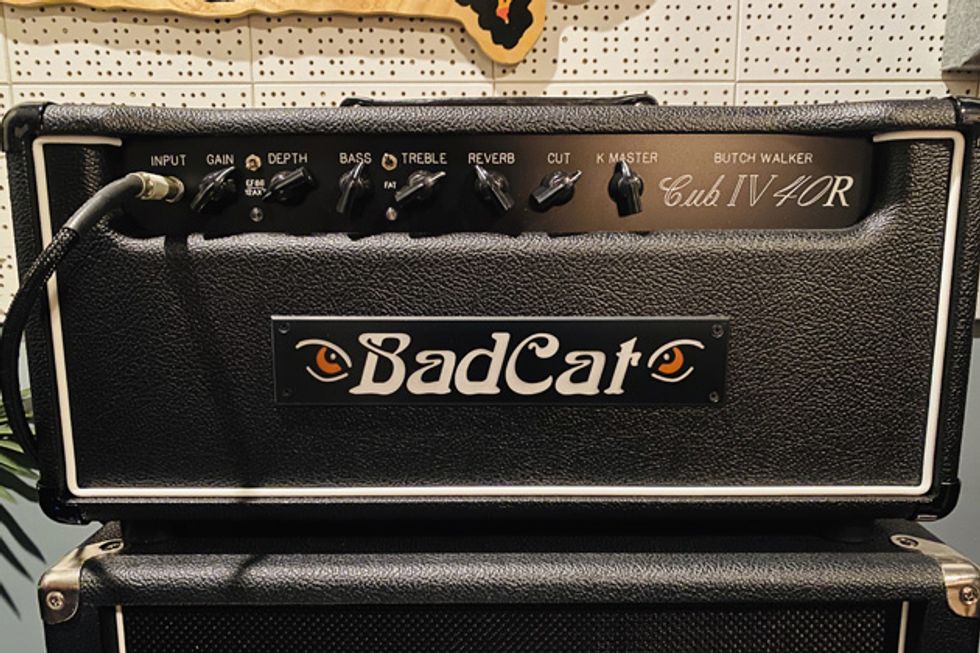 For the Rundown and most of his recent L.A.-based sessions, Butch has turned to this Bad Cat Cub IV 40R. He likes its single-channel platform, tonal flexibility (toggle or footswitch between 12AX7 or EF86 preamp sections) paired with sparkly, robust EL34-voiced flavorings.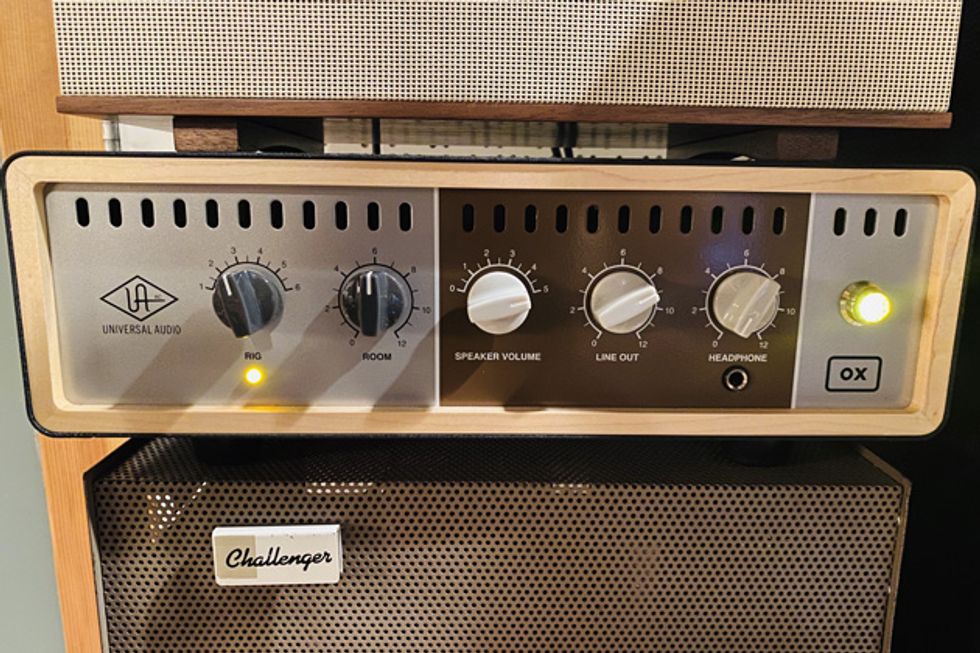 Enhancing the versatility of the Bad Cat IV 40R is the above Universal Audio Ox Box. (For the Rundown, we heard a direct sound with an emulation of a custom 2x12 cabinet loaded with alnico 50-watt speakers. The mics he chose were approximations of a Beyerdynamic M 160 ribbon, Neumann U67 diaphragm, a blended-in room mic with a 1176 compressor tightening up everything.)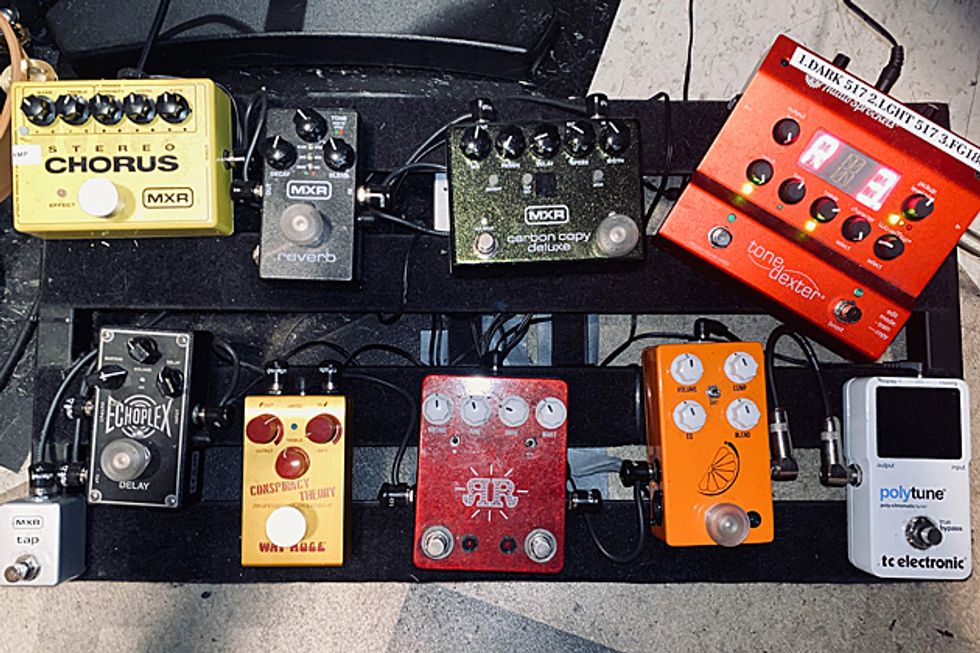 His real-deal pedalboard is host to a TC Electronic PolyTune, JHS Pedals Pulp 'n' Peel, his signature JHS Ruby Red Signature 2-in-1 Overdrive/Fuzz/Boost, Way Huge Conspiracy Theory, MXR Echoplex Delay, MXR Stereo Chorus, MXR Reverb, MXR Carbon Copy, and an Audio Sprockets ToneDexter (for acoustic DI/preamp). Beneath the board, the MXR Iso-Brick brings everything to life.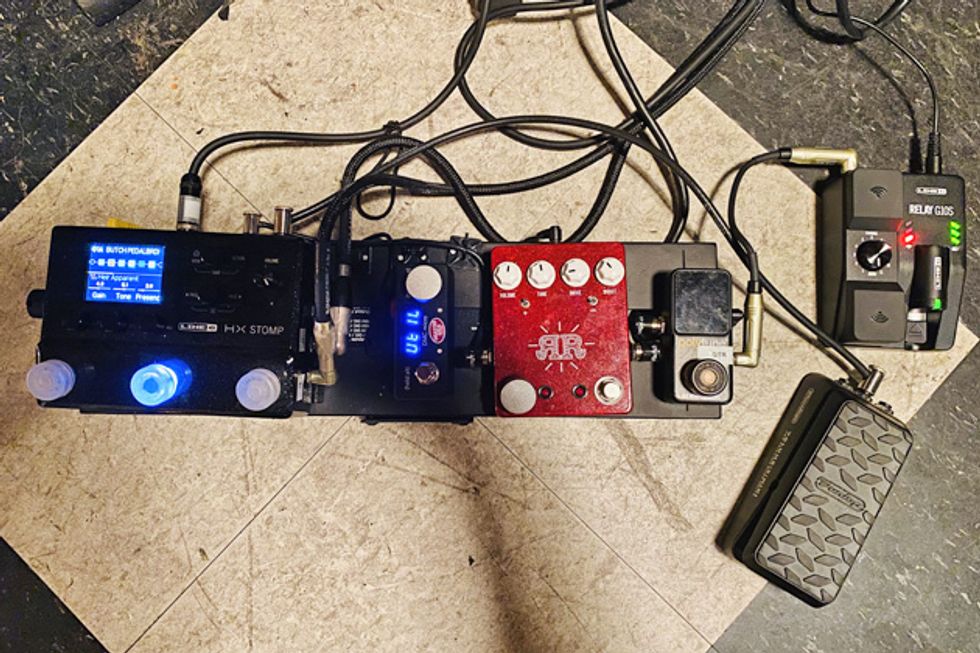 For quick gigs, sit-in sessions, or fly gigs, Butch will rely on this simple stomp station compromised of a Line 6 HX Stomp, his signature JHS Ruby Red Signature 2-in-1, and a TC Electronic Polytune Noir Mini 2. In the middle rests a Disaster Area DMC.micro MIDI controller while to the right you see a Line 6 G10S Wireless System and a Dunlop DVP4 Volume (X) Mini.
---
Click below to listen wherever you get your podcasts:
---
D'Addario XT Strings:https://ddar.io/XT.RR
---
---
---