Considering the benefits, beauty, and versatility of wood alternatives for acoustic guitars.
There is a limited supply of tonewoods in the world and a large appetite for acoustic guitars. At Martin Guitar, we take environmental stewardship very seriously, and I challenge our team to develop new models using alternative wood materials. This month, I'd like to explore some ideas about wood alternatives, so I've turned to Skip Beltz, the Director of Product Management at Martin Guitar who has almost 30 years of experience in making guitars.
---
There are many characteristics that make a type of wood usable for building guitars. Some woods are too soft to hold up to the tension that a stringed instrument produces, so hardwoods are chosen because of their strength and tonal properties. Hardwoods can be shaped, carved, and sanded beautifully with the right skillsets. Their ability to accept finishing materials reasonably well helps to enhance the sheer beauty of the wood. Each sonic, structural, and aesthetic characteristic of a wood is taken into consideration when selecting the materials for a guitar.
This Martin DC-X2E pairs a Sitka spruce top with High Pressure Laminate (HPL) back and sides.
Availability then finds its place in the selection process because we want to be able to procure enough of the wood for it to be viable from a volume standpoint. The most important thing to consider here is sustainability. Exotic hardwoods are becoming more and more scarce. While they are beautiful and tonally exceptional, there are ways to acquire comparable—or even superior—sound with sustainable wood selections.
The benefits of using composite materials are both environmentally responsible as well as structural. The durability of these materials aids in handling and transporting, and composites can accept finishes or hardening techniques that natural woods cannot. Composite materials can be more stable and stronger than natural wood and more resistant to spills and rain drops, which can be a huge benefit for touring musicians. Composites are also generally less susceptible to warping when exposed to high humidity.
Composite materials can be more stable and stronger than natural wood and more resistant to spills and rain drops, which can be a huge benefit for touring musicians.
When a builder is looking to employ new alternative materials, we must do extensive research and testing if we expect them to hold up for generations of music making. We need to test machine capability and hand-tool capability. How does it react when carving, shaping, and sanding, whether it be a person or a machine? Can we see tool marks? Does it break down or change color? Does it maintain structural integrity? Finish compatibility needs to be tested extensively: spraying, sanding, polishing, and adhesion to the surface of the material is crucial in achieving our desired finished look. At Martin, we have an environmental chamber that can be set to control temperature and humidity settings. Our quality team uses that to expose materials and completed guitars to extreme conditions.
High Pressure Laminate (HPL) is one of our most frequently used wood alternatives on Martin guitars. What exactly is HPL? Close your eyes and visualize really small pieces of sawdust and adhesive compressed together and pressed out into sheet form. This sheet can then be made into different thicknesses and manipulated to build things. HPL is specifically used for sides, backs, and necks of guitars. We're able to print on its surface to make it appear to be any type of wood or feature high-resolution artwork. It sounds amazing, is very workable, and holds up to string tension very well.
In addition to the environmental, structural, and tonal benefits, another advantage to using HPL or other composites is that builders can print directly onto the material. Martin's DX Woodstock guitar art was drawn by Robert Goetzl and printed onto HPL.
Designing patterns on HPL is an interesting process. We take high-resolution pictures of the wood patterns that we want from our collection of wood and then transfer our photographs onto HPL. On specialty projects, we work with our artist, Robert Goetzl, or another artist of choice to develop the custom artwork. Our DX Woodstock guitar art was drawn by Goetzl and printed onto HPL.
For fretboards and bridges, we use an engineered material called Richlite that works very well for resonance and sustain. It's paper-based and made with environmentally responsible adhesives. Not only is it extremely durable and easy to machine or carve, it's also water resistant with low moisture absorption as well as heat and fire resistant. This aesthetically pleasing material can be made to look exactly like ebony, and we can also change the patterns and colors, which provides us with maximum design flexibility when we want a different look. Over the years, we've also experimented with carbon fiber as an alternative material—it's now featured on the bridge plate of our Modern Deluxe models and is a large contributor to the incredible sound of those guitars.
Our X-series guitars are the best example of how we've continued to hone our skills in crafting great-sounding Martins out of composite materials. Martin will continue to experiment with composites and other unique materials that will provide an advantage in some way to the sound of our guitars or the innovation of the instrument.
Looking for more great gear for the guitar player in your life (yourself included!)? Check out this year's Holiday Gear Finds!
Outlaw Effects introduces their next generation of NOMAD rechargeable battery-powered pedal boards.
Available in two sizes, NOMAD ISO is a compact, versatile tool that offers the convenience of a fully powered board plus the additional freedom of not having to plug into an outlet. NOMAD ISO is ideal for stages with limited outlet availability, quick changeovers, busking outdoors, temporary rehearsal locations, and more!
NOMAD ISO builds upon the legacy of the ultra-convenient and reliable NOMAD rechargeable pedalboard line originally launched in 2018. The brand new NOMAD ISO editions feature eight isolated outputs (1 x 9V DC, and 1 switchable 9V/12V DC) for even more versatility and clean, quiet power. With an integrated lithium-ion battery pack boasting 12800mAh capacity, NOMAD ISO can fuel a wide array of pedals, and will last over 10 hours* on a single charge.
Each NOMAD ISO pedal board includes adhesive hook & loop pedal-mounting tape, eight (8) standard DC connector cables, and one (1) reverse polarity DC cable, giving you everything you need to build your ultimate "off-the-grid" rig. A rugged, road-ready padded gig bag with shoulder strap is also included, to safely protect your gear while you're on the move.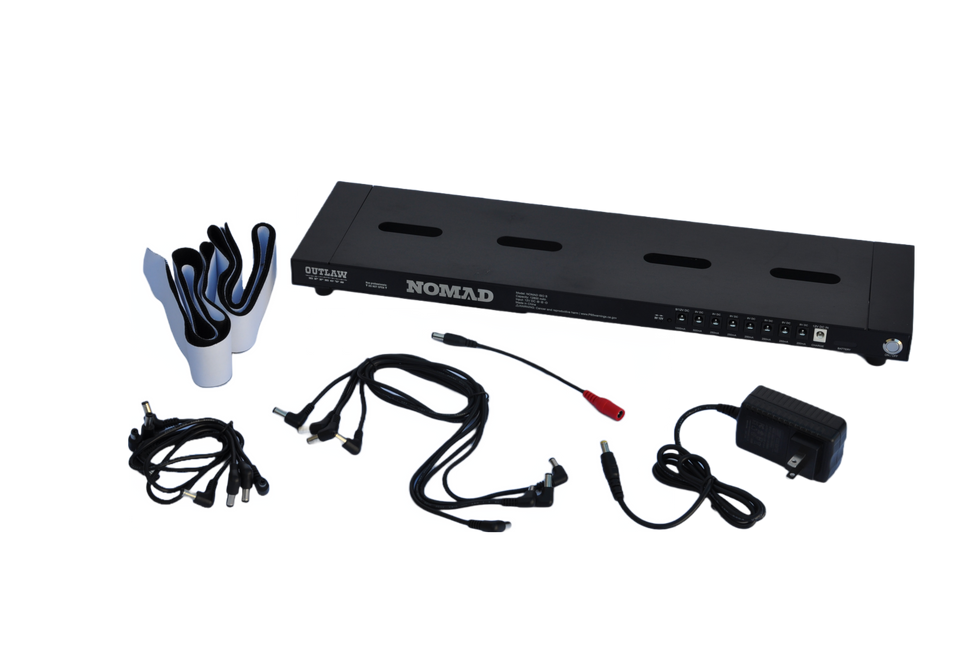 Dunable announce new Minotaur model featuring Grover Rotomatic Keystone tuners.
The Minotaur's DNA is rooted in their classic Moonflower model, which Dunable discontinued in 2017. However, they have long since wanted to create a fresh take on a carved top guitar design, and various attempts to rework the Moonflower led them to a brand new concept with the Minotuar.
Dunable's goal is to give the player a guitar that plays fast and smooth, sounds amazing, and gives maximum physical ergonomic comfort. The Minotaur's soft and meticulous contours, simple and effective control layout, and 25.5" scale length are designed to easily meet this criteria.

Dunable Minotaur!
Features
25.5" scale length
Dual Humbucker
one volume, one tone, push pull for coil splitting
Grover Rotomatic Keystone tuners
Grover Tune O Matic bridge with brass Kluson top-mount tailpiece
jumbo nickel frets
12" fretboard radius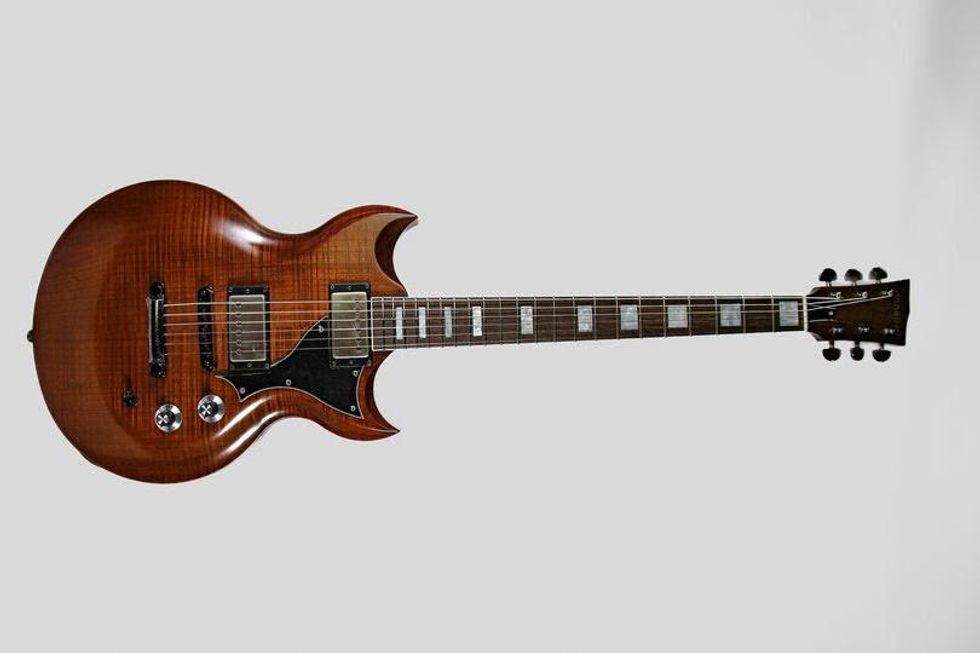 Dunable
This full-amp-stack-in-a-box pedal brings a new flavor to the Guitar Legend Tone Series of pedals, Missing Link Audio's flagship product line.
Adding to the company's line of premium-quality effects pedals, Missing Link Audio has unleashed the new AC/Overdrive pedal. This full-amp-stack-in-a-box pedal – the only Angus & Malcom all-in-one stompbox on the market – brings a new flavor to the Guitar Legend Tone Series of pedals, Missing Link Audio's flagship product line.
The AC/OD layout has three knobs to control Volume, Gain and Tone. That user-friendly format is perfect for quickly getting your ideal tone, and it also offers a ton of versatility. MLA's new AC/OD absolutely nails the Angus tone from the days of "High Voltage" to "Back in Black". You can also easily dial inMalcom with the turn of a knob. The pedal covers a broad range of sonic terrain, from boost to hot overdrive to complete tube-like saturation. The pedal is designed to leave on all the time and is very touch responsive. You can get everything from fat rhythm tones to a perfect lead tone just by using your guitar's volume knob and your right-hand attack.
Features 
Three knobs to control Volume, Gain and Tone
Die-cast aluminum cases for gig-worthy durability
Limited lifetime warranty
True bypass on/off switch
9-volt DC input
Made in the USA
MLA Pedals AC/OD - Music & Demo by A. Barrero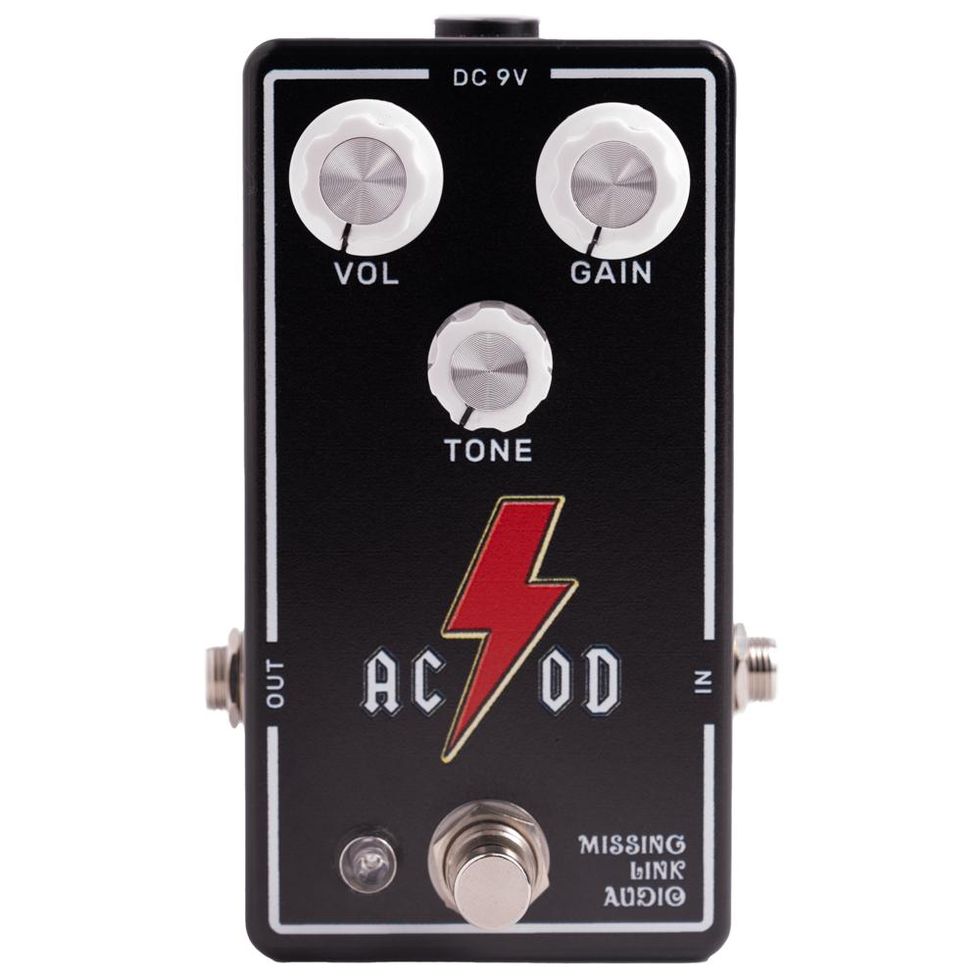 www.mlapedals.com.