Esoterica Electrica: The Right Job for Tools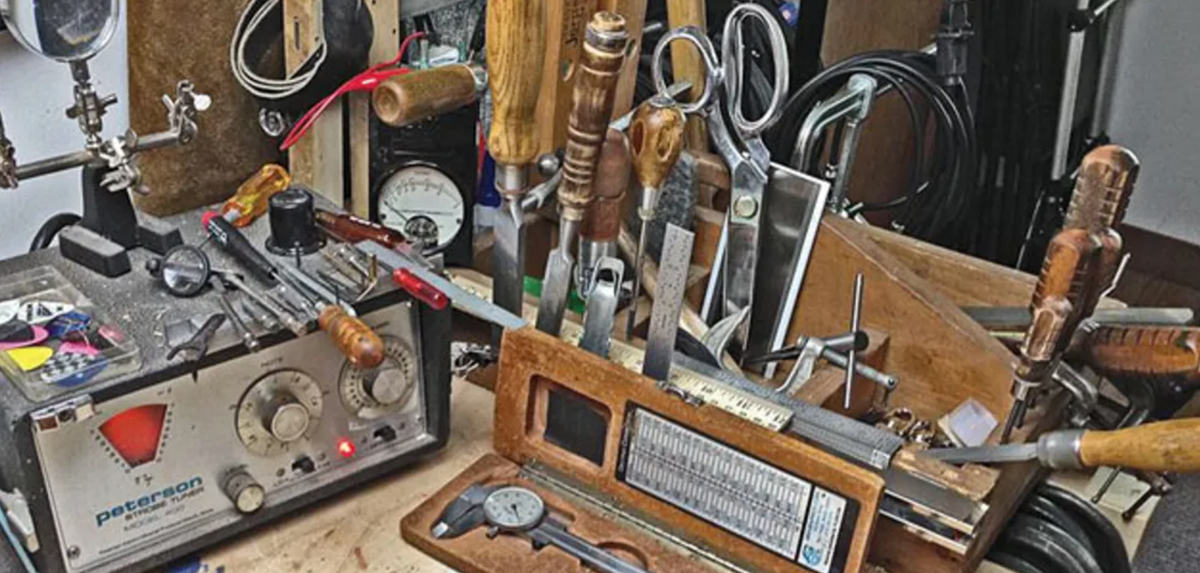 Do you have the right tools to make repairs on your axe?
I love really good tools. When tools are designed properly and made well, they will last a lifetime if treated with respect. Tools are items I won't skimp on. And I have somewhat of a fetish for specialized tools—the more specialized the better. I've found that tools designed to do one job often outperform multi-purpose implements at that task.
For example, I have a custom-telescoping socket to reach the number-three spark plug on a Porsche 911 motor, which is buried in the front corner of the engine compartment and is a pain in the ass to reach with a standard wrench. It's not a tool that gets used often, but when it does, it is worth every penny for the frustration it avoids, and that's pure joy to me. These kinds of quirky tools are great for professional mechanics, but do their guitar-building equivalents have a place in your gig bag?
Guitar building and maintenance has its share of unique tools, many of which can be pressed into service by the average guitarist. Just like the equipment they are used on, specialized tools solve problems more easily and with less stress than making do with less. Something as simple as a T-handle truss rod wrench is a great addition to your gig bag, because a neck adjustment may be in order when the climate at a venue threatens your axe's playability.
The T-handle-style wrench has an extended length, which allows it to clear the end of the headstock, and the handle is an excellent indicator of how far you've turned the adjustment nut. The positioning of the handle places your hand out of the way so you can sight down the fretboard clearly while turning the tool, and it provides a lot more leverage as well. The next best thing is one of those mini wrenches that look like a corncob pipe. The good ones have a bonus screwdriver point at the end of the handle that's the perfect size for guitar hardware.
For Fender instruments where the truss rod is adjusted at the body end of the neck, you can usually crank the slotted nut with a flat-blade screwdriver (which should be in everyone's tool kit), but it's awkward and can chew up your pickguard or neck pickup.
Not much else will piss you off more than plugging in at a gig and finding that your guitar's output or amp's input jack is loose.

A better solution is a thin, flat, steel strip with a straight 90-degree bend at one end and a 45-degree offset bend at the other. I've started to notice these inexpensive tools becoming available in luthier-supply catalogs recently, which is great.
While we're on the subject of truss rods, fishing an Allen wrench around inside an acoustic guitar and trying to spear it into the truss rod nut can drive you nuts. Thankfully, you can either buy an oversized offset hex tool, or make one from hexagonal steel stock from an industrial supply. The extra length and zigzag shape allows it to be manipulated from outside the soundhole. Making your own is fairly easy if you have access to a vise and some Channellock pliers, plus you can tailor it to the inside dimensions of your particular guitar.
Not much else will piss you off more than plugging in at a gig and finding that your guitar's output or amp's input jack is loose. Trying to tighten the nut with needle-nose pliers or a wrench on a dimly lit stage as the jack spins endlessly will not put you in the mood to perform (unless you play death metal). If you are lucky enough to get some torque on the nut before twisting the connection loose, you can get on with your show.
Or you can whip out a little device called the Bullet guitar-jack tightener, which is a handy little tool that allows you to temporarily snug up a guitar's output jack without removing it from the instrument. It also works on any amplifier's 1/4" jack, which makes it a must-have for your traveling kit. It will get you through a gig until you can do a proper removal and tightening job. There are bigger, better tools, such as the "Jack the Gripper," but the Bullet is inexpensive and small enough to go in the pocket of your guitar case.
My shop is full of tools I love that perform specific jobs and do them extremely well, but I will say that it's good to have a versatile multi-tool in order to save space and cut down on weight when in the field. An implement like the Leatherman Sidekick is able to tackle many small breakdowns and repairs. It's equipped with pliers, saw, Phillips and regular screwdrivers, a wire stripper, file, and wire cutters, so it's another must-have for any gigging musician. You might just wind up fixing someone else's rig to get on with the show. Bonus: There's even a bottle opener.