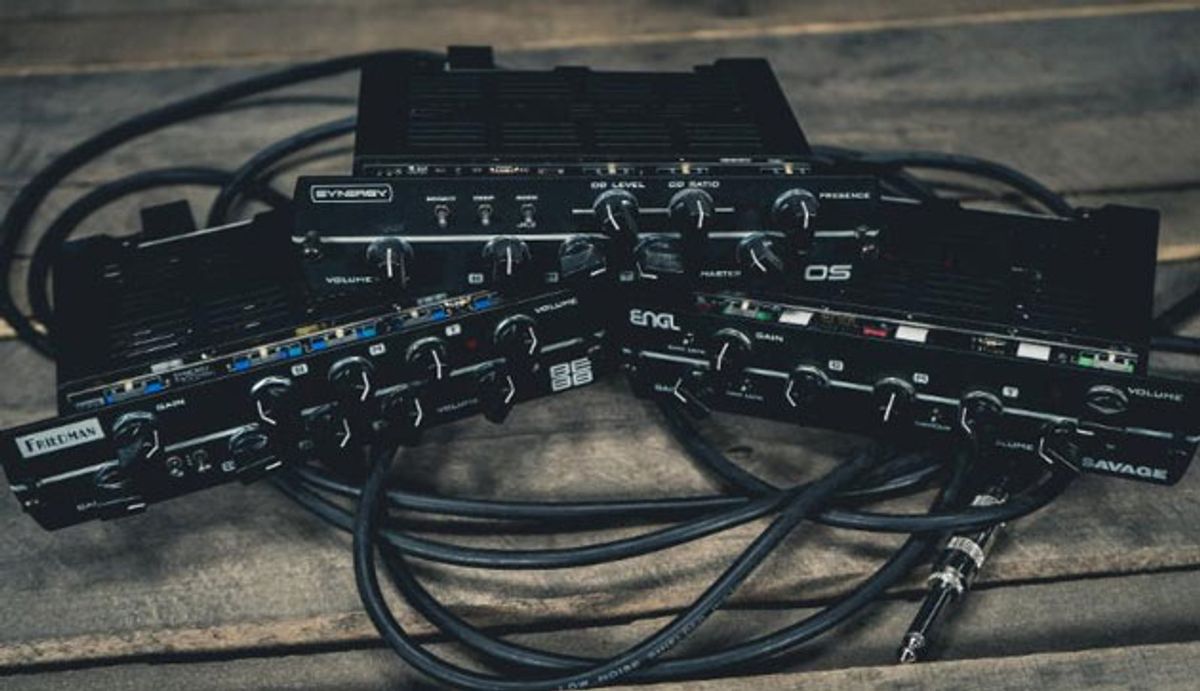 A trio of new modular preamps that covers the tones of a few high-gain monsters and one of the most in-demand builders ever.
Huntington Park, CA (April 12, 2019) -- Dave Friedman is the man behind some of the most impressive tones in rock 'n' roll and has been for over 25 years. Throughout that time, luminary players such as Jerry Cantrell and Eddie Van Halen have been relying on Friedman's amplifier modifications, repairs, and builds to keep them sounding at the top of their game. With that expertise in tow, Friedman moved into crafting his own line of top-shelf electric guitar amplifiers, instruments, and effects, and in doing so has built one of the most enviable roster of artists out there. Whether discussing the plexi-on-steroids tone of the BE-100, or the pedal-platform versatility of the Buxom Beauty, Friedman amps are undoubtedly taking over as the premier rock 'n' roll electric guitar amplifiers.
And thanks to the Synergy Friedman BE-BB preamp module, those exact tones can be at your fingertips with a new level of convenience and affordability. Far from modeling or emulating, Dave Friedman himself designed this module, nailing every detail of the amps' to-die-for tone and impressive touch sensitivity. By utilizing a pair of 12AX7 preamp tubes to power its BE [BE-100] and BB [Buxom Beauty] channels, whether you're switching between a crystalline clean tone and a boosted lead sound or a harnessing the BE channel's vintage British-like abilities and switching to a more aggressive distortion, true tube tone will always be present, detailed, and hopelessly addictive. If you want to give your Synergy rig cream-of-the-crop British roar while tapping into the finest cleans Synergy and Friedman have to offer, you'll want to grab a BE-BB preamp module.
The Synergy BE-BB pre-amp features two channels. Each channel has a gain and volume knob and 3-band EQ. You'll also find 3-way bright switch and 2-way mid boost toggle on the BB side of the module for further crafting your perfect cleans.
MAP and MSRP: $399.99
In the world of guitar amps, there exists one legendary designer and brand that very few ever get to meet, see, or play through. This is Alexander "Howard" Dumble and his namesake Dumble amplifiers. Normally reserved to the paragon of players, you'll find his amplifiers backing up such artists as Carlos Santana, Robben Ford, and even the late, great Stevie Ray Vaughan.
No two Dumbles are the same, but it's the Dumble Overdrive Special that continues to reign as the man's pinnacle design. The amplifiers boast a unique sound and feel that is praised for its ability to enhance and uncover every nuance of a player's technique and tone. It is this ability that has earned the amp a reputation for being one of the finest and most revered ever made.
Because these mythical amps are extremely hard to come by, we created the Synergy OS preamp module as our tribute to its iconic sound. The OS module packs the Dumble personality and user experience in a compact format, providing affordability and convenience that the original can never match.
Across the front panel, the OS features the same basic controls as the Overdrive Special amplifier. Dual footswitchable channels enable switching between the unique Dumble clean with its mid-forward clarity to the fabled smooth, singing sustain that gives the Overdrive Special its name. You'll also find Bright, Deep and Rock/Jazz switches that, along with the 3-band EQ, will tailor your tone while always retaining the Dumble character. Finally, a master presence control adds just the right amount of clarity to the module's OD mode.
While nothing sounds or feels exactly like a Dumble, with the Synergy OS preamp module, you can possess the essence of one of the finest amps in the world alongside all of the other classic tones available from the Synergy system.
MAP and MSRP: $399.99
Engl amplifiers have long been known as a premium example of boutique, high-gain tone. And a large part of that legacy is due to the esteemed Engl SAVAGE amplifier. From the moment it hit the scene in the early 1990s, guitarists the world over took notice of its ability to blend searing gain with a string-to-string clarity that stands as an industry standard. Engl's Horst Langer has crafted numerous top-tier amplifiers that continue to inspire legendary artists such as Richie Blackmore, Marty Friedman, and Steve Morse. But it's his SAVAGE that continues to stand on top of Engl's lauded line.
Never ones to ignore a classic design, Synergy reached out to Horst Langer and asked him to focus the SAVAGE's massive tonal palette and intense touch response into one of our incredibly popular Synergy preamp modules. And we're proud to say, he nailed it. Not only does the Synergy SAVAGE preamp module give you a giant of an amp into a compact and convenient package, but thanks to two Gain Lo/Hi switches and a carefully sculpted Contour switch, you're in control of an astoundingly flexible assortment of tones.
By partnering with such iconic amplifier designers as Horst Langer, we're able to offer you the most sought after tones in all-tube designs that are perfect for the direct-recording, lower-stage-volume, and compact-guitar-rig demands of today. It's easy to see why the Synergy preamp module system is taking the industry by storm.
MAP and MSRP: $399.99
For more information:
Synergy Amps
Looking for more great gear for the guitar player in your life (yourself included!)? Check out this year's Holiday Gear Finds!
Created in collaboration with legendary guitarist George Lynch of Dokken and Lynch Mob fame, the Mr.Scary Mod adds an adjustable tube gain stage and an onboard Deep control, which together are designed to enable an amp to have increased sustain while still retaining note definition and dynamics.
LegendaryTones, LLC today announced production availability of its new Mr. Scary Mod, a 100% pure tube module designed to instantly and easily expand the capabilities of many classic amplifiers with additional gain and tone shaping. Created in collaboration with legendary guitarist George Lynch of Dokken and Lynch Mob fame, the Mr.Scary Mod adds an adjustable tube gain stage and an onboard Deep control, which together are designed to enable an amp to have increased sustain while still retaining note definition and dynamics.
Originally released as the Lynch Mod in February 2021, the updated Mr. Scary Mod features the same core circuit as the Lynch Mod but is now equipped with a revised tube mix combo per George's preference as well as a facelift in a newly redesigned electro-galvanized steel enclosure. As with the Lynch Mod, each run will be limited and the first run in Pumpkin Orange with Black hardware is limited to just 150 pieces worldwide.
​The Mr. Scary Mod adds an adjustable tube gain stage on top of the cathode follower position, keeping note definition and articulation while further increasing sustain. Each Mr. Scary mod is meticulously built by hand in the USA, one at a time, and tuned using high-grade components. Equipped with a single ECC81 (12AT7) in the first position and ECC83 (12AX7) in the second, the Mr. Scary Mod can clean up beautifully when rolling down your guitar's volume, and still adds scorching gain when you roll it back up. This is a gain stage that's been tuned and approved by the ears of the maestro George Lynch himself.
"The Mr. Scary Mod excels with dynamics and is incredibly touch-responsive, allowing me to shift from playing clear, lightly compressed cleans to full-out aggressive sustain and distortion –and control it all simply by varying my guitar's volume control and picking," said GeorgeLynch. "In many ways, it's an old-school approach, but it's also so much more natural and expressive in addition to being musically fulfilling when you can play both the guitar and amp dynamically together this way."
The Mr. Scary Mod installs in minutes, is safe and effective to use, and requires no special tools or re-biasing of the amplifier. Simply insert the module into the cathode follower preamp position of compatible amplifiers (includes Marshall 2203/2204/1959/1987 circuits) and

immediately get the benefit of enjoying a hot-rodded amp that delivers all the pure harmonic character that comes with an added pure tube gain stage. The handmade in the USA Mr. Scary Mod is now available to order for $319.
For more information, please visit legendarytones.com.
October Audio has miniaturized their NVMBR Gain pedal to create two mini versions of this beautifully organic-sounding circuit – including an always-on gain device.
The NVMBR Gain is a nonlinear amp that transitions gracefully from clean boost to overdriven tones. Volume increases from just over unity to about 10db before soft-clipping drive appears for another 5db of boost. Its extraordinary ease of use is matched by outstanding versatility: you can use it as a clean boost, push a stubborn amp into overdrive or create a just-breaking-up sound at any amp volume.

October Audio's new family of mini NVMBR Gain pedals includes a switchable version that allows you to bypass the effect: one option features brand logo pedal graphics, while the other sports a fun "Witch Finger" graphic with a Davies knob as the"fingernail".
The second version in the new lineup is an always-on device featuring the Witch Finger graphic and Davies knob, with the same NVMBR Gain circuit that lies at the core of the switchable version.
Features:
Knob controls gain and clipping simultaneously
Stunning silver hammertone finish
Switchable versions are true-bypass, available with classic or witch finger graphics
Authentic Davies knobs, including the "fingernail"
9V center negative power supply required
Dimensions: 3.63 x 1.50 x 1.88 in​
Witch Finger (always on NVMBR Gain) demo
​All October Audio pedals are assembled in Richmond, VA, and available for purchase directly through the online shop. Street price is $109 for NVMBR Gain footswitch versions and $89 for the always-on device.
For more information, please visit octoberaudio.com.