Tech 21 Releases the SansAmp PSA 2.0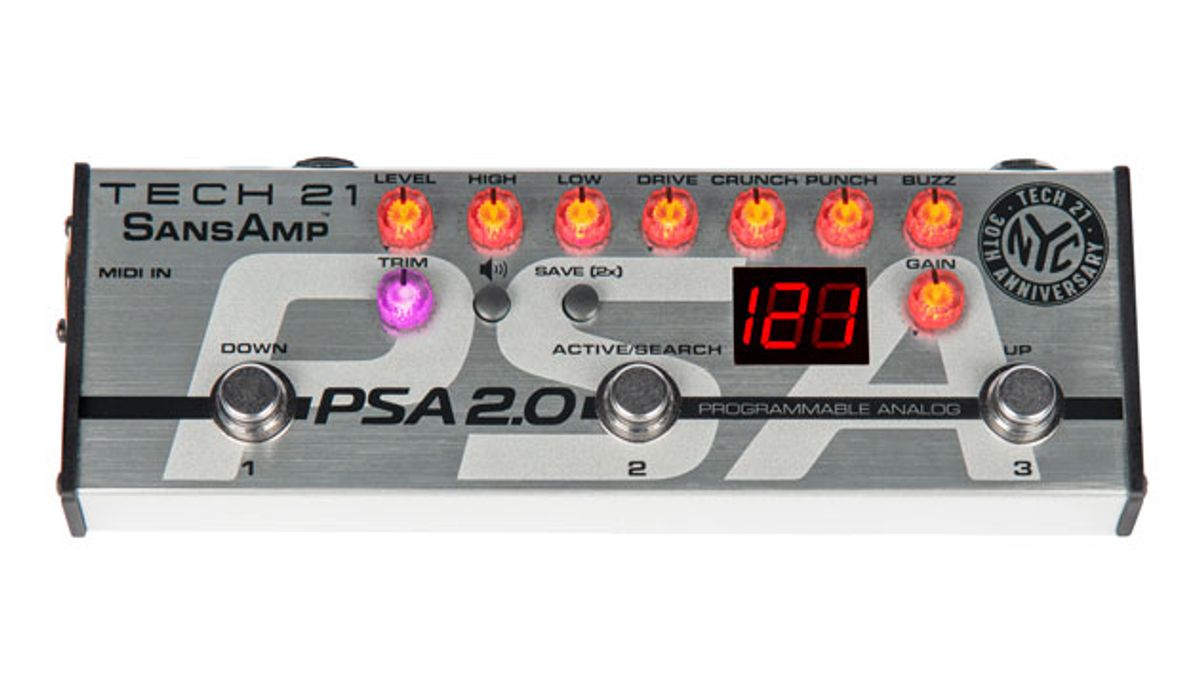 The company celebrates the 30th anniversary with a streamlined version of their famed rackmount unit.
Clifton, NJ (November 14, 2019) -- Considered a staple in professional recording studios, the SansAmp PSA rackmount was used on countless major releases, film scores, and worldwide tours by such artists as Muse, Rammstein, Paul Stanley, and John Entwistle. In a time of every-other-month upgrades, the SansAmp PSA was modified only once since its introduction in 1993, and primarily to add hardware features.
With 2019 marking their 30th Anniversary, Tech 21 stepped up to the challenge of streamlining its architecture into a compact, easily portable pedal. The SansAmp PSA 2.0 offers the same operational simplicity, essential functionality and dizzying versatility as its predecessor. It also features a Performance Mode which turns it into a 3-channel stompbox.
Combining a warm, all-analog signal path for punchy, responsive, organic sounds with digital recall, the SansAmp PSA 2.0 bears all of the original controls: Buzz, Punch, Crunch, Drive, Gain (formerly Pre-Amp), Low, High, Level and Trim. With 128 memory locations, storing and recalling programs is simple. You don't need any special training or a degree in physics to operate the unit. When you turn a knob, you hear the difference immediately --in real time. You just set your tones and push the Save button.
In the studio, you can record direct, enhance existing tracks in mixdowns, as well as add interesting touches to any instrument, including drums, horns and vocals. Live, the SansAmp PSA 2.0 can be used as a pre-amp direct into a power amp with guitar or bass speaker cabinets, as a "monster direct box" to a P.A. system (or both simultaneously), and as an outboard processor.
For more information:
Tech 21 NYC