Whether in the studio or on solo gigs, the Nashville session-guitar star holds a lotta cards, with guitars and amps for everything he's dealt.
Adam Shoenfeld has helped shape the tone of modern country guitar. How? Well, the Nashville-based session star, producer, and frontman has played on hundreds of albums and 45 No. 1 country hits, starting with Jason Aldean's "Hicktown," since 2005. Plus, he's found time for several bands of his own as well as the first studio album under his own name,All the Birds Sing, which drops January 28.
---
Shoenfeld recently let PG's John Bohlinger in on some of his sonic secrets, running through his session rig at East Nashville's 3Sirens studio.
[Brought to you by D'Addario Nexxus 360 Rechargeable Tuner: http://ddar.io/Nexxus.RigRundown]
Melody Maker Magic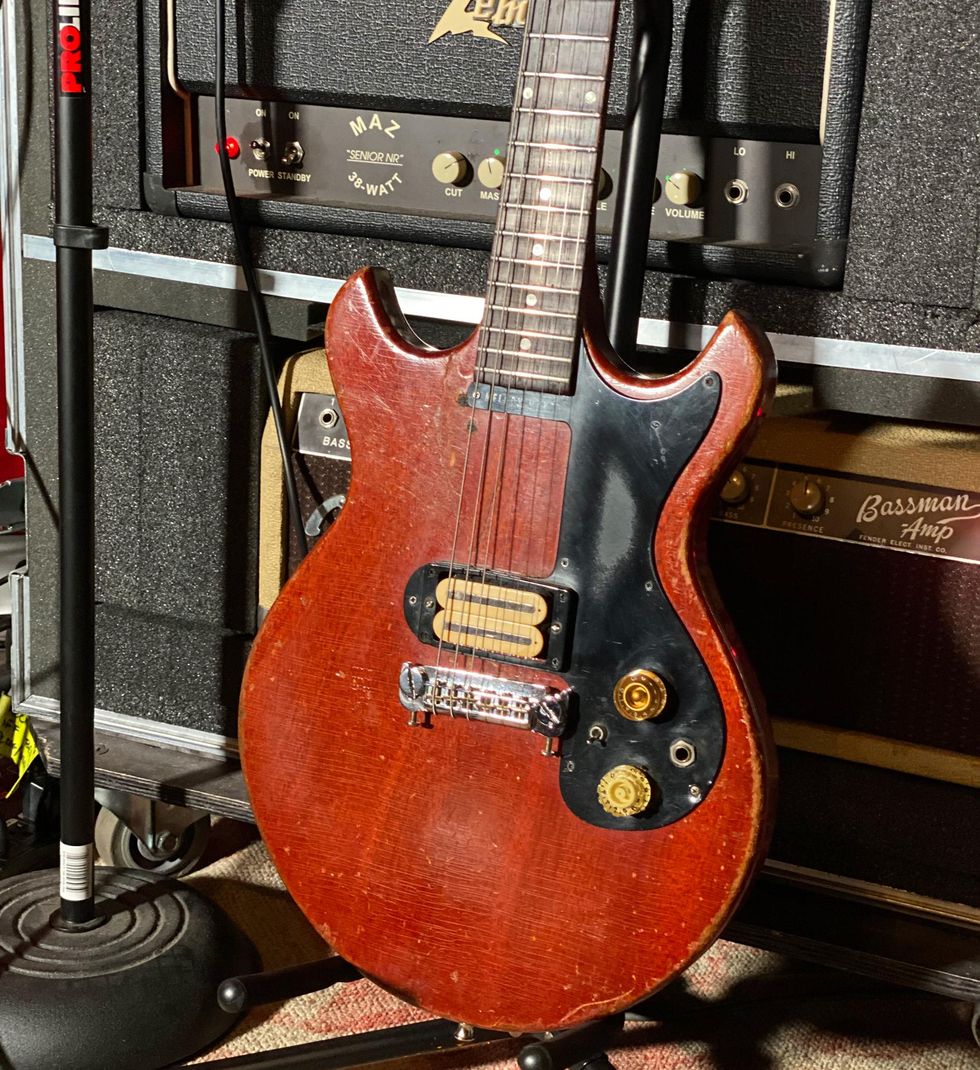 Shoenfeld's choice of guitar depends on the song, but a good deal of the time he plays his 1964-'65 Gibson Melody Maker. Before Adam got it, the guitar had been modded with a Badass bridge and the original pickup was swapped for a DiMarzio X2N engraved "1979." All his electric guitars are strung with D'Addario NYXLs, gauged .010–.052.
It's That Strat
People think they're hearing humbuckers on Jason Aldean's "Hicktown," but it was played on this stock American-built 1998 Fender Stratocaster.
Orange Squeezer
Next in the arsenal is this Bigsby-equipped Gretsch 6120 from the early 2000s.
P-90 Powerhouse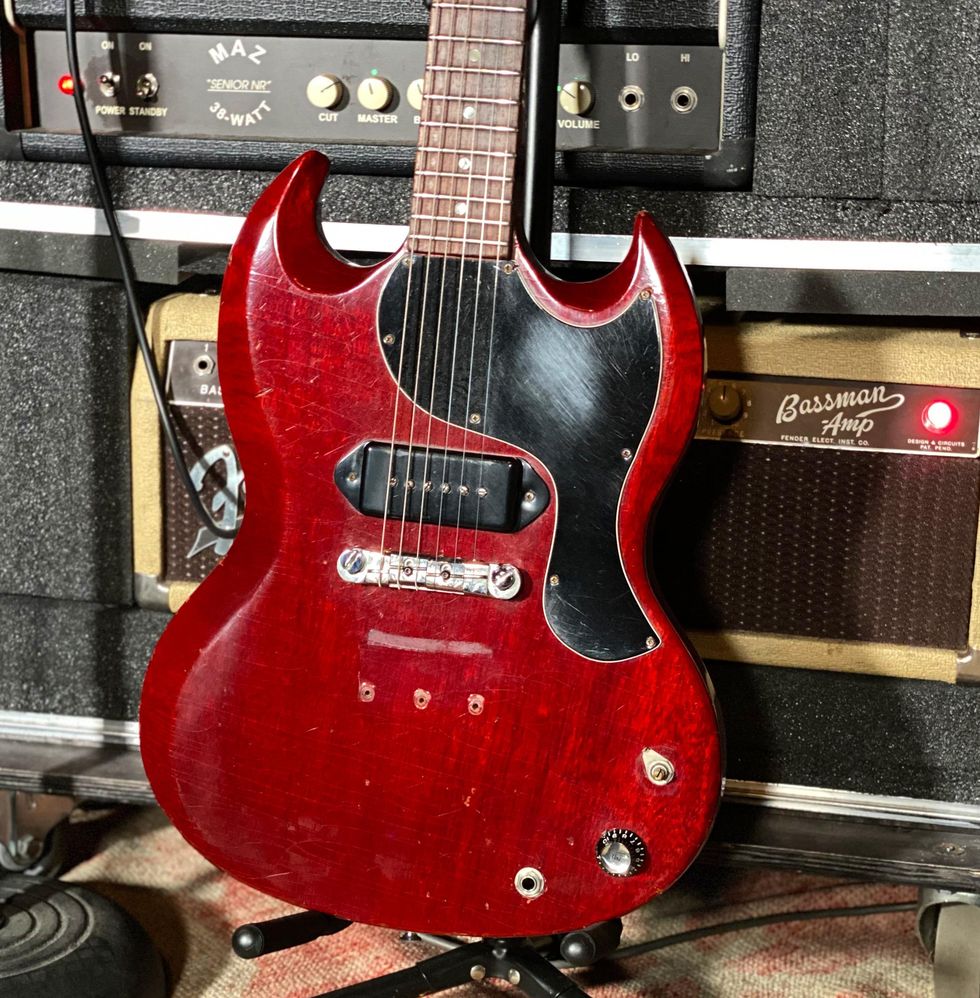 For a P-90 tone, Shoenfeld goes with this 1964 Gibson SG Junior. Other than the bridge, the instrument is all stock.
Nashville Necessity
To cover country's de rigueur twangy bite, Shoenfeld employs this Fender '72 Telecaster Custom reissue, built in 2004.
Tricky Ricky
A rare, exotic gem, this all-stock 1964 Rickenbacker 330 is used by Shoenfeld for sessions and is his main guitar when he's fronting his own project.
Morgan Workhorse
Shoenfeld describes this Morgan SW-50, modded by Joe Morgan for more headroom, as "very Bassman-ish, but a little squishier … tubier."
First Bassman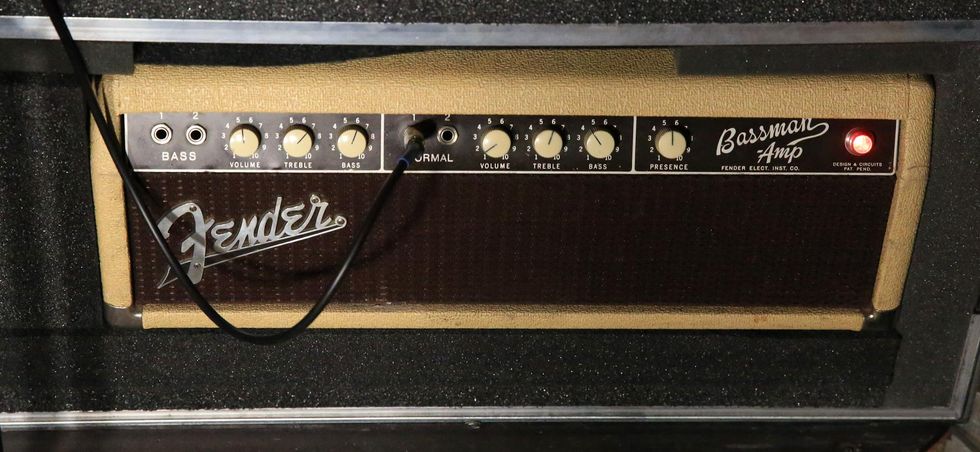 He also relies on this racked blonde Fender Bassman from the early '60s.
Ver-Z-tility
This jack-of-all-tones Dr. Z MAZ-38 has been modded by Nashville-based boutique amp make Ebo Customs.
Conjugatin' Verb
Ebo Customs also made this sweet tube-driven E-Verb reverb unit. You'll find one of these in fellow studio ace Tom Bukovac's rack, too.
Vox Box
The Vox Cambridge was introduced in 1965. This one's from the next year, when both tube and solid-state versions were made. Check out the video for the inside scoop on this doggie.
50 Watts of Law
The Marshall JMP combo is a truly iconic amp—with big teeth and big tone. This all-stock example was built in 1977.
Hemp Power
This Fender 2x12 Bandmaster bottom cab carries some fat: It's loaded with a pair of Tone Tubby Hempcones.
Board, Not Bored
There's plenty to get excited about in this pedalboard built by Nashville's XAct Tone Solutions (XTS). First stop is an XTS buffer box, with in/out pass-throughs, an FX insert (between the Xotic AC Booster and Dyna Comp), a MIDI-in for the Line6 M9, external expression inputs, a click-in for the Lightfoot Labs Goatkeeper, plus a buffer that's always on, a ground switch, and an extra pedal power jack. Next: a Dunlop Volume (X), a ZVEX Box of Rock, the AC Booster, an MXR Dyna Comp, an EHX Pitch Fork, and Xotic X-Blender (keeping an EHX Micro-Synth and Jetpack Mods XP1000 modulation and filter pedal on tap), an original Ibanez TS808 Tube Screamer, a Catalinbread Teaser Stallion fuzz, the Lightfoot Labs Goatkeeper tremolo, a Strymon Mobius, a Strymon El Capistan, and a Line 6 M9. Finally, there's a versatile db Instrument Amp expression pedal with two left/right pots and two up/down pots. A Voodoo Labs Mondo supplies the juice.
Related Articles Around the Web
Rhett and Zach unpack the big news for secondhand guitar sellers and buyers: Sweetwater has launched their new Gear Exchange. How does it compare to Reverb, Craigslist, and Marketplace? To find out, Zach takes the site for a spin and buys a pedal. He calls the process both "very easy" and "normal." They discuss the pros and cons of the various used-gear outlets and share tips for not getting got when buying gear. Plus, Zach grew a mustache, Mythos Pedals is moving, and he talks about his forthcoming line of Strat pickups inspired by Hendrix's reverse-stagger setup.
Sweetwater vs. Reverb

To celebrate its 20th anniversary, Xotic Effects unveils an updated version of their classic boost pedal.
Xotic's RC Booster pedal is back to celebrate its 20th anniversary. The RC Booster's original design was a customer favorite due to its versatile clean boost, active treble, bass, gain and volume controls. This classic reissue will join their regular pedal lineup permanently.
Features
• Transparent boost pedal for electric guitar
• Up to 20dB of boost for adding volume or sending your amp into overdrive
• Treble and bass EQ controls with +/-15dB range for fine-tuning your sound
• True bypass switching removes the effect from your signal path when disengaged
• Powered via 9-volt battery or optional AC adapter (sold separately)
• 9-18 volts
The first 1000 pedals will contain a special limited edition packaging with special items and actual guitar picks from Andy Timmons, Paul Jackson Jr, Dean Brown, Kirk Fletcher, Allen Hinds, Chris Duarte, Scott Henderson, Oz Noy, Michael Thompson, Yuya Komoguchi, Toshi Yanagi.
RC Booster with limited edition packaging street price is $172.00. More info: xotic.us.
Expanding on the innovations of Cort's original 8-string multiscale, the KX508 Multi-Scale II features an updated okoume body and a specially designed Fishman Fluence Modern Humbucker.
The KX508 Multi-Scale II is the second iteration of the eight-string KX508, Cort's first multi-scale 8-string guitar introduced in 2020. Like its predecessor, the KX508 Multi-Scale II has a visually stunning poplar burl top in a Mariana Blue Burst finish. Beyond its visual appeal, the poplar burl is an ideal tonal complement to Cort's newly introduced okoume body. Okoume is known for its light weight and ability to improve tonal clarity. It has a tight low-end and highly articulate high-end, which matches the overall sonic characteristics of the KX508 Multi-Scale II. The multi-scale, measuring 26.5 to 28 inches, offers a punchy low end while maintaining a familiar feel and tension on the treble strings, which allows for speedy runs and string-bending. Players have unhindered access to the high frets thanks to the low-scooped heel.

The 5-piece maple and purple heart neck not only provides strength and stability, aided by a spoke nut hotrod truss rod, but a strong and focused sound. The Macassar ebony fingerboard (15.75-inch radius) offers smooth playability along the 24 frets with teardrop inlays. Macassar is an ideal tonewood for high-gain applications because of its ability to cut through a dense mix. At the top of the neck, the 2 7/32-inch nut width (56.5 mm) is surprisingly comfortable for an 8-string guitar and is even suitable for players with smaller hands. The individual hardtail bridge with string-thru-body design results in greatly improved sustain, superb string separation for enhanced articulation, and precise intonation. Deluxe locking machine heads offer reliable tuning as well as easier and quicker string changes.

The Cort Sessions | KX508 Multi Scale II Electric Guitar
MSRP $1699.99 USD

MAP $1199.99 USD
For more information, please visit cortguitars.com.
The Tour Collection is defined by a minimalistic, vintage-inspired aesthetic, top-of-the-line components, and a simplified electronics configuration featuring new, custom pickups by Supro.
Available in the collection is the 16-inch-wide double-cutaway DC, the 15-inch-wide single-cutaway SS, and a 14-inch-wide Mini DC. Each model comes in three finishes: Slate Blue, Solid Wine, and Solid Black.

Every detail of the Tour Collection was chosen to achieve retro minimalism. Small diamond fingerboard inlays match 1930s-style diamond f-holes, and an undersized Throwback Scroll-style headstock achieves excellent head-to-body balance. The collection also features satin nickel hardware and custom Vintage Deluxe Grover tuners with a 15:1 gear ratio. Each model also features a simplified two-knob electronics configuration with 50s-style wiring to retain top-end clarity upon rolling off the volume knob. The neck shape in the Tour Collection is similar to the slim C-shape found throughout the D'Angelico line, but with more thickness in the shoulder to allow for snug hand fit as well as extra sustain. Medium Jumbo fret wire and a 12-inch fingerboard radius allow for quick navigation of the fingerboard while also prioritizing comfort for both rhythm and lead playing.
In 2020, Supro and D'Angelico became part of the same family of brands under Bond Audio. At that time, EVP of Product Ryan Kershaw and CTO Dave Koltai began designing custom pickups under the Supro name for the Tour Collection project.
"Supro Bolt Bucker pickups were designed to offer the tone of the most sought-after vintage "PAF" pickups from the late 1950's. Scatter wound, just like the originals, Supro Bolt Buckers utilize 42-gauge enamel wire along with a mixture of Alnico II (neck) and Alnico V (bridge) magnets to provide the perfect balance of warmth and clarity with unrivaled articulation and note bloom." - Dave Koltai, Chief Technology Officer at Bond Audio.
Introducing the Excel Series Tour Collection | D'Angelico Guitars
All models are available for pre-order and will be in stock this holiday season. US MAP $1499. For more information, please visit dangelicoguitars.com.