Rig Rundown: Citizen [2021]
Go inside Mat Kerekes' home studio to see the stock Fenders, magical JCM800, and key "junker" pedals that colored Life In Your Glass World.
"Citizen is expertly trained in disappointing our fans," cheekily admits guitarist Nick Hamm. "So, every time people like something we're heading in a different direction."
---
The self-deprecation aside, Citizen has thrived at throwing musical curveballs. 2013's debut Youth seemingly shotput them into a trajectory as angsty emo kids with a love of '90s grunge-rock dynamics. However, 2015's Everyone Is Going to Heaven expands on their early complexities. They stretch out the symbiotic flow from heavy to quiet. The crushers ("Cement") hit harder while the dreamers ("Heaviside" or "Yellow Love") float longer in a spacy nighttime silhouette. 2017's As You Please further combines atmosphere with aggression. The result is a dark-pop album with cutting, jagged moments of emotion. Synth layers smooth out the edges and enable the hooks and melodies to sink deeper. And the brand-new Life In Your Glass Worldis almost a more dense, groovy dance record than pure, riff-heavy rock album. (Which makes sense after learning in the Rundown all the songs were written around the rhythm section, not guitar or vocals.)
Just before putting out their latest album, core Citizen members Mat Kerekes (singer), Nick Hamm (guitarist), and brother Eric Hamm (bassist), virtually welcomed PG's Perry Bean into Kerekes' home studio that facilitated the new album.
In this episode, the Hamm brothers and singer/producer Mat Kerekes detail the impact their altered songwriting and recording processes impacted the outcome of
Life In Your Glass World
. In addition, Nick Hamm contextualizes two pivotal EHX pedals, while Eric Hamm explains how losing a Fender Bassman 800 improved his tone.
[
Brought to you by:
D'Addario Auto Lock Strap
]
Nick Hamm's Fender American Performer Jazzmaster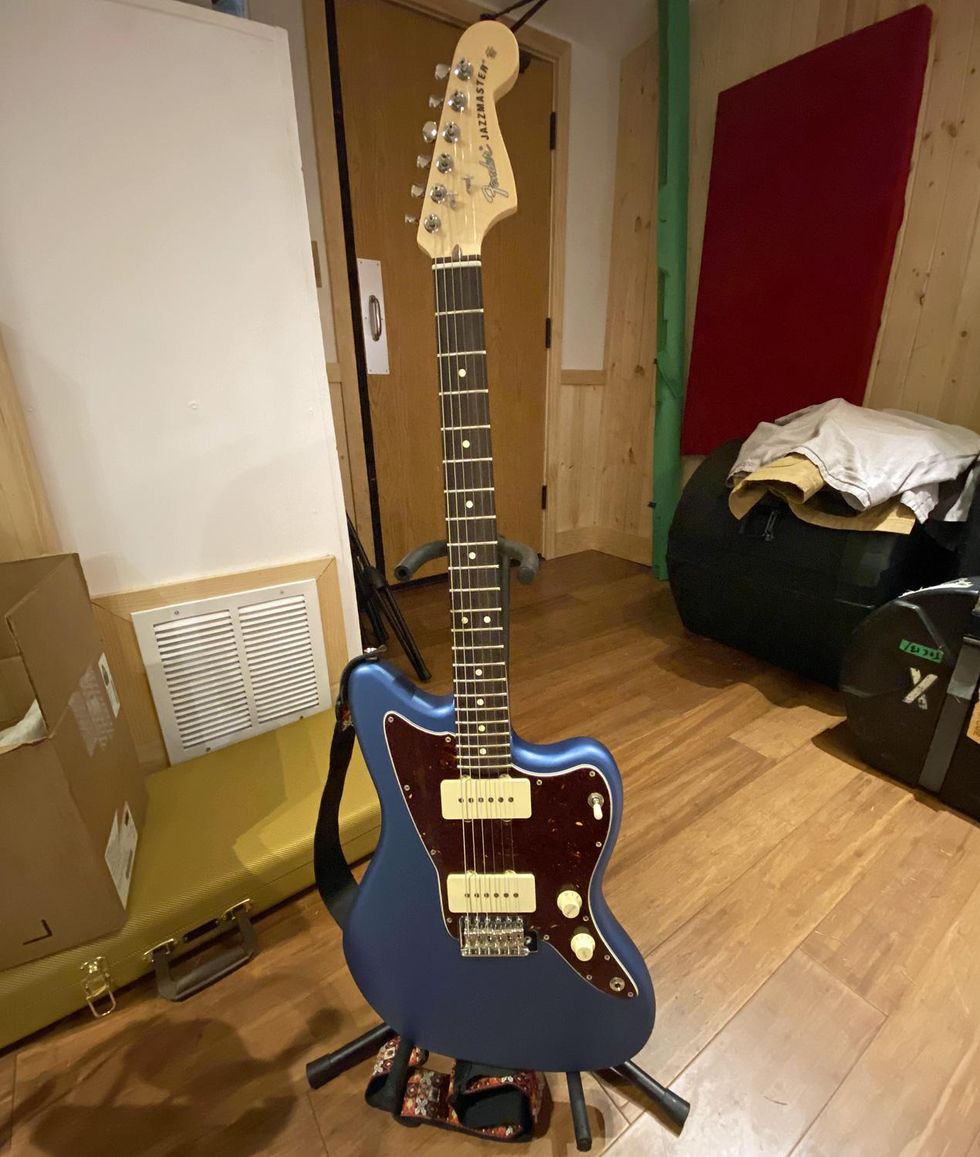 The biggest departure for Nick Hamm's setup is upgrading from a Fender Classic Player Jazzmaster (seen in the last Rundown and used extensively on As You Please) to a Fender American Performer Jazzmaster for Life In Your Glass World.
Nick Hamm's Marshall JCM800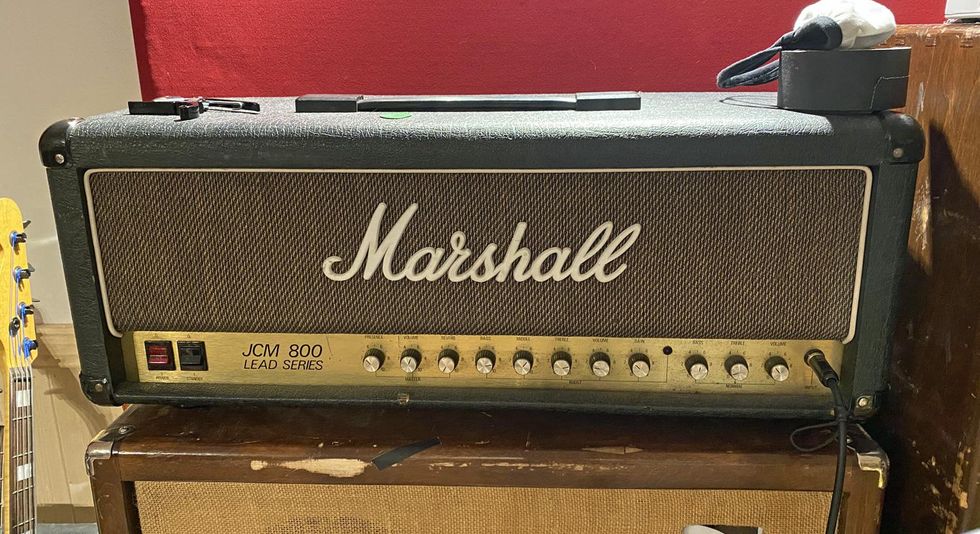 "This JCM800 is flat-out not going anywhere," states Citizen guitarist Nick Hamm. And to his credit, it's been in his setup (and in the studio) ever since our 2017 Rundown. (In that episode, Hamm stated that producer loved this Marshall JCM800 so much that he told Nick to never sell this amp.
Nick & Eric Hamm's Cabinets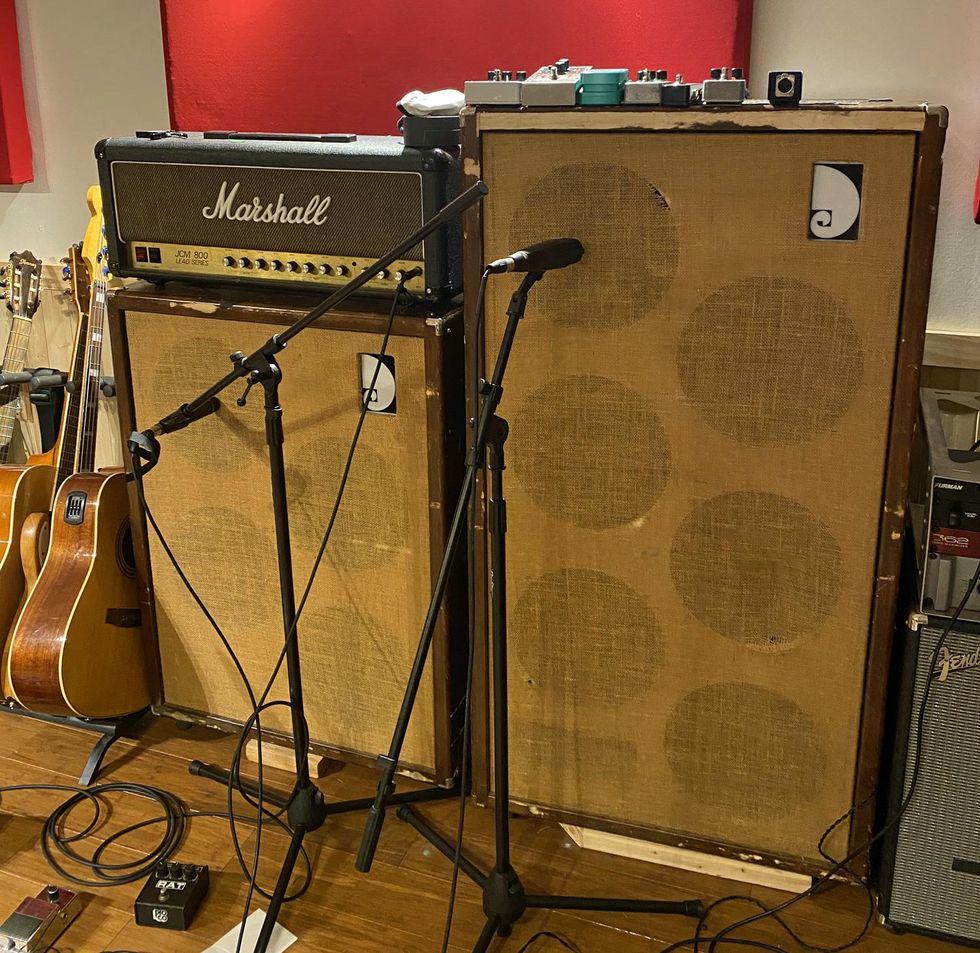 The 800 powers a staggered 4x12 cab from Janice and it's loaded with Vintage Celestion 30s. Next to the 4x12 rests bassist Eric Hamm's staggered Janice 6x12.
Nick Hamm's Pedalboard
Nick Hamm's "junker" pedalboard has slightly changed since 2017—the Electro-Harmonix Freeze was removed to make way for EHX's Synth9 ("featured on prominent parts of the new record like 'Blue Sunday'"). The rest are repeat offenders: Ernie Ball VP Jr, Electro-Harmonix Nano Big Muff, Electro-Harmonix Micro POG, Ibanez TS9 Tube Screamer, Electro-Harmonix Holy Grail, Boss DD-3 Digital Delay, Boss CH-1 Super Chorus, and a Boss TU-3 Chromatic Tuner.
Eric Hamm's 2014 Fender American Standard Jaguar bass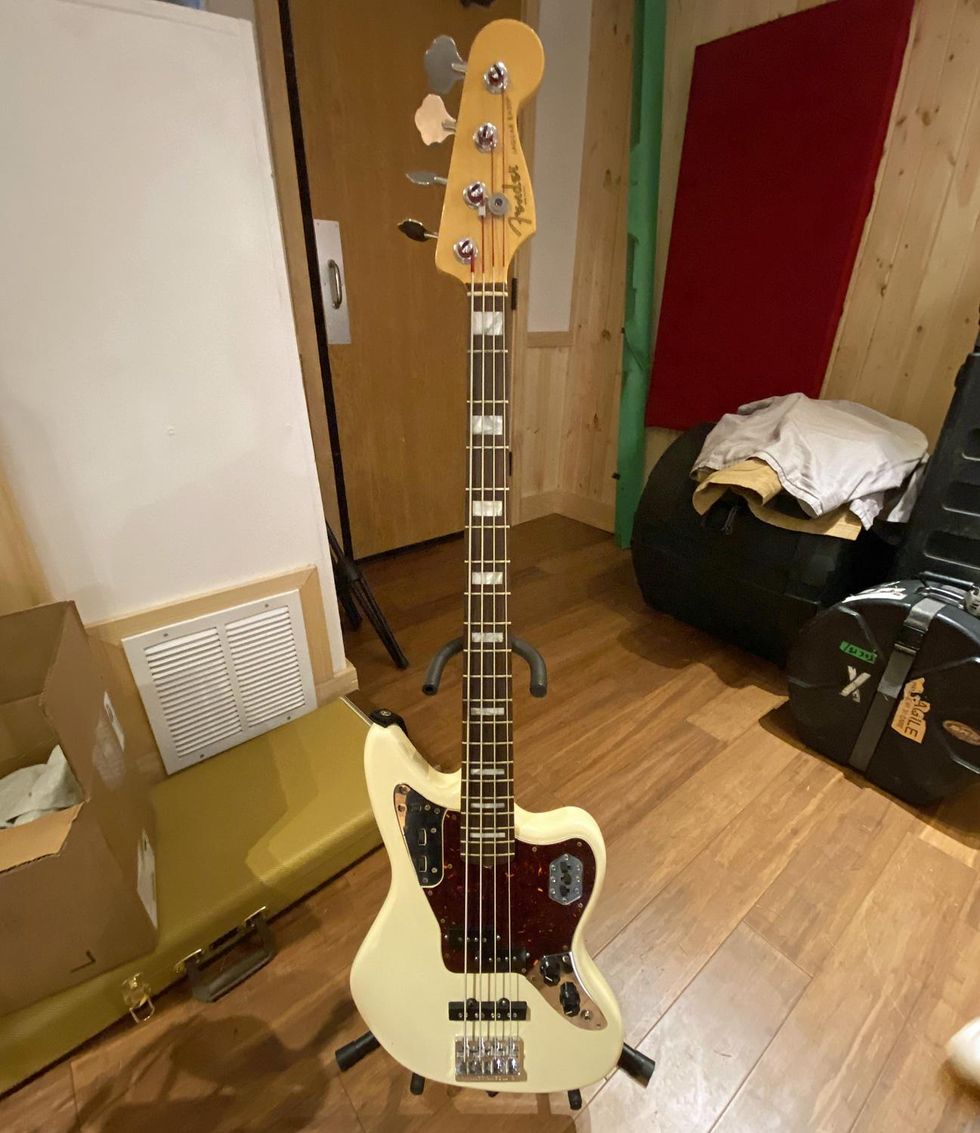 Eric Hamm's main ride is still this 2014 Fender American Standard Jaguar bass because he continues to enjoy its different sound and tonal flexibility when compared to his P basses. The bass works in either passive or active mode, but he prefers its sound in the passive setting.
Eric Hamm's Tech 21 SansAmp RBI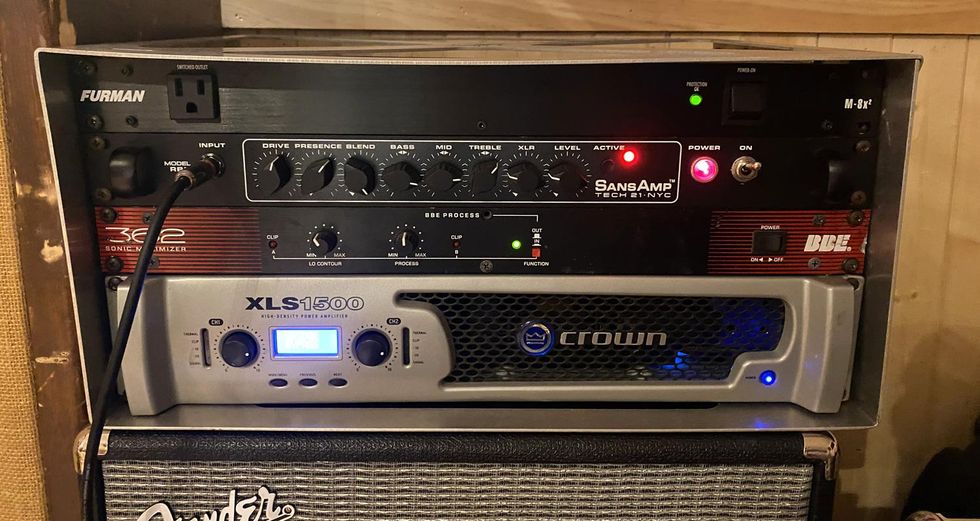 Last time we spoke with Citizen, Eric Hamm was using a Fender Bassman 800. He's since recalibrated his setup with a Tech 21 SansAmp RBI that's powered by a Crown Audio XLS 1500 and runs in conjunction with a BBE 362 Sonic Maximizer.
Eric Hamm's Pedalboard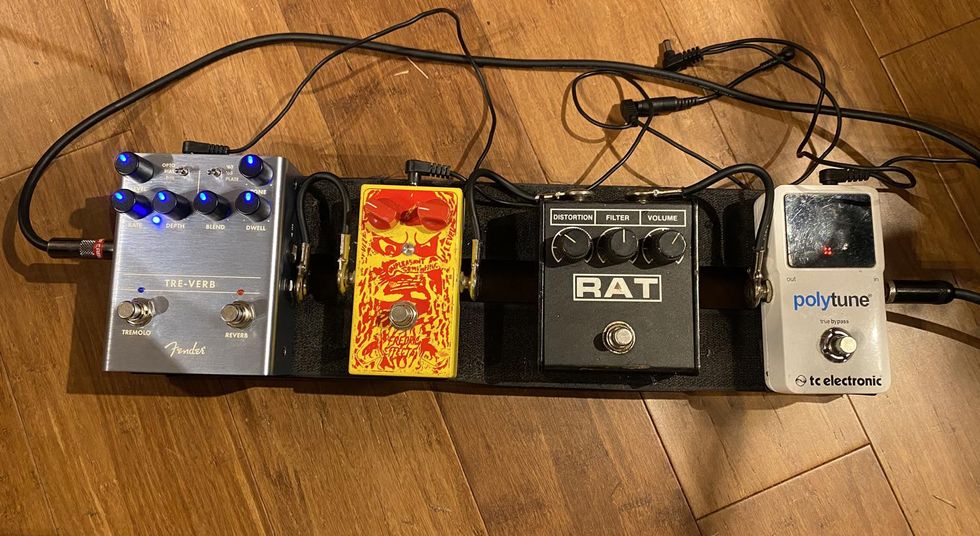 While still man of few pedals, Eric Hamm has expanded to three stomps and a tuner. The Pro Co Rat and TC Electronic PolyTune 2 are carryovers, but the pair of newbies is a Fender Tre-Verb and Fredric Effects Unpleasant Companion MkII.
From Your Site Articles
Related Articles Around the Web