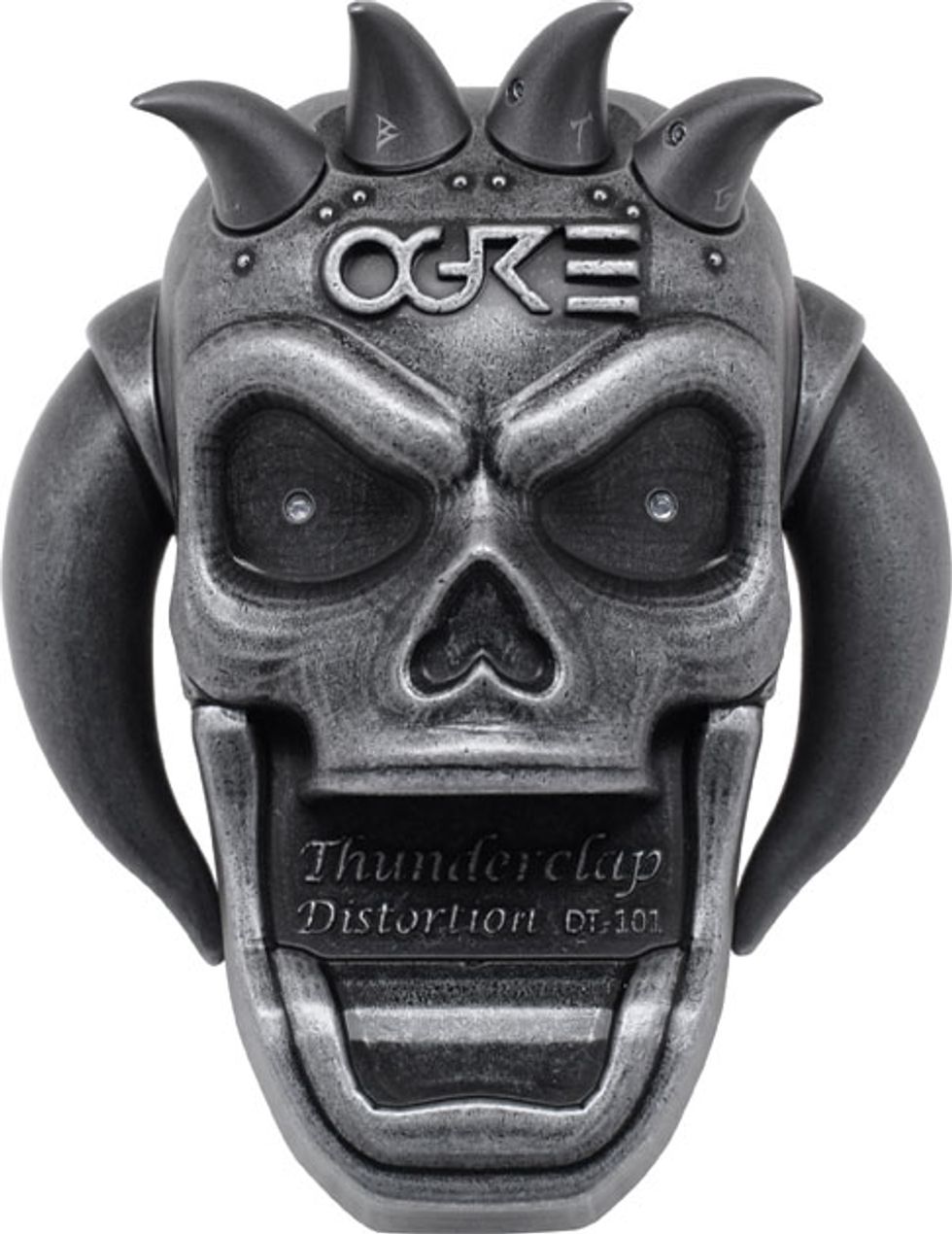 The glowing eyes of OGRE's Thunderclap distortion and Tubeholic overdrive indicate effect status while controls are accessed via "flip-top" faceplates or by turning horns on the monster head.
Winter NAMM—that magical, mythical gathering of the talent and technology that comprise our beloved music products industry. Held every January in the palm-laden paradise of Southern California, NAMM is the Mecca for musicians and the tools they use to create their art. Fame and fortunes have been won and lost in this great, surging sea of sound. Most industry insiders view the show as a yardstick to gauge the coming year's triumphs or tribulations.
It's been a few years since I attended NAMM—our company stopped exhibiting in 2011, opting to direct the weighty booth costs into other, more quantifiable forms of promotion. But this year I attended as a visitor, just to catch up on what's happening.
While I didn't miss the old panic attacks or hangovers, I have missed the GAS (gear acquisition syndrome) that typically accompanies a NAMM show. There's always some new piece of gear you just have to have, and I always come back from the show with a product wish list. This year was no different—there were plenty of interesting and innovative products in all categories. But since this column is about pedals, here are my top 10 NAMM stompbox picks, presented in ascending order.
10. Malekko Heavy Industry — Malekko didn't exhibit, but my buddy Jimmy had a few new models on hand. Malekko has scrunched several of their circuits into custom, bud-box sized chassis with lower-profiles and rounded edges. Sleek and sexy, these new versions sport gorgeous graphics and exude an unmistakable air of quality. Most notable is the downsized B:Assmaster, now known as Diabolik. (malekkoheavyindustry.com)
9. Darkglass — I reviewed the Darkglass Microtubes a while back, so I was interested in their new offerings. Their Duality Fuzz features two independent fuzz circuits that can be blended together along with dry signal for a variety of unique fuzz textures. Aggressive yet articulate, this pedal was a real treat to play. (darkglass.com)
8. EarthQuaker Devices — EarthQuaker has been making waves lately, and their massive display was both eye- and ear-catching. I was treated to demos of their latest models, including the Pitch Bay harmonizer/distortion and the Terminal fuzz. I love EarthQuaker's left-of center approach to product design. If you're after new and unique sounds, these are the guys to watch. (earthquakerdevices.com)
7. Catalinbread — I always enjoy what the Catalinbread crew dreams up, and this year they had a couple of cool new boxes to show. The Topanga is a reverb pedal designed to emulate the sound of a vintage Fender tube unit, while the Karma Suture (great name!) is an even-order harmonic fuzz based on the rare Harmonic Percolator. Great stuff, as always. (catalinbread.com)
These aren't just pedals—they're functional works of art that sounds as amazing as they look!

6. Pigtronix — I first met Dave Koltai at NAMM more than a decade ago, and watching Pigtronix blossom into a household name has been a real treat. Dave's Echolution 2 is a kitchen-sink reboot of their popular delay with full programmability, incredible sound quality, and a cornucopia of features. A software application handles preset management and firmware updates. This pedal is truly echolutionary! (pigtronix.com)