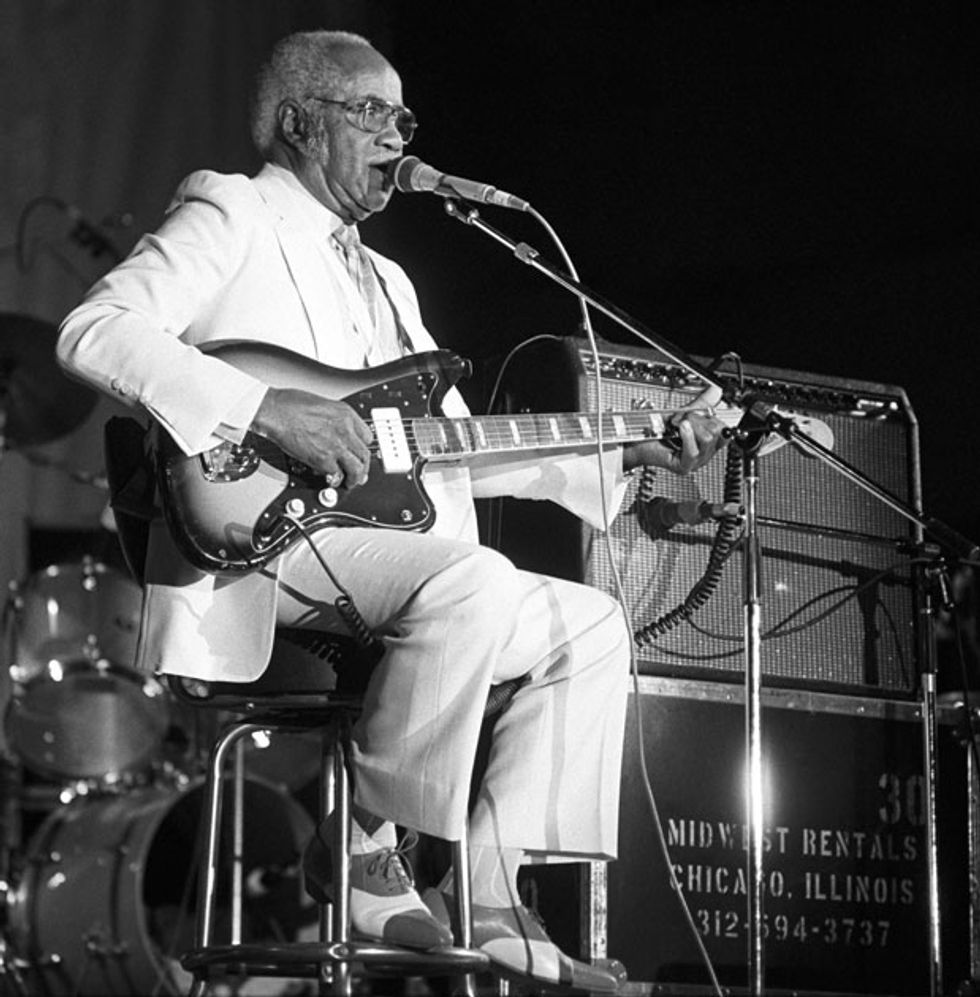 Pops Staples at the Chicago Blues Fest on June 8, 1986. Photo by Kirk West / Archive Photos / Getty Images.
Whenever you hear country blues-inflected guitar played through an amp with tremolo, you're hearing a sound descended from singer/composer/guitarist Pops Staples. Best known as the leader of a family gospel group, the Staple Singers, his guitar style influenced and inspired John Fogerty, Bonnie Raitt, Ry Cooder, and countless others. The dark mystery of his instrument's wavy sound has become part of the fabric of American music.
Roebuck Staples, known as "Pops," was born to Warren and Florence Staples on December 28, 1914, on a cotton plantation near Winona, Mississippi. Roebuck and his older brother Sears were named after the Chicago mail-order company that supplied millions of rural Americans with everything from washing machines to musical instruments.
The Staples soon moved to a plot on the Dockery plantation near Drew, Mississippi. As a teenager, Staples would make money participating in local boxing contests, but other interests had already begun. Though secular music was forbidden in his family, his brother David played blues guitar. By age 14 Staples was paying fifty cents a week towards a Stella he saw hanging in a store window. Like many blues artists of the time he picked cotton during the day, but when work was done he'd commune with the guitar, taking it to bed and playing under the covers as long as his father would allow.
"People used to call it 'Pop Staples and his nervous guitar.'"
—Leroy Crume

In Drew, he heard blues legend Charley Patton, who played at a local hardware store in the evenings. The sight of Patton, Howlin' Wolf, and others making a living playing music inspired the young Staples to practice. By age 16 his diligence paid off with party gigs on the plantation circuit. The house manager collected contributions from the attendees, sometimes paying the guitarist $5 a night—a fortune by sharecropper standards.
Despite his love of the blues, Staples remained involved in the religious community, singing in church and later touring with a gospel quartet, the Golden Trumpets. At the time the guitar was associated with "the Devil's music" and forbidden in churches, though Staples never saw the contradiction—he felt the blues were just telling a different story.
Citified
At 18, Staples married 16-year-old Oceola Ware. A daughter, Cleotha, and a son, Pervis, soon followed. Seeing no future for his family in the South, he journeyed to Chicago. There, Staples put the guitar down for a dozen years while working in a slaughterhouse and a series of other jobs. Oceola worked as well, and gave birth to two more daughters: Yvonne and Mavis.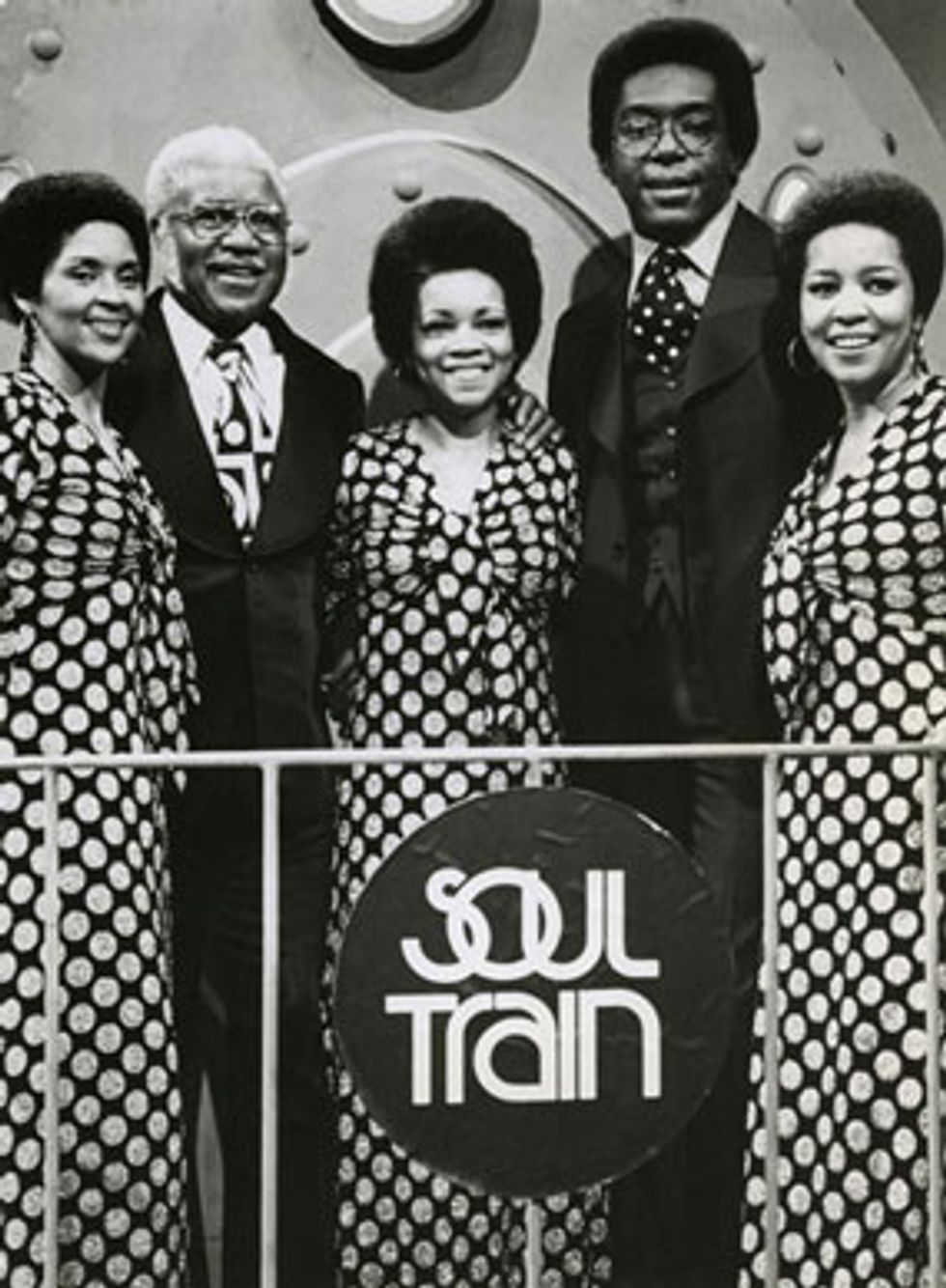 The Staple Singers pose with Don Cornelius (right) on the set of Soul Train. This publicity photo was taken during production of the June 8, 1974 episode.
Chicago in the '40s was a hotbed of R&B, blues, and bebop. The Staples family lived in the neighborhood that spawned such talents as Lou Rawls, Sam Cooke, and Johnny Taylor. Gospel was also on the rise, with guitar-based male quartets and piano-accompanied female soloists working a circuit of churches around the nation.
For a while, Staples joined the Trumpet Jubilees as a vocalist, but in 1948 he decided to form a group closer to home. He pulled out an old guitar and taught Mavis, Cleotha, Pervis, and Yvonne harmony parts to "Will the Circle Be Unbroken." The family's debut at an aunt's church brought seven dollars and promises of more gigs. The Staples warm Southern sound quickly caught on, and soon they were branching out to other cities and states.
In 1950 Staples bought his first electric guitar, an amp, and the tremolo effect that would help define his sound. Pops played a variety of mostly Fender guitars throughout his career: Telecasters, Jazzmasters, Jaguars, and Stratocasters. In Greg Kot's book, I'll Take You There: Mavis Staples, the Staple Singers and the March Up Freedom's Highway, Sam Cooke's guitarist Leroy Crume recalled: "When Pops came on the scene, he brought this little gadget you put on an amplifier—at the time they weren't making amps with tremolos … People used to call it 'Pop Staples and his nervous guitar.'" The effect was most likely a DeArmond 601 Tremolo unit, which became available in 1948.
Though Pops Staples never left the church, he'd spent his fair share of time in juke joints playing the blues. With his family band committed to gospel, he now joined a Baptist church and was "born again," giving up secular music for the moment.
In 1953, Pops had the newly named Staple Singers record a single to sell at shows. A Chicago label, United Records, soon signed them, but their first label record, "Won't You Sit Down (Sit Down Servant)," failed to hit. An early version of "This May Be the Last Time" (later covered by The Rolling Stones as "The Last Time") was cut but not released until years later, and on another label. United wanted the band to move in a more rock 'n' roll direction, and for Mavis to sing the blues. Pops refused to agree.
It was back to the factory for a while, but the Staple Singers' singular sound—14-year-old Mavis' low voice, Pops' falsetto, and country soul in an urban environment—couldn't be denied. Another part of their unique appeal was Staples' guitar. Though artists like Sister Rosetta Tharpe and Pops' favorite, Blind Willie Johnson, had incorporated guitar into gospel, the Staple Singers were one of the first Chicago gospel groups to employ this previously shunned instrument. They were allowed to enter local churches that had previously permitted only keyboard accompaniment.