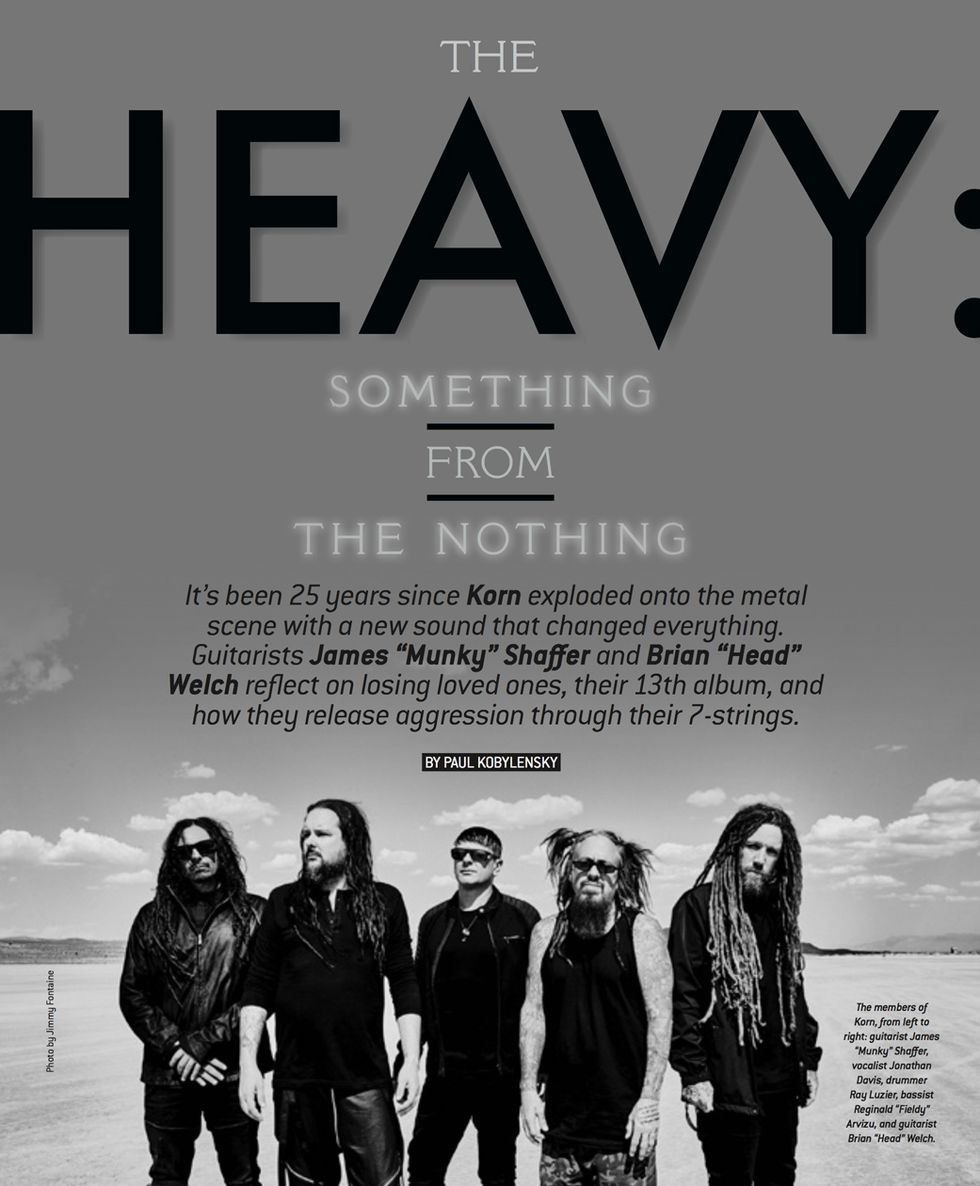 The members of Korn, from left to right: guitarist James "Munky" Shaffer, vocalist Jonathan Davis, drummer Ray Luzier, bassist Reginald "Fieldy" Arvizu, and guitarist Brian "Head" Welch. Photo by Jimmy Fontaine
There are big rock bands, and then there are bands that completely change the sonic landscape. Korn is definitely one of the latter. The moment this Bakersfield 5-piece's first single, "Blind" hit the airwaves in the mid '90s, grunge died, hip-hop was adopted by the heavy rock crowd, and Metallica was no longer the metal band to beat. From that point on, metal had to be down-tuned, groovy, and exceptionally twisted.
Their impact on the guitar was even more dramatic. The band's earth-moving use of the Ibanez 7-string guitar brought more notoriety to the design than the instrument's guitar-hero designer, Steve Vai, ever did. And when they paired these extended range instruments with Mesa/Boogie Triple Rectifiers, a gut-rumbling sound was pounded into the metal-guitar vernacular that has remained a standard to this day.
Korn enjoyed a meteoric rise to fame, but the sound they fearlessly pioneered, now called nu-metal, was soon aped by thousands of me-too bands who watered down its impact and created a tidal wave of backlash. Down-tuned riffing, emotionally frightening vocals, and hip-hop influence were now to be avoided like the plague. However, Korn—guitarist Brian "Head" Welch, guitarist James "Munky" Shaffer, vocalist Jonathan Davis, bassist Reginald "Fieldy" Arvizu, and Ray Luzier on drums (Luzier replaced David Silveria in 2007)—always seemed to be the one band to maintain their loyal fanbase and continue delivering the goods.
That's thanks in large part to their willingness to experiment with their winning formula. After Brian "Head" Welch temporarily left the band in 2005, they began taking some chances with their music that kept fans scratching their heads. See You on the Other Side (2005) boasted a hefty list of co-writing credits with pop mega-hit writers like Matrix, responsible for such chart-topping artists as Shakira, Avril Lavigne, and Britney Spears. Then came 2011's The Path of Totality, which blended in a massive dose of EDM heavyweights, including Skrillex, Noisia, and Excision.
Since then, Head rejoined his brothers in Korn, officially in 2013. And, with his help, they've begun steering the massive ship back to their beloved, gut-pummeling, emotion-wrenching sound.
"The first record with me back [Paradigm Shift] was more electronic-based with a little bit of heavy mixed in," he remembers. "But [Serenity of] Suffering was heavy. And now this one's even more. It's been a process of making sure everyone can enjoy making music and enjoy Korn."
Longing for heavy riffs was only part of what has brought the band roaring back. The last few years have also been filled with personal and professional tragedy, including the death of Davis' ex-wife and some of their most celebrated peers and heroes in the music industry. Needless to say, they had plenty to write about when they hit the studio, and it all culminated in their most recent offering, The Nothing.
The album opens with Korn's trademark bagpipes as Davis' familiar roar mixes with his equally identifiable pain-filled cries. As soon as the album's first full song, "Cold," kicks into gear, it's clear that Korn has returned. But it's the album's fifth track, "Idiosyncrasy," that may be the best example of their current sonic incarnation. From the clicking slap bass and pulverizing metal tones to the "Got the Life"-like disco-drum beat in the chorus, everything that made the band great is on full display. And each of these elements has been given a shot of adrenaline, making them heavier, groovier, and more powerful than they've ever been.
"Munky can play everything. All the stuff played on the record, he's always taking the challenge. He wants the challenging parts, and I'm like, 'Go right ahead!'" —Brian "Head" Welch
Much of that power can be attributed to producer Nick Raskulinecz, who has built an impressive resume helping such iconic bands as Rush, Alice in Chains, and Mastodon maximize the impact of their unique attributes. And he does it while continually pushing the bands for more than even they knew they were capable of.
"He's listening from a perspective, a vantage point, that really lends to being objective," James "Munky" Shaffer points out. "He'll say, 'Let's not do that. I feel like I've heard that from you guys, and it sounds typical for Korn.' But we also don't want people to forget who we really are."
It's safe to say The Nothing has achieved on both fronts: new, pulverizing production and plenty of Korn's iconic character. Fans can always count on Korn to eventually return to their roots. But it's been a long journey back this time around—one defined by loss, renewed friendships, and sonic discovery. But they're finally here.
Munky and Head took time with Premier Guitar to reflect on this journey. In their familiar, laid-back, California way, they detail how everything that went into The Nothing still came down to coping with life through 7-strings and Mesa/Boogies.
The Nothing has some of Korn's heaviest moments in years. What inspired a return to such an aggressive sound?
Head: What helped a lot on this record was Jonathan falling in love with heavy music again. We don't want to make him do something he didn't want to do. But he just fell in love with it again.
Then having Nick Raskulinecz onboard, he used to flip burgers and listen to "Here to Stay" at the burger joint. He's like, "Dude, I know what I want to hear as a fan." We were all on the same page. That's how it ended up, this type of record.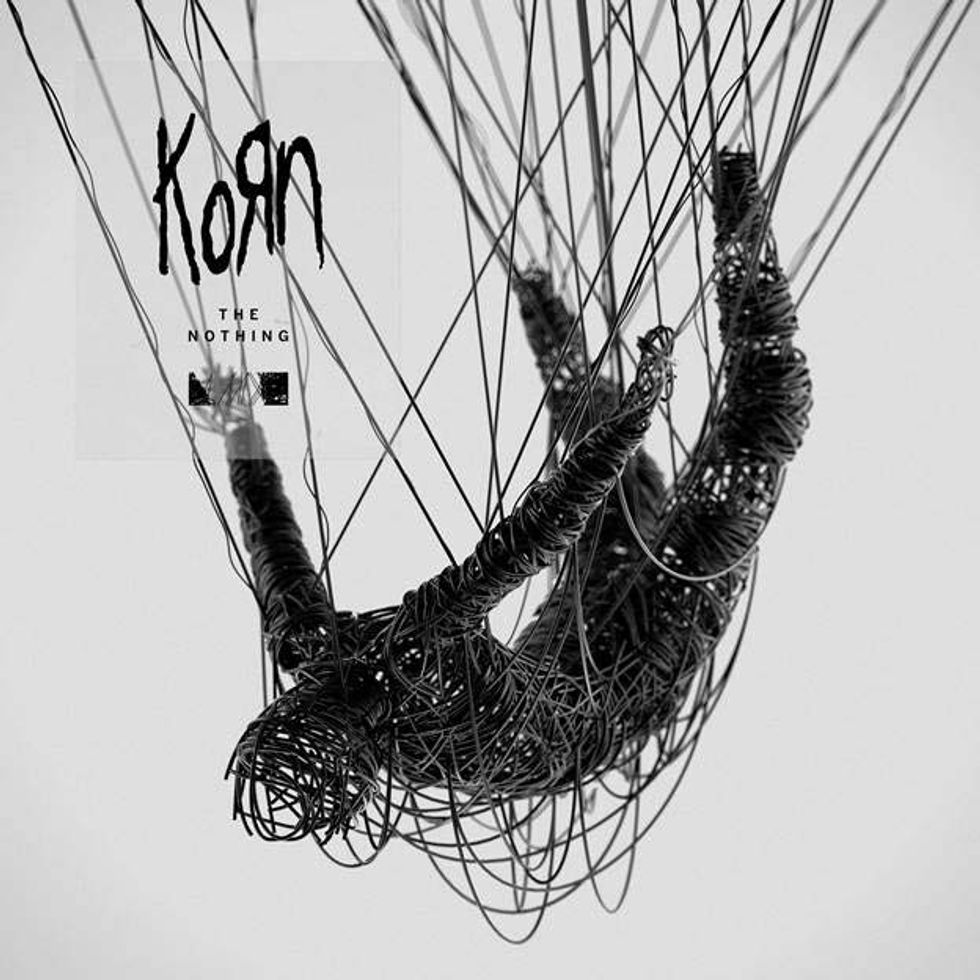 Korn's 13th studio album was produced by Nick Raskulinecz, who also produced Korn's 2016 album, The Serenity of Suffering.
Munky: I also think, the tragic loss of some of our heroes recently, like Chester [Bennington], Chris Cornell, and Vinnie Paul. There's frustration there. That frustration turns to anger, and the only way we know how to release it is through our music. These artists influenced us and influenced us to make it really aggressive. And it tears out your soul when you hear about these tragedies that could've been prevented. I think a lot of it came from there.
That also goes for Jonathan's tragedy. All that pain and anger and not knowing what to do reflects in the music.
The album seems to combine all of your trademark elements, but they're amplified to new levels. Is it important to keep those "Korn-isms" front and center?
Head: We don't sit there and go, "We want to sound like this record." We're just going day by day. It's like, "What do you want to hear today, John?" He'll say, "Think Vulgar Display of Power today." That's what sparked that opening riff for "Idiosyncrasy."
Munky: There's definitely a balancing act that has to take place. Sometimes we get really comfortable doing what we do. Fieldy is really comfortable playing his bass that way. But sometimes, we have to pull some out and focus on the meat and potatoes of the song. It's like, "Does it sound enough like Korn? We've done that so many times, maybe we don't need to do that here." That's where Nick Raskulinecz really helps.
What is it like working with Nick, and how did he push you to try new things?
Munky: It doesn't feel like work. It's like, "Let's go in and have some fun. Come on, man." It's not like clocking in and putting in the hours. We'd play until we're burned each day. Jonathan has a different story because the lyrics are a whole 'nother animal. But for us, writing the music is, "Does it feel good? Are you happy with it?"
Head: Honestly, he's another member of the band. And he's a fan from back in the day. But we know that he's leading the project with us. He is a producer, and we're following his lead. But it goes both ways. If he comes in with an idea and we're not feeling it, we just change it.
---
---