Goose's Dripfield—To Jam or Not To Jam?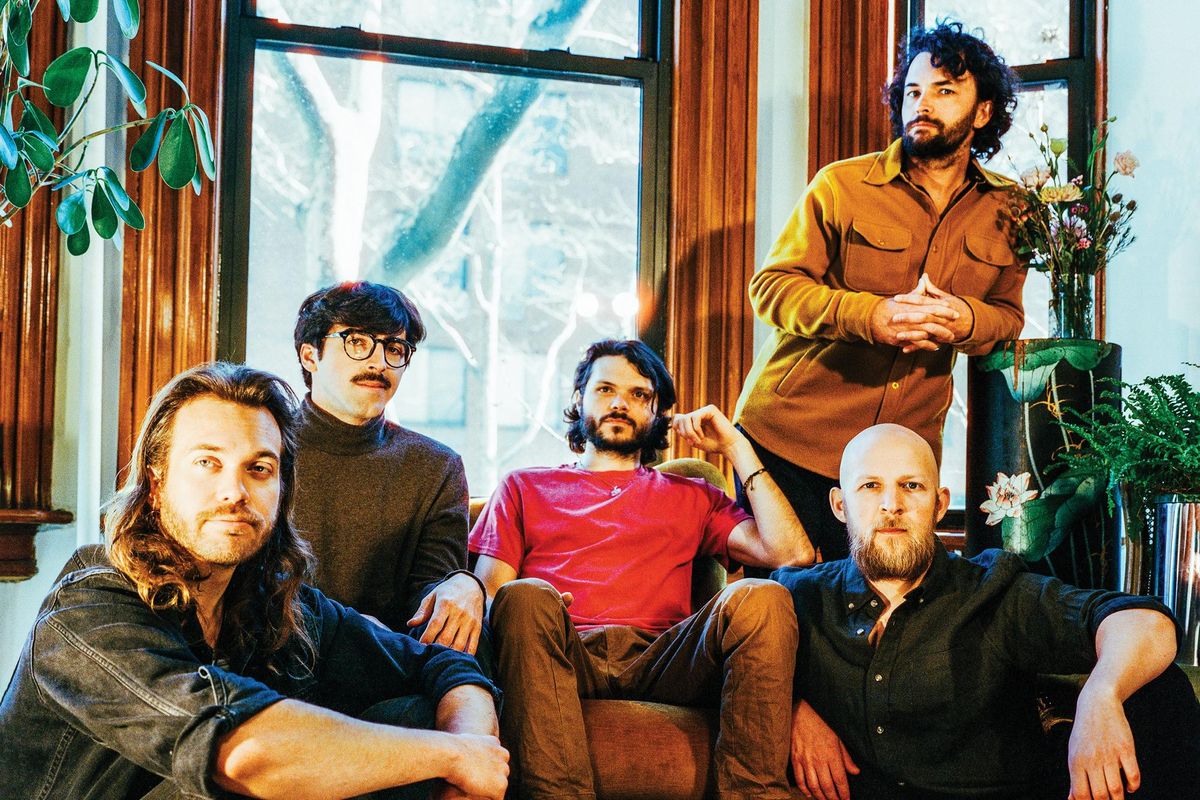 Photo by Pooneh Ghana
With a rep for energetic live improvisations, the jammers explore the potential of the recording studio and lean toward their indie-rock influences on their latest album.
"What I love the most about it is the magic and the lore," says Rick Mitarotonda, discussing his passion for jamming. "It's a rabbit hole, and you can go as deep as you want. And you never really reach the end of it. It speaks to that magical dream quality, the way the shows travel to these different places."
---
As guitarist and vocalist for Goose, Mitarotonda has spent his time in the improvisational trenches. Founded in 2014 in Norwalk, Connecticut, the band—which also includes guitarist, keyboardist, and vocalist Peter Anspach, bassist Trevor Weeks, drummer Ben Atkind, and percussionist Jeff Arevalo—has ascended in the jam-band scene. Like other groups in the genre, the quintet has built their following on their performances, where they dive deep into improvisational jams. In 2019, they got their first taste of widespread success, when the video of their set at the Peach Music Festival in Scranton, Pennsylvania, racked up hundreds of thousands of views.
Goose - Dripfield (Official Music Video)
"The thing about this genre is you don't bat a thousand, whatsoever," Mitarotonda continues. "It's not feasible. You can't be 'on' every night when you're improvising in a very intense and constant way. But when it's there, when the magic strikes, there's nothing like it."
On their third full-length studio album, Dripfield, Goose channel their vibrant live energy and transforms it into a new iteration of their sound. This time around, they headed into the studio with exploratory ears to collaborate with producer D. James Goodwin, whose influence largely shaped the sonics of the record.
"We wanted to find a producer who was on the same wavelength, but also was going to take our music to a different place sonically." —Peter Anspach
Dripfield is addictive. The band's stellar musicianship, infectious enthusiasm, and songwriting, which bursts with funk but is woven together with indie rock threads, form a joyous syzygy that demands repetition. The title track sets a cosmic stage, with an arpeggiated synthesizer backed by a simple, powerful drum pattern, which leads into a sweeping, reverb-laden vocal. "Arrow" shifts seamlessly between a pumping, horn-driven groove and softer, atmospheric passages, while "Moonrise" takes on a more traditional acoustic-ballad format. The album radiates influences from across the more creative ends of rock, including My Morning Jacket, the Grateful Dead, Fleet Foxes, and a bit of Pink Floyd. But mixed with the band's improvisational language, it becomes a sound all their own.
In the wake of the release of their 2021 studio album, Shenanigans Nite Club, the band was feeling a bit drained. The production process had been long, taking several years to complete. Despite how it captures the band's live dynamic, there was a lot that went into it behind the scenes to achieve that effect. "Shenanigans is very much a jam-band record," says Mitarotonda. "But there's a real irony to that record, in that I spent an absurd amount of hours editing and tinkering with it."
For Dripfield, Goose called on producer D. James Goodwin to help them approach the studio with fresh ears. "I think he was actively trying to subvert the typical jam-band song," says Mitarotonda.
Understandably, Goose was ready to find a new approach for their next album. As Anspach shares, they were thinking that collaborating with a producer might be the solution. "I was watching that Taylor Swift documentary [Folklore: The Long Pond Studio Sessions] where she worked on those folkier albums, and you see the collaborations going on in the studio that allowed her to get to that place," Anspach says. "There's a lot of interesting parallels there between a lot of our favorite albums. We wanted to find a producer who was on the same wavelength, but also was going to take our music to a different place sonically."
After talking to a few different producers, Goose connected with D. James Goodwin, whose credits include Bob Weir, Devo, Kaki King, and Murder by Death. Creative trust was established almost immediately. "The first conversation we had with Dan, I was like, 'Oh, this is the guy,'" says Mitarotonda. "I was very much at a point where I felt like I didn't have the right ideas to break us out of the box. You establish a box and then you become claustrophobic in it. And he was the right person to basically light the box on fire in the studio."
Rick Mitarotonda's Gear
Rick Mitarotonda, seen here with his PRS Hollowbody II Piezo, feels like the band has become the organic rock improvisational ensemble he's long aspired for them to be. "When the downbeat of a new phrase is approaching," he says, "I can cue, without looking at anyone, if I want it to resolve or not. It's fun stuff."
Guitars
Amplifier
Mesa/Boogie Express 5:50 50-watt 2x12 combo
Strings & Picks

D'Addario NYXL (.010 sets)
Dawg Mandolin Pick by David Grisman
Effects
TC Helicon Play Electric vocal and guitar effects processor
TC Electronic PolyTune
Dunlop Cry Baby
DigiTech Whammy 5
Mu-Tron Micro-Tron IV
Strymon OB.1 Compressor
Love Pedal Eternity overdrive
MXR Carbon Copy Deluxe
Strymon Deco Tape Saturation & Doubletracker
MXR Analog Chorus
Strymon El Capistan
Strymon TimeLine
Strymon NightSky
Strymon Flint
TC Electronic Ditto X4 Looper
"We went back and forth with him, sending him a bunch of live recordings of the songs," Anspach elaborates. "As he was going through, he was telling us, 'I see a way into that song,' or, 'I don't really see a way into this one.' He was looking at it through the lens of, 'How can I reconceptualize this song and put it in an interesting style that would take it to a new place.' He ended up coming back like, 'This is what the strongest 10 songs are; this should be an album.'"
Once they hit the studio, the band took a new approach to much of that material, experimenting with new arrangements and instrumentation under Goodwin's guidance. "He had a lot of ideas about just crafting the things and pushing them in different directions," says Mitarotonda, "which was really exciting for us."
One song that went through a significant shift is the seven-minute blues-funk jammer "Hot Tea." "When we play it live, it's fast, disco funk. And he was like, 'I can't listen to that for eight minutes straight. I just can't do it. We have to slow it down,'" says Anspach, laughing. "But we had an open mind. And as soon as we heard the drum sounds coming through, we were like, 'Yeah, this is legit.'
Rig Rundown: Goose's Peter Anspach and Rick Mitarotonda
Goose tracked the song, then did a full-band overdub on top "doing different things. At one point he [Goodwin] was like, 'Everybody play this rhythm,'" Anspach describes, clapping out the idea. "We played it through the whole track on our different instruments, and then he kept the clavichord and a cowbell for various parts and got rid of the rest."
"I think he was actively trying to subvert the typical jam-band song," adds Mitarotonda. "If you listen to the way we play 'Arrow' live—and we still do play it live that way because it works, it's fun—it sounds like a jam-band song. And he heard that song for the first time, and I think all he heard was its clothes. He wasn't interested in it at first, and then he listened to it more, and then I guess heard the song within the clothes and became interested in it. There's that section in 7/4, and he had the idea of pursuing the Afrobeat, horn-driven thing. Dripfield doesn't sound like a jam-band record—it's not like what we do live. But at the same time, there was a lot of improvising in the studio in a different way, which was a lot of fun."
"You can't be 'on' every night when you're improvising in a very intense and constant way." —Rick Mitarotonda
Both guitarists take different approaches to their gear, and particularly how they apply effects. Mitarotonda plays his PRS Hollowbody II Piezo through a Mesa/Boogie Express 5:50 50-watt 2x12 combo and two pedalboards, but says, "Often I don't have a lot of patience for gear. I see the effects almost as a way to open up new doors improvising, but sometimes it feels like a crutch. Sometimes [during a jam], when I feel like I'm hitting a wall, I'm like, 'Kick on an effect; maybe that'll juice things up.' Then I think, 'No, figure it out. Keep trying to find something that is unique musically instead of just falling back on effects because you can.
"But that's not exclusively true," he acknowledges. "It's a different means of exploration than just searching for things musically. It makes me think of Radiohead, where so much of what makes up the substance of that band is sonics: searching and discovering strange instruments and sounds and crafting songs around that, as opposed to songs being driven purely by melody and harmony and lyrics. I see them as different pursuits."
Peter Anspach's Gear
Goose goes big! Ever since 2019's Peach Festival, the band has found itself in a much larger spotlight. "It's something to get used to," says guitarist, keyboardist, and vocalist Peter Anspach.
Photo by Adam Berta
Guitars
Suhr Mateus Asato Signature Classic
Fender American Vintage '62 StratocasterCustom T-style thinline built by Goose percussionist Jeff Arevalo
Amplifiers

Fender '64 Custom Deluxe Reverb
Strings & Picks
D'Addario NYXL (.010 sets)
D'Addario 1mm (medium/heavy)
Effects
TC Electronic PolyTune 2
Dunlop Cry Baby
Keeley Compressor Plus
Chase Bliss Mood
Moog Moogerfooger MF-101
Electro-Harmonix Small Stone
Ibanez TS9 w/Analog Man mod
Analog Man King of Tone
Chase Bliss Tonal Recall
Strymon TimeLine
Strymon Flint
Chase Bliss Dark World
Anspach, who plays a Suhr Mateus Asato Signature Classic with a humbucker bridge pickup through a Fender '64 Custom Deluxe Reverb, has a different take on effects. "I try to keep my pedalboard as consolidated as possible. But I think I have 10 or 11 stompboxes," he explains. "Since I got into Tame Impala early on, I've had way more effects on my board in the past than I do now," he elaborates. "But I love delay. I've written songs where delay is part of the main riff. Without the delay there, there is no song. Effects are definitely important to my sound."
While each guitarist fills his board with options, neither is overly lavish about their effects, which may help them stay focused on what seems to matter most: being responsive, sensitive collaborators. And over their eight years as a band, Goose have gotten so used to playing with one another that they can communicate through musical cues alone. "One of the coolest parts about this, just from doing it for a bunch of years, is how many things are communicated when we're improvising without any sort of visual cue at all," Mitarotonda shares. "The whole tension and release thing is something I've wanted for years to figure out. And now it's really pretty easy: When the downbeat of a new phrase is approaching, I can cue, without looking at anyone, if I want it to resolve or not. It's fun stuff."
"I think he was actively trying to subvert the typical jam-band song." —Rick Mitarotonda
The best jamming, arguably, happens when the performers are taking risks. Inevitably, however, that involves making mistakes—so what do you do when you play a phrase you're not happy with? "Be like a goldfish," says Anspach, laughing. "I have been thinking a lot about this recently. If you mess up and you get in your head about it, you end up affecting the rest of your performance. But if people in the crowd are having a great time, and you look out and you realize this is a really special moment for them, you get over [your mistakes] pretty fast."
Although it's been a few years since the famous Peach Music Festival video launched Goose into a bigger spotlight, the fame that the guitarists have been experiencing is still fresh, and they agree that it can be existentially jarring. "It's something to get used to," says Anspach. "Relationships change with other people in your life, and that's weird. It's something I've been dealing a lot with recently. It's incredible and I wouldn't change it for anything, but life is different. People look at you a different way and you're a different person to them, but you're the same person to yourself."
The band's close dynamic makes a massive difference in coping with those stresses. As Anspach shares, "It definitely helps everything off-stage, dealing with life and whatever else, when you have this brotherhood of people who are able to get on the same page in a musical way. Everything else in life becomes a little bit easier. I can handle anything at that point."
Goose - Hot Tea - 11/19/21 Aspen, CO