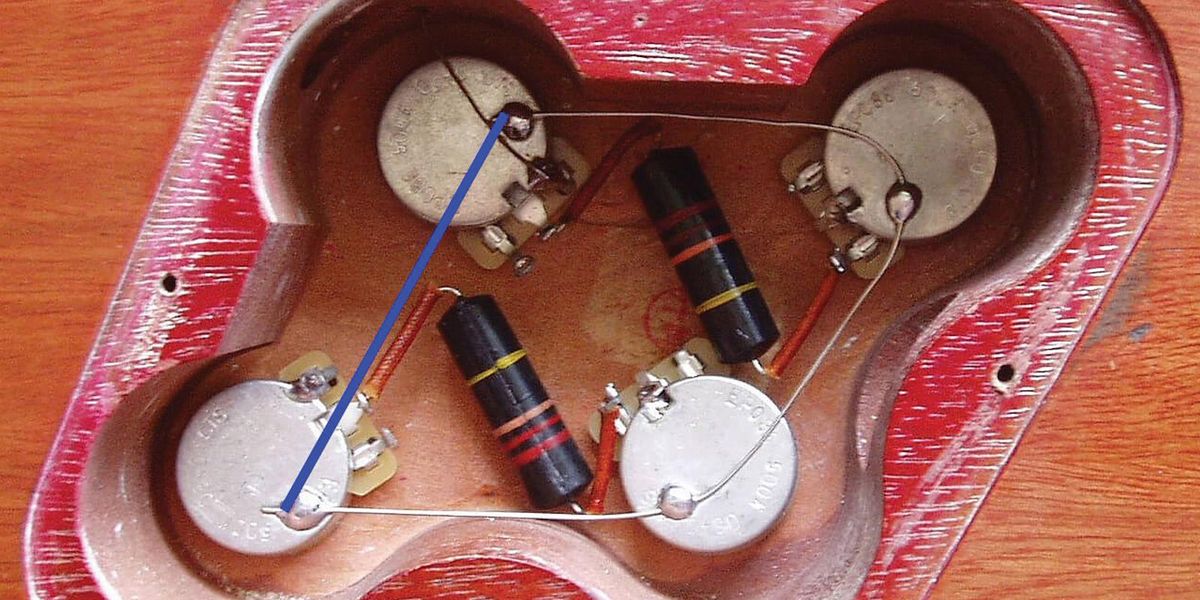 Get out your DMM, and let's explore the simple ways to ground Strats, Teles, and Les Pauls. The good news is, there is no such thing as overgrounding.
Hello, and welcome back to Mod Garage. Today we'll take a deeper look into grounding passive guitars—and basses, of course. This subject causes a lot of confusion and endless (mostly obsolete) discussions. There's no guitar forum without at least one escalating thread about grounding. Often the golden rules of grounding in active circuitry are simply transferred to passive circuits and declared to be the only truth. You can find discussions about star-grounding where the forumites have a real go at each other about the best way and materials to do it, etc.
---
We'll break this down into two sections. Today, we'll talk about grounding in general and different ways to do it. In part two, we'll focus on grounding legs on the casing of a pot, like on the Stratocaster's master volume pot. And we'll come back to all this in a future column about how to shield pickguards and compartments the right way, which is also an important part of the grounding system.
Before we start, let's remind ourselves: We're talking about grounding in passive guitars, so we're talking about your standard Stratocaster, Telecaster, Les Paul, and the like. We're not talking about your amps, stompboxes, grandma's old steam radio, and other active devices.
In other words, it doesn't make a "better" grounding, but for showcase reasons, this is a cool option, anyway ... you hear with your eyes, too.
The good basic news is that it's not really hard to understand and you only need a simple digital multimeter, or DMM, set to continuity to analyze the grounding system in your guitar. I usually set it to audio or "beep mode," so you don't have to watch the display of your DMM. It's really simple: When it beeps, there is contact. If not, there is no connection.
More good news: There's no "over-grounding." But there are things you can do wrong and then you're in trouble. My favorite on the "Grounding Pet Peeves" list is closing the ground ring on Les Pauls, ES-335s, and similar guitars. As you can see in Image 1, the ground ring is not closed, but many people like to add another ground wire, which I've marked blue, to "enhance" and complete the wiring because they feel that there's something missing. What happens if you do this? You created a perfect antenna to pick up radio and CB signals, so you can play along with your favorite radio station.
So, please don't do this. Sometimes less is more. Rant over … for now.