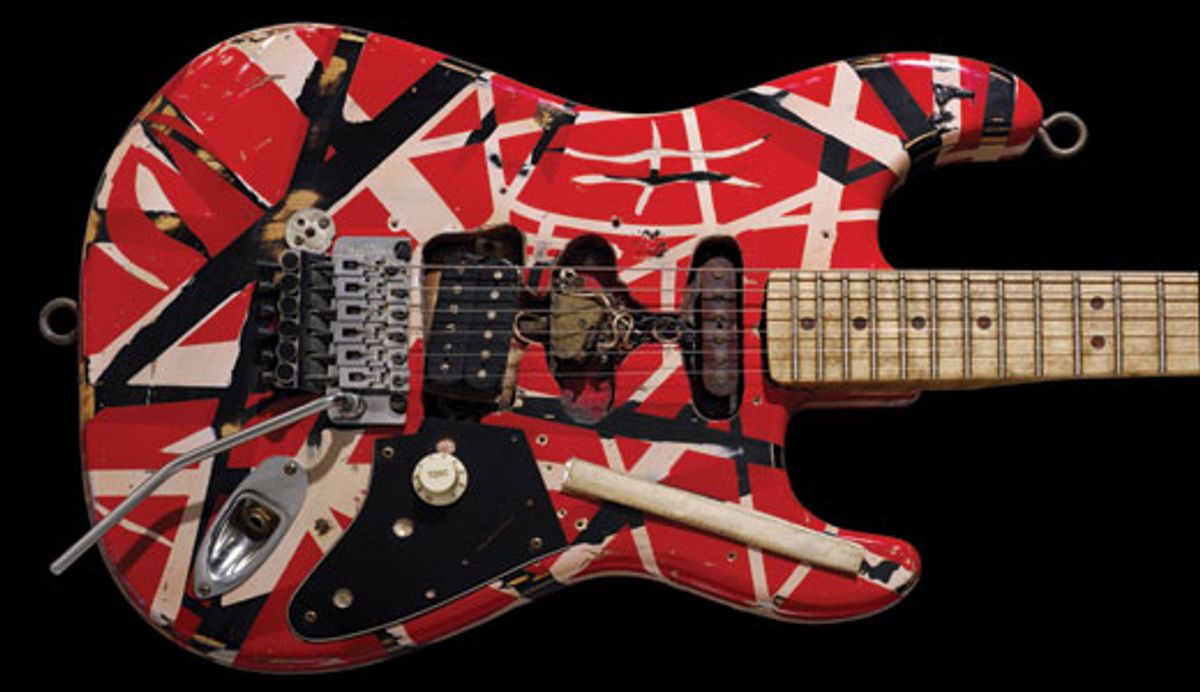 Photo courtesy of Luiz Cesar Pimentel.
The simple circuit that rocked the world.
Hello! This month we're going to explore a very unique wiring created by a guy from the Netherlands named Edward Lodewijk Van Halen, better known as Eddie Van Halen. The development of his playing style is inextricably linked to his famous DIY guitar, nicknamed Frankenstein, which Eddie put together out of factory-second Charvel parts in the 1970s. The result was one of the most unique guitar designs ever, both electronically and cosmetically.
---
Frankenstein's ash body and maple neck were produced by Wayne Charvel, one of the godfathers of so-called "Super Strat" guitars, which are characterized by their use of humbuckers, simple wiring, and sophisticated tremolo hardware. The body Eddie bought had HSS routing, and he was fascinated by the idea of using a bridge humbucker for a Gibson-like tone. Eddie installed a PAF humbucker from his ES-335 and cannibalized the tremolo unit from his Strat. (The Floyd Rose unit was added later.) The pickup was installed at a slight angle to compensate for the differing string spacings of the Fender tremolo and the Gibson humbucker. Later he replaced the PAF with a Seymour Duncan humbucker.
The cosmetics. 
This guitar was repainted several times. Initially Eddie painted it black, applied masking tape strips to the dry paintjob, and then painted it white. (He also stuck a Gibson decal on the headstock.) For a while, he switched to a guitar nicknamed the Bumblebee for its flashy black and yellow paintjob. This guitar didn't perform as well, so he switched back to Frankenstein, but not before re-taping the body and adding a coat of red bicycle paint.
In order to mislead companies trying hard to sell "EVH guitars," Eddie installed a red single-coil pickup in the neck position, but it wasn't connected to the circuit.
Other visual "upgrades" were a quarter coin screwed into the body to fill a gap between the body and the tremolo. He also added reflectors on the rear of the body and two hook-eyed screws as substitute strap buttons. A strip of double-sided masking tape served as a pick holder.
Eddie also changed the neck pickup often and tried several different tremolo systems. He originally made his own pickguard from a vinyl record, using the lower part of a standard Strat pickguard as a template. He later replaced this with a similar part made from regular black/white/black pickguard material.
The electronics. Eddie drilled all the standard Strat holes into his DIY pickguard, but added only a single 500k audio volume pot topped by a standard white Strat tone knob, leaving the other holes unpopulated. This is one of the simplest circuits ever: a single humbucker connected to a volume control and an output jack! This simple wiring supports Eddie's trademark tone very well, and companies like Charvel and ESP have also used such minimal controls to get a pure sound. With only a volume control, you're just one step away from wiring the pickup directly to the output jack. This provides a lot of high-end definition, perfect for Eddie's tapping techniques.
Fig. 1: The original Van Halen wiring. Diagram courtesy of Seymour Duncan.
To get close to Eddie's tone, use a Strat with a bridge humbucker, wiring it to a single 500k audio volume pot, as shown in Fig. 1. (The color scheme shown applies to Seymour Duncan pickups. Pickup wire colors vary between brands.)
For a humbucker with two-conductor cables, the hot wire goes where the black wire appears in the diagram, and the outer shield goes to ground (indicated in the diagram by the bare and green wires taped together).
Before we talk mods, a funny side note: In order to mislead companies trying hard to sell "Van Halen guitars," Eddie installed a red single-coil pickup in the neck position, but it wasn't connected to the circuit. Eddie even mounted a standard 3-way switch in the middle pickup rout, but it too was unconnected. This is a prime example of the famous Dutch sense of humor.
Possible mods. With such a simple circuit, mods are always possible. Here are some suggestions for improved flexibility:
Add a standard tone control like on a Telecaster. Experiment with both 250k and 500k resistances and try various tone-cap values."
If you use a humbucker with four-conductor wiring, you can add a coil-cut switch (or replace the volume pot with a push/pull or push/push pot). This provides a single-coil tone from the humbucker in split mode.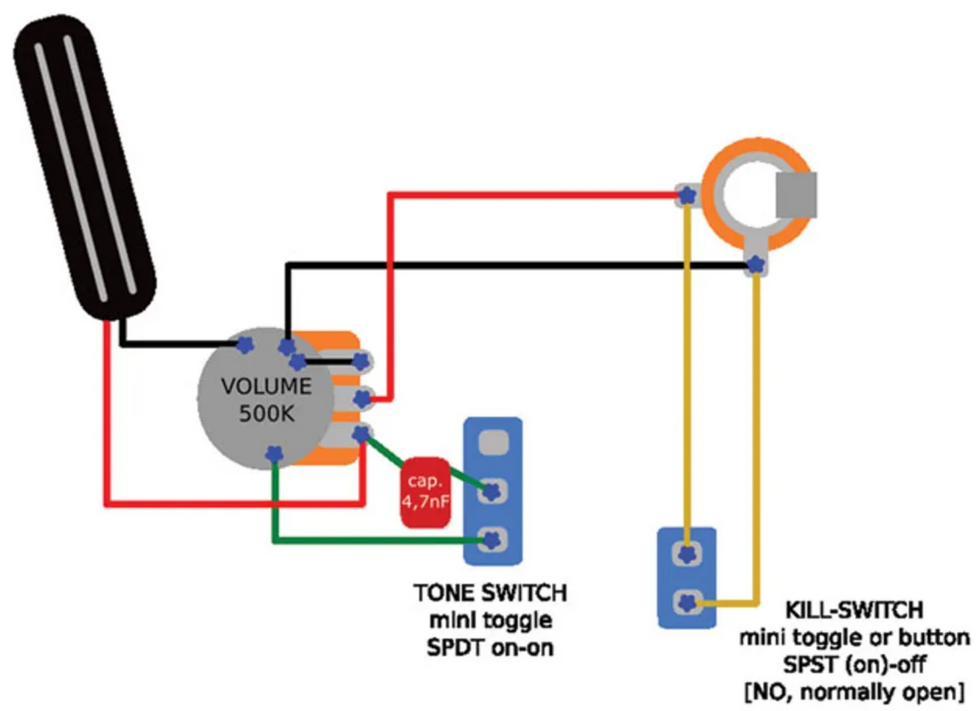 Fig. 2: This mod adds a fixed tone control and a kill switch. Diagram courtesy of guitarwiring.blogspot.com.
Fig. 2 shows a clever and versatile mod for any heavy axe. It has a fixed tone control, plus a kill switch for stunning stuttering effects (and to shut down the guitar when not playing). That way, you can get warmer distortion tones if needed. Choose your preferred cap value. (I wouldn't use the indicated .047 µF cap myself.)
That's it! Next month we'll explore a much more complex mod. Until then, keep on modding!
[Updated9/9/21]
Rhett and Zach unpack the big news for secondhand guitar sellers and buyers: Sweetwater has launched their new Gear Exchange. How does it compare to Reverb, Craigslist, and Marketplace? To find out, Zach takes the site for a spin and buys a pedal. He calls the process both "very easy" and "normal." They discuss the pros and cons of the various used-gear outlets and share tips for not getting got when buying gear. Plus, Zach grew a mustache, Mythos Pedals is moving, and he talks about his forthcoming line of Strat pickups inspired by Hendrix's reverse-stagger setup.
Sweetwater vs. Reverb

Expanding on the innovations of Cort's original 8-string multiscale, the KX508 Multi-Scale II features an updated okoume body and a specially designed Fishman Fluence Modern Humbucker.
The KX508 Multi-Scale II is the second iteration of the eight-string KX508, Cort's first multi-scale 8-string guitar introduced in 2020. Like its predecessor, the KX508 Multi-Scale II has a visually stunning poplar burl top in a Mariana Blue Burst finish. Beyond its visual appeal, the poplar burl is an ideal tonal complement to Cort's newly introduced okoume body. Okoume is known for its light weight and ability to improve tonal clarity. It has a tight low-end and highly articulate high-end, which matches the overall sonic characteristics of the KX508 Multi-Scale II. The multi-scale, measuring 26.5 to 28 inches, offers a punchy low end while maintaining a familiar feel and tension on the treble strings, which allows for speedy runs and string-bending. Players have unhindered access to the high frets thanks to the low-scooped heel.

The 5-piece maple and purple heart neck not only provides strength and stability, aided by a spoke nut hotrod truss rod, but a strong and focused sound. The Macassar ebony fingerboard (15.75-inch radius) offers smooth playability along the 24 frets with teardrop inlays. Macassar is an ideal tonewood for high-gain applications because of its ability to cut through a dense mix. At the top of the neck, the 2 7/32-inch nut width (56.5 mm) is surprisingly comfortable for an 8-string guitar and is even suitable for players with smaller hands. The individual hardtail bridge with string-thru-body design results in greatly improved sustain, superb string separation for enhanced articulation, and precise intonation. Deluxe locking machine heads offer reliable tuning as well as easier and quicker string changes.

The Cort Sessions | KX508 Multi Scale II Electric Guitar
MSRP $1699.99 USD

MAP $1199.99 USD
For more information, please visit cortguitars.com.
The Tour Collection is defined by a minimalistic, vintage-inspired aesthetic, top-of-the-line components, and a simplified electronics configuration featuring new, custom pickups by Supro.
Available in the collection is the 16-inch-wide double-cutaway DC, the 15-inch-wide single-cutaway SS, and a 14-inch-wide Mini DC. Each model comes in three finishes: Slate Blue, Solid Wine, and Solid Black.

Every detail of the Tour Collection was chosen to achieve retro minimalism. Small diamond fingerboard inlays match 1930s-style diamond f-holes, and an undersized Throwback Scroll-style headstock achieves excellent head-to-body balance. The collection also features satin nickel hardware and custom Vintage Deluxe Grover tuners with a 15:1 gear ratio. Each model also features a simplified two-knob electronics configuration with 50s-style wiring to retain top-end clarity upon rolling off the volume knob. The neck shape in the Tour Collection is similar to the slim C-shape found throughout the D'Angelico line, but with more thickness in the shoulder to allow for snug hand fit as well as extra sustain. Medium Jumbo fret wire and a 12-inch fingerboard radius allow for quick navigation of the fingerboard while also prioritizing comfort for both rhythm and lead playing.
In 2020, Supro and D'Angelico became part of the same family of brands under Bond Audio. At that time, EVP of Product Ryan Kershaw and CTO Dave Koltai began designing custom pickups under the Supro name for the Tour Collection project.
"Supro Bolt Bucker pickups were designed to offer the tone of the most sought-after vintage "PAF" pickups from the late 1950's. Scatter wound, just like the originals, Supro Bolt Buckers utilize 42-gauge enamel wire along with a mixture of Alnico II (neck) and Alnico V (bridge) magnets to provide the perfect balance of warmth and clarity with unrivaled articulation and note bloom." - Dave Koltai, Chief Technology Officer at Bond Audio.
Introducing the Excel Series Tour Collection | D'Angelico Guitars
All models are available for pre-order and will be in stock this holiday season. US MAP $1499. For more information, please visit dangelicoguitars.com.
The Cream Amp is a handmade low-gain overdrive pedal based on the Electra Distortion circuit.
The Cream Amp was designed to deliver full dynamics amp-like dirt to your clean and crunch amp or to another pedal in the chain without altering your tone too much. To add some grit at low volume or to make your amp sound more full, use the Drive control to set the gain and the Level control to match with your amp.
​Two knobs to control Volume and Drive
Shielded inputs/outputs to avoid RF
Filtered and protected 9VDC input
Daisy-chain friendly
Current draw: 7.5mA
The Cream Amp pedal is hand-made in Barcelona with carefully selected components and has a price of 100.00€. The pedals are available and can be purchased directly from the Ananasheadonline store.
For more information, please visit ananashead.com.