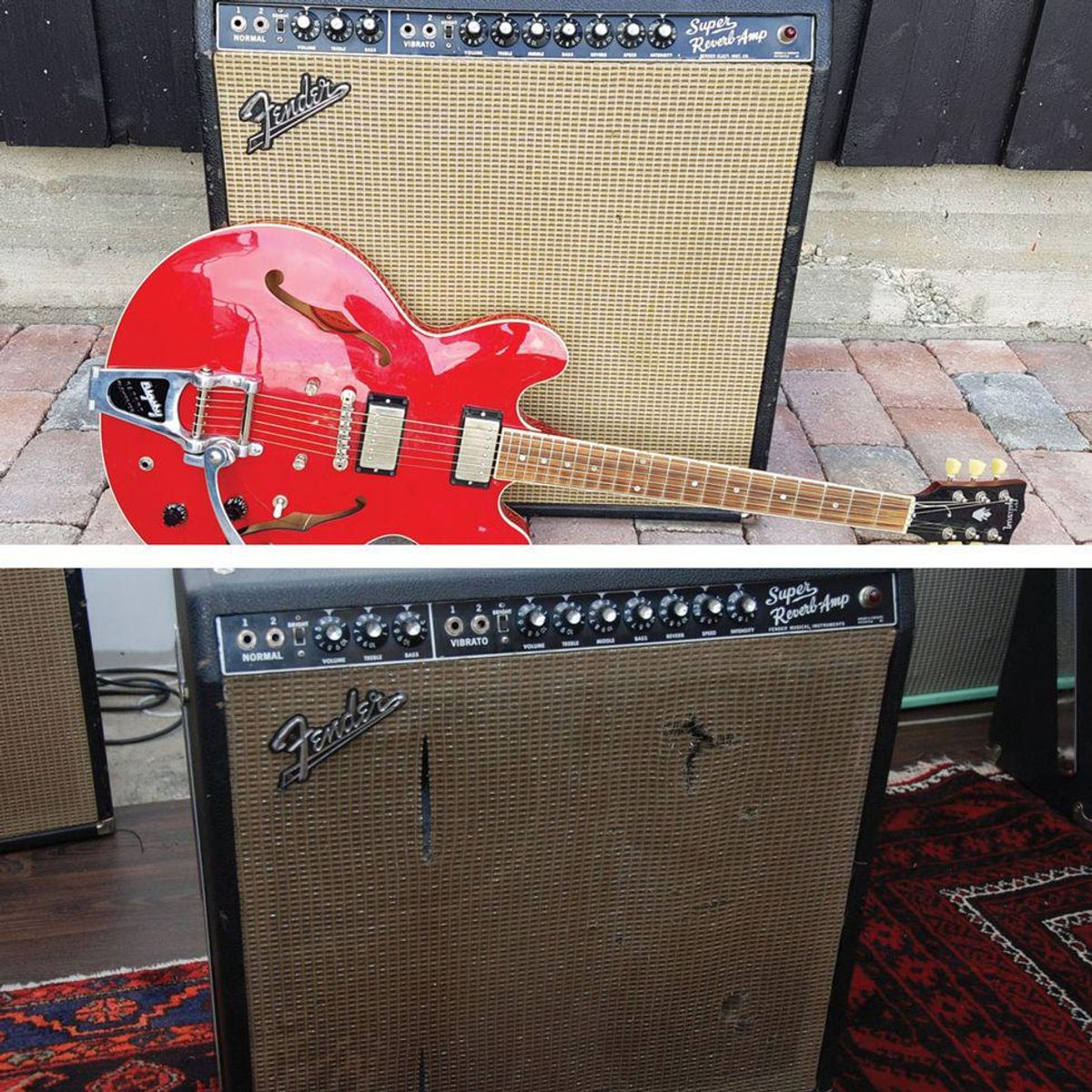 Our columnist shares a love story about his longtime passion for the 1965 heavyweight that's his No. 1.
Let me tell you the story of my first vintage Fender amp, which I call "No. 1"—the 1965 Super Reverb that I consider the greatest guitar amp I've ever heard and played.
---
When I was a teenager, in the late '80s, I had a 25-watt Fender Sidekick and a bigger, 2x12, 40-watt Marshall Valvestate. They worked well for the Gary Moore and Jeff Healey blues-rock licks I was into then. When I moved to Trondheim, Norway, in 1998 to study at the university, I went back in time and listened to classic blues from Muddy Waters, Buddy Guy, Albert King, B.B. King, and Freddie King. I learned they all played Fender amps, at various times, and when I saw Stevie Ray Vaughan's legendary Live at the El Mocambo concert film, where he played a Vibroverb and a Super Reverb, I knew I had to get a black-panel Super Reverb. So I got in touch with a local guitar shop called Tre45, and they helped me find a Super Reverb in the U.S.
A few months later, I paid €1,400 for a beat-up Super Reverb dated January 1965 that came via boat. The amp looked real rough and had large cuts in the aged brownish grille cloth. It had replacement Mojotone speakers with weighty ceramic magnets and large speaker coils. The shop installed a heavy-duty step-down transformer in the back to cope with 230V, making the amp extremely heavy. Despite the weight and rough looks, I loved it. It played twice as loud as my brother's 1968 transition-era Super Reverb with original square-magnet CTS alnico speakers. Back then, volume and punch meant everything, and I hadn't yet developed an appreciation for the CTS alnicos, which later became one of my favorite speakers. Neither did I have much experience with how speakers affect tone. My No. 1 sounded louder, more mellow, and creamy compared to a typical black-panel Super. Because of my amp, my brother sold his precious, vintage-correct '68.
Twelve years later, in 2010, I started trading Fender amps on a larger scale, finding them on U.S. eBay and importing them to Norway, where I swapped power transformers and did basic service like tubes and cap jobs. I eventually developed a taste for vintage-correct tone and pursued amps in original or mint condition. I was eager to learn, and systematically A/B-tested all black- and silver-panel Fender amps, with all possible speakers and circuits. I also experimented with newer replacement speakers from Weber, Jensen, Eminence, Celestion, and WGS, and tried all kinds of circuit mods.
"Because of my amp, my brother sold his precious, vintage-correct '68."
I decided to replace my Super's Mojotones with a set of vintage-correct speakers for an authentic pre-CBS sound. I found a 1965 Super in really poor technical condition and swapped the grille cloth and the factory-original CTS ceramic speakers into my No. 1. Now my amp was restored to original condition, with speakers with matching manufacturer date codes, and, more important, it sounded better! The new-old speakers added more clarity and crispness, which I particularly enjoy with a Strat's out-of-phase, quacky tone in the in-between pickup positions.
Other amps have caught my affection, too. Not surprisingly, I find the narrow-panel Fender Bassman a great amp, but unfortunately it lacks reverb, which is a big deal to me. Same goes with the Marshall JTM45 and JMP50 amps from the '60s. They have great crunch but lack some transparency and clarity when used with closed-back 4x12 cabinets. I've also had the pleasure of owning and playing some popular boutique amps, like the Two-Rock Custom Reverb, Victorias, Headstrongs, Bad Cats, and others. Compared to vintage amps, they are more robust and have high quality materials and components that survive longer on the road. I also like how the solid, thick cabinets in some modern amps produce a tight low end. All the boutique amps I've tried sounded good, different, and had more tone options than my Super Reverb, but when I played those amps for a long time or at gigs, I found myself confused with all the tonal options and I end up dialing in a sound as close as possible to a Super Reverb. I can't help it. That is how a guitar is supposed to sound, in my ears. And nothing sounds more vintage Fender than a black-panel Super Reverb, in my humble opinion.
If you haven't played one, try the huge tone and dynamic response within the big and airy 4x10 speaker cabinet of a Super. It offers a pure, natural, and transparent tone and connects with your guitar in a physical way when you crank the amp a few meters behind you on a larger stage. If you need a little more crunch and early break-up, add an Xotic RC Booster and see my April 2020 column, "How to Get Big Tones on Small Stages."
[Updated 9/3/21]
Looking for more great gear for the guitar player in your life (yourself included!)? Check out this year's Holiday Gear Finds!
Outlaw Effects introduces their next generation of NOMAD rechargeable battery-powered pedal boards.
Available in two sizes, NOMAD ISO is a compact, versatile tool that offers the convenience of a fully powered board plus the additional freedom of not having to plug into an outlet. NOMAD ISO is ideal for stages with limited outlet availability, quick changeovers, busking outdoors, temporary rehearsal locations, and more.
NOMAD ISO builds upon the legacy of the ultra-convenient and reliable NOMAD rechargeable pedalboard line originally launched in 2018. The brand new NOMAD ISO editions feature eight isolated outputs (1 x 9V DC, and 1 switchable 9V/12V DC) for even more versatility and clean, quiet power. With an integrated lithium-ion battery pack boasting 12800mAh capacity, NOMAD ISO can fuel a wide array of pedals, and will last over 10 hours* on a single charge.
Each NOMAD ISO pedal board includes adhesive hook & loop pedal-mounting tape, eight (8) standard DC connector cables, and one (1) reverse polarity DC cable, giving you everything you need to build your ultimate "off-the-grid" rig. A rugged, road-ready padded gig bag with shoulder strap is also included, to safely protect your gear while you're on the move.
NOMAD ISO S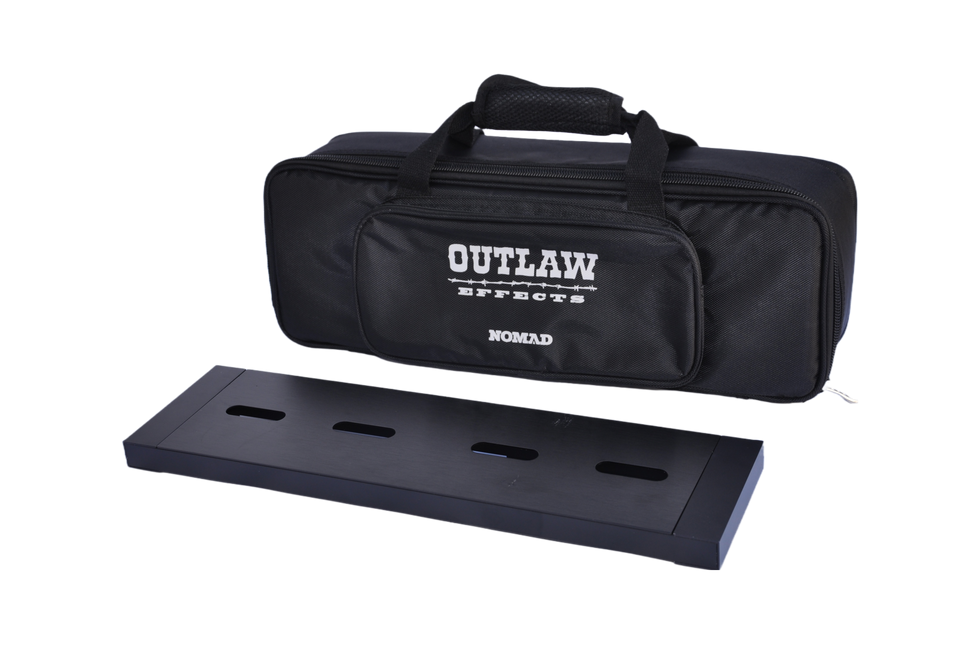 NOMAD ISO S: MSRP $309 / MAP: $249
Dimensions: 19 ¼" x 5 ¼"
NOMAD ISO M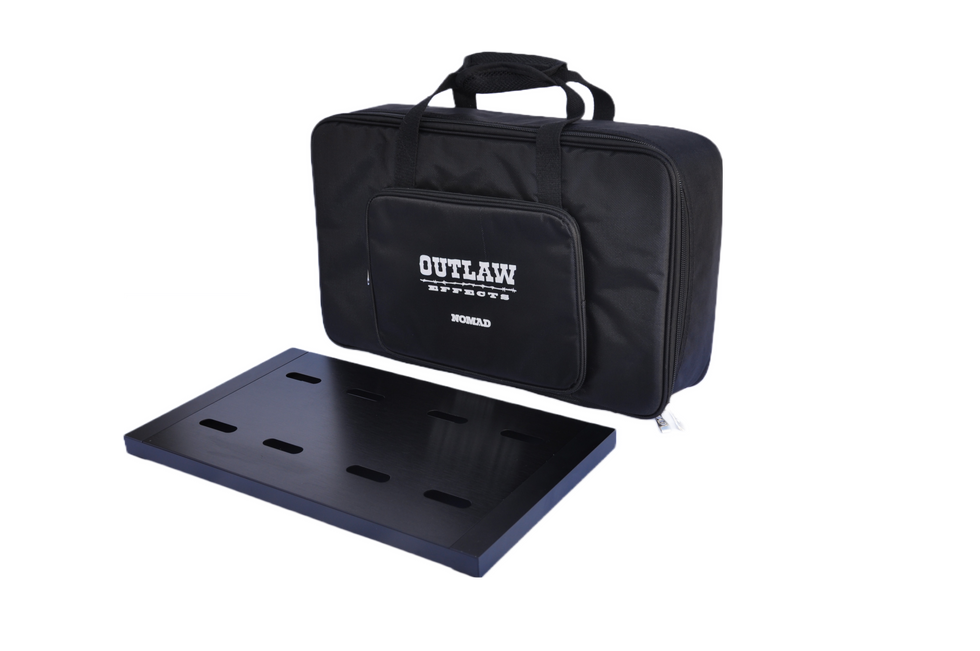 NOMAD ISO M: MSRP $349 / MAP $279
Dimensions: 19 ¼" x 11"
More info: https://www.outlawguitareffects.com.
Dunable announces new Minotaur model featuring Grover Rotomatic Keystone tuners.
The Minotaur's DNA is rooted in their classic Moonflower model, which Dunable discontinued in 2017. However, they have long since wanted to create a fresh take on a carved top guitar design, and various attempts to rework the Moonflower led them to a brand new concept with the Minotuar.
Dunable's goal is to give the player a guitar that plays fast and smooth, sounds amazing, and gives maximum physical ergonomic comfort. The Minotaur's soft and meticulous contours, simple and effective control layout, and 25.5" scale length are designed to easily meet this criteria.

Dunable Minotaur!
Features
25.5" scale length
Dual Humbucker
one volume, one tone, push pull for coil splitting
Grover Rotomatic Keystone tuners
Grover Tune O Matic bridge with brass Kluson top-mount tailpiece
jumbo nickel frets
12" fretboard radius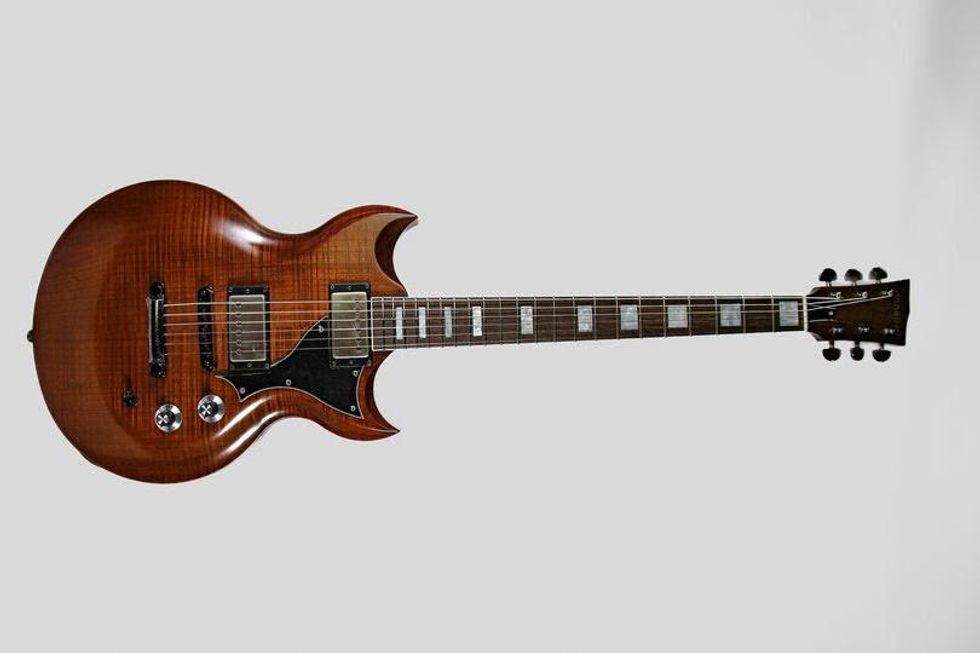 Dunable
This full-amp-stack-in-a-box pedal brings a new flavor to the Guitar Legend Tone Series of pedals, Missing Link Audio's flagship product line.
Adding to the company's line of premium-quality effects pedals, Missing Link Audio has unleashed the new AC/Overdrive pedal. This full-amp-stack-in-a-box pedal – the only Angus & Malcom all-in-one stompbox on the market – brings a new flavor to the Guitar Legend Tone Series of pedals, Missing Link Audio's flagship product line.
The AC/OD layout has three knobs to control Volume, Gain and Tone. That user-friendly format is perfect for quickly getting your ideal tone, and it also offers a ton of versatility. MLA's new AC/OD absolutely nails the Angus tone from the days of "High Voltage" to "Back in Black". You can also easily dial inMalcom with the turn of a knob. The pedal covers a broad range of sonic terrain, from boost to hot overdrive to complete tube-like saturation. The pedal is designed to leave on all the time and is very touch responsive. You can get everything from fat rhythm tones to a perfect lead tone just by using your guitar's volume knob and your right-hand attack.
Features 
Three knobs to control Volume, Gain and Tone
Die-cast aluminum cases for gig-worthy durability
Limited lifetime warranty
True bypass on/off switch
9-volt DC input
Made in the USA
MLA Pedals AC/OD - Music & Demo by A. Barrero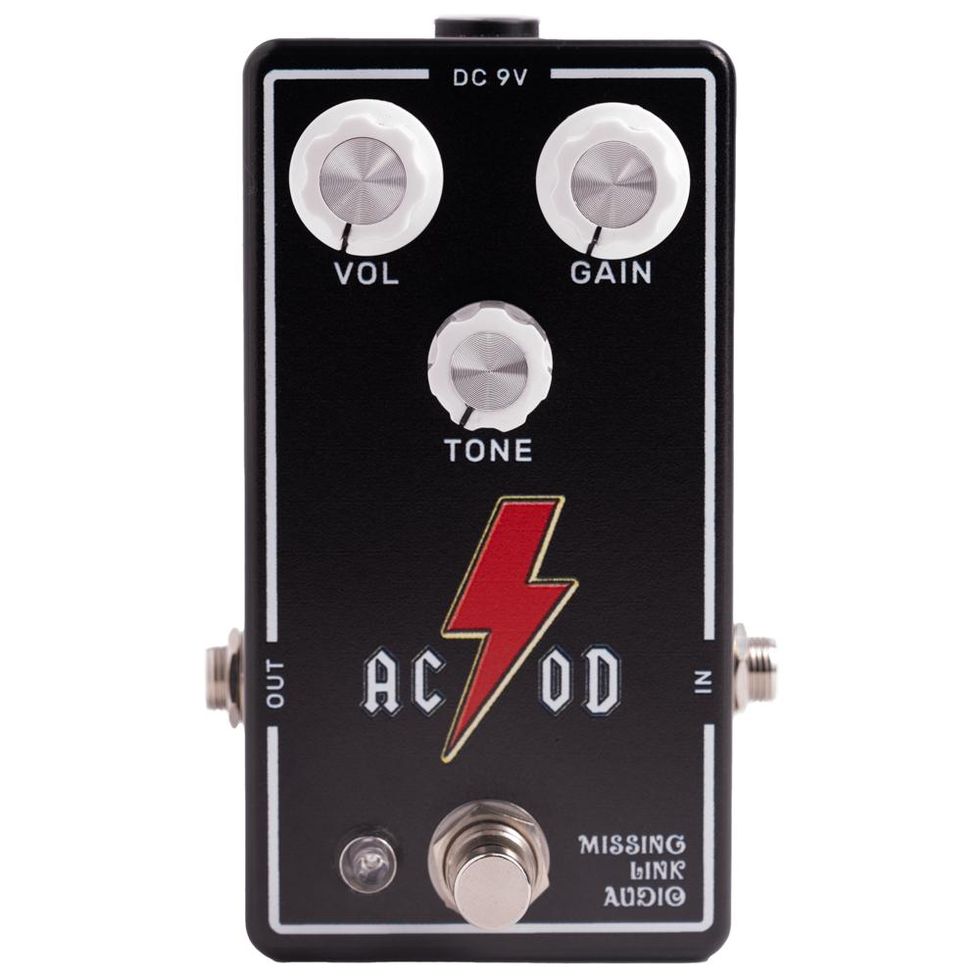 www.mlapedals.com.