Rig Rundown: Strike Anywhere
Matt Smith's setup might appear frail, but his disheveled '82 SG and a half-powered JCM800 ignites a powder keg of melodic hardcore.
Facing a mandatory shelter-in-place ordinance to limit the spread of COVID-19, PG enacted a hybrid approach to filming and producing Rig Rundowns. This is the 29th video in that format.
For over 20 years, Strike Anywhere has carried on the torch from hardcore forefathers Fugazi, Black Flag, 7 Seconds, and Avail. They continued the struggle to speak truth to power through their sabretooth-sharp, politically-rich lyrics advocating for equal human rights, better treatment of animals, downsides of capitalism, oppressive wars, and spotlighting any and all societal shortcomings. And if singer Thomas Barnett's words are a cocked hammer, the harmoniously aggressive music is the firing pin.
Over the course of four LPs and six EPs, the quintet has sharpened a signature hardcore sound that fuses melody and rage. Drummer Eric Kane's bed of frenetic blast beats tangles with bassist Garth Petrie's stinging notes. Matt Smith and Mark Miller (Matt Sherwood before him) provide a pair of slicing-katana guitars. Together they create a supercharged, fist-pumping, anthemic singsong pit party.
Just after Strike Anywhere's newest EP Nightmares of the West was released (their first new music in over a decade), Matt Smith virtually welcomed PG's Perry Bean into his home jam space. In this Rig Rundown, the founding guitarist opens up about trying several instruments and pickup combinations throughout the band's existence, finding more power (and dependability) in a JCM 800 with only two tubes, and explains the slow growth of his pedalboard that once was just a tuner and boost.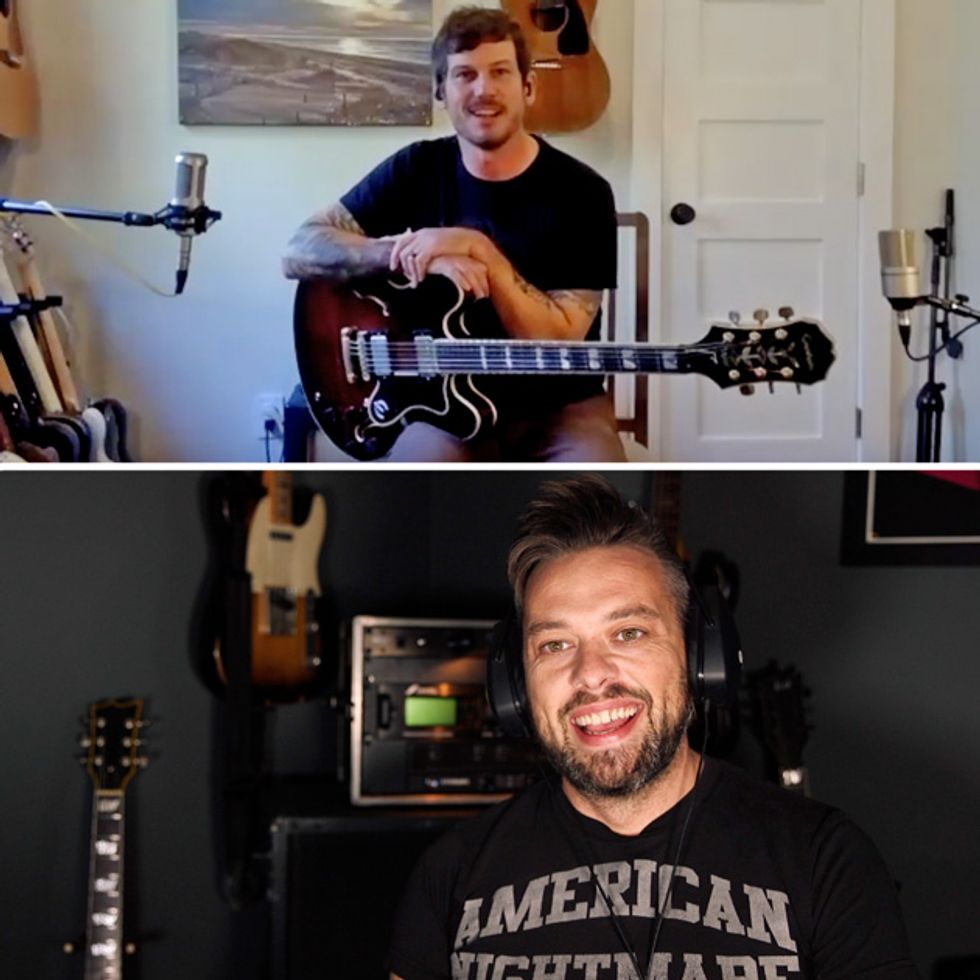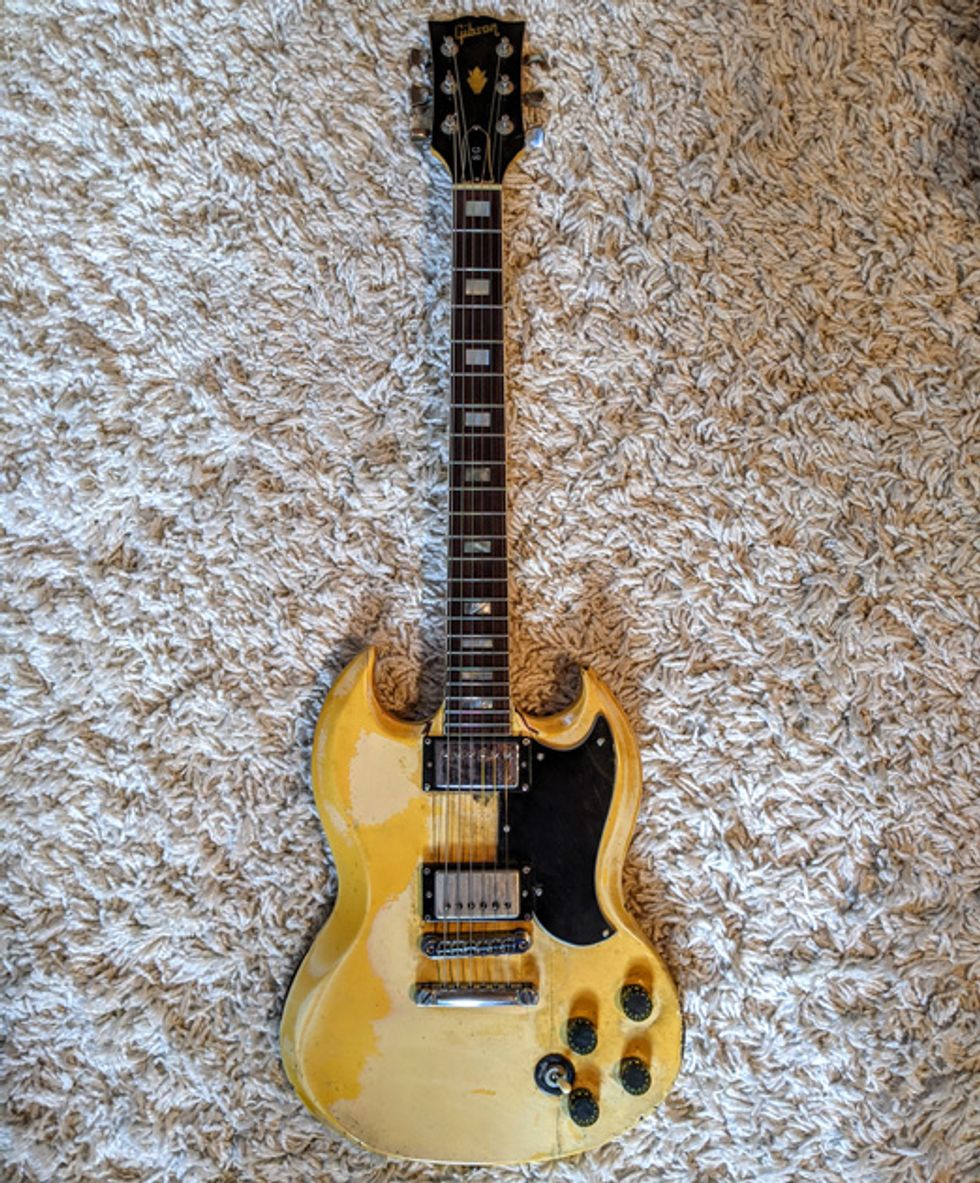 "Nothing on this guitar is original except the wood," admits Strike Anywhere guitarist Matt Smith. "But this factory second is just the one—I've got all these guitars, but I just keep going back to this one." The 1982 Gibson SG has been worked on—it's had two refrets, three neck repairs, and multiple pickup swaps. He moved on from the stock pickups to Seymour Duncan JBs, and now he currently has a custom set of Duncans. The neck is a Jazz (with a treble bleed mod on the volume control) and the bridge is a Custom Custom (SH-11)—the same bridge pickup that's in his EPS E-II. He's also using a 1M volume pot for the bridge and upgraded to an aluminum stop tailpiece.
He typically plays in standard or drop-D tuning, outfits No. 1 with Ernie Ball Slinky Top Heavy Bottoms .010–.052s, and hammers away with either Dunlop Tortex .60 mm or .73 mm picks.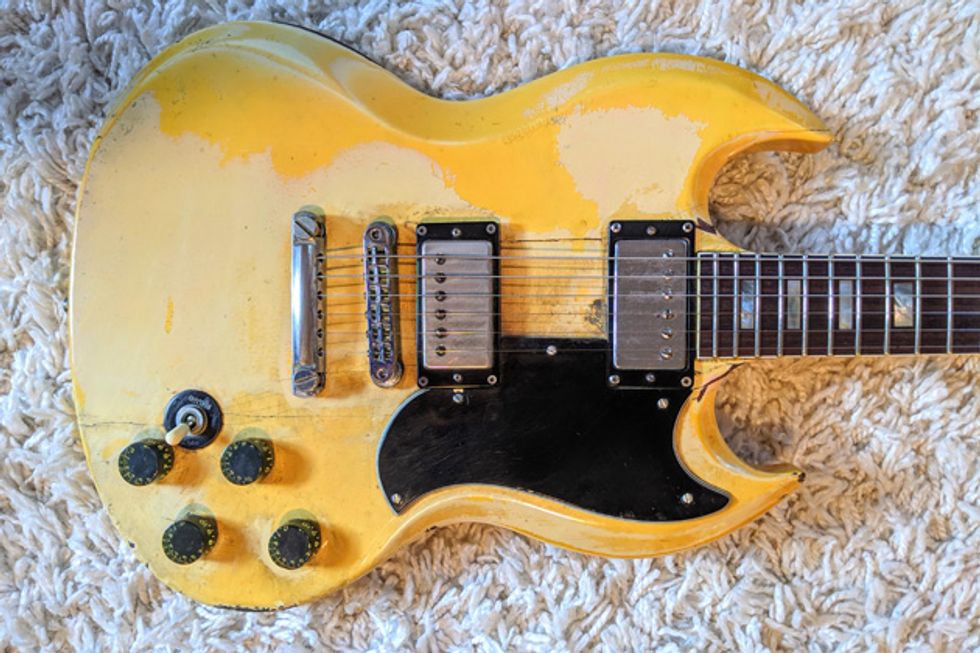 A close up of the '82 SG's body that has taken a licking and keeps on ticking.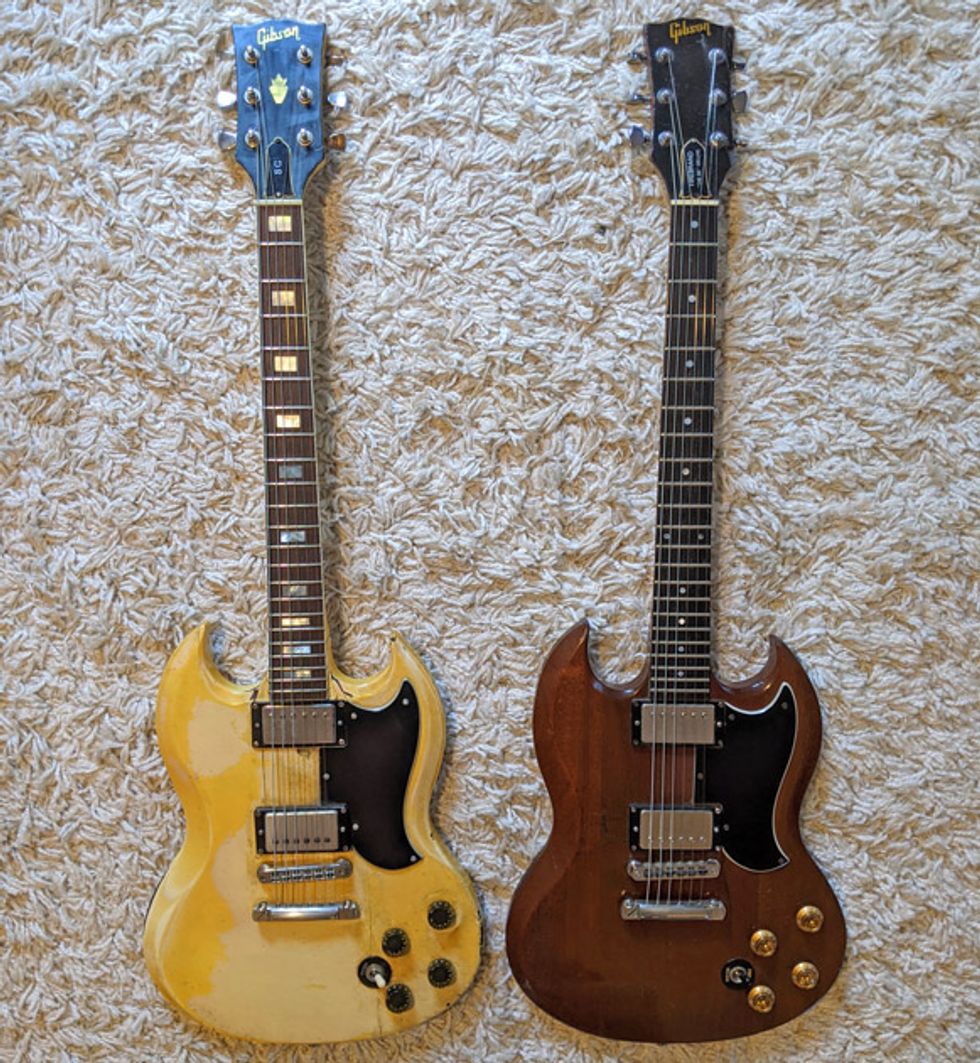 Matt's other SG is a 1981 Firebrand Deluxe model that was a result of a trade he made with former bandmate and Strike Anywhere guitarist Matt Sherwood. Smith gave up his '80s Orville by Gibson Les Paul for the above SG Firebrand. (Orville by Gibson was a brand of guitars that were managed by Gibson, but made and sold in Japan to counteract the "lawsuit-era" copies that were made by Greco, Ibanez, Tōkai, and Burny. The brand went defunct in 1998.)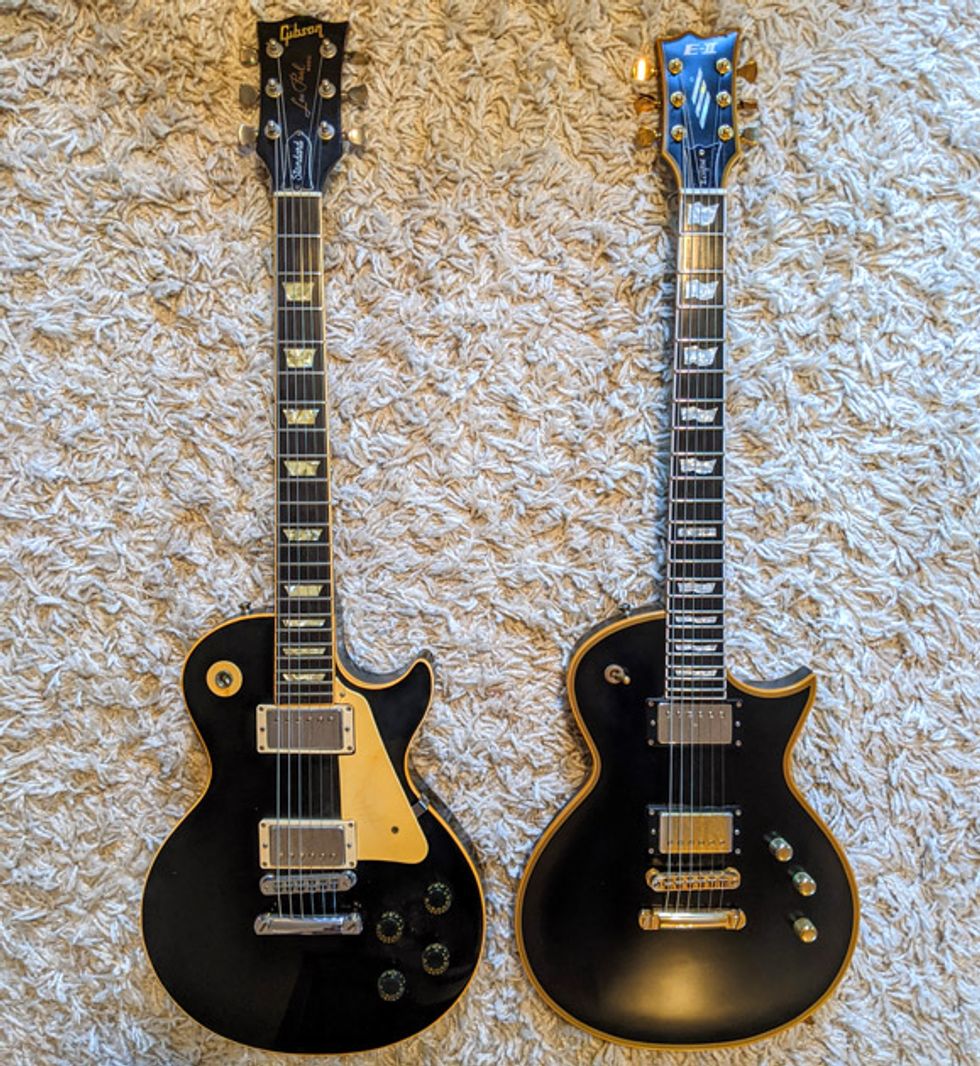 Used extensively on tour to support Exit English, this is Smith's 1977 Gibson Les Paul Standard Pro. Aficionadas will call b/s because you can see this one has humbuckers and those '70s Pro models came with P-90s, but Matt had the guitar re-routed and overhauled it with some mean 'buckers. A combination of being a tad heavy and his nicest/rarest guitar, makes this a home/studio dog.
To its right, sits a newer ESP E-II Eclipse that has seen stage time with Strike Anywhere when the SGs couldn't make the gig.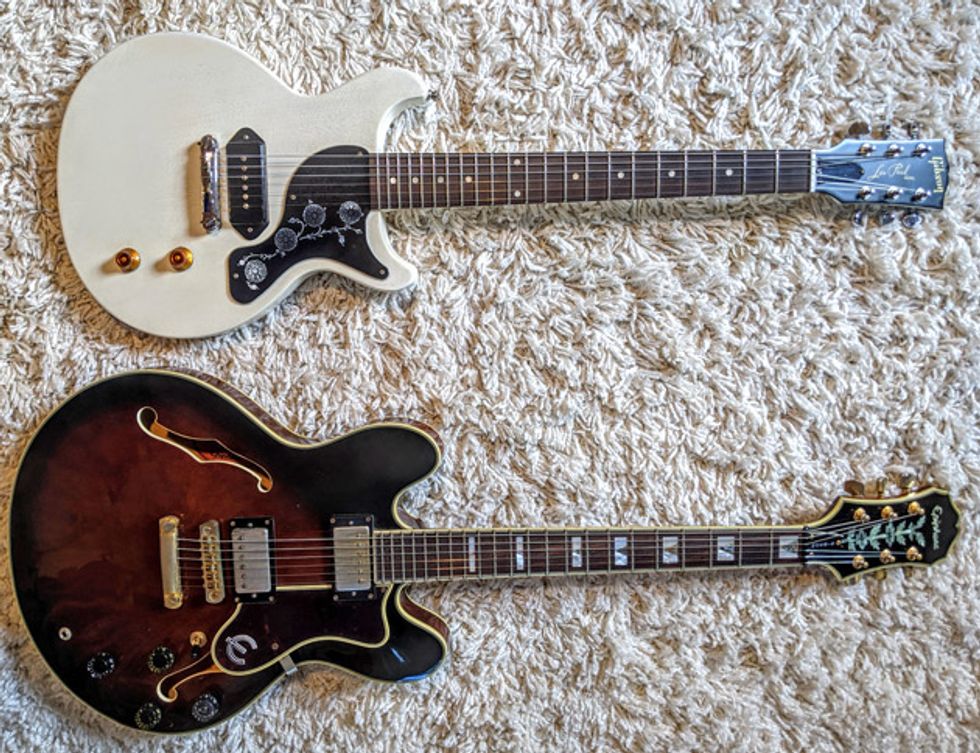 At the top, you have a Gibson Guitar of the Week (2007) Nashville Les Paul Junior Double Cutaway that Matt had modded by requesting Seymour Duncan to make a mini-humbucker in a dog-eared, P-90-sized mount so it was hum cancelling and fit under the cover. Now that the guitar is no longer hitting the road, he put the stock P-90 back in it.
Below that is an Epiphone Sheraton that was used in the studio and onstage around the Dead FM era of Strike Anywhere. It's factory original except for the bridge humbucker being a subbed in from one of his SGs.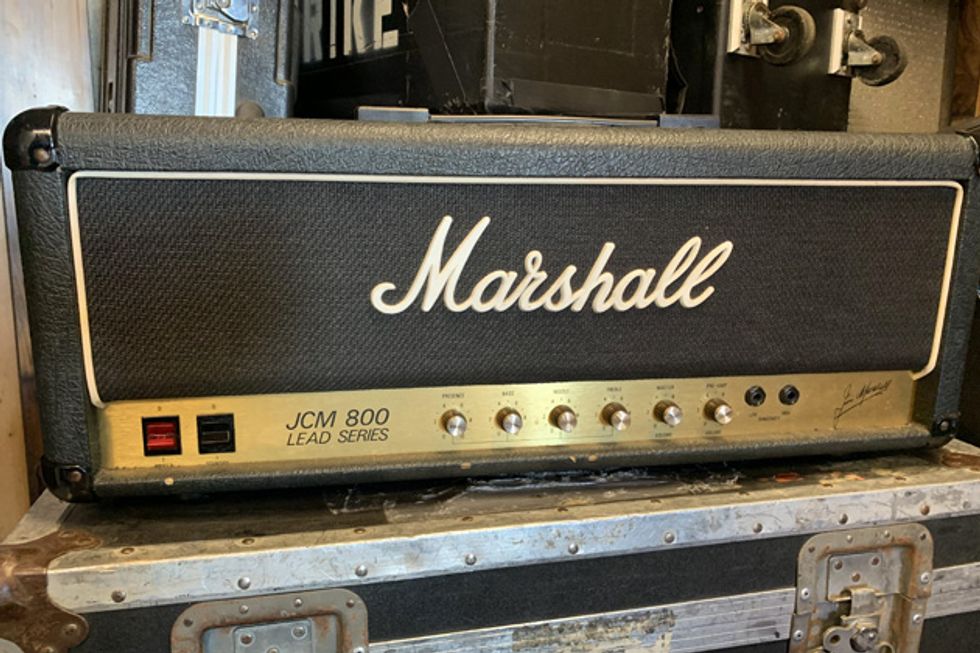 This has been Smith's touring amp for almost 15 years—a single-channel 1988 Marshall JCM 800 that runs on the big-glass 6550 tubes. While on the Warped Tour in 2005 or 2006, his JCM started acting up in the heat, so a tech friend suggested he remove the two outer 6550s and run it as a 50-watt head. It worked great and ever since he's been rocking stages worldwide at half power.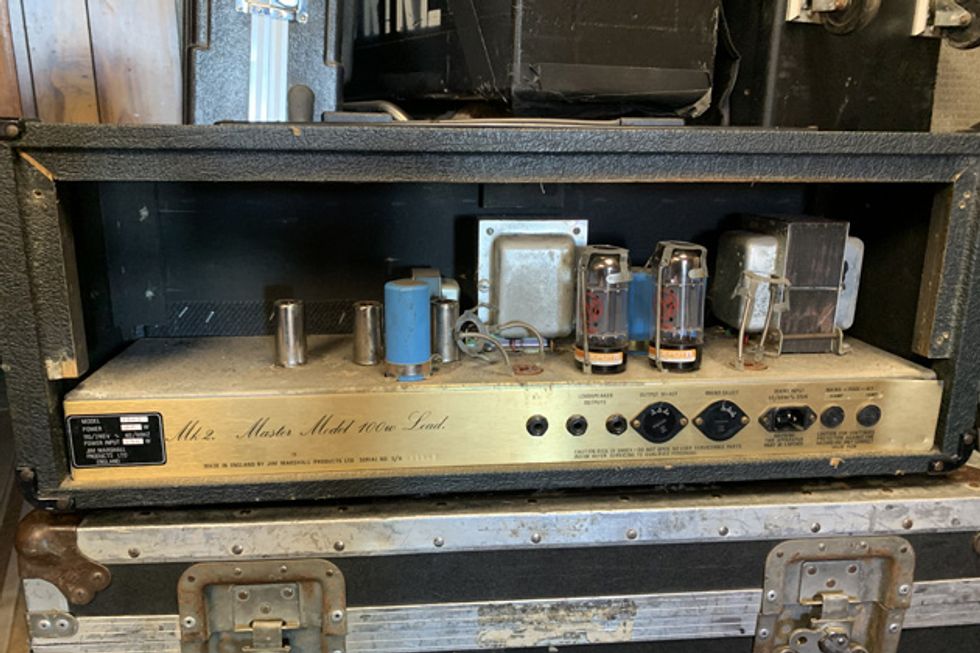 The backside of his late '80s JCM 800 that clearly has two of its 6550s missing.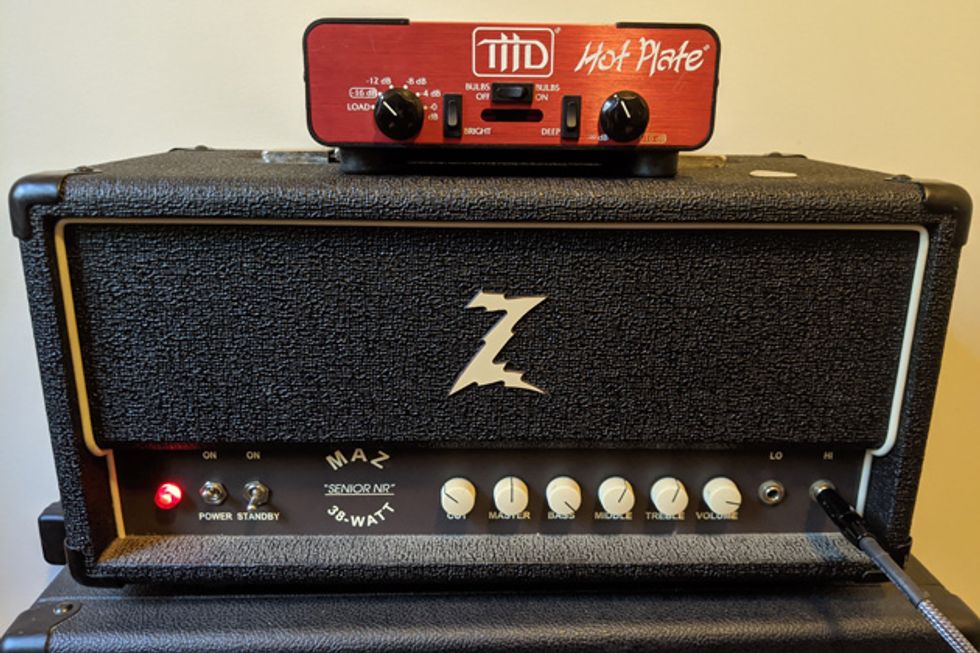 For other softer, more Americana projects, Smith has been depending on this Dr. Z MAZ 38 NR Mk I. Aside from swapping out a first-position 12AX7 preamp tube to something with more gain, it's all stock and to his ears, it sounds like a "hot-rodded AC30 with loads of midrange." And for situations like filming a Rig Rundown out of your house, Smith's THD Hot Plate comes in handy ratcheting down things by -16 dB.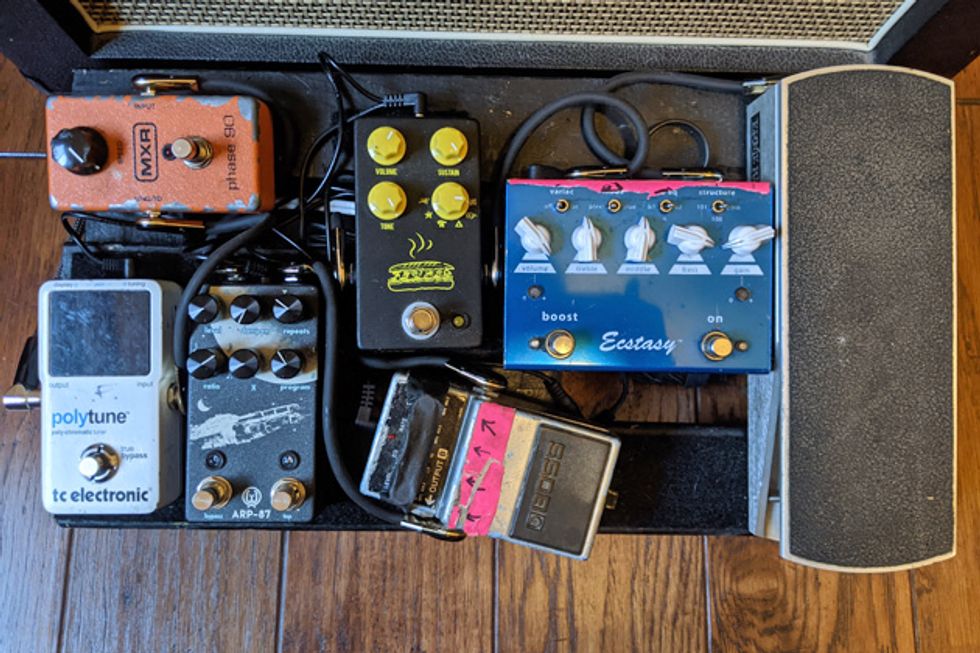 Matt Smith toured the world several times with nothing more than a boost pedal and tuner. He's slowly incorporated more pedals and expanded to an actual pedalboard with the goal of fully representing Strike Anywhere's recorded work in a live environment. Here you see the current evolution of his pedal playground with an Ernie Ball VP Jr Volume Pedal, Bogner Ecstasy Blue OD/Boost, JHS Muffuletta, Boss SH-1 Super Chorus, Walrus Audio ARP-87 Multi-Function Delay, and a MXR Phase 90. And a TC Electronic PolyTune keeps Smith's guitars in check.
---
Click below to listen wherever you get your podcasts:
---
D'Addario LokNob:https://www.daddario.com/LokNobRR
---