The Belgian metallers show how a Silverburst LP, vicious 100-watters, and precisely placed 'verbs take them to realms most dark.
Over the course of seven studio albums, two EPs, and five live albums, the Belgian quintet have explored the extremes of pounding doom, grinding sludge, spacy hardcore, haunting folk, and thematically grim that all coalesce together to create Amenra.
---
In this episode, Amenra bassist Tim De Gieter interviews bandmate guitarist Lennart Bossu (also of Oathbreaker) who showcases a rare Les Paul hybrid and early Kurt Ballou design, breaks down his 100-watt fascination (and a slimmed-down contingency plan for cleans), and demos core sounds that involve ethereal reverb and gruesome gain.
[ Brought to you by D'Addario Auto Lock Straps: https://ddar.io/AutoLockRR ]
1988 Gibson Les Paul Standard Silverburst Showcase Edition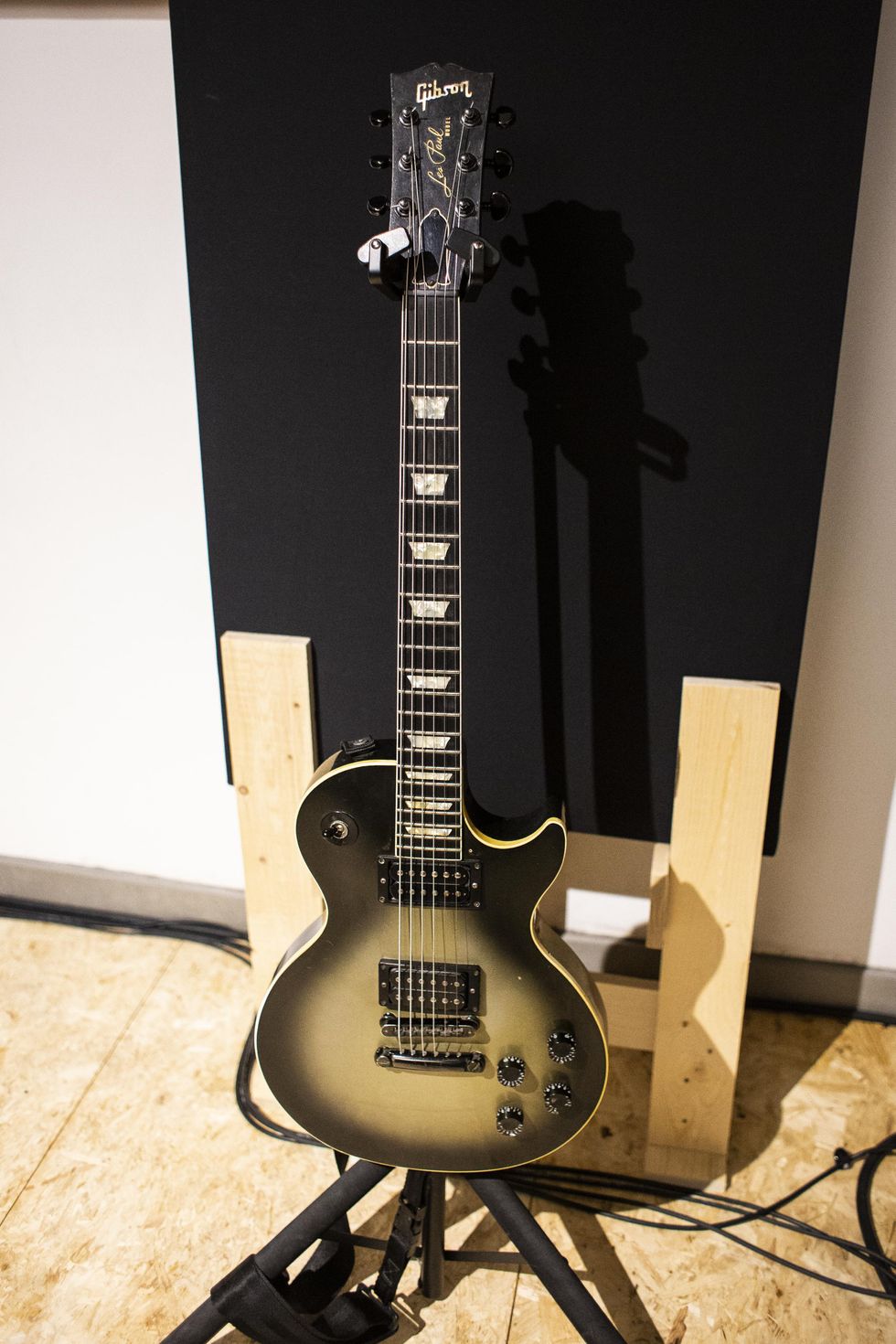 Above is a 1988 Gibson Les Paul Standard Silverburst Showcase Edition that's been Amenra guitarist Lennart Bossu's main stage companion for over 10 years. The Showcase Edition run was something Gibson did in the late '80s where they did a limited run (200 pieces each over a total of nine models).
Originally, this Silverburst came with an ebony fretboard (a Les Paul Custom feature) and EMG 85s. Bossu didn't like how the active pickups manipulated his tone so he retrofit the LP with a more normal voice by way of a pair of Gibson passive humbuckers (500T and 498R).
Bossu tunes down to b standard for Amenra and sometimes goes into a DADGAD variant (B–F#–B–E–F#–B). All his electrics take D'Addario EXLs (.013–.056) and he plays with Pickboy Carbon Nylon Sharp 1.14 mm picks.
GodCity Instruments Guitar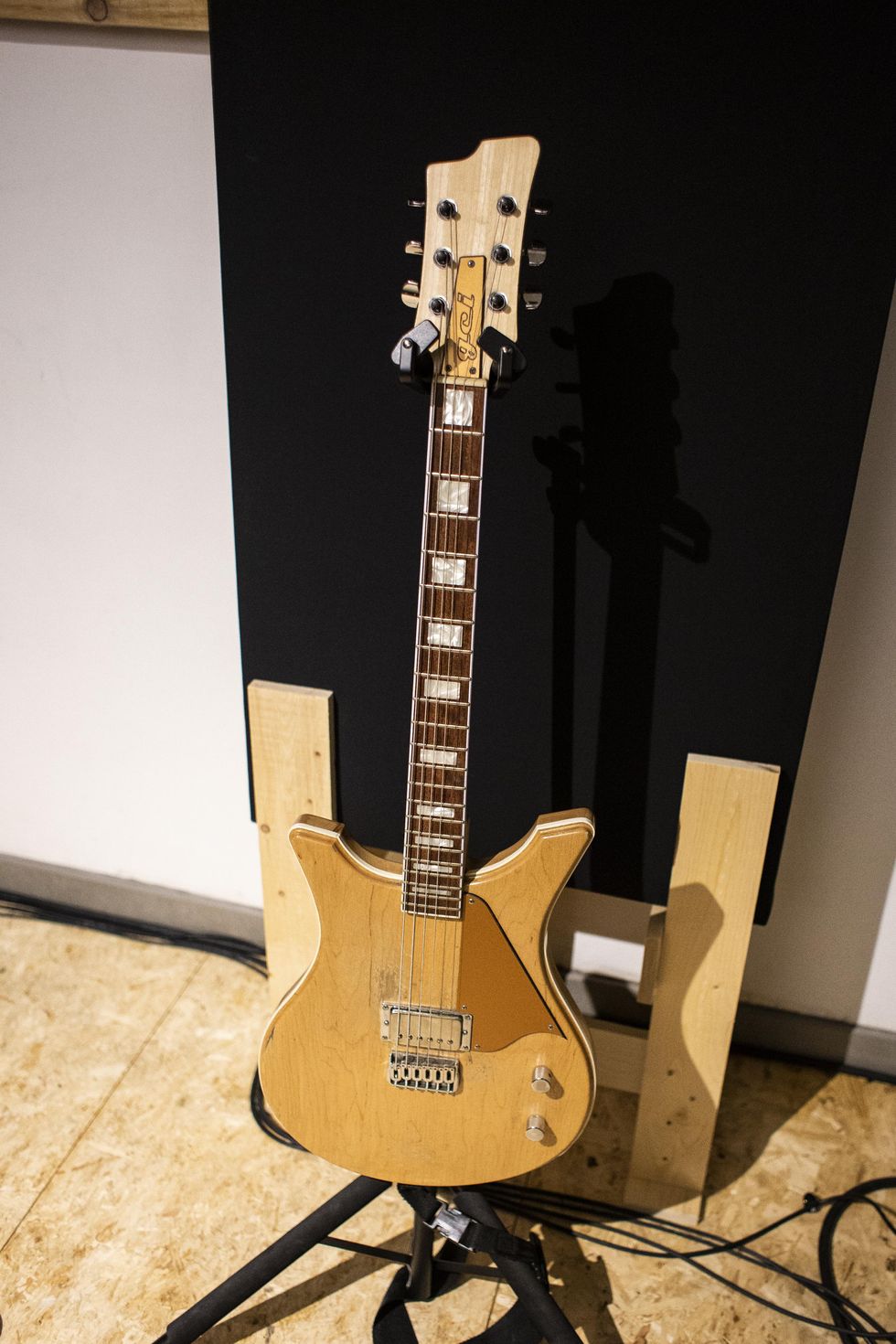 Here's one of Kurt Ballou's earliest GodCity Instrument designs that Bossu acquired in 2012. He typically used this with his other band Oathbreaker. However, that band has become dormant so he tunes this beast to B for Amenra songs. Compared to his silverburst, Lennart says the GCI is brighter and has a trebly bite because of its maple body and neck.
1996 Gibson Les Paul Custom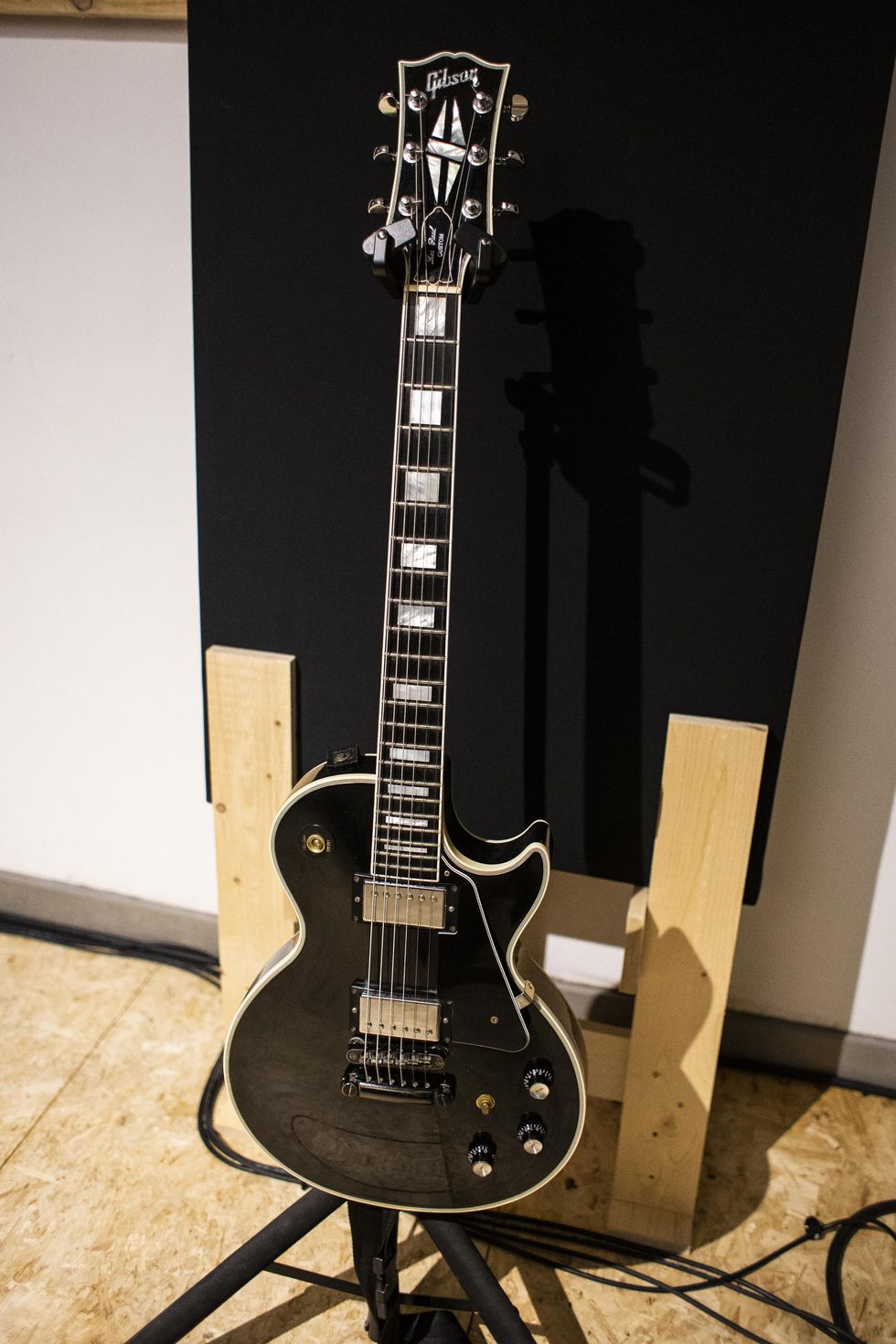 Now if Bossu's gear stash was in a fire, this 1996 Gibson Les Paul Custom would be the item he'd grab. He doesn't tour with it (saves it for special one-off shows), but uses it extensively in the studio. He's played and owned older, more valuable Les Pauls, but this particular one is magic in his hands. At one point he did try EMGs in it (losing the original pickups in the process), but he's since brought it back to its natural state with some Gibson 'buckers (498T and 490R).
Gibson J-45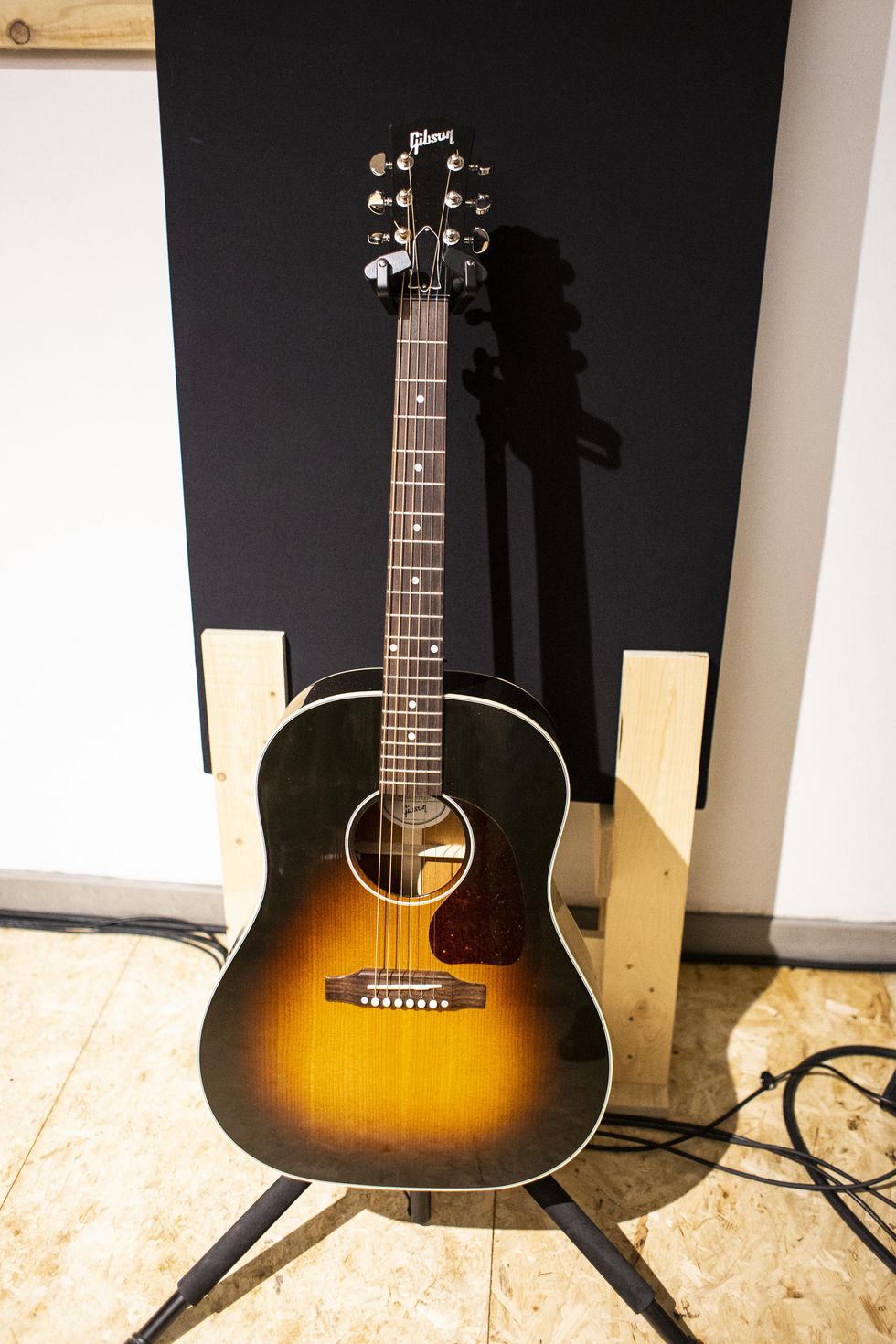 For any acoustic flourishes on Amenra's Mass albums and 2021's De Doorn , Lennart will use this Gibson J-45.
Marshall JMP 2203 and a late '70s Ampeg V-4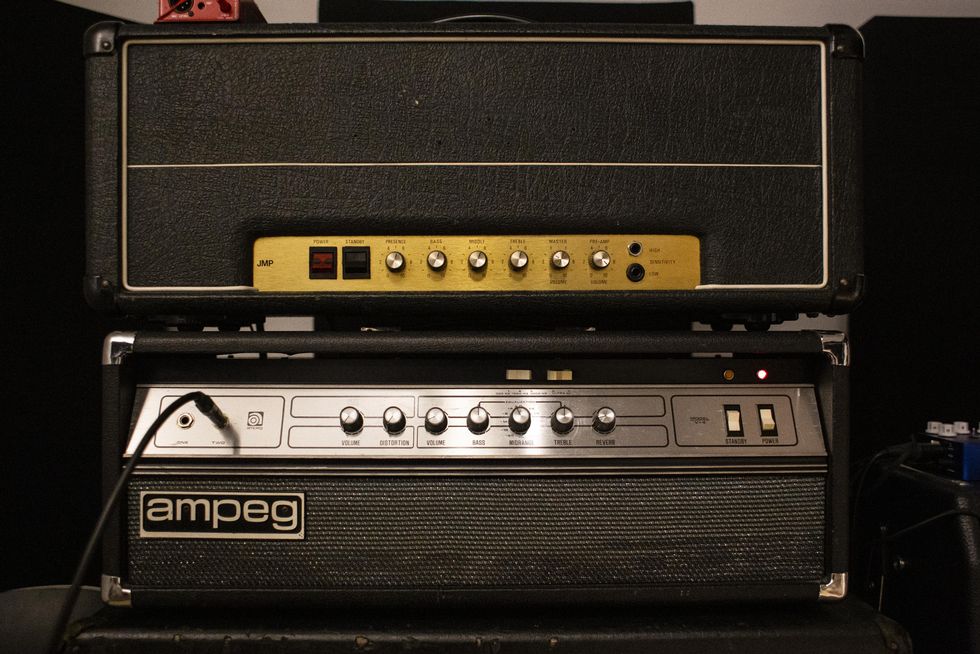 Amenra crushes so the firepower needed comes from this 100-watt, one-two punch—a Marshall JMP 2203 and a late '70s Ampeg V-4.
Bossu will run the Marshall in two ways: He'll plug into the low input and dime the preamp control creating a clean pedal platform. (In the video, bassist Tim De Gieter asks Bossu how that's possible and Lennart explains that it must be a fluky head because it has more headroom than a typical Marshall.) The other way he'll run it would be in the high input with the preamp around five and then pushing it harder with a TS-style overdrive.
The V-4 is similar to the Marshall in that it gets its growl from pedals and usually stays pretty clean on its own.
Mesa/Boogie 4x12
Depending on the situation, either head would hit this standard Mesa/Boogie 4x12 that's loaded with Celestion Vintage 30s.
Radial JDX-48 Reactor Guitar Amp Direct Box
For touring, Amenra's FOH engineer will insert the above Radial JDX-48 Reactor Guitar Amp Direct Box so the V-4 has a direct signal at his disposal in case mics are moved or something in the room impacts the Ampeg's tone.
Fender '65 Deluxe Reverb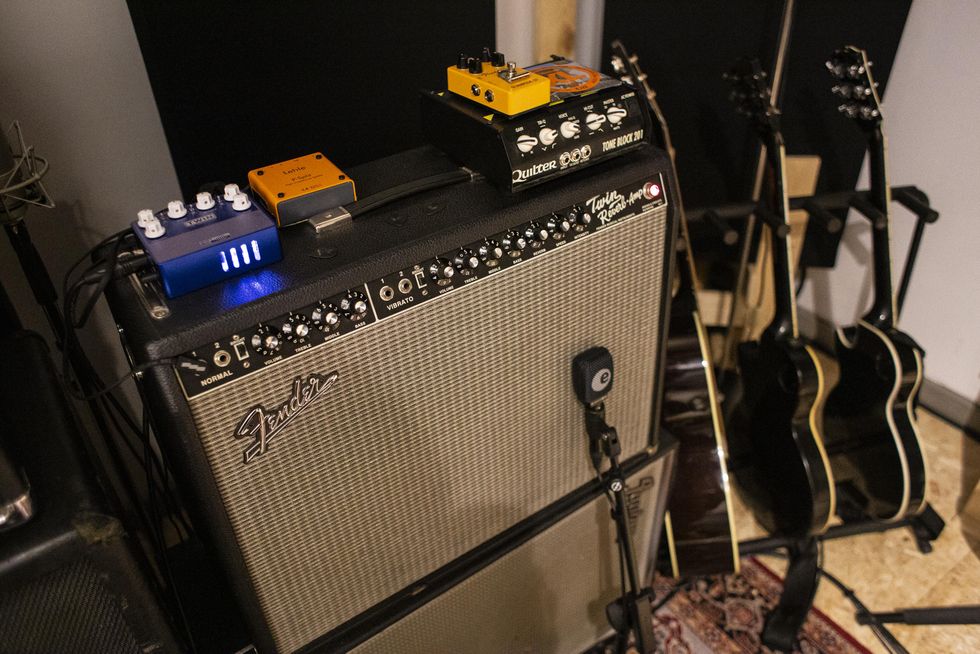 For recorded clean tones, Bossu will a Fender '65 Twin Reverb reissue combo.
Shift Line Twin MkIIIS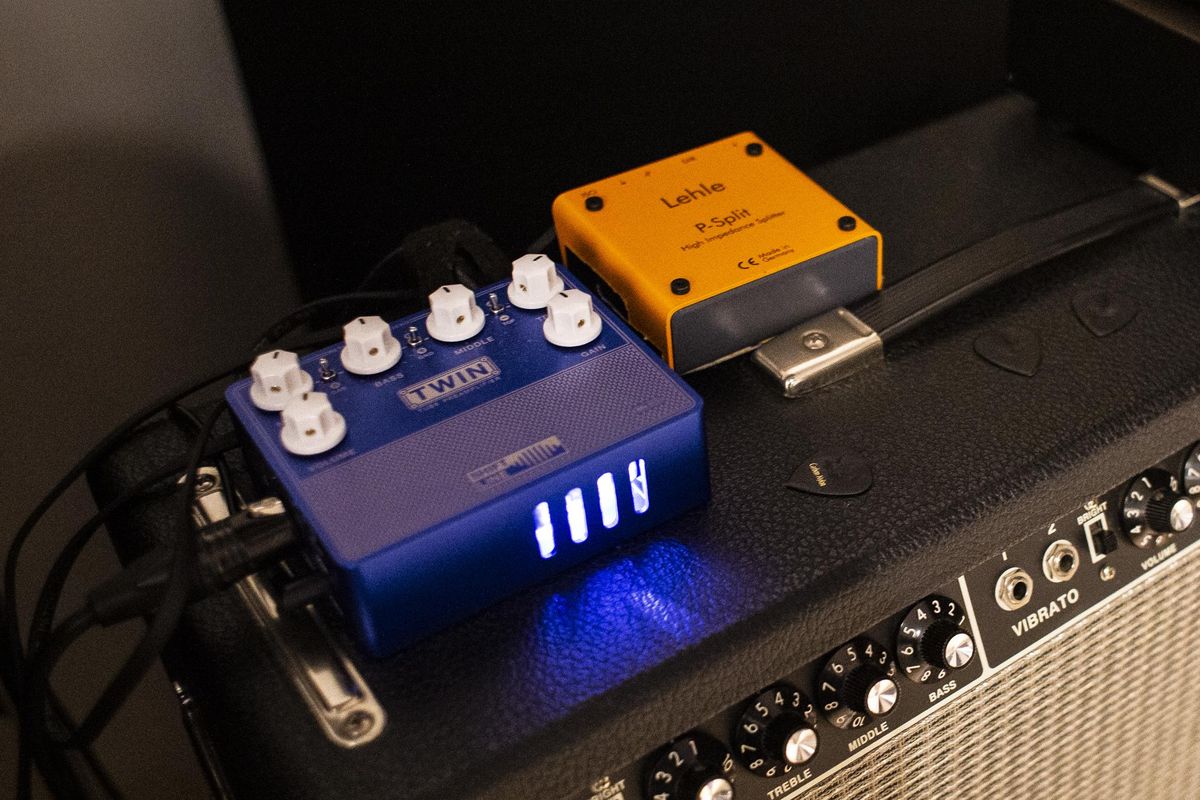 However, in recent times, he's brought the Shift Line Twin MkIIIS and ran that and used the '65 as an extension cab. The Russian pedal recreates the Twin Reverb's preamp and allows him to use impulse response cab sim and also sends a direct line to FOH. The blue box has a thru input that allows Lennart to plug the pedal into the '65 without altering the Fender's tonal character giving him the option to toggle between the preamp of the pedal or the combo.
Quilter Labes Tone Block 201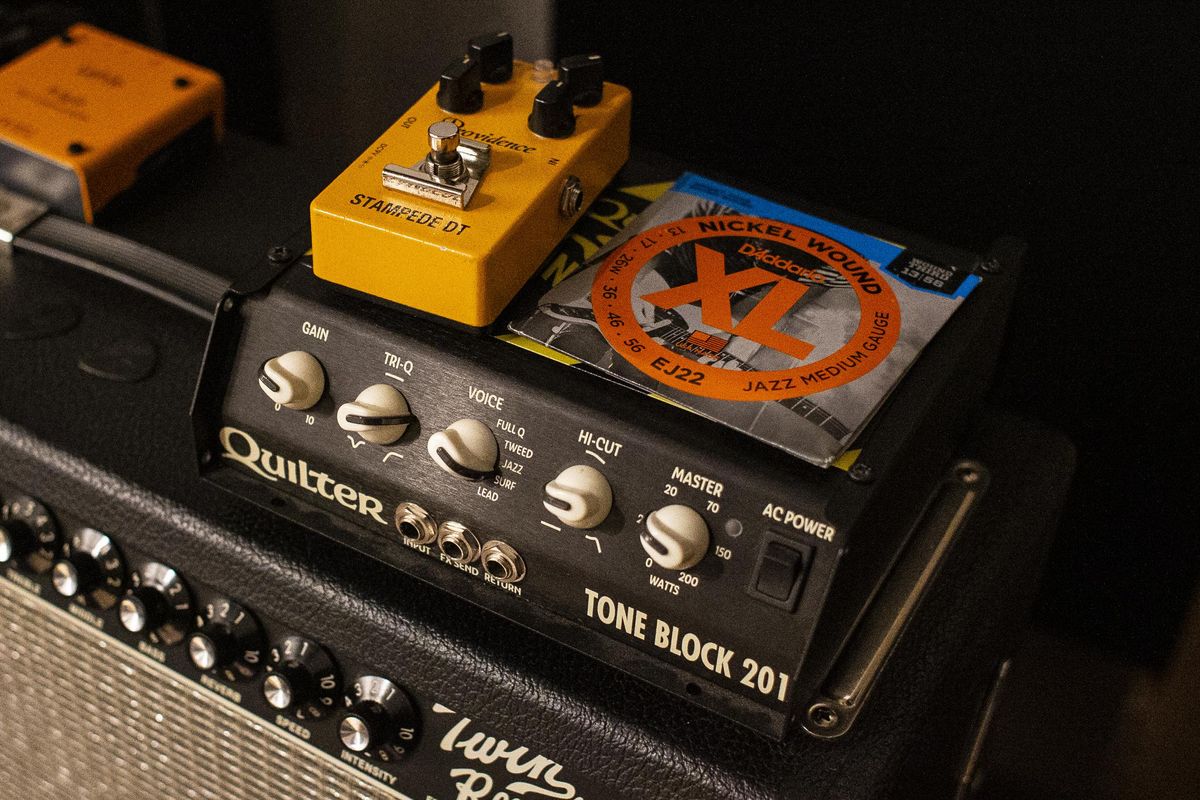 Fly-in gigs provide Bossu with an amp crapshoot as he's at the mercy of backline companies and their stash. When cartage is light, he'll slip the Quilter Tone Block 201 into his travel bag and rest easier knowing he's got something to work with when the band hits the stage.
Lennart Bossu's Pedalboard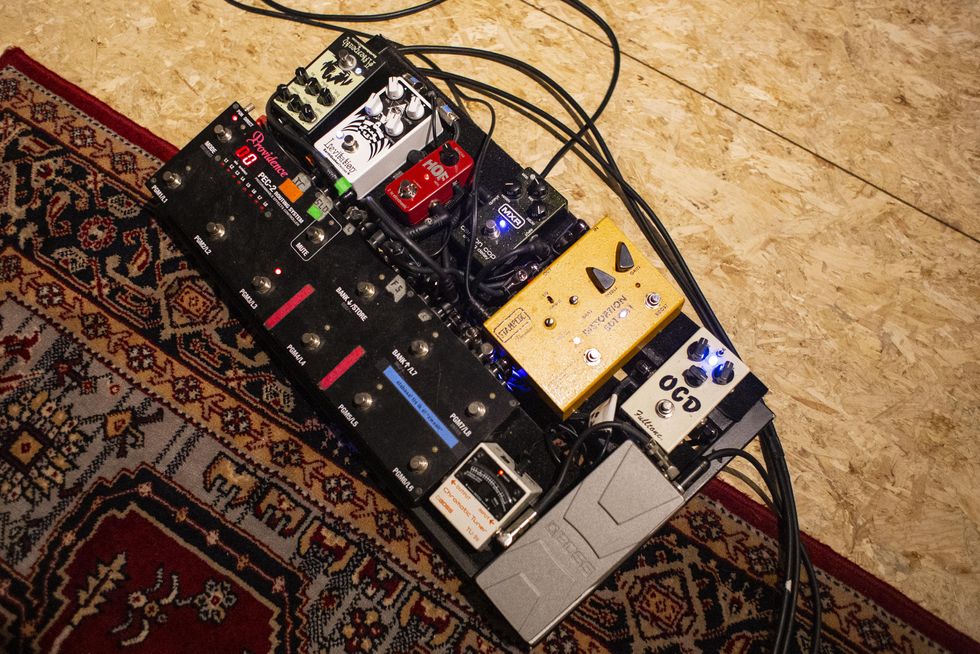 Trying to keep travel costs down and restrict his pedal pleasures, Bossu forces himself to keep his pedalboard to this size. Currently, he's working with a pair of flexible EarthQuaker Devices reverbs—Afterneath (cavernous and deep) and Levitation (delicate and pristine with added modulation). For lead sounds he'll run the TC Electronic Hall of Fame Mini with the MXR Carbon Copy delay. The enraged Amenra tones come to life with either the Providence Stampede STD-1 Distortion or Fulltone OCD (he prefers the 18V setting for more amp-like distortion).
All the pedals are run through and governed by a Providence PEC-2 Programmable Effects Controller, all his guitars are kept in check by a Boss TU-3S Chromatic Tuner, and dynamics and feedback are harnessed by the Boss FV-30 Volume Pedal.