Guitarist John Lee Shannon and bassist Dan Horne explore the sonic space with a mix of vintage amps, DIY cabs, and plenty of pedals.
Founded by the late Neal Casal, this instrumental band of sonic explorers was born out of a request for set-break music during the Grateful Dead's final run of shows in San Francisco and Chicago during 2015. Originally, CATS was going to be a one-off project, but fan feedback pushed Casal and company to release it as Interludes for the Dead. This wasn't simply wordless Dead covers, but new creations formed in essence and spirt of the Dead.
---
In 2018, the group released their second double album, Let it Wander, and followed it up with a completely improvised EP featuring drummer Joe Russo. Sadly, a week after tracking their self-titled album Casal took his own life. Casal urged the group to carry on without him. The group recruited Eric Krasno and Scott Metzger for various tours before settling in with John Lee Shannon in July of 2021. Shortly before a gig at Brooklyn Bowl in Nashville, John Bohlinger caught up with Shannon and bassist Dan Horne to talk gear.
[Brought to you by D'Addario XS Strings: http://ddar.io/xs.rr]
The Lone Ranger
John Lee Shannon tours with a single guitar: a 2017 Fender Custom Shop 1969 Journeyman Relic Strat. It's outfitted with handwound '69 pickups in the neck and middle with a Texas Special in the bridge. "It's really barky," mentions Shannon. "It's not a 'tame' Strat," He puts D'Addario NYXL (.010–.046) strings on it and uses Pick Boy Vintage Celluloid Rainbow .75 mm picks.
Amp on the Run
Due to somewhat complicated logistics, Shannon had been looking online at various Nashville guitar shops for an amp he could pick up at the last minute and use on this run. After flying in from Brooklyn the morning of the show, he headed straight for Rumble Seat Music to check out this 1968 Sunn 100S and matching 2x15 cabinet. Shannon put down a deposit before getting to town hoping the amp would work for him. Obviously, it did. Later he found out this amp was on consignment from Nashville session king Tom Bukovac.
The Mothership!
After experimenting with various pedals on the band's West coast run, Shannon shifted some things around and even took inspiration from Casal's board to form this mothership. The centerpiece is the Road Rage true bypass looper which allows Shannon to individually bring each pedal in and out of the signal flow. Right before the looper is a JAM Pedals Wahcko, which was custom ordered solely based on the finish. Other highlights include a Greer Amps Super Hornet, Strymon Lex, a trio of Catalinbread stomps (Belle Epoch, Echorec, and Topanga), a Walrus Audio Monument, Lovepedal Rubber Chicken and a pair of BearFoot FX (Pale Green and Honey Beest OD).
Vintage Vibes
Circles Around the Sun take plenty of musical risks, but that fearlessness stretches over into their gear choices as bassist Dan Horne also takes a single bass on the road. This 1978 Alembic Series 1 has an unusual setup. Although you can power the active pickups with batteries, Horne uses an Alembic DS5 power supply to provide power via the cable. (The DS5 also has dual outputs, but Horne only uses the bass output.)
Tower of Doom
The Grateful Dead's "Wall of Sound"-era speakers served as the inspiration for Horne's triple-cabinet tower. The top cabinet was built by Bag End while the bottom two were DIY affairs created by a friend. All three cabinets feature a Weber speaker.
Under the Hood
The engine behind Horne's sound is this rack, which includes an Alembic F-1X tube preamp—powered by a 12AX7—and a Crown XLS 1502 power amp. All of Horne's effects are behind him on the pedal drawer and he controls them via a Voodoo Lab PX-8 Plus.
Horne's Tone Zone
Horne's pedal rack includes a Sonic Research ST-300 tuner, Boss BF-2 Flanger, MXR Carbon Copy, MXR 10-Band EQ, a vintage Electro-Harmonix Small Stone Phase Shifter, MXR Bass Envelope Filter, and a BearFoot FX Pale Green compressor. He wrangles them all with a Voodoo Lab HEX loop switcher that's controlled by a PX-8 Plus.
Looking for more great gear for the guitar player in your life (yourself included!)? Check out this year's Holiday Gear Finds!
Outlaw Effects introduces their next generation of NOMAD rechargeable battery-powered pedal boards.
Available in two sizes, NOMAD ISO is a compact, versatile tool that offers the convenience of a fully powered board plus the additional freedom of not having to plug into an outlet. NOMAD ISO is ideal for stages with limited outlet availability, quick changeovers, busking outdoors, temporary rehearsal locations, and more!
NOMAD ISO builds upon the legacy of the ultra-convenient and reliable NOMAD rechargeable pedalboard line originally launched in 2018. The brand new NOMAD ISO editions feature eight isolated outputs (1 x 9V DC, and 1 switchable 9V/12V DC) for even more versatility and clean, quiet power. With an integrated lithium-ion battery pack boasting 12800mAh capacity, NOMAD ISO can fuel a wide array of pedals, and will last over 10 hours* on a single charge.
Each NOMAD ISO pedal board includes adhesive hook & loop pedal-mounting tape, eight (8) standard DC connector cables, and one (1) reverse polarity DC cable, giving you everything you need to build your ultimate "off-the-grid" rig. A rugged, road-ready padded gig bag with shoulder strap is also included, to safely protect your gear while you're on the move.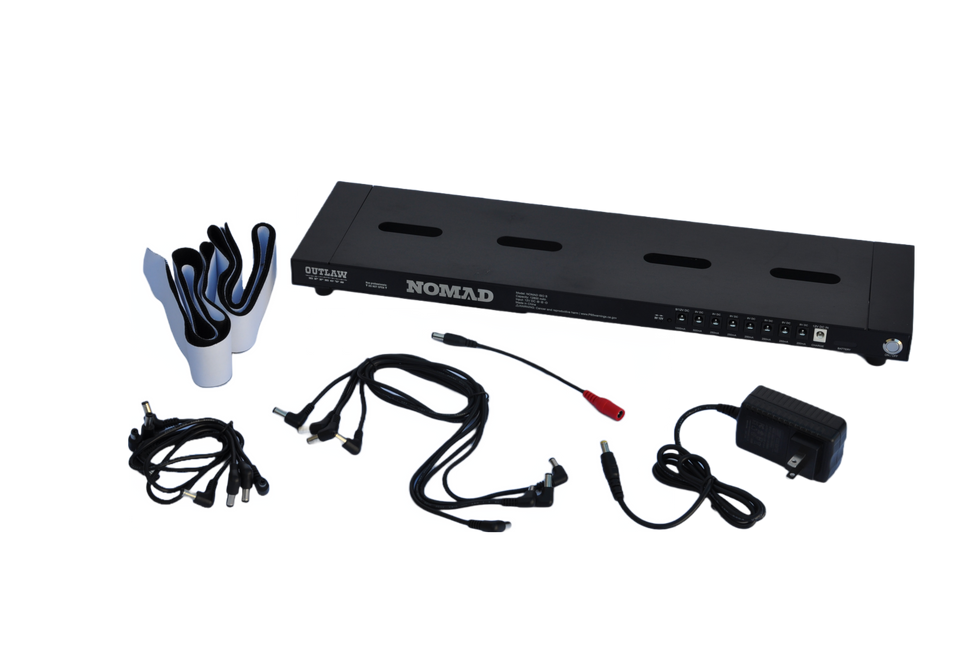 Dunable announce new Minotaur model featuring Grover Rotomatic Keystone tuners.
The Minotaur's DNA is rooted in their classic Moonflower model, which Dunable discontinued in 2017. However, they have long since wanted to create a fresh take on a carved top guitar design, and various attempts to rework the Moonflower led them to a brand new concept with the Minotuar.
Dunable's goal is to give the player a guitar that plays fast and smooth, sounds amazing, and gives maximum physical ergonomic comfort. The Minotaur's soft and meticulous contours, simple and effective control layout, and 25.5" scale length are designed to easily meet this criteria.

Dunable Minotaur!
Features
25.5" scale length
Dual Humbucker
one volume, one tone, push pull for coil splitting
Grover Rotomatic Keystone tuners
Grover Tune O Matic bridge with brass Kluson top-mount tailpiece
jumbo nickel frets
12" fretboard radius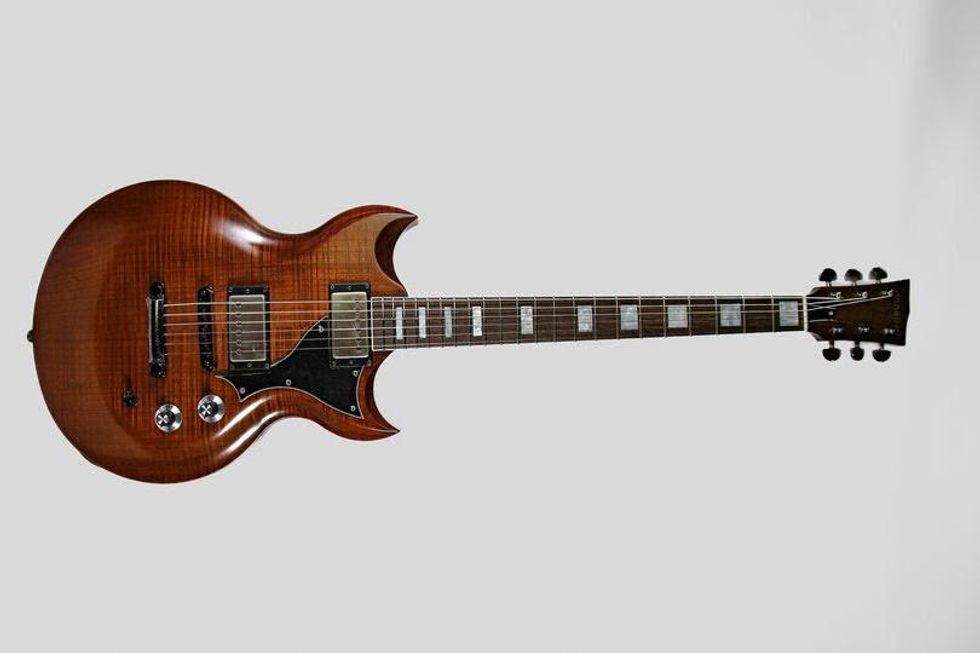 Dunable
This full-amp-stack-in-a-box pedal brings a new flavor to the Guitar Legend Tone Series of pedals, Missing Link Audio's flagship product line.
Adding to the company's line of premium-quality effects pedals, Missing Link Audio has unleashed the new AC/Overdrive pedal. This full-amp-stack-in-a-box pedal – the only Angus & Malcom all-in-one stompbox on the market – brings a new flavor to the Guitar Legend Tone Series of pedals, Missing Link Audio's flagship product line.
The AC/OD layout has three knobs to control Volume, Gain and Tone. That user-friendly format is perfect for quickly getting your ideal tone, and it also offers a ton of versatility. MLA's new AC/OD absolutely nails the Angus tone from the days of "High Voltage" to "Back in Black". You can also easily dial inMalcom with the turn of a knob. The pedal covers a broad range of sonic terrain, from boost to hot overdrive to complete tube-like saturation. The pedal is designed to leave on all the time and is very touch responsive. You can get everything from fat rhythm tones to a perfect lead tone just by using your guitar's volume knob and your right-hand attack.
Features 
Three knobs to control Volume, Gain and Tone
Die-cast aluminum cases for gig-worthy durability
Limited lifetime warranty
True bypass on/off switch
9-volt DC input
Made in the USA
MLA Pedals AC/OD - Music & Demo by A. Barrero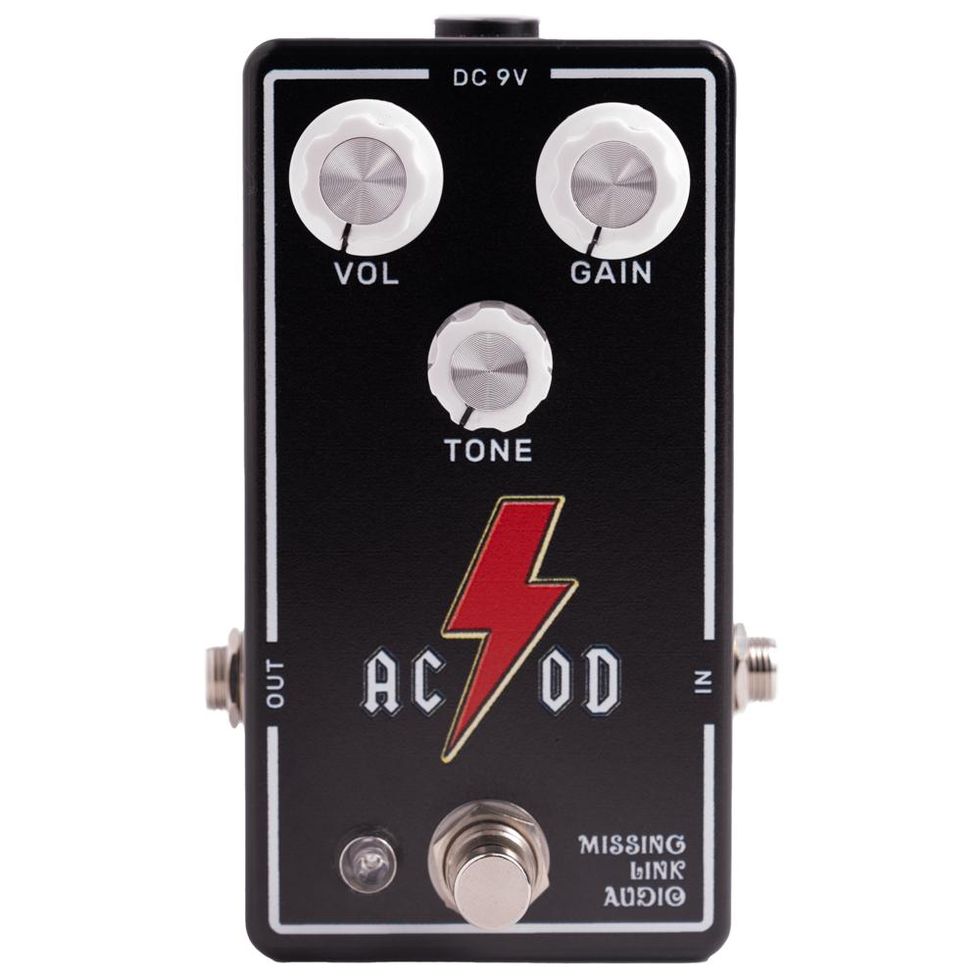 www.mlapedals.com.