Rig Rundown: The Hives [2021]
The swift-riffing Swedes keep it simple with mended classics and a handful of saucy stomps.
The Hives are a ripping quintet that formed in Fagersta, Sweden, during the early '90s. They exploded into American pop-culture consciousness during the garage-rock revival with a pair of chart-splashing, straight-forward stingers (2000's Veni Vidi Vicious and 2004's Tyrannosaurus Hives). And while they did take a hiatus in the mid-2010s, they've continued rocking the thin line between ragged and refined for nearly 30 years with a total of five albums, four EPs, and a 2020 live set recorded at Nashville's Third Man Records.
---
Just after soundcheck wrapped at Nashville's Brooklyn Bowl, the Hives' redlining guitar duo of Nicholaus Arson and Vigilante Carlstroem welcomed PG's Chris Kies onstage to talk gear. The resulting chat covered just how and why Carlstroem's Flying V has split so many times (supposedly sounding better after each repair), and the reasons why Arson explains his vintage, bridge-pickup-only Fender Telecaster Custom is still the one. Both also quickly detail the torrid fuzzes that will never leave their respective boards.
[Brought to you by D'Addario XPND Pedalboard:https://www.daddario.com/XPNDRR]
Carlstroem's Corroding Coronet
The band has several rigs situated across the globe with varying differences. However, for Vigilante Carlstroem this early 1959 Epiphone Coronet never leaves his side and tours everywhere. He's had the stripped-down, rock-'n'-roll machine for 20 years, but when he first acquired the Epi it was "in fucking mint condition." Prior to owning this one, he fell for its shape and vibe in the form of the similar (3-pickup) Epiphone Crestwood Deluxe. The stage staple has endured two different headstock fractures. Since getting his mitts on the axe, he's played every Hives show with it. And he keeps everything decked out with Ernie Ball Paradigm Not Even Slinkys (.012–.056) and punishes the strings with Dunlop Tortex 1.14 mm picks.
Come Fly with V
When Carlstroem does need a neck pickup, he'll put on this '90s Gibson Flying V (with Lollar pickups) that's been snapped in half and splintered several times. He swears that both this and the Coronet sound better after their rehabs.
V Marks the Spot
Here's a glimpse of just some of the V's battle scars.
Transatlantic Tones
Just like in our 2013 Rundown with the Hives, Carlstroem is still bringing the might with a one-two amp punch. He's using a Divided by 13 JJN 50/100 that runs into an Orange PPC412 equipped with Celestion Vintage 30s (last time he was running Celestion Heritage Greenbacks in a different cab) and a Fender Vibro-King that pumps through three 25-watt alnico Jensen P10R-Fs. The amps' controls and circuitry are shielded with foil because they and the Epiphone are sensitive to interference. (And an Orange Custom Shop 50 lurks in the background, as a backup for either amp.)
Old and New
When it comes to Carlstroem's pedalboard, some things have changed while others have remained the same. Holdovers include a Mad Professor Deep Blue Delay (set to slapback setting), an Electro-Harmonix POG2 (used for an octave down or to imitate the saxophone on "Go Right Ahead" or organ on "My Time is Coming"), a custom Frantone Vigilantron tremolo, and a Voodoo Lab Pedal Power 2 Plus. Newcomers include a Skrydstrup R&D BF2M buffer (helping with the long cable runs) and a ZVEX Fuzz Factory Vertical. (To be fair, Carlstroem had an original Fuzz Factory—his favorite pedal—last time but has since opted for the compact version.)
T Time for Arson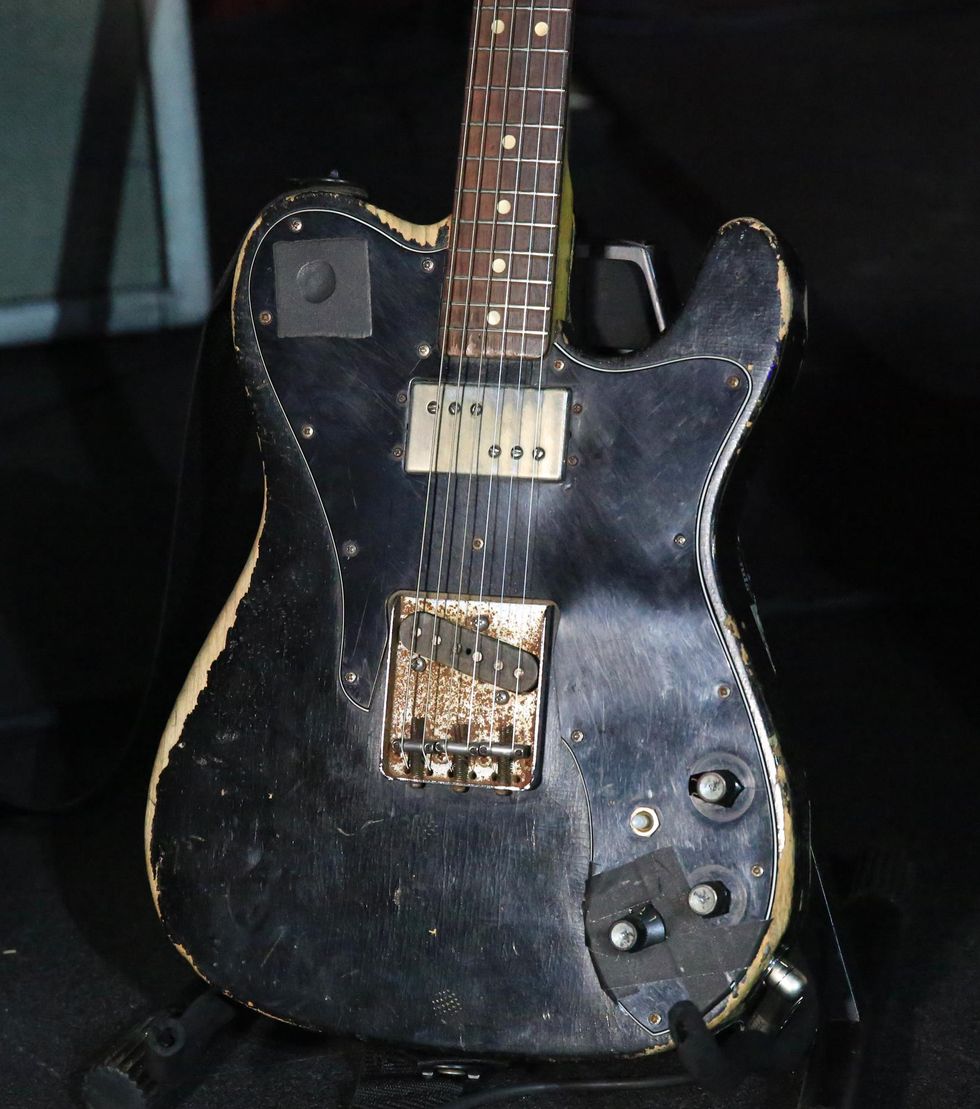 Similar to Carlstroem, guitar mate Nicholaus Arson travels light when Stateside. Again, his No. 1 is a 1970s Fender Telecaster Custom that has just its overwound (stock) bridge pickup wired up. The vintage Tele once belonged to frontman Howlin' Pelle Almqvist, who generously sold it to Arson. Both his Ts take Ernie Ball Paradigm 2020 Power Slinkys (.011–.048).
Crack My Back
Arson's main axe has suffered several splits—none more impressive (or worrisome) than the re-glued fault line running from the cutaway to the body's bottom.
T-Bird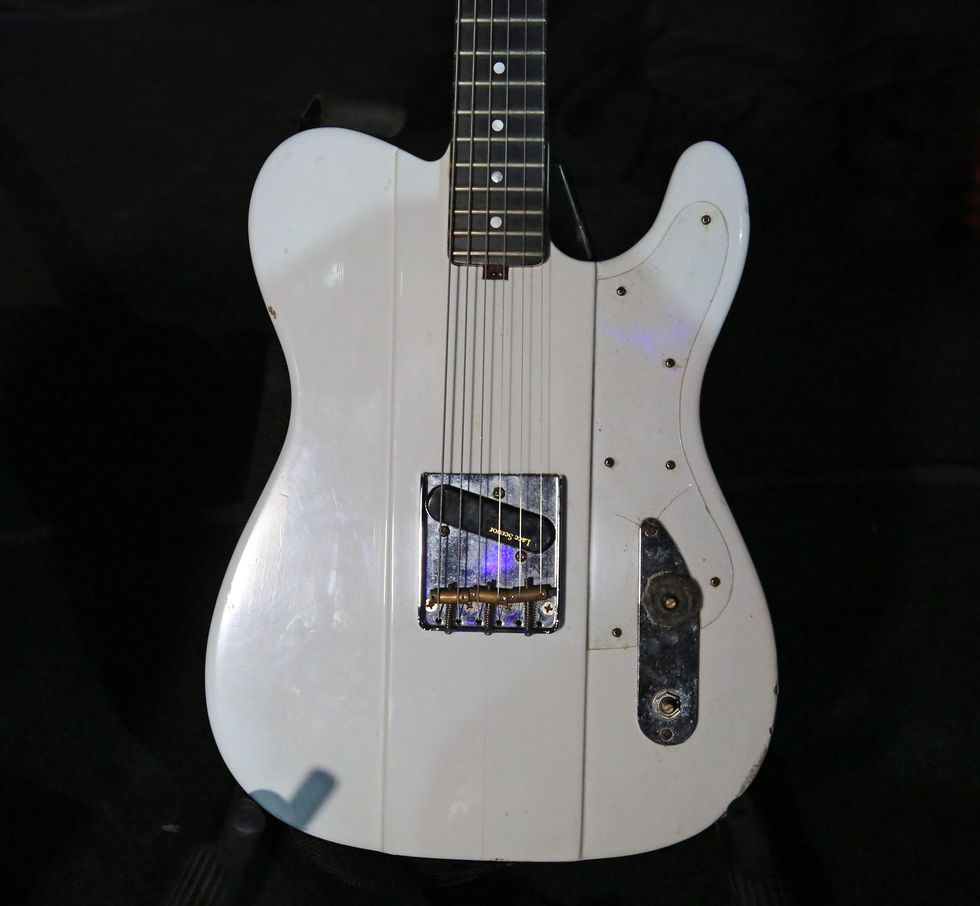 His U.S. backup is this Sundberg The Arsonette that was designed by the guitarist. He aimed to make a crossbreed of a Telecaster and a Firebird by giving the single-cut a raised center block. (The neck still uses Fender-style, bolt-on construction.) The lone pickup is a Lace Sensor T-150 single-coil. The upper bout is chambered producing a deader, more-direct sound that Arson likens to a banjo or drum. He strives for a tone that is immediate and rhythmic, eschewing any sustain or lingering notes.
Eko-T
Up top, the hybrid 6-string has another cross-pollination feature: the traditional T-style headstock is elongated, similar to the old Italian Eko designs. The small text on the headstock reads: "Built by D Sundberg in favour of the hands of N Arson."
Black-panel + Silver-panel = Fender Bliss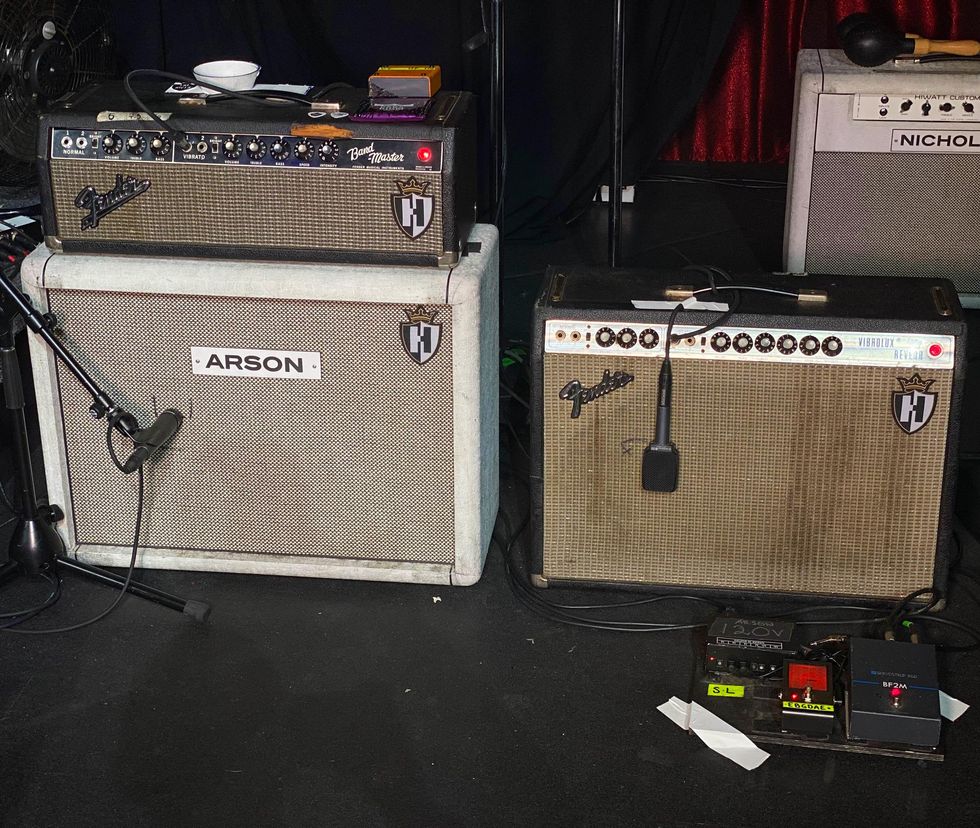 Keeping it all Fender, all the time, Arson plugs into both cherished time periods of Fullerton amp lore. Side A is a black-panel Bandmaster that hits a vintage Hiwatt cab outfitted with Celestion Heritage Greenback speakers. Side B is a silver-panel 1976 Fender Vibrolux. Notice Arson is plugging into the vibrato channels of both amps and each has its bright switch engaged.
Arson's Antics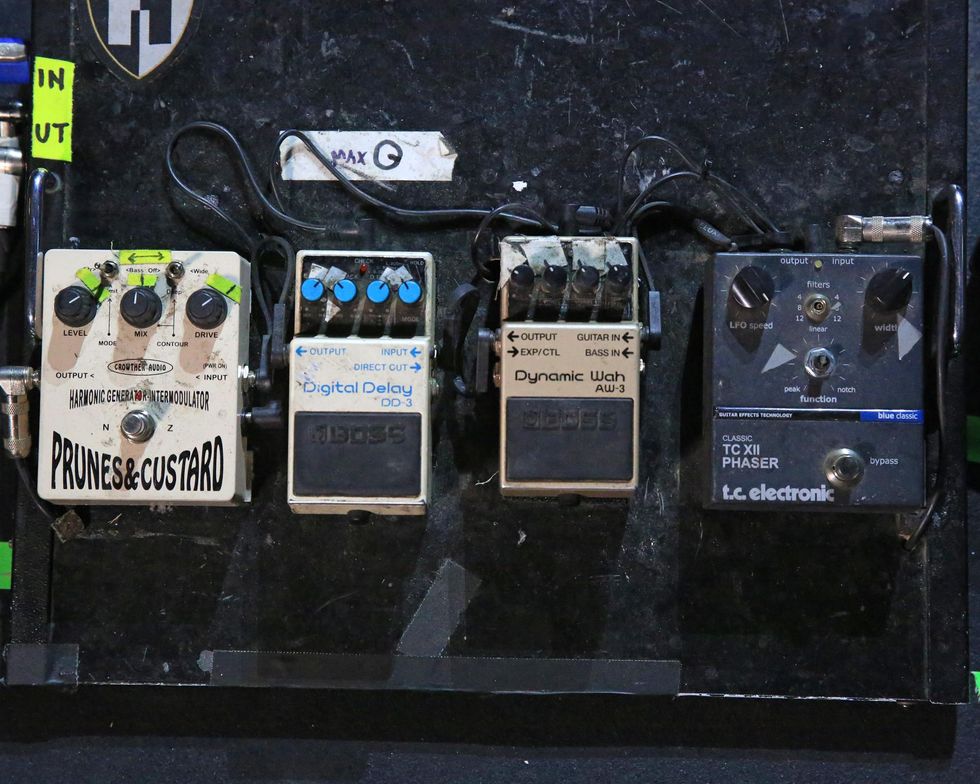 Three of Arson's pedals are exactly as they were in 2013: a Crowther Audio Prunes & Custard fuzz for songs like "Tick Tick Boom," a Boss DD-3 Digital Delay for short echo on "Take Back the Toys" and "Bigger Hole to Fill," and a Boss AW-3 Dynamic Wah used for the intro to "Hate to Say I Told You So." Last time he had an EHX Micro POG, but because the band was playing a fresh set of jams, he swapped it out for a TC Electronic Classic TC XII Phaser.