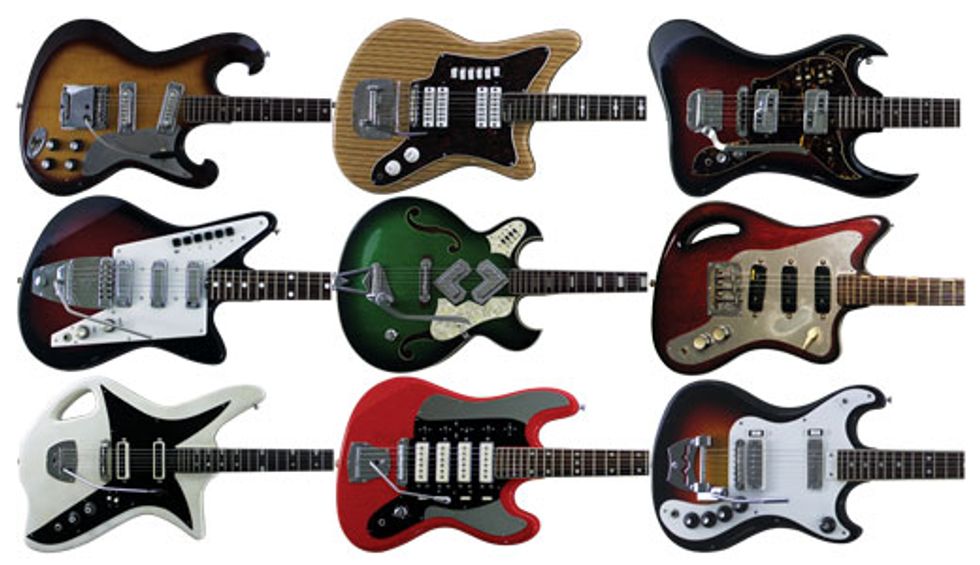 The seed for my guitar obsession was planted way back in the mid '80s, when my mom got me an old, used Japanese guitar. Man, I really loved that guitar, even though it was tough to play. The intonation was off, and every electrical connection was scratchy and quirky. But it was my first guitar, and just like your first love, there's a lifelong connection there.
That first guitar was a Marvel EJ2, and it was pretty unique. It didn't look like the pointy "super strats" that were so popular at the time. In fact, my Marvel didn't look like any guitar I'd ever seen. I was proud of that slab of wood with the gold-foil pickups!
I was the type of kid who was always interested in things that were different, so my taste in guitars from that point on leaned toward the strange. Whenever I'd visit the local music stores, I'd quickly scan the walls for weird-looking guitars like my Marvel. While my friends bought guitars with neon paint schemes, I was peeking into the back rooms for old guitars with sparkle finishes and four pickups. I loved buying interesting guitars that no one else wanted. And coming from a humble background, I loved that the prices were right.
I remember walking into a music shop once and becoming infatuated with an old Gretsch White Falcon, but the price was way out of my range. That darn Gretsch was just stunning, with that bold, white paint scheme and plenty of knobs and switches. After a couple of weeks, the shop owner noticed my passion and said, "Hey, if you can't afford that Gretsch, then check out this old Domino."
It was a 1967 Domino Silver Hawk, to be exact—and it was only $100. In my world, the Silver Hawk was just as cool as the White Falcon. And so began my adventure down the proverbial rabbit hole of vintage guitars.
While my friends bought guitars with neon paint schemes, I was peeking into the back rooms for old guitars with sparkle finishes and four pickups.

A lot of the garage and punk bands I liked then were using cheap guitars, too. In 1989, when I saw a then-unknown Nirvana in Hoboken, New Jersey, I was amazed to see Kurt Cobain playing an old Univox Hi-Flier. He and Nirvana tore up Maxwell's that night, and it only reinforced my teenage resolve to shun high-priced guitars. I came to view these guitars as a form of outsider art. I lurked in the local pawnshops, eye peeled for 6-stringed oddities. I got good at repairing these forgotten gems, too, which made me appreciate the interesting designs even more.
Twenty-five years later, I'd accumulated a large collection of these strange, beautiful guitars. Something gnawed at me, though: the total lack of available information about the companies that made these old imports. I had guitars from all over the world—England, Germany, Italy, Japan, Brazil—so I started spending my summers researching these old instrument manufacturers. By 2011, I'd accumulated enough information to start DrowningInGuitars.com so I could share my love of these guitars and their history. I thought a handful of fellow weird-guitar fanatics might share my passion, but within a few months I was getting hundreds of emails every day.
Since starting DrowningInGuitars.com, I've traveled to Japan to uncover the mysteries shrouding so many cool guitars that originated there. I spent two weeks interviewing more than 30 people involved in the guitar industry during the '50s, '60s, and '70s. I even took my old Marvel EJ2 guitar back to the factory where it was made, met the people who designed it, and talked with the very employee who painted it 50 years ago! I uncovered so much information during my visit that I wrote a book on the subject, and it'll be out next year.
These days, I spend less time buying guitars and more time researching and writing about them. People often ask me, "What's the weirdest guitar you've ever seen?" But when you've seen as many guitars as I have, it's tough to say which are the weirdest or most intriguing. I still have my favorites, of course—guitars that I'll keep for a very long time—but it's still tough to answer that question.
However, the 10 instruments presented here offer a good cross-section of interesting guitars from around the world. All were produced in the '60s and early '70s. Perhaps no other era in guitar history saw as many interesting and creative designs—before the "lawsuit" part of the '70s, when many overseas manufacturers focused on mimicking famous U.S. designs. Before the copycat era, more manufacturers seemed to take pride in original designs. Some of them sound great, and some of them merely look great. But all of them deserve some recognition for their contribution to the relatively short history of the electric guitar.