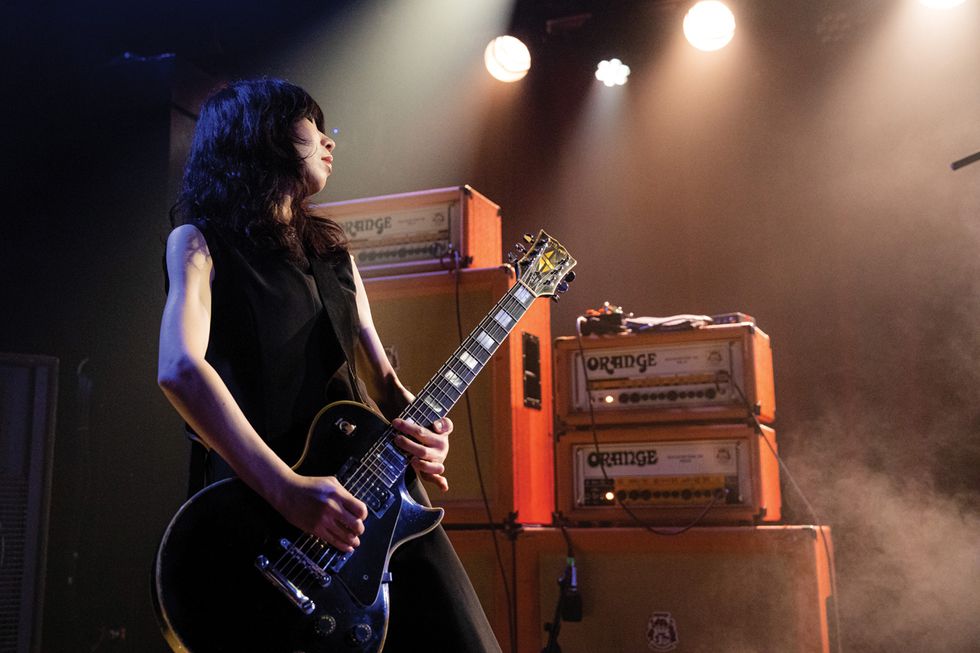 Wata's 6-strings of choice are Gibsons, and she tours and records with a pair of '80s Les Paul Customs and two late-'60s SGs. Orange amps and cabs also figure prominently in her sonic calculations. Photo by Tim Bugbee/Tinnitus Photography
Specifically regarding guitars, how do you divvy up your roles in Boris?
Takeshi: There are times when we divide our roles based on the song, but in general Wata is the lead guitar role—her guitar sound adds glitter and stretch to the song. One of Boris' musical elements is the phenomenon of intentionally mixing our two sounds in unison and interfering with the low frequencies to create sound waves.
Wata: Takeshi is good at hardcore, thrash-like rhythm guitar playing with a sense of speed and twist. He's great at using effects and is good at creating sounds with noise and spatially expansive sounds. He's also mastered multi-effects. I try to play a simple and memorable guitar melody, paying attention to parts between sounds, through sustain, feedback, choking, and vibrato.
How do you prevent the low end from dropping out when you switch from bass to guitar?
Takeshi: There are times when Wata has the lead and I switch to bass, and there are songs when I play bass the whole time. When switching from bass to guitar, I have a setup where the guitar signal can output through a bass amp, so the bottom end does not weaken. There are times when I play lead, so, in that case, the roles are reversed.
I think "Loveless" demonstrates the kind of traditional rhythm/lead roles you both sometimes occupy in Boris and are integral to the construction of that song. How do you decide on the interaction of your instruments, between rhythm, lead, bass, and keyboards?
Wata: It depends if he is the center of a composition or I am at the start of a composition. The arrangements are made making the best use of each person's characteristics. There are times when we arrange songs based on how we imagine the three of us playing onstage. For "Loveless," Takeshi created the riff, and then we created the lead and melody together. Atsuo is in charge of the sound production, so the three of us will come up with ideas and move on. Even though it's a three-piece band, many opportunities are born. In the recording for NO, Takeshi plays a majority of the rhythm.
What's your approach to crafting solos?
Wata: I kind of form an image in my head, but most of it is improvised. Sometimes it's determined after recording a few takes, and sometimes it's arranged again based on a recording take. When playing live, we use the recording as the starting point, and add in the feelings and emotions at that moment, and change is born.
Takeshi, you earlier mentioned Chris Squire, Cliff Burton, and Lemmy Kilmister as influences. What is it about their playing that you like?
Takeshi: I like bassists who play with a distorted guitar-like tone—it's that sort of influence.
Wata, do you have any specific influences who helped shape your approach to guitar, or any formal training?
Wata: A guitarist I was influenced by is David Gilmour of Pink Floyd. I was taught a little around the time I started guitar, but self-study, playing in bands, became the main constituent quickly.
My encounters with equipment such as Orange amplifiers, the Roland Space Echo, the Elk fuzz, and the EBow have influenced my style significantly. It's also important to have loud volume that can create feedback. The Roland Space Echo RE-150 is so important to me that I even bring it along on our tours. The damage-like feeling peculiar to analog tape, the fluctuation that feels like it plays automatically—it gives me great power when performing. It feels like the tape echo is performing with me. Additionally, there are times when various ideas are born when I experiment with various effects pedals that I obtained.
Are you working on any technical aspects of playing at the moment?
Wata: I don't do much training now. I'm not interested in playing fast or accurately, and I focus on reaching the hearts of listeners who hear the music under various situations. There's no answer to music or these artistic expressions, and I think each person has to work their own way to get an answer unique to them.
"I'm not interested in playing fast or accurately, and I focus on reaching the hearts of listeners who hear the music under various situations." —Wata
Did Japan's visual kei movement—which uses makeup, costumes, and other design elements as part of a musical presentation—have any effect on your playing style?
Wata: When I started playing the guitar, there were many bands that were active who'd later be referred to as roots of visual kei. Many of my friends at school and those senior to me were in a genre close to visual kei, so I often went to live shows. The tone of the guitar is very different, but the influence at the time was great as a musical experience, even if it wasn't direct. I've been influenced in aspects such as simple and strong riffs, melody work, etc. As an element of music, "visual" is extremely important. If the amplifier is orange, the impression of the sound becomes completely different.
Is there any piece of equipment you use that's essential or particularly noteworthy that wouldn't be obvious to the average listener or fan?
Takeshi: About 80 percent of the time, in the last few years, Wata and I have been making twin guitar sounds, and I haven't played the bass. The sound making is mostly with guitar. Onstage, I use the Bright Onion pedal's phase/ground switch pedal a lot, so the phase of each amplifier and speakers are aligned with this equipment. I'm able to create stronger volume and sound pressure. This is basic, but extremely important.
Anything else?
Takeshi: For me, the Sunn Model T sound character is essential. That loud volume and unique low-end feel can't be obtained through other amps. I have about five vintage ones from 1973 to 1975, but each amp has slightly varying sound, and it's interesting. Previously, I used the second generation from 1974, but this one has a dark, slightly muffled sound. The main one I use right now is the 1973 first generation. This one has reasonable crunch and bright sound. It also has a good, balanced range.
Wata, do you have any secret weapons?
Wata: The Soul Power Instruments two-in, four-out, eight loop switcher. This switcher was custom made for me. With a single switch, I can change the settings of two-in for guitar and keyboard, and four-out for output to multiple amplifiers. Depending on the song, I can control the number of amplifiers used and the volume. It's as though we touch and communicate with the audience through sound, so it's important to be able to control the strength and weakness level of that sound.
Are there any songs on NO where effects were an essential inspiration for their creation?
Takeshi: "HxCxHxC" has guitar play that uses extreme reverb and delay. The jam we recorded had drums sprinting through a sound space where we couldn't understand the chords and melody, and the balance was really interesting. We later added a bass line, and it became a song. To maintain our fresh feelings, we like trying out new pedals and amps, so there are times when we also gain inspiration from those timbres and effects. It is fun trying out various kinds of equipment.
What's the secret for crafting a cohesive sound without being pigeonholed into a particular style of music?
Takeshi: On the surface, listeners may feel that the albums or songs are disjointed, but we're not consciously trying to challenge ourselves each time to do something different. We've been searching for our meaning of "heavy" by consolidating the feelings we've gained in our lives, the musical experiences, and means of expression. During this journey, we find something new, and that's one of the things that motivates us to keep creating work. From the beginning, this fundamental part of Boris has not been shaken at all.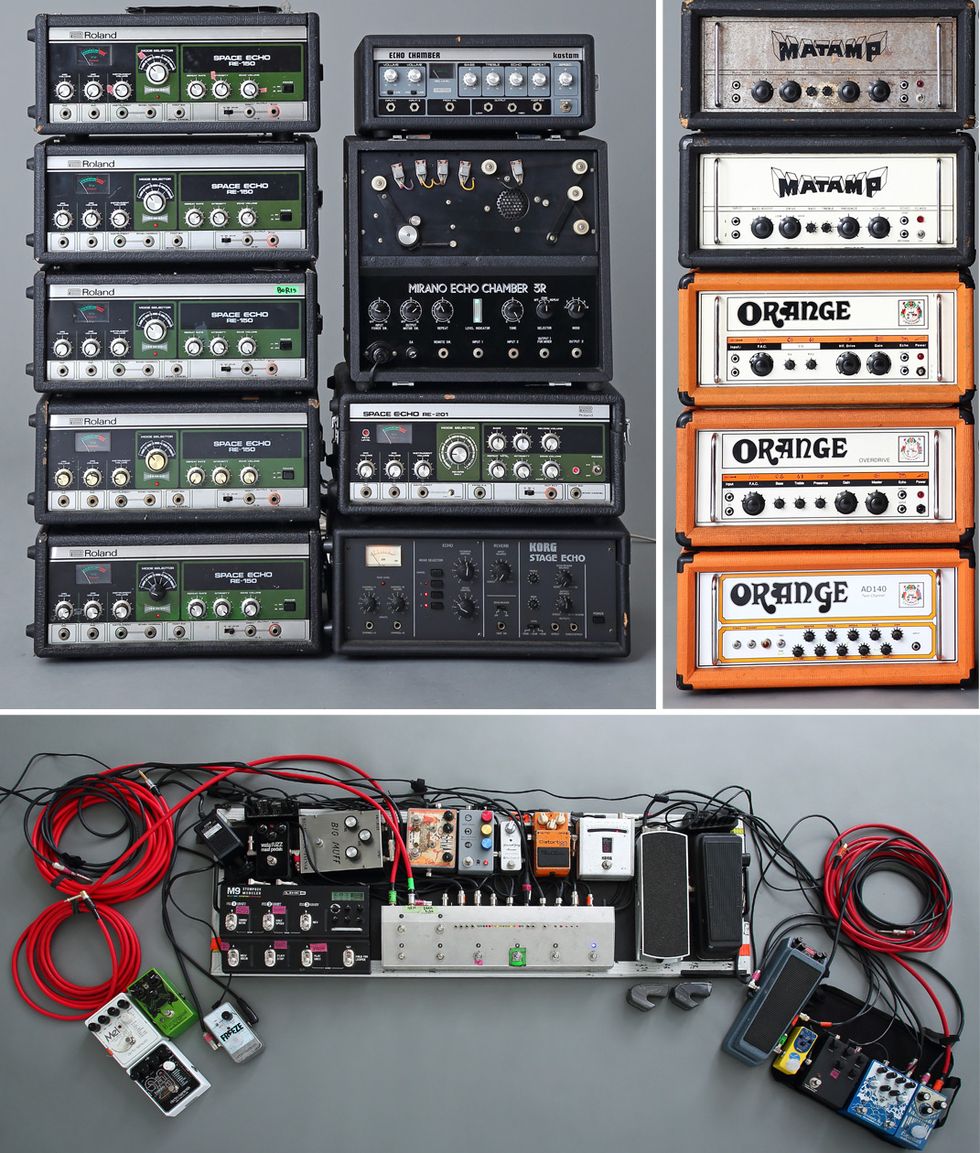 Photos by Miki Matsushima
---
GUITARS

1986 Gibson Les Paul Custom (black finish with Seymour Duncan JB/bridge, '59 Model/neck)
1986 Gibson Les Paul Custom (silver finish with Seymour Duncan JB/bridge, '59 Model/neck)
1969 Gibson SG Standard
1968 Gibson SG Special

KEYBOARDS

Roland FR-1x V-Accordion
Nord Wave

AMPS

Two 1970s Matamp GT120s
1970s Orange OR120
1990s Orange OR120 Overdrive
Orange AD140 HTC
Orange Terror Bass
Orange Rockerverb 100
Orange PPC412-C
Orange PPC212-C
1970s Orange 1x15 Bouncer bass cab

STRINGS, PICKS & CABLES

SG Nickel Plated Steel (.011–.060)
Jim Dunlop Delrin .96 mm
Acoustic Revive instrument cables

EFFECTS

Five Roland RE-150 Space Echoes
Kastam SS-102 Echo Chamber
Mirano Echo Chamber 3R
Roland RE-201 Space Echo
Korg Stage Echo SE-300
MASF Watafuzz
ELK Big Muff Sustainar
Dwarfcraft Devices Shiva Fuzz
Mattoverse Electronics AirTrash
One Control Granith Grey Booster
Boss DS-1 Distortion
Korg DT10 Digital Tuner
Ernie Ball 6180 VP JR Volume Pedal
Dunlop Cry Baby 535Q
OneControl Distro Tiny Power Distributor
Line 6 M9 Stompbox Modeler
Soul Power Instruments Switcher
Electro-Harmonix MEL9 Tape Replay Machine
EarthQuaker Devices Hummingbird Repeat Percussions
Electro-Harmonix BASS9 Bass Machine
Electro-Harmonix Freeze Sound Retainer
EBow Plus
Real McCoy Custom RMC3 Wah
Bananana Effects Mandala Glitch Pedal
MASF Pedals Possessed Glitch/Delay
EarthQuaker Devices Avalanche Run Stereo Reverb & Delay
EarthQuaker Devices Aqueduct Vibrato
Orange Bax Bangeetar Guitar Pre-EQ
Moog EP-3 Universal Polarity Expression Pedal
Boss FS-5L Footswitch
---