Mod Garage: 7 Tele Bridge Pickup Alternatives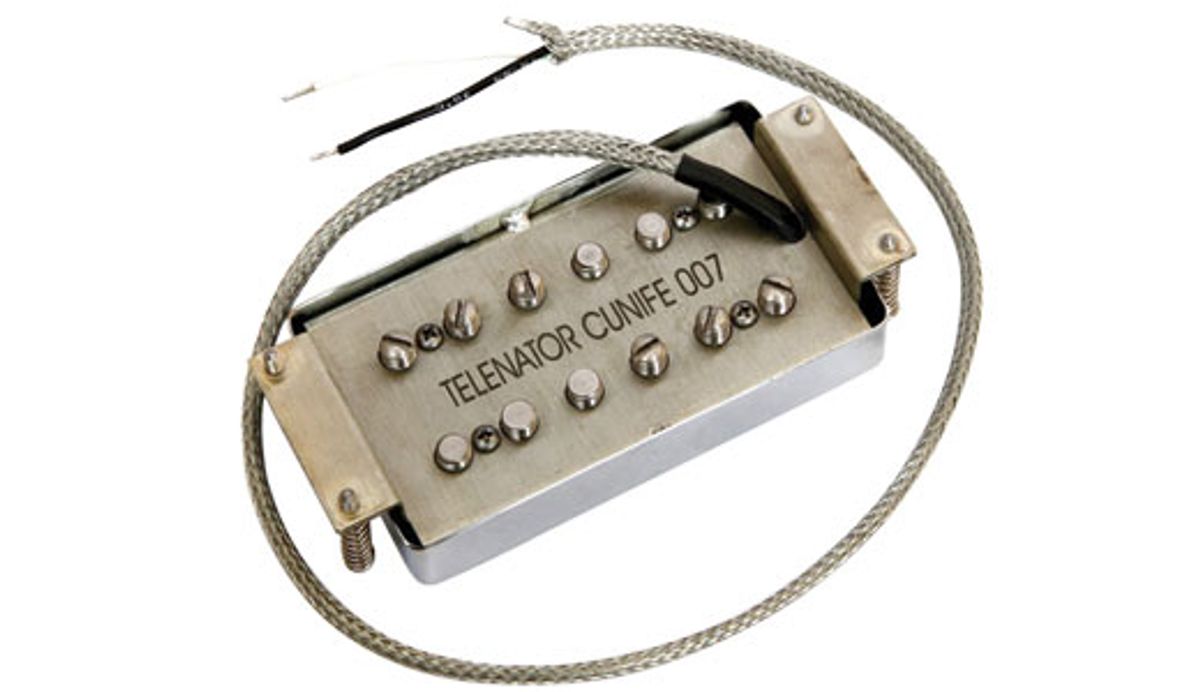 Tired of twang? Inject your T-style with new life.
So far in our series on Telecaster bridge pickups, we've examined a handful of popular designs: '50s lap steel, Broadcaster/Nocaster, '50s vintage, '60s vintage, vintage overwound, parallel-coil humbuckers, and stacked-coil humbuckers. For our final installment on Tele bridge pickups, let's look at some that crop up less frequently on T-style guitars, yet offer special sounds for discerning players.
---
PAF-style humbucker. In the mid '50s Seth Lover designed the original "Patent Applied For" humbuckers for Gibson. Featuring two coils wired in series, these pickups are known for their thick, fat tone. They're revered by Les Paul players, but for years they've also been a favorite for many Tele pickers. PAFs are typically located in the neck position, but there are Fender Teles and other T-style models sporting dual humbuckers—essentially a Les Paul configuration in a Telecaster body.
It's easy to find aftermarket Tele bridges that accommodate Gibson-size humbuckers, but before you install one of these big boys, you must rout the pickup cavity underneath the bridge. On some Telecasters, large humbuckers are also installed directly into the pickguard in the bridge position—the Fender Telecaster Deluxe, for example. Full-size humbuckers are available in a wide variety of designs, from low- to medium-output vintage types to insanely high-gain models like the Enforcer bridge humbucker found in Fender's John 5 Signature Telecaster.
P-90/P-94 single-coils. The P-90 is a true single-coil, though it uses more winds on a larger coil compared to most Fender single-coils, and therefore has more output and midrange. Sonically, it's comparable to vintage overwound single-coils, but because of its larger size, the P-90 has a wider magnetic window, providing an even bigger tone. It sounds loud, fat, raw, and crude—another perfect match for a bright Telecaster. A P-94 is a P-90 with humbucker dimensions, so if you have a humbucker-sized Tele bridge (and a correspondingly enlarged pickup cavity), you can explore the P-94 sound in your Tele.
Wide Range humbucker. In 1967 Seth Lover transitioned from Gibson to Fender and was responsible for the latter's Wide Range humbucker. Fender wanted a humbucker that sounded fat, but had more clarity than a PAF, and that's exactly what Lover designed. Like a P-90 on steroids, the Wide Range sounds closer to a single-coil than a humbucker, but without any hum. Wide Range humbuckers appeared on several Tele models in the early '70s.
It's easy to find aftermarket Tele bridges that accommodate Gibson-size humbuckers, but before you install one of these big boys, you must rout the pickup cavity underneath the bridge.

The original design used cunife (copper/nickel/iron) threaded magnets and an offset (3/3) pole-piece configuration. Pickup builders making Wide Range repros today use alnico or ceramic magnets, so their pickups sound different. Telenator is the only company I know of that still uses cunife for their Wide Range replicas. They're pricey, but if you're looking for authentic '70s Fender bridge humbucker tone, this is the only alternative to buying a vintage unit. And it drops right into a reissue Fender Tele Deluxe.
Lipstick single-coil. In the '50s Nathan Daniel used surplus lipstick tubes to cover his single-coil Danelectro pickups, and today chrome- or nickel-plated metal tubes are used for "lipstick" replicas. The coil is wound around an alnico bar magnet and then wrapped in tape or paper before being stuffed into the metal tube casing, which provides an excellent shield. Lipstick pickups have a bright, jangly tone. Lipsticks are available for the bridge position, and you can usually use a standard Tele bridge without additional routing. There are dual-lipstick humbucker models too.
Filter'Tron/DeArmond. Popular in the 50's, these pickups were the first choice on all Gretsch guitars—and other brands as well. Typically these were humbuckers, but there were single-coils too. Today TV Jones is the keeper of this flame, and he offers a number of faithful recreations. Compared to PAFs, Filter'Tron humbuckers feature larger magnets and pole-pieces, and their bobbins are positioned closer together and wound with less magnet wire. This results in a more powerful, thicker tone with less high-end loss. Filter'Trons sit sonically between a single-coil and humbucker, and their sound can be described as growly, twangy, and clear. These pickups are available in several shapes and sizes, so it's easy to install one in your Tele if it's already set up for a bridge humbucker.
Charlie Christian. This single-coil was introduced in 1936 on Gibson's fabled ES-150, an archtop that became synonymous with jazz legend Charlie Christian. Gibson used this pickup until 1946, when the P-90 replaced it. Jason Lollar and Colin Cosimini of CC Pickups are two makers who work to preserve this traditional design. The pickup is available for the Tele bridge position and it offers a fat, deep tone with round, clear highs and a long sustain.
Melody Maker. Another single-coil, this pickup appeared in Gibson Melody Maker models built from 1959 to 1971. In recent years it has become a sought-after Telecaster option. Offering a stellar combination of high output and sweet treble response, the pickup delivers a good punchy bite, especially when you drive your amp into saturation. This design is available in several shapes, so you can mount it in the bridge position. You can also find it in humbucker format.
We'll explore Telecaster neck pickups next time. Until then, keep on modding!