The New Switcheroo: Three Loop Switchers Reviewed
PG tests a trio of powerful new designs—from Carl Martin's plug-and-play Octa-Switch Mk3 to RJM's tricked-out Mastermind PBC and Boss' deep-but-accessibly priced ES-8.
We treasure our pedals for the unique tone shaping capabilities they give us—for the individuality they lend to our sounds and music. We also get so attached to those little buggers that it can be hard to consider alternatives.
Such sentimental attachments can make a pedal collection less than the sum of its parts. For one thing, an in-series pedal set up is inherently limited in relation to the possible sounds that set of pedals can make when reshuffled, reordered, and reconfigured. Then there's the issue of on-the-fly switching. Unless you're capable of Houdini-meets-Baryshnikov contortions you'll never be able to switch on five pedals simultaneously.
Pedal switchers make such magic tricks as easy as pressing a single switch. Many switchers eliminate the limitations of in-series pedal setups by enabling the creation of unique pedal sequences via switchable loops. Some also offer features like amp channel/effects switching and MIDI connectivity that help maximize the potential of the pedals that are already the foundation of your sound.
For this roundup, we check out three of the latest switchers: the Carl Martin Octa-Switch MK3, Boss ES-8, and RJM Mastermind PBC. They cover a fairly wide spectrum in terms of cost, functionality, and design emphasis. But each offers the opportunity to relate the pedals you already love in ways you may never have considered or expected.
Click next or choose your signal path below:
RJM Mastermind PBC
Boss ES-8
Carl Martin Octa-Switch MK3
RJM Mastermind PBC
RJM Music Technology is best known for rack switching devices, and players from Beck to Billie Joe Armstrong to John Petrucci all use the company's high-end systems. The new, U.S.A.-built Mastermind PBC, however, shrinks RJM's rack mount technology into a compact format designed to fit on a pedalboard and be more accessibly priced to players without Learjet budgets.
The Mastermind PBC is ostensibly a control station for your pedals, but it can do much more than that—certainly more than we can cover in this review. The unit features 10 loops with insert points in between groups, which offers copious routing options. You can even run some pedals straight into the amp and others through your amp's effects loop.
RJM clearly considered just about every scenario pedal junkies are likely to face. So the Mastermind PBC offers simple solutions for the most common problems. While the unit is true bypass, there are three switchable buffers that can be saved as part of any given preset. The last four loops, meanwhile, have an internal mixer so you can route pedals in series or parallel. The Mastermind PBC can also be configured for a stereo setup or for A/B routing to different amps. I took advantage of the latter option and connected one end to my shimmery clean blackface Fender Deluxe Reverb and the other to my Mesa/Boogie Trem-O-Verb. It was a pairing made in heaven.
There is room to store up to 768 presets so it's very unlikely you'll run out of space. The readout is sizeable but not too huge—the right balance of compact and easy on the eyes. There's even a built-in tuner (although there's no dedicated tuner out on the back panel). Other standout features are USB connectivity, a flash storage option, and PBC Editor (for use on a Mac or PC). One of my biggest gripes with anything multi-effects related is scrolling through screens to adjust every little parameter. The PBC Editor gives you much more control over the Mastermind's internal control parameters.
Though downloading and hooking up the editor is easy, it's not immediately intuitive. It took a little bit of time to get my bearings, and I think many guitarists coming from a world of analog pedals will have the same experience. Successfully navigating the editor comes with a significant payoff, however. The level of control is astounding, especially if you use MIDI capable pedals like the Strymon TimeLine or Mobius, or the Line 6 M series. The sound sculpting potential opened up by the editor and the seamless way it will interface with MIDI pedals is enormous.
At $999 street, the Mastermind PBC is the priciest switcher in our roundup, but there's little sticker shock when you realize how much it can do and the exponential way in which it expands the possibilities of your rig. It's perfectly suited for a professional touring musician. But the sound shaping possibilities and the excellent MIDI and digital workstation interfacing options could just as easily make it the centerpiece of a home recording rig.
Click next or choose your signal path below:
Boss ES-8
Carl Martin Octa-Switch MK3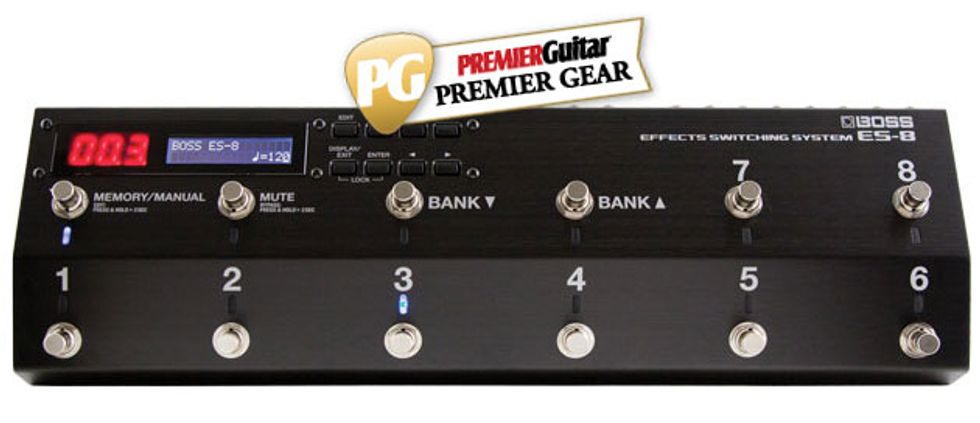 Boss ES-8
I've owned several Boss multi-effects units over the years and have always been impressed with how configurable and adaptable they tend to be. Boss' emphasis on practical, real-world utility and user friendliness remains intact in the ES-8. And it offers a ton of flexibility at a very reasonable price.
At a glance, the ES-8 looks like a compact multi-effects unit. But there's a lot of functionality jammed into a little package. The back panel almost looks like a studio patch bay for all the jacks crammed onto such a small space. All told there's—count 'em—33 1/4" jacks and a pair of MIDI in/out jacks. There are eight send/return jacks (the seventh provides mono send and stereo return, and the eighth offers stereo send and return), control jacks to let you switch amp channels and turn on reverb, jacks for connecting expression pedals, and a plethora of additional connections. With that many I/Os, real estate is at a premium so it's vital to use straight 1/4" cables.
Manual mode lets you turn pedals on and off just like you would on a conventional pedalboard. Memory mode, however, is where the real action is, and here you can access saved loop combinations via 100 banks that provide a total of 800 presets.
At times, you might wonder why there are so many preset options—particularly given how easy the Boss makes it to add effects to existing presets on the fly. Nevertheless, the flexibility afforded by all these options is impressive. And given the Boss' ability to delve into nuances like effects trails and series and parallel routing (the latter feature in particular can really open up new possibilities for your old effects), you might start crafting presets in the hundreds before you know it!
Thankfully, the Boss is pretty easy to program and edit. Changes in pedal order are represented on the loop structure screen, which provides a very simple numeric representation of the pedal order. Boss has always excelled at creating these kinds of simple interfaces and, in a pedal that can be as complicated as the ES-8, it does wonders in streamlining programming and easing the learning curve. One shortcoming of the readout is that it does not reveal the order of pedals when you select the preset itself. You can only see the order in edit mode. That means you'll need a pretty good memory, a thorough system of organization, or a lot of practice to navigate a deep library of presets—but that goes for most loopers this complex.
The Boss is thoughtful at the nuts and bolts level, too. Buffers can be turned on and off for each input to compensate for pedals like old wahs and fuzzes that are particular about their positions relative to buffered switches. Better still, these settings can be stored for each preset. It's a small detail, but it eliminates a lot of the headaches that would ordinarily come with switching pedal order. MIDI capability is useful in cool ways, too. I especially liked the Master BPM, which enables you to assign tempo parameters for compatible effects in a given patch.
There are many switchers on the market, but outside of custom-built units that cost thousands more than the ES-8's $699 street, you'd be hard pressed to get this level of control over your entire rig at this appealing price.
Click next or choose your signal path below:
RJM Mastermind PBC
Carl Martin Octa-Switch MK3
Carl Martin Octa-Switch MK3
Although the Octa-Switch MK2 still feels fresh in our memory, Carl Martin recently released the MK3, a streamlined edition of the popular MK2. At a street price of around $427, it's easily the most affordable switcher in our roundup.
The MK3 is more pedalboard-friendly than the two previous incarnations—primarily because it utilizes two rows of footswitches, rather than one long row. And while Carl Martin has stuffed a lot of functions into less space, the jacks are still spaced out wide enough to patch in the right-angle plugs used for most pedalboard applications (something I wasn't able to do with the other two switchers in this roundup).
I was a little surprised when I opened the box and didn't see a power supply. But the Octa-Switch MK3 is compatible with a standard 9V adapter, and I just daisy chained it to my pedalboard's existing power supply. (Unlike the MK2, the MK3 can't be powered by batteries.)
The Octa-Switch MK3 offers eight loops (the last loop is stereo) and eight banks—which should be more than enough for most players. In addition to the eight loop footswitches, there's a switch for bypassing the unit completely.
The MK3 has a decidedly mechanical, analog feel—largely due to the absence of a readout and the eight dip switches above each preset footswitch. The dipswitches correspond to the eight send/returns and the pedal; you route through them. You determine which pedals make up a given preset by turning the dipswitches off or on. I'm not a huge fan of dipswitches, but here the design is more intuitive, and arguably faster, than scrolling through a small screen. On the top corner of the control panel are eight small blue LEDs that correspond to loops 1-8 and light up to show which loop is activated on a selected preset. There are also two rows of dipswitches for external switching of amp channels or amplifier reverb. These, too, can be assigned to work with a selected loop.
It took me about a minute to program a relatively simple rig consisting of a Mesa/Boogie Trem-O-Verb and several pedals. For a rhythm preset, I used a Boss CE-2 and Ibanez AD-9 going into the amp's clean channel. For leads, I created two presets—a Mad Professor Bluebird overdrive/delay going into the amp's clean channel and an Ibanez TS-9 used as a boost going into the amp's high gain channel. I also used a Boss TU-2 tuner, though, oddly, there is no dedicated tuner out on the Octa-Switch MK3. The presets all worked flawlessly and switching was immediate and pop free.
The MK3 lacks MIDI, the ability to change the order of pedals in a chain, and the ability to switch on individual pedals while running a preset. But while it may lack some of the features that distinguish and add wow factor to the Boss and RJM, I didn't mind not having those options. If I knew I'd need an additional boost for a lead preset to suit a different playing environment, I'd simply add the boost to an existing preset or program a new one on the spot. It doesn't take more than a second to flick the dipswitch. Above all else, the MK3 is fast and easy.
Though it may lack some fancy digital features, the MK3 is capable of a lot more than just switching pedals on and off. You can use it as a killer A/B switcher to route two guitars into two separate amps, with each pair attached to its own group of effects. Just bypass the standard in/out controls and patch everything through the loop jacks.
The mechanical simplicity of the Octa-Switch MK3 is a beautiful thing. The intuitive design means neophytes can get started fast without consulting a manual. And it's simple enough to make troubleshooting a breeze in performance situations. In an era in which many switchers are as complex as some multi-effects units, the MK3's what-you-see-is-what-you-get layout cuts through all the frivolities. This bad boy lets you just program the configurations you'll actually need rather than bog you down with hypothetical possibilities you'll never actually use.
Click next or choose your signal path below:
RJM Mastermind PBC
Boss ES-8