Trash or Treasure: Magnatone Custom 440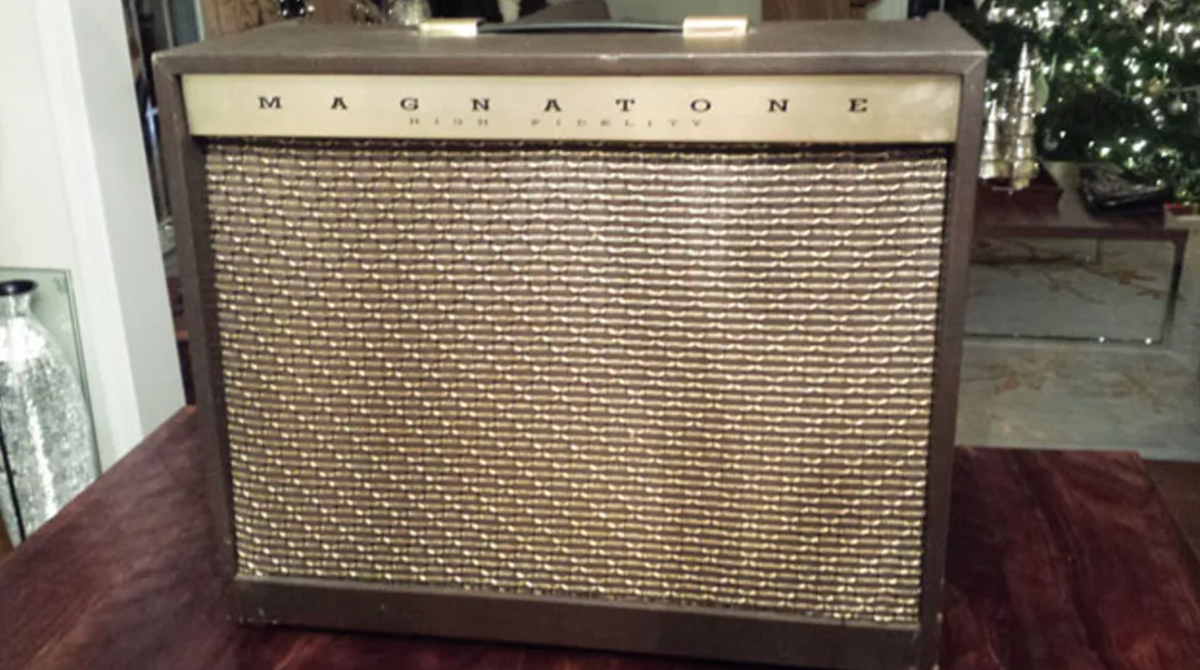 True treasures can literally be found in the trash.
Hey Zach,
I literally found this Magnatone Custom 440 amplifier in someone's garbage pile. It powers up and plays, but probably needs some work. It's all tube, including a tube rectifier. Apparently, the built-in vibrato is true vibrato (pitch modulation—not tremolo like in Fenders). The reverb works, but the maximum volume level is a bit anemic. What do you know about this amp? I think it's from the early to mid-1960s. Is it worth fixing up by checking/replacing caps, pots, tubes, etc.?
Thanks!
Jerry in Morris Plains, NJ
Hey Jerry,
Why on earth would anyone throw this away? It's unfortunate how uninformed (though likely well-intentioned) some people are when cleaning out a parent's or grandparent's home, as I suspect is the case here. We've all heard stories of finding a discarded guitar or amp in a garbage pile, but few of us ever get to personally experience it. The late Zebulon Cash-Lane's "Dumpmaster" (read my May 2011 column about a 1960s Fender Jazzmaster found in a dump) always comes to mind for me.
Magnatone's roots go back to the late 1930s, when a machinist/mechanic named Delbert Dickerson decided to build his daughter a steel guitar and amplifier instead of buying an expensive Rickenbacker or National. His daughter's guitar instructor was impressed with the results of the amp and asked Dickerson to build one for him. Word spread and Dickerson ended up starting his own company in 1939, building guitar amps primarily for steel/Hawaiian guitars. Dickerson sold his business to Gaston Fator Music Studios in 1944, and Fator then sold the company to Art Duhamell in 1946. It was Duhamell who changed the brand name to Magnatone under the Magna Electronics Company umbrella.
Innovation and engineering thrived at Magnatone under Duhamell's ownership during the 1950s. Amps were engineered for a more general-purpose sound that appealed to the popular country western and rock 'n' roll music of the time. They even contracted Paul Bigsby to design a Spanish-style guitar for them to compete against Fender and Gibson.
Duhamell sold Magna to a group of businessmen in early 1957 with F. Roy Chilton serving as president. Chilton was involved with the Thomas Organ Company, and this partnership proved to be fruitful with the company installing true frequency modulation vibrato on Magnatone amps. The Estey Organ Company then bought Magna in 1959—furthering the collaboration with organ companies—though the late 1950s proved to be the peak of success for Magnatone.
We've all heard stories of finding a discarded guitar or amp in a garbage pile, but few of us ever get to personally experience it.

The Magnatone 400 Series—which includes your Custom 440 amp—was introduced in 1961 and included a variety of models. Essentially, the 400 Series amps were slightly upgraded models of the popular 200 Series amplifiers produced in the 1950s. Aside from different cosmetics and a new reverb effect, little else was changed in the designs. These amps lasted until 1963 when they were replaced by an entirely new line of amps simply called the Custom Series.
So, your amp was produced sometime between 1961 and 1963 and falls in the middle of the 400 Series in terms of specifications and size. The original cost was $240. Features of this 18-watt amp include a single 12" speaker, a 7-tube chassis (including the rectifier), true vibrato, reverb, two channels with separate volume controls, and footswitch jacks for activating the vibrato and reverb effects. In excellent condition, a Custom 440 is worth between $900 and $1,200 today.
Based on your photos, the amp appears to just need an external cleaning and a tune-up at a repair shop. Considering you shouldn't have to make any serious alterations, you'll have a great-sounding amplifier with a minimal investment. It will certainly be worth the full value I quoted once fixed up.
Magnatone stammered on through the 1960s with a decade of mergers and acquisitions that eventually led to the company's demise. The partnerships with the Thomas Organ Company and the Estey Organ Company did help shape Magnatone, but as we have seen before, corporate ownership and involvement in musical instruments doesn't always work out.

Features for the all-tube, 2-channel, 18-watt Custom 440 included footswitchable vibrato and reverb.
The last tube amps were produced around 1966, and Magnatone introduced a line of solid-state amps that lasted through 1968. One last acquisition in 1969 finally killed the Magnatone name, but Estey continued to produce organs through the early 1970s. The Magnatone trademark sat dormant for over 40 years, but happily, music-industry vet Ted Kornblum revived Magnatone in 2013 and the company is currently producing a full line of boutique tube amplifiers built in the U.S.
Reader Update:
Hey Zach, I just got the amp back from the shop. After replacing four of the caps, the tone knob, power cord, and a few other things for a total repair bill of $160, this amp sounds delicious! The vibrato is unbelievable! Everything is fully functional and sounding great.

How's that for having a keen eye and turning a trash-pile find into a working amp worth $1,000 or more? Needless to say, this is the kind of treasure we're all looking for.