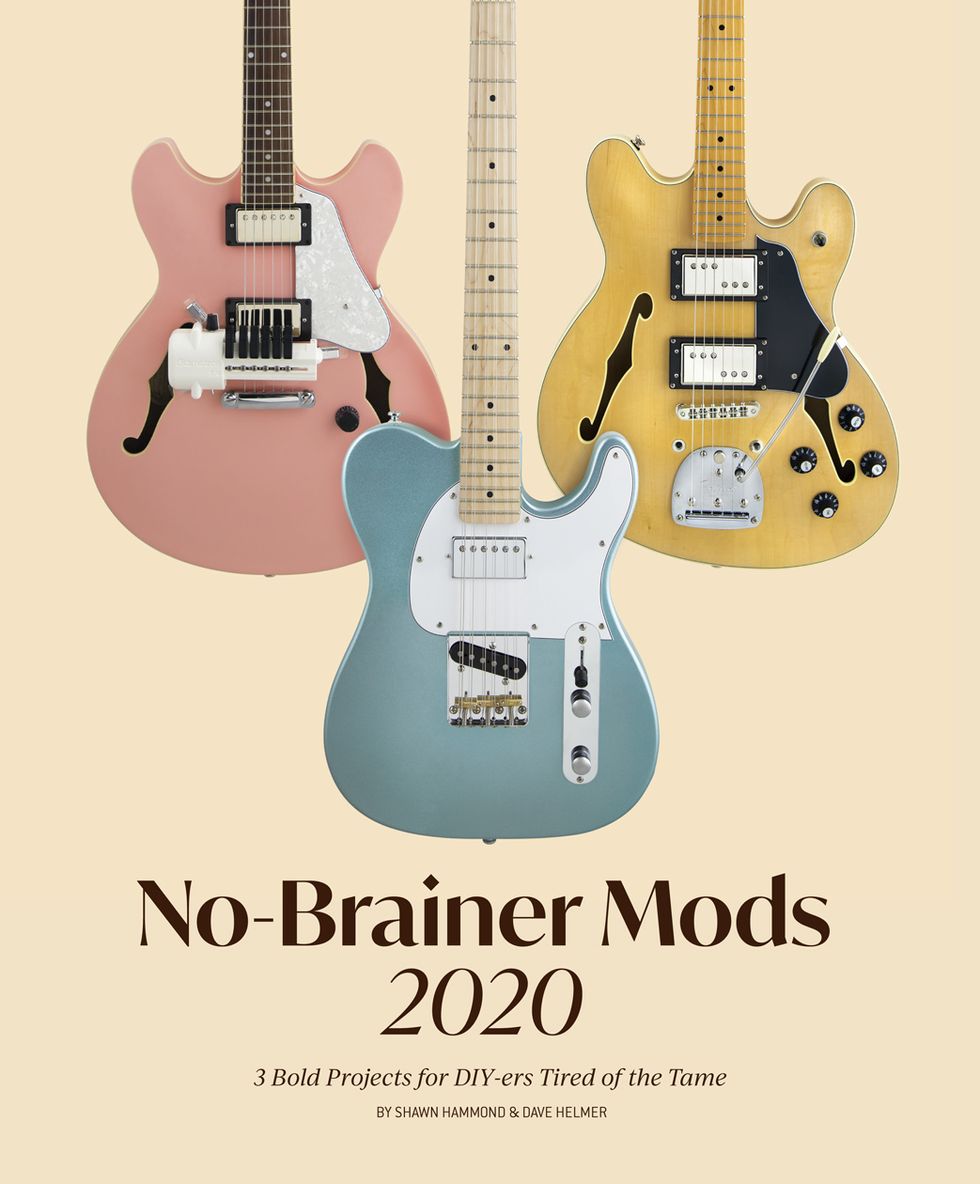 Three years ago PG launched our "No-Brainer Mods" concept—an annual endeavor where we take a few of the most compelling affordable instruments on the market and see what we can do to make them competitive with much pricier guitars in terms of tone and performance. Our first outing refined four inexpensive versions of classic designs—a Jaguar, a Les Paul, a P bass, and a Gretsch Jet—and the second took a similar approach with semi-hollow, extended-scale, and shred-optimized 6-strings. This year, however, we thought it would be a trip to take advantage of all the well-built, low-cost guitars on the market and, instead of just making them a bit better via electronics and hardware upgrades, use them as low-risk springboards to something truly different.
Be forewarned though: Conceptually, this year's batch of mods is kind of out there. So much so that it may strike some as a stretch to call them "no-brainer." But in our eyes what makes these projects worthy of the descriptor is that, for those of us who are decidedly not wealthy, the wealth of quality entry-level guitars on the market presents an obvious impetus to experiment. Even those on a modest gear budget can save up and use instruments like these—plus a few extra bills—to indulge what if… epiphanies previously only practical for those who can afford custom builds.
This year's trio of mods ranges from one that's easy and reversible to one that's moderate in both difficulty and invasiveness to something only experienced woodworkers are advised to undertake without help from their local guitar expert. But don't let that scare you off. These projects will stock your rig with tones you'd be hard-pressed to find elsewhere.
To execute these projects, we've enlisted ace guitar repairman Dave Helmer, a two-time Red Wing lutherie graduate who works full-time at Musician's Pro Shop in Iowa City, Iowa. Okay, let's get started. —Shawn Hammond
New to modding? Check out this DIY article for a comprehensive guide on soldering techniques and tips.
---