Rig Rundown: Covet's Yvette Young
The "adventure rock" outfit's frontwoman demos both her classical-piano-inspired fretboard approach and her favorite modulation pedals.
One would never confuse music as sport. However, for Yvette Young, who took up strict piano lessons at four and added on violin at age seven, the internal pressure and external expectations became too much and broke her. The weight of it all hospitalized her due to an eating disorder. And while still in the hospital, rehabbing from her battle, the struggle's silver lining appeared in the shape of a guitar. Yvette's love affair with the instrument began while she was still in bed and has remained tried and true ever since.
She admits to starting out like any guitarist, learning basic chords and shapes in standard tuning, but never really finding her voice. The generic, sounding-like-everyone qualities plagued her until stumbling upon alternative tunings by way of influencers like Japanese post-rockers Toe and math-rock aerialists American Football. Through these open tunings (for example: F–A–C–G–B–E), Yvette unlocked her guitar creativity and began expressing herself in solo two-hand tapping compositions. One way she pushes her dexterity and fretboard knowledge is to start an idea out as a vocal melody. Yvette then chases that vocal melody for hours on the fretboard, trying to accompany it with simpatico harmonies on the guitar.
Eventually, electric guitar grabbed ahold and the need for fuller, collaborative jams took root and she began work as a power trio with bassist David Adamiak and drummer Keith Grimshaw. (Now Forrest Rice is the band's drummer.) Over the last five years she's released a handful of records and EPs (full band and solo), including 2014's acoustics, 2015's Currents, a live performance at Audiotree in 2016, 2017's Ares, 2018's effloresce, and most recently, acoustics2.
Before Covet's Nashville gig at the High Watt, PG's Chris Kies swooped in for a post-soundcheck hang with the band's founder and 6-string melodist, Yvette Young. Within the 30-minute video, you'll witness how her finger-tapping approach, bolstered by gobs of modulation and influenced by formal training on the ivories unlocks fresh, polyphonic compositions that flourish over a bed of atmospheric, transcendent post-rock clouds.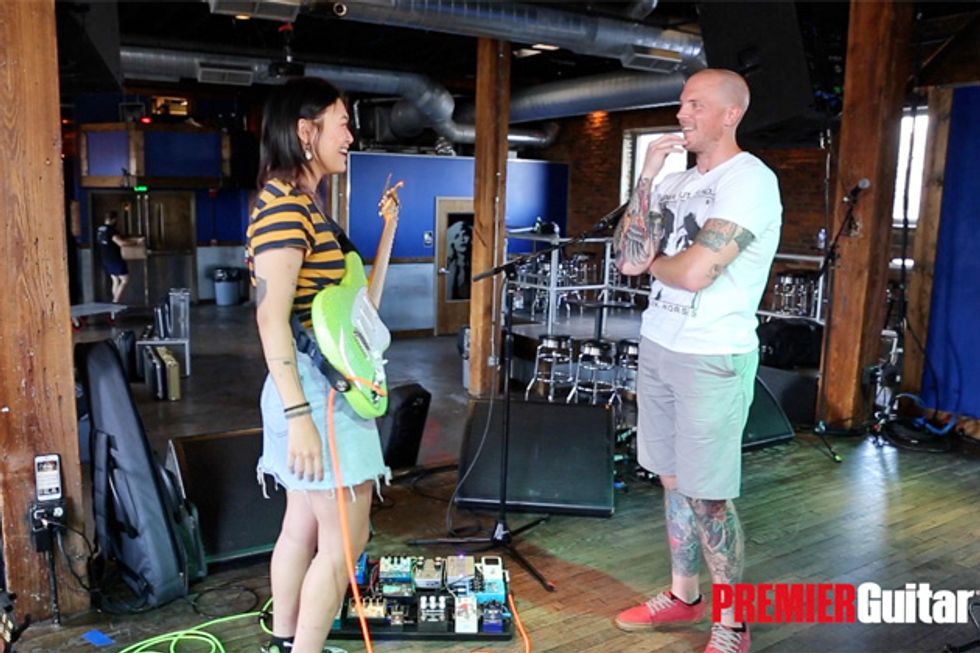 ---
Click below to listen wherever you get your podcasts:
---
D'Addario DIY Mini Cables:http://ddar.io/Cable.Kit
---
---