The sultan of sludge illustrates that his first band is a shuttle for sonic exploration launching into orbit on the backs of triple-humbucker guitars, a sierra of Oranges, and two boards the size of Cape Canaveral.
Matt Pike is much like his guitar playing—powerful, blunt, slightly pissed off, and occasionally out of tune. And he's been playing guitar almost as long as he's been talking. "My uncle and grandpa used to always play guitar and I just remember loving those times," says Pike. "Ever since I could handle a guitar, I've been playing one."
Pike's headbanging lineage started in the '90s with stoner-metal icons Sleep, and after that band's initial burnout, continued with the ferocious High on Fire. Decades of playing have honed Pike's perspective about his instrument and music: "Riffs are the conversation starter—that's what brings people in, but you better have more to offer than just that," he says. "I create with the guitar and the riff is my illustrative force." For fans of Pike's raging riffage, it should be no shock that the frontman/guitarist had enough to say by way of his guitar (and High on Fire lyrics) to populate two new albums: Electric Messiah from High on Fire and Sleep's The Sciences.
Since the release of those two critically acclaimed albums in 2018, Pike's vision has been validated by way of a Grammy for Best Metal Performance (Electric Messiah) and dozens of sold-out Sleep shows that have continued to send the doom trio around the world. While the tour that brought Pike, bassist/vocalist Al Cisneros, and drummer Jason Roeder to town was delayed because Pike had one of his toes partially amputated due to diabetes, the pioneering guitarist couldn't be sidelined for long. "The guitar is a spiritual instrument—it goes from heart, to head, to hands, out the speaker cabs, and into the universe. That directly impacts the people who listen to you—they know if you're full of shit or not. I've always known I was meant to express myself through this 6-string tool. The only constant through addiction, hard times, juvenile delinquency, heartache, and life has been the guitar."
Before the band's show at Nashville's Marathon Music Works, the bare-chested shredder threw on a shirt, strapped on a Les Paul Artisan, and explained to PG's Chris Kies how Sleep's aural expeditions are full of patient, spontaneous moments built on a bed of sustain and swirl.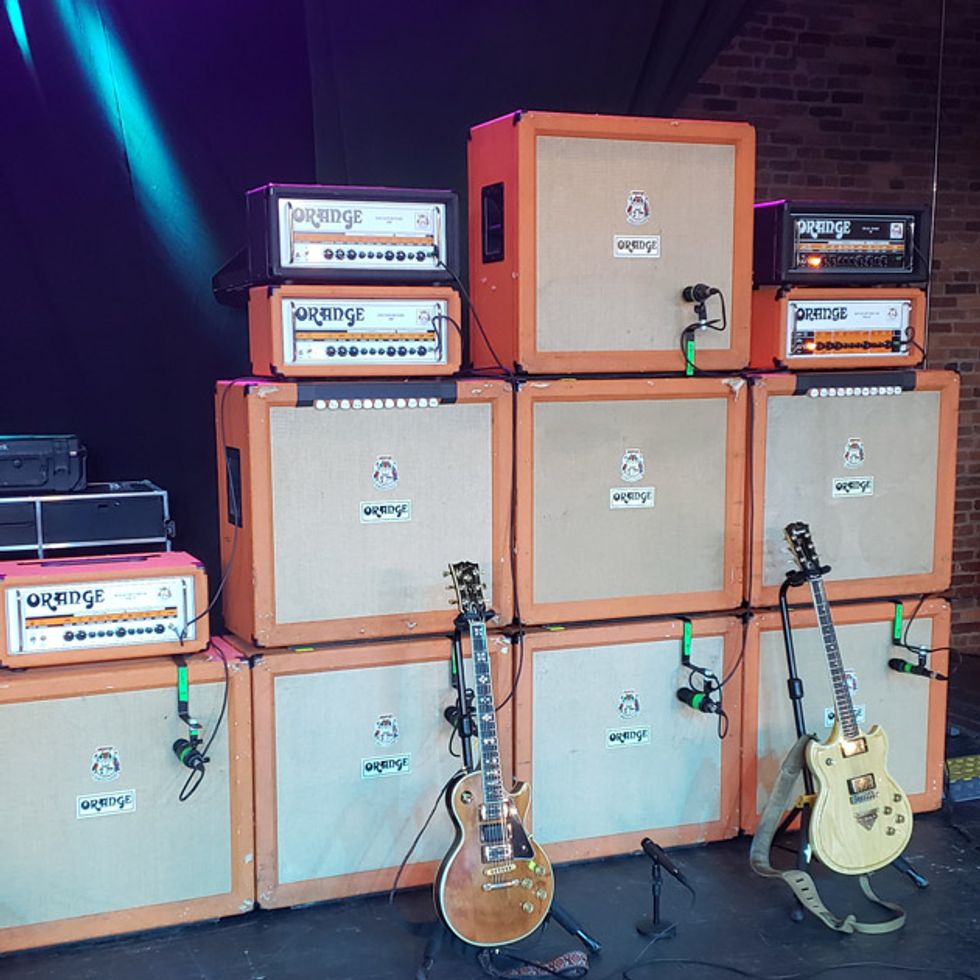 Click to subscribe to our weekly Rig Rundown podcast:

D'Addario Acrylux Picks:http://ddar.io/AcryluxPicks
---
---
---