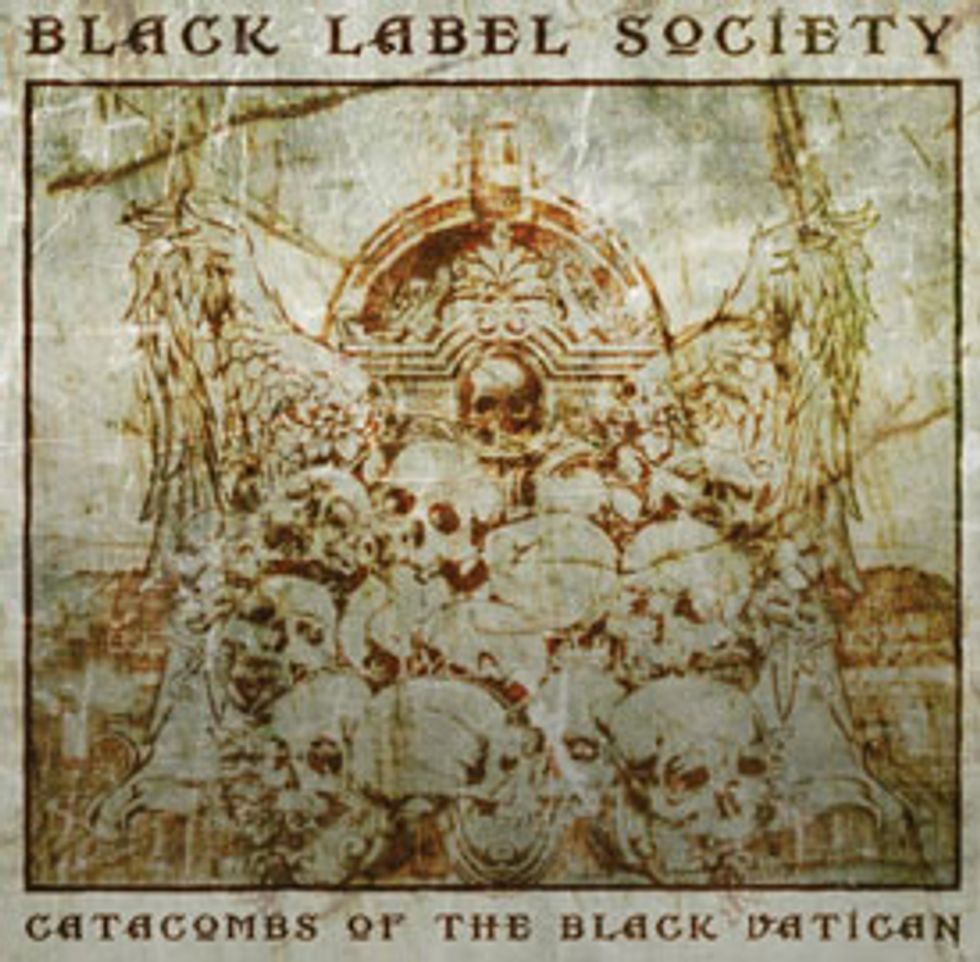 Album

Black Label Society
Catacombs of the Black Vatican
eOne Music

Zakk Wylde's Black Label Society has enjoyed a 16-year career that spans nine studio albums and two live albums, and is still going strong. What's their secret? While most bands try to up the ante with each release, Wylde believes in the "if it ain't broke, don't fix it" approach. "If you ask me the difference between this album and the last eight or nine? It's the song titles," Wylde says. Catacombs of the Black Vatican, recorded and mixed at Wylde's L.A. studio, The Black Vatican, doesn't venture into uncharted territory—it's business as usual, kicking major ass.
Riff-driven numbers like the detuned, Sabbath-esque "Believe," and the high-octane bluesy boogie of "Damn the Flood" recall classic BLS moves. The latter breaks down into a delicious half-time groove just before Wylde takes the best solo on the album—a mini-odyssey that climaxes with some signature alternate-picked, repeating pentatonic phrases played at a face-melting, supersonic speed.
But even with Wylde's imposing stature and biker look, he's not afraid to wear his heart on his sleeve, or take distinctively different approaches to soloing. In "Angel of Mercy," Wylde, ushered in by wistful strings, takes a searing solo that begins with melodic blues bends, builds intensity with hyper-speed shred, and climaxes with some wah-driven, repeating blues licks that would send chills down the legions of fans flickering lighters in the arena. Whereas on "Scars," his solo begins with rising slide guitar teasers that lead into a clean-toned, Allman Brothers-influenced solo eschewing flash for heartfelt melodicism.
Catacombs finishes on a gentle note with a '50s-style doo-wop ballad in C major that clocks in at almost seven minutes and features vocal harmonies atop a heart-tugging, arpeggiated, clean-toned progression with the bittersweet IVm chord and judicious use of secondary dominant chords. It closes on a yearning Cmaj7 chord—Wylde often jokes about his Barry Manilow influence but maybe he isn't joking!
BLS has been around forever because they know what fans want. When you listen to this, you're not going to want to go on YouTube to try and learn how to incorporate EDM elements into metal, or agonize over how to fit an 8-string tapping lick over a metrically modulating pulse. You're going to crack open a beer and bang your head.
Must-hear tracks: "My Dying Time," "Heart of Darkness"