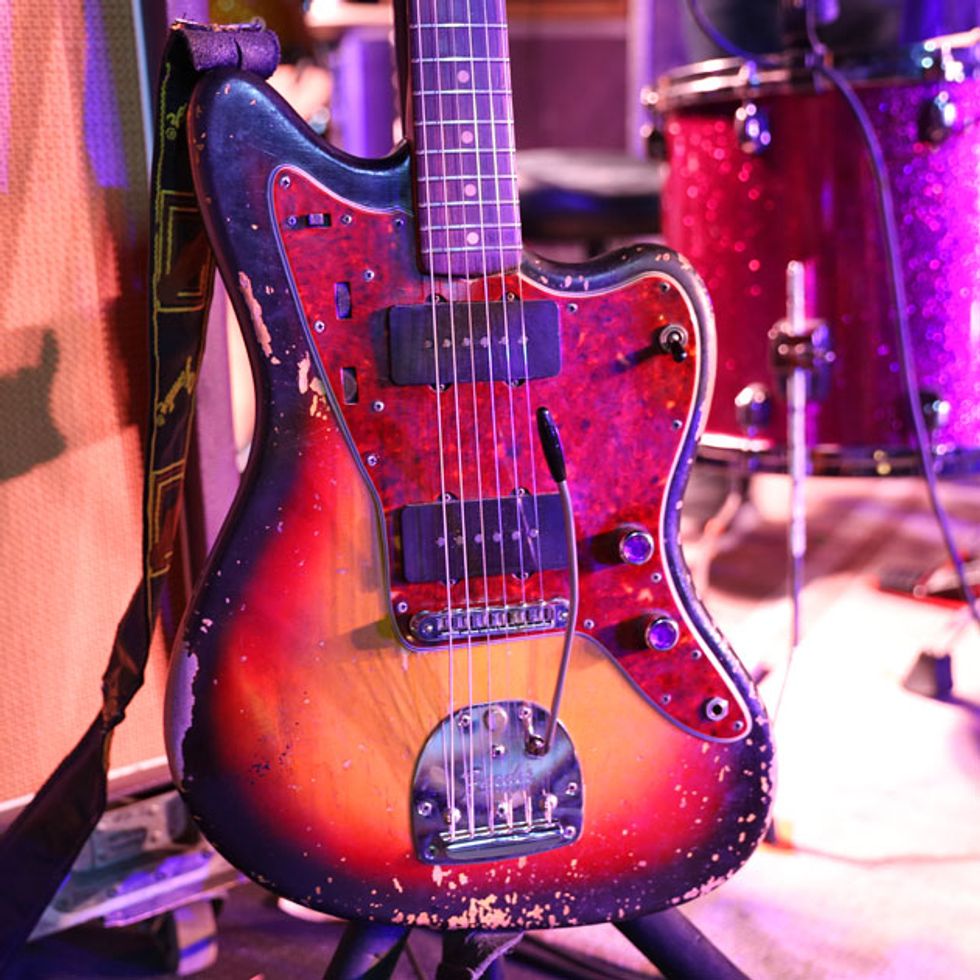 J Mascis is an offset-guitar hero and his main guitar is this sunburst '63 Fender Jazzmaster with original neck and pickups. He replaced the pickup covers, knobs, and added a Tune-o-matic-style bridge.
Photo by Perry Bean
In the second episode of the Netflix documentary series Abstract: The Art of Design, the famed creator of the Air Jordan, Tinker Hatfield, muses on his years at Nike, where he seemingly pulled iconic shoe designs out of the very ether. From the AJ III to the AJ XIV, his work was universally acclaimed and the company couldn't keep the shoes on store shelves.
A dramatic shift occurred when the XV—the first release after Michael Jordan's retirement from basketball—hit the streets in 1999. Consumer reaction toward the stark black-and-Kevlar aesthetic of the new shoe was overwhelmingly negative, and they were critically panned. In the film, Tinker reflected on the shoe that nearly ended his career: "People struggle with stuff they don't understand—design that's different than what they're used to."
That sounds a lot like my favorite guitars.
My heart goes out to the Jazzmaster; it really does. Introduced at a time when Fender was thinking of discontinuing the now-hallowed Stratocaster, what began as a top-of-the-line model eventually fell into obscurity, relegated to pawn shop bargain bins and sold to musicians who couldn't afford the upmarket prices of more familiar, more desirable guitars. For nearly 50 years they were misunderstood, maligned, and marred by stories of string slippage, tuning instability, and impossible intonation.
A well-maintained Jazzmaster possesses one of the most stable and dynamic non-locking vibrato systems on the market, and all that's needed for the guitar to operate as intended is a proper setup.

Convicted in the court of opinion, the Jazzmaster was viewed as a flawed experiment—a joke guitar that was nice to look at perhaps, but not to play. The sad truth of this underdog of Leo Fender's otherwise beloved instruments is that it's not the design itself that's problematic, but rather a lack of consumer education. That's where this article comes in. I'm here to help!
A well-maintained Jazzmaster possesses one of the most stable and dynamic non-locking vibrato systems on the market, and all that's needed for the guitar to operate as intended is a proper setup. What's hilarious is that decades of complaints and ire could have been avoided had anyone actually read the manual tucked into the case pocket.
In this article, I'm going to give you some DIY tips for keeping your offset guitar in perfect working condition so you'll never have to worry about it again. But to truly understand this vexing vibrato system, we're going to have to go all the way back to 1957.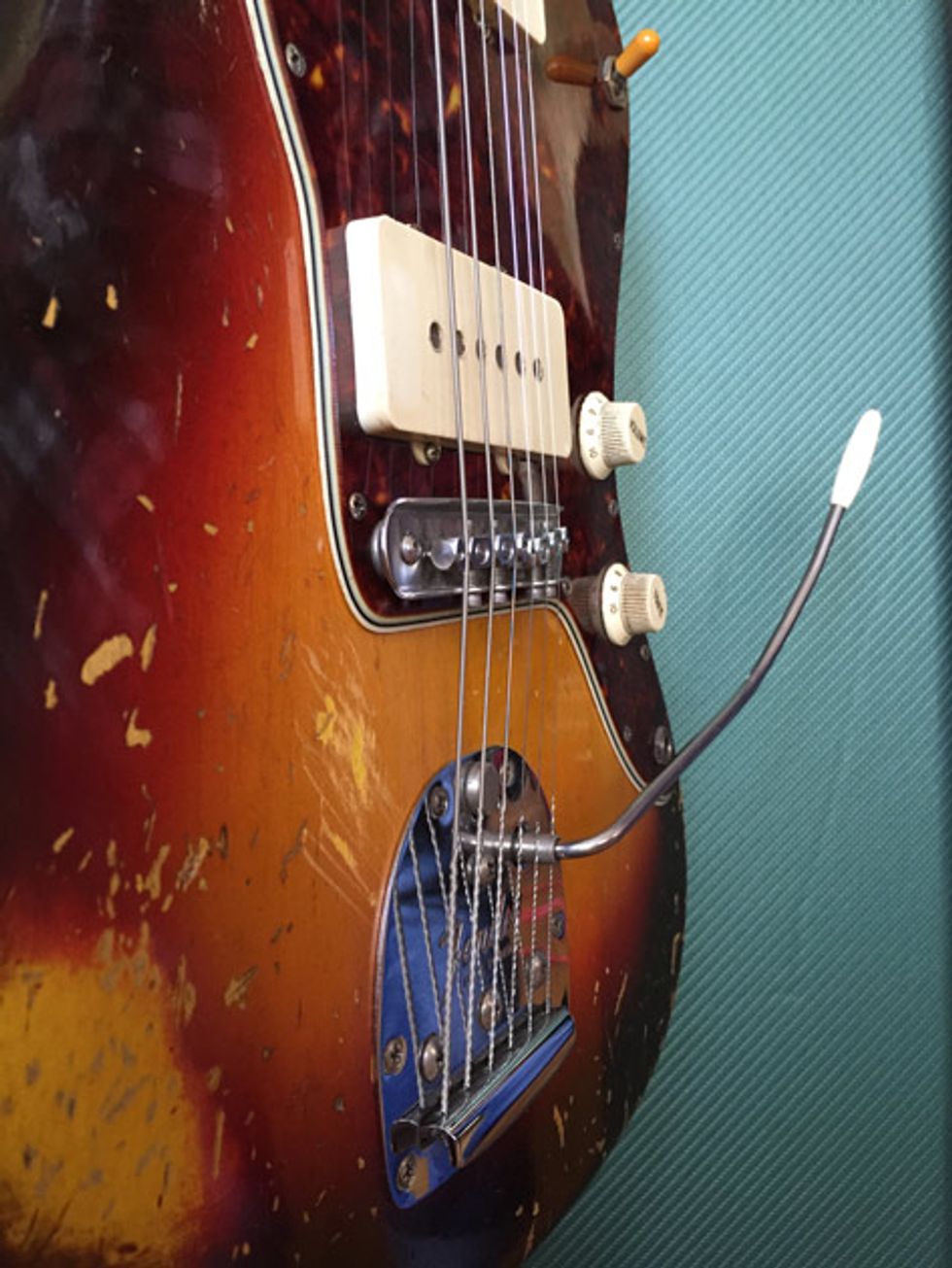 Photo 1
Jazz Odyssey
When Leo Fender began work on the Jazzmaster alongside designer George Fullerton and Hawaiian steel player Freddie Tavares, he set out to create a solidbody guitar with the geometry of an archtop acoustic. It was an effort to capture the jazz market, in which Gibson had enjoyed overwhelming success. Going through old patent drawings—one of which is now tattooed on my left forearm—his intent is obvious.
When viewed from the side, the string path of a properly set up Jazzmaster (Photo 1) is reminiscent of an archtop, such as a venerable L-5 or ES-175 (Photo 2). The strings flow from the tailpiece and break over the floating bridge at an angle, then plummet down a pitched-back neck toward the nut and tuning machines. In theory, the downward force exerted on the bridge keeps the strings in place while the bridge freely rocks back and forth with vibrato use.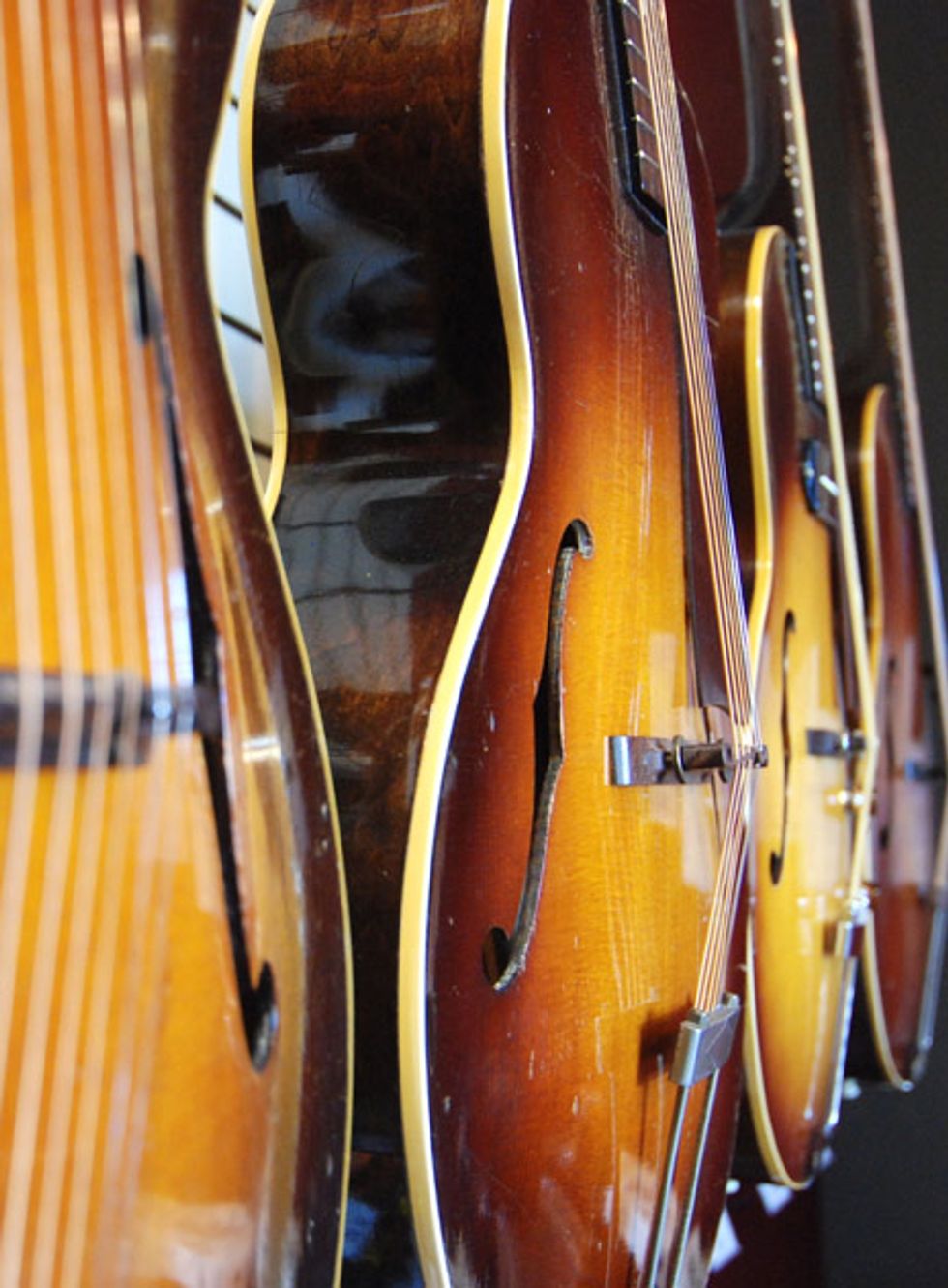 Photo 2
It's important to keep all of this in mind when you're working on your Jazzmaster or Jaguar, as conventional setup techniques won't quite get the job done. Whereas most other models tend to need some bridge adjustment or a partial turn of the truss rod, to play their best these guitars need to be treated differently and considered as a whole.