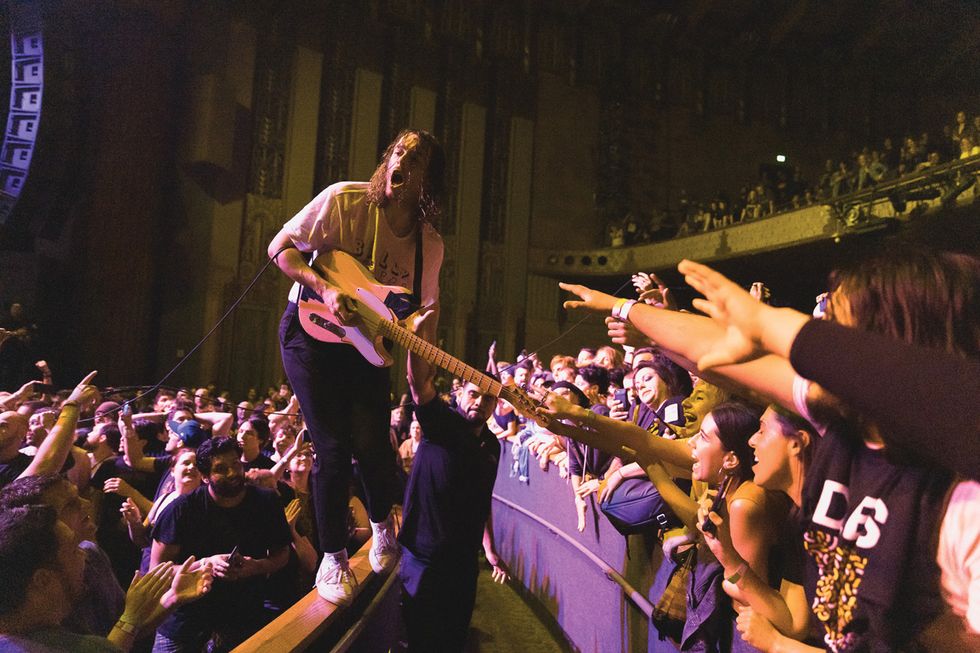 With their blend of savvy hip-hop and electronica studio-mixing techniques, and a raw, high-energy live show, Idles has all the bases covered. Here, Lee Kiernan and his Fender Baja Telecaster preach to the converted at Los Angeles' Wiltern theater in October 2019. Photo by Debi Del Grande
What were you both listening to when writing these songs? There's a lot of hip-hop and electronic-music flair on Ultra Mono. How does that stuff affect your approach to the guitar?
Kiernan: Andy Gill from Gang of Four is a big deal, but he didn't come into my sphere of reference until I joined Idles. I love Gang of Four but writing parts like them wasn't something I ever did until after the fact. Most of my guitar influence comes from Brian May, actually. Brian May is a god to me because everything he plays has feeling and purpose. Every solo he's ever played was done with taste and style, every line he writes has a purpose within the song, and they're warm and heartwarming. Even when he's being technical, it's never about showing off. It serves the song. Outside of guitar, hip-hop is obviously a big deal. I like to write parts by listening to Wu-Tang albums and playing along and seeing what comes from that, then applying it to what we do as a band. It's got that bounce to it and it's a feeling more than anything. You can hear that on this one in stuff like trying to make a guitar sound like the synth horn stabs from hip-hop records. The overall power of hip-hop records is a big thing for us.
Bowen: Andy Gill is definitely a big hero of mine, and influence, but I feel like his influence shows up more in Lee's playing on this album. The main ones for me were all doom metal this time! It's funny that we were borrowing that Sunn amp from Sunn O))), because in my head I was trying to get some of that band's sound into our thing. I was thinking about the sounds of bands like Sunn O))), Electric Wizard, Sleep, and Earth. The idea I had was if Earth or Sleep played a hip-hop track. Also, a lot of my guitar sounds on Ultra Mono are going for mid-2000s French filter house and electro house ideas, like Ed Banger Records acts. There's a producer called SebastiAn, and he has a song called "Motor" that sounds like a motorbike starting up, and it goes through various octaves and it's such an incredibly direct sound. That was a driver for a lot of my sounds on this album. I really wanted a very direct, present-sounding guitar, and that's where they start to sound like synthesizers, because oftentimes it's hard to get guitars to sound that direct. Also, we saw the Hives play last year and that reignited my passion for that band and super-dry garage-rock sounds. "Ne Touche Pas Moi" was us trying to write a Hives song.
"When we were writing this album, we'd go to random guitar shops and ask them for the weirdest pedals they had."—Lee Kiernan

It can be really difficult to apply the weight and sub-frequency power of doom metal to a rock band's sound and not come out the other side with watered-down death-metal riffs.
Bowen: It was really important for us for that not to happen. It was important that we got the rock side of things nailed, so the guitars aren't trying too hard to sound like something from hip-hop, but it was through the way we mixed it and the production that Kenny Beats added to the rest of the track that we got that hip-hop flavor. If you look at the track "Grounds," my guitar goes from being this completely inhuman, pitch-shifted delay sound that was meant to sound like a Daft Punk synth—it has a ring modulator on it and there's the pitch-shifting delay—but it goes from that to a pure, almost AC/DC-ish guitar sound, the most human guitar sound possible. So it was about creating that dichotomy between sounds. I never want anything to detract from the central part, so on "Grounds" everything is bolstering that pitch-ascending distorted main riff. We needed the bass frequency of the track to be the main thing you felt, but we still needed to add a baritone guitar to it to get it where we needed it. We used a Fender Telecaster Bajo Sexto [30 1/4" scale] that belongs to the owner of La Frette. The thing just sounded fucking great and we ended up putting it on every single track. It was doing something in the bass region that a regular bass and regular guitar weren't quite able to do.
Can you tell me about your relationship as co-guitarists and how you complement each other's styles?
Kiernan: When we first started, we weren't quite sure of what we were as a guitar team and we weren't quite sure how to behave together, so there'd be a lot of playing over each other and clashing. We've started to settle into our own roles and now when someone writes something we like, we write around it and we feel off each other … rather than trying to play over each other. It took time to get that, and it took a lot of time to develop the consideration that goes with that. For instance, on "Grounds," when Bowen's playing that descending synth line, I'm playing a single almost empty note just to give his part that little extra sharp pluck at the beginning. That was done straight into the board with no effects, and it's just a little extra rhythmic boost that isn't a glory part, but it's really important to the overall sound. That comes from understanding who we are within this band's sound, and that each part has to have purpose within the song.
Guitars
2018 Fender Baja Telecaster with a Bare Knuckle '68 Stagger bridge pickup wired direct to the volume pot
Amps
2003 Marshall 100-watt Super Lead plexi reissue
2000s Marshall JCM800 100-watt 2203
Two Marshall 2x12 cabs with Eminence Swamp Thangs
Marshall 4x12 cab with Celestion Creambacks
2019 Fender '65 Twin Reverb reissue
1970s Peavey Pacer
Effects
The GigRig ABY-Baby
Moog Minifooger MF Chorus
EarthQuaker Devices Data Corrupter
EarthQuaker Devices Gray Channel
EarthQuaker Devices Arrows
EarthQuaker Devices Organizer Polyphonic Organ Emulator
EarthQuaker Devices Tone Job
Xotic EP Booster
Strymon Flint
Death By Audio Reverberation Machine
Death By Audio Robot
Death By Audio Micro Dream
Death By Audio Interstellar Overdriver Deluxe
Boss PS-6 Harmonist
Death By Audio Evil Filter
drolo Stamme[n]
Boss TU-3 Tuner
Boss EV-30 Dual Expression Pedal
Boss BD-2 Blues Driver
Strings and Picks
Ernie Ball Not Even Slinky (.012–.056)
Dunlop Tortex Standard 1.14 mm purple
Bowen: I would say that Lee is generally the trashier and brighter sound you hear, and I go for heavier and thicker sounds. When we play together, we kind of link up as one guitar. Whenever we play chord sections or parts that are the same, you really get a filling up of frequencies that sounds unique because those frequencies are being split between us. Lee's really good at those stop/start parts and percussive sounds, and horrible, clashy reverberating sounds, and I do more of a Dick Dale, Link Wray, hold-the-fort kind of thing. On this album, we really got obsessed with each other's sound and really got involved in how we could each complement that. I was focused on asking myself if I needed to play something specifically to complement Lee's part or if I'd be better off laying back and bolstering the bass. It was really more about letting each other's parts breathe and letting each other excel. We really worked together, and dynamically, on this one.
Ultra Mono has three producers: Nick Launay, Adam "Atom" Greenspan, and Kenny Beats. The band has worked with Launay on three albums now. What makes him the go-to guy for Idles? And what did Adam Greenspan and Kenny Beats bring to the table?
Kiernan: Adam Greenspan's energy for getting weird sounds is great. For me, making noises is much more interesting than just playing guitar, and Adam is extremely enthusiastic about that process and his intrigue in it is huge. The post-production and mixing was a big, big part of this album.
Bowen: Nick Launay's entire career has been about subverting what it is to make caustic, snarling rock 'n' roll. If you look at his early stuff like the Birthday Party, Killing Joke, Gang of Four—he really coaches guitarists to not sound typical. Nick's not afraid of sticking things up really loud and getting nasty. He just understands the post-punk ethos of subverting classic rock conceptually and taking things like surf-rock and making it completely different and weaponized. His understanding of guitars is something I love and that works really well with what we want to hear overall.
The mix on this album was so much of the trick, and we took four months to mix it. We had such a strong idea of what this album sounded like in our head. We were in the mixing stage and Nick and Adam had the guitars sewn up, but we really didn't want to go through a traditional rock or post-punk mixing process. We wanted that hip-hop edge; we wanted the album to sound contemporary in a way that I feel Nick had some reservations about, because it had the potential to detract from the visceral, live-feeling energy of the band. Kenny Beats' contributions to the drums and samples really helped us get that hip-hop power. When it really needs to sound like hip-hop, it does, but when you really need that caustic post-punk sound, it's there as well. It was a real challenge and a group effort that I think took all of the producers out of their comfort zones, but it worked!
At last year's Mercury Prize ceremony, Idles makes some noise for the proletariat, performing "Never Fight a Man with a Perm" from their short-listed Joy as an Act of Resistance. Catch the cascading waves of guitar throughout!
---