A stripped-down, solid workhorse for those about to rock.
Clip 1 — First section, tone pot full up; second section, tone pot half back. Carr Vincent amp: volume at 2; treble, mid, and bass at noon; reverb at 3; drive at 3.5.
Clip 2 — Starts with tone put rolled full back and sweeps up to full on. Carr Vincent amp: volume at 5; treble at 10, mid boost on at 10, bass at noon; reverb at 3; drive at 10. Origin Effect Cali76 compressor.
The prophet Dirty Harry Callahan once said, "A man's gotta know his limitations." The same can be said for some guitars. But sometimes design limitations define a guitar's purpose—or at least suggest the best sonic or stylistic routes to travel.

The Dunable Cyclops is such a guitar—it's a one-pickup model that borrows the name of the single-eyed giants from Greek mythology. Like those giants, this instrument is a simple creature that nonetheless merits serious reckoning. And as a steak-and-'taters road or studio machine, the Cyclops measures up.
Beautifully Basic
Our test guitar is as solid and handsome as it is basic, clocking in at about 8 pounds with a mahogany body (swamp ash is also available), a 22-fret, African mahogany 25.5"-scale set neck, and an ebony fretboard (also available in rosewood or maple). The bound neck has a comfortable and fast C-profile, and the jumbo Jescar frets are as smooth as a shaved baby goat. The 18:1 Grover Sta-Tite tuners feel solid and turn evenly. A Schaller Tune-o-matic bridge and trapeze tailpiece—chosen, presumably, to get the most natural string tone—hold things down at the aft end of the instrument.
Ratings
Pros:
Simple, comfortable-feeling and well-built guitar that looks, plays, and sounds damn fine.
Cons:
Neck pickup loyalists—you're outta luck!
Tones:


Playability:


Build/Design:


Value:


Street:
$1,799
Dunable Cyclops
dunableguitars.com
The Cyclops' headstock has a smartly angled cut with a mid-peak and a volute where it joins the neck to strengthen that vulnerable spot. The controls are simple: a volume dial and a tone dial that would look comfortable on an old toaster oven. The white-black-white-trimmed black pickguard lends a simple elegance. And the body—with a beveled lower cutaway providing easy access to all the frets—has a cool, raw look. The surface is sanded just enough to leave an almost topographical texture, which is sealed by a thin satin-poly topcoat. And oh yeah! The guitar arrived in an Access hardshell case with a set of Schaller strap lock pegs tucked inside. Bonus!
Hold-the-Phone Tone
Even before plugging in, the Cyclops got on my good side thanks to its solid feel and flawless setup. Action is low and comfy—no fret buzz or ill-defined notes. Bending notes and shaking chords is easy. The tone and volume pots feel slick and are easy to adjust on the fly. And once plugged in, tones are crisp and arresting across the board, and not at all piercing, even with the tone pot turned full up. All guitars should come out of the box this ready to gig.

Dunable's own Slugwolf bridge humbucker is a beast with just the right amount of hair. At 13.8k, the Slugwolf's output is hot but not uncontrollable. This single hummer has excellent dynamic response and it's easy to roll back the howl—or bump it up—with the volume pot. According to Dunable, the alnico 5-style pickup uses 43-gauge wire to allow more turns on the double slug bobbins to increase the magnetic field, resulting in slightly thicker mids and treble response that steers clear of shrillness. Those qualities were audible, whether I played through a vintage Supro combo, an old 50-watt Marshall Super Lead, or a Carr Vincent.

For pure, warm, and edgy rock tone, the Cyclops is extremely satisfying. Even with the tone pot rolled back, there's plenty of articulation in notes and chords. It lived up to my expectations at a rehearsal, cutting through in the small space like a samurai sword. Looking for a dirty slide tone with lots of sustain, I stomped on my Archer overdrive and rolled the tone pot to about midway, then trimmed the guitar volume with another slight pot adjustment. Notes hung in the air with minimal coaxing, ripe with gritty character. And let's face it: with only two controls onboard, there's not a lot of ways to go wrong if you buy into this Dunable's sound and playability—which I do.

The Verdict
Look—I'm usually a neck pickup guy, but I definitely see eye-to-eye with this Cyclops. (Sorry, I couldn't resist.) I'd happily invite this monocular monster to any rock, blues, or improv performance—mellow or aggro. It's not cheap at $1,799 for a guitar with just a bridge humbucker, but it sounds great, feels durable and comfortable, is well constructed, plays like buttah, and looks stripped-down cool. That's a lot to love.
Watch the Review Demo:
Looking for more great gear for the guitar player in your life (yourself included!)? Check out this year's Holiday Gear Finds!
Outlaw Effects introduces their next generation of NOMAD rechargeable battery-powered pedal boards.
Available in two sizes, NOMAD ISO is a compact, versatile tool that offers the convenience of a fully powered board plus the additional freedom of not having to plug into an outlet. NOMAD ISO is ideal for stages with limited outlet availability, quick changeovers, busking outdoors, temporary rehearsal locations, and more.
NOMAD ISO builds upon the legacy of the ultra-convenient and reliable NOMAD rechargeable pedalboard line originally launched in 2018. The brand new NOMAD ISO editions feature eight isolated outputs (1 x 9V DC, and 1 switchable 9V/12V DC) for even more versatility and clean, quiet power. With an integrated lithium-ion battery pack boasting 12800mAh capacity, NOMAD ISO can fuel a wide array of pedals, and will last over 10 hours* on a single charge.
Each NOMAD ISO pedal board includes adhesive hook & loop pedal-mounting tape, eight (8) standard DC connector cables, and one (1) reverse polarity DC cable, giving you everything you need to build your ultimate "off-the-grid" rig. A rugged, road-ready padded gig bag with shoulder strap is also included, to safely protect your gear while you're on the move.
NOMAD ISO S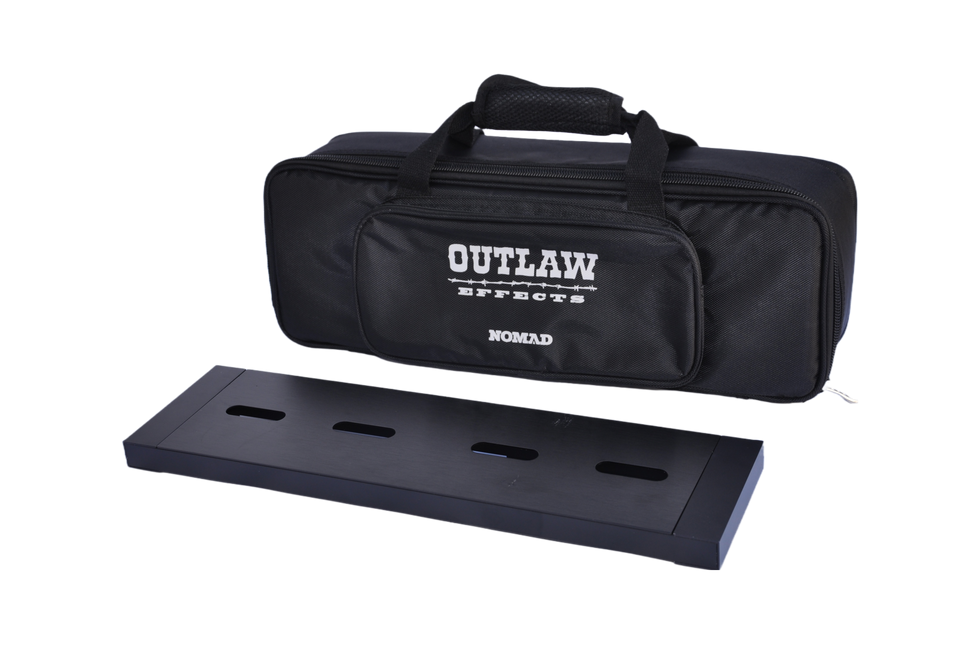 NOMAD ISO S: MSRP $309 / MAP: $249
Dimensions: 19 ¼" x 5 ¼"
NOMAD ISO M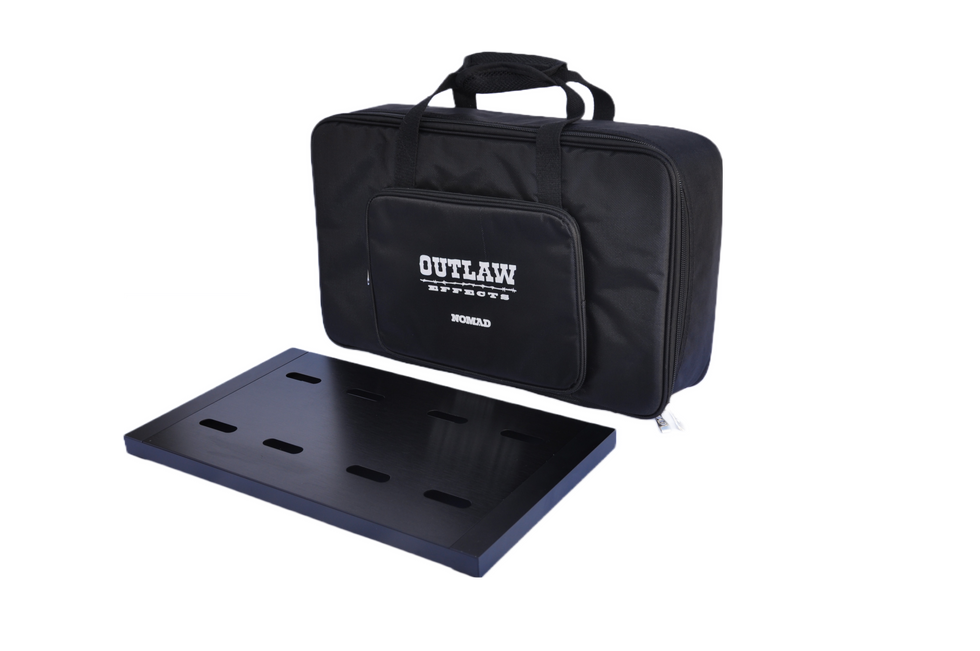 NOMAD ISO M: MSRP $349 / MAP $279
Dimensions: 19 ¼" x 11"
More info: https://www.outlawguitareffects.com.
Dunable announces new Minotaur model featuring Grover Rotomatic Keystone tuners.
The Minotaur's DNA is rooted in their classic Moonflower model, which Dunable discontinued in 2017. However, they have long since wanted to create a fresh take on a carved top guitar design, and various attempts to rework the Moonflower led them to a brand new concept with the Minotuar.
Dunable's goal is to give the player a guitar that plays fast and smooth, sounds amazing, and gives maximum physical ergonomic comfort. The Minotaur's soft and meticulous contours, simple and effective control layout, and 25.5" scale length are designed to easily meet this criteria.

Dunable Minotaur!
Features
25.5" scale length
Dual Humbucker
one volume, one tone, push pull for coil splitting
Grover Rotomatic Keystone tuners
Grover Tune O Matic bridge with brass Kluson top-mount tailpiece
jumbo nickel frets
12" fretboard radius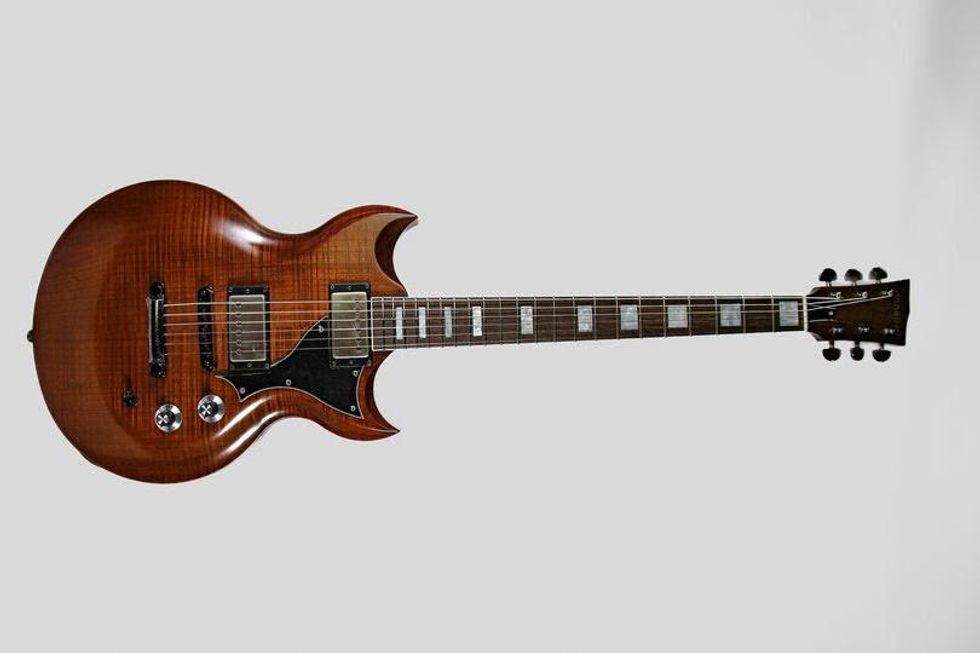 Dunable
This full-amp-stack-in-a-box pedal brings a new flavor to the Guitar Legend Tone Series of pedals, Missing Link Audio's flagship product line.
Adding to the company's line of premium-quality effects pedals, Missing Link Audio has unleashed the new AC/Overdrive pedal. This full-amp-stack-in-a-box pedal – the only Angus & Malcom all-in-one stompbox on the market – brings a new flavor to the Guitar Legend Tone Series of pedals, Missing Link Audio's flagship product line.
The AC/OD layout has three knobs to control Volume, Gain and Tone. That user-friendly format is perfect for quickly getting your ideal tone, and it also offers a ton of versatility. MLA's new AC/OD absolutely nails the Angus tone from the days of "High Voltage" to "Back in Black". You can also easily dial inMalcom with the turn of a knob. The pedal covers a broad range of sonic terrain, from boost to hot overdrive to complete tube-like saturation. The pedal is designed to leave on all the time and is very touch responsive. You can get everything from fat rhythm tones to a perfect lead tone just by using your guitar's volume knob and your right-hand attack.
Features 
Three knobs to control Volume, Gain and Tone
Die-cast aluminum cases for gig-worthy durability
Limited lifetime warranty
True bypass on/off switch
9-volt DC input
Made in the USA
MLA Pedals AC/OD - Music & Demo by A. Barrero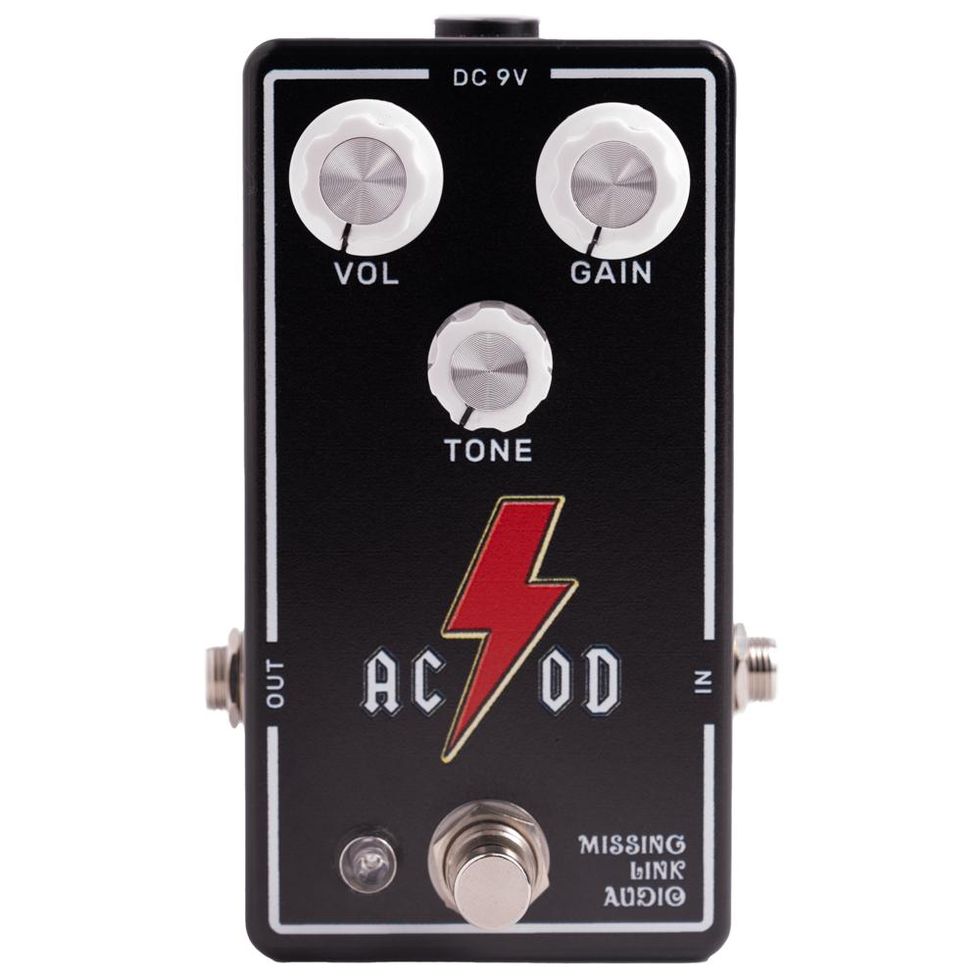 www.mlapedals.com.