Gibson Announces Dave Mustaine As Brand Ambassador—Unveils Four New Models
The collaboration between Megadeth's main man and the historic brand will span acoustic and electric guitars across Gibson, Epiphone, and Kramer.
Nashville, TN (February 23, 2021) -- For 127 years, Gibson has shaped sound across generations and genres of music, becoming one of the most relevant, played, and loved guitar brands around the world. Gibson is proud to officially announce a new partnership with Dave Mustaine, the legendary guitarist, vocalist, songwriter, and GRAMMY®-winning founder and leader of Megadeth who joins Gibson as a Brand Ambassador. The new Dave Mustaine Collection will span acoustic and electric guitars across Gibson, Epiphone, and Kramer.
Dave will join the Gibson Artist Alliance--a forum which includes legendary musicians, innovative movers and shakers, and new talent--to share in thought leadership, research & development, mentorship of the next generation of players, as well as philanthropic endeavors. In addition to the Dave Mustaine Collection, Dave will be featured in original content and special projects across Gibson, Epiphone, and Kramer.

Above: the Gibson Dave Mustaine Flying V EXP in Metallic Silver
"One of first albums I ever bought was Kiss Alive. On the back of that LP was the Gibson logo, followed by 'Kiss uses Gibson Guitars because they want the best'. Period," says Dave Mustaine. "Years later, I'm still that same fan, but now I've been playing, touring, writing, and performing around the world myself, and I can say that I could not agree more with that statement. As I was looking for a change in my guitars, I met with Cesar and got his perspective on the vision and direction Gibson is taking. I saw passion, respect for the instruments, a focus on quality and a company that is led by guitar players. I feel I am finally at home with Gibson and I am proud of what we're building together. I can't wait for the world to get their hands on the new Gibson, Epiphone, and Kramer Dave Mustaine Collection guitars. This is a dream come true for me, don't #@!# wake me up."

Above: the Kramer Dave Mustaine Flying V Vanguard in Natural
"It's an honor to welcome icon, pioneer and visionary musician Dave Mustaine to the Gibson family as our brand ambassador", said Cesar Gueikian of Gibson Brands. "Dave is one of the most influential metal icons and riff lords of all time, having paved the way for multiple generations of players to carry the flag for hard rock and heavy metal, from riff writers to shredders and everyone in between. Working with Dave is especially gratifying because he is a guitar nerd like me, who gets involved in every aspect of the development of the concepts and ideas we have been designing with him at the Gibson Lab. When I was as kid learning how to play guitar, I aspired to play Dave's riffs and I was one of the fortunate fans who attended their Youthanasia Tour concert at Estadio Obras Sanitarias in 1994, in Buenos Aires, Argentina, where the 'Aguante Megadeth' chant was born over the song Symphony of Destruction. That was an epic night that I will never forget. I look forward to bringing this partnership to life and unveiling the first stages of the Dave Mustaine Collection to the world."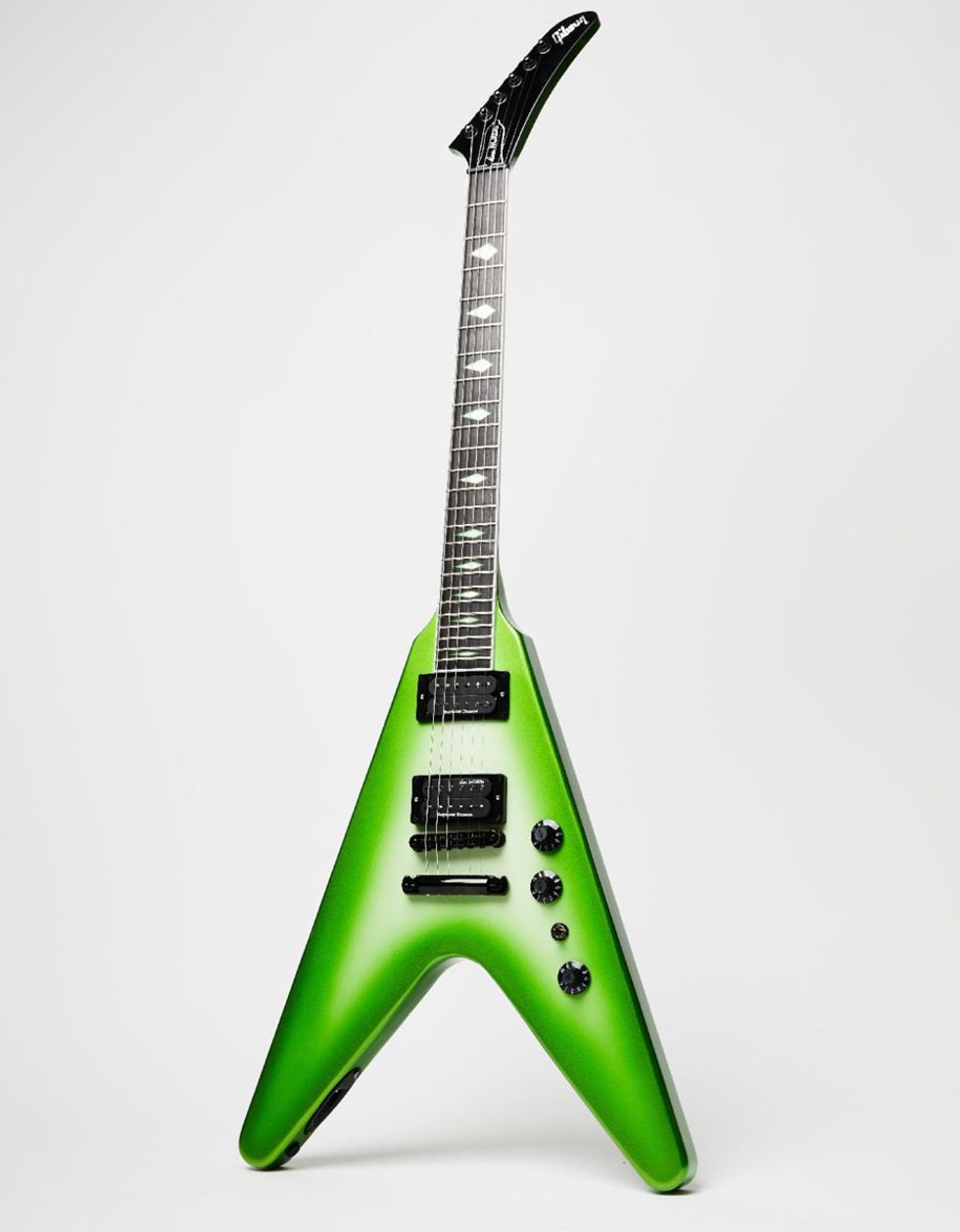 Above: the Gibson Dave Mustaine Flying V 30th Anniversary 'Rust in Peace' Edition
Renowned worldwide, the thrash metal pioneer founded MEGADETH 35 years ago, virtually inventing the thrash metal genre with the band's debut album, Killing Is My Business… And Business Is Good! MEGADETH has sold more than 38 million albums, earning many accolades along the way, including a GRAMMY® Award and 12 additional GRAMMY® nominations, and five, consecutive platinum / multi-platinum albums, including 1992's two-million-selling Countdown to Extinction. MEGADETH has headlined many of the biggest stages in the world and sold-out arenas as part of 'The Big Four.' Prior to founding MEGADETH, Mustaine co-wrote many of the songs on Metallica's Kill Em All and Ride the Lightning albums as the band's original lead guitarist, which have certified sales totaling more than 14 million copies. Across the entirety of his recorded catalog, Mustaine has achieved a staggering sales tally of nearly 50 million albums worldwide.

Above: the Gibson Acoustic Dave Mustaine CF-100 Blood Burst
MEGADETH's last studio album, Dystopia (2016), debuted at No. 3 on the Billboard 200 Albums chart. The critically acclaimed album was featured in Best Albums lists from leading music magazines, including Rolling Stone's "20 Best Metal Albums of 2016" (No. 6); Revolver's "Top 20 Metal Albums of 2016" (No. 2); and Loudwire's "20 Best Albums of 2016" (No. 12) and "Best Metal Songs of 2016" (No. 2) for the title track, "Dystopia." MEGADETH won a Silver CLIO Award for their Dystopia VR album campaign, and the album's blistering title track earned the band a GRAMMY® Award for Best Metal Performance.
With his visionary business acumen, Mustaine holds the mantle as metal's most enterprising mogul and has founded multiple brands in and outside of music. To name just a few, MEGADETH À Tout le Monde and Saison 13 beer (eight million+ pints sold to date across North America, UK, Europe), House of Mustaine vineyards' award-winning wines, a range of signature guitar gear, a 2020 graphic novel anthology with Heavy Metal magazine, the FIRST EVER band website in history (Megadeth Arizona), the Cyber Army fan club (established in 1994), five successful traveling GIGANTOUR all-star music festivals, Megadeth fan Boot Camp (sold out), and the inaugural Megacruise (sold out).
In 2010, Mustaine released his New York Times-bestselling autobiography, titled Mustaine: A Heavy Metal Memoir in the U.S, UK, Europe, Australia, and New Zealand. In September 2020, Mustaine released his second national bestseller RUST IN PEACE: The Inside Story of the Megadeth Masterpiece to coincide with the 30th anniversary of MEGADETH's iconic thrash metal masterpiece Rust in Peace.
In 2019, Mustaine was given a cancer diagnosis while he was out on the road and he approached cancer like he has dealt with all the hard blows in his life – with all his energy and passion focused on a singular goal. After intense treatment, he succeeded and his cancer is in remission, and all aspects of his life and business continues with his same intensity and perseverance. Nothing has slowed down for Mustaine who is currently working on MEGADETH's 16th album for 2021.
Watch the company's interview with Dave Mustaine and Gibson's Cesar Gueikian:

For more information:
Gibson