Carefully chosen pedals and a vintage laptop become "a poor-man's Kemper," enabling the Atlanta quartet to bridge psychedelia, post-hardcore, and four-on-the-floor rock.
Music—and guitar—are therapeutic. The songs we write and riffs we play help reduce the pain, alleviate the stress, and produce some positivity in our lives. Microwave's singer/guitarist/lyricist Nathan Hardy has been using the studio and stage as his leather couch for nearly 10 years.
---
Stovall, in 2014, saw him question his Mormon missionary upbringing. Two years later, Much Love focused on realities versus the romance of the rock 'n' roll lifestyle. And 2019's Death Is a Warm Blanket is a dark, heavier, raging deep dive into his nihilistic thoughts. All three albums are honest, coarse evaluations of the pushing and pulling in Hardy's head and heart.
Musically, the band has matured alongside Hardy's contemplative subject matter. Stovall and Much Love harness the teeter-totter dynamics mastered by Nirvana and also felt in Microwave's post-hardcore contemporaries like early Citizen and Turnover.
While their loudest, most aggressive tendencies were unleashed in Death Is a Warm Blanket, Microwave's melodies and hooks can still be sticky and sweet as honey. Finally able to tour in support of that album, Microwave packed Nashville's Mercy Lounge on October 15. Just after soundcheck, Hardy and guitarist Travis Hill introduced PG to their favorite battle axes, walked us through their Odd Couple pedalboards, and Hill explained how an outdated laptop and trial version of Logic Pro provides a universal "poor man's Kemper" for guitars and bass.
[Brought to you by D'Addario XPND Pedalboard: https://ddar.io/xpnd.rr]
Classic Cruiser
Travis Hill took just one guitar with him during Microwave's fall U.S. tour—his beloved early 2000s Gibson Les Paul Classic 1960 reissue. (A guitar he swears he'll never sell.) The wine red beaut is completely stock including its 496R and 500T humbuckers. It takes Ernie Ball 2215 Nickel Skinny Top/Heavy Bottom strings (.010–.052).
Logic-al Logistics
The band practices in Atlanta using the Overloud plug-in on Pro Tools, and they're accustomed to its amp tones. Nathan wanted to travel with Kempers, but Travis suggested he could run guitars and bass through a free, bundled Slate version of Overloud via a trial version of Logic Pro and an old Focusrite Saffire Pro. Bass has one track, Nathan has two, and Travis has three with two going to FOH and one hitting his onstage cab for monitoring and feedback.
I Gotta Be Heard
While most of Hill's tone gets pumped through the PA and into his in-ear monitors, he still does require stage noise for live monitoring and feedback. He takes out the Orange Rockerverb 50 combo (bypassing its circuitry) and treats it like an extension cab. He prefers the open-back design and hasn't touched the stock Celestion Vintage 30s.
Organized Filth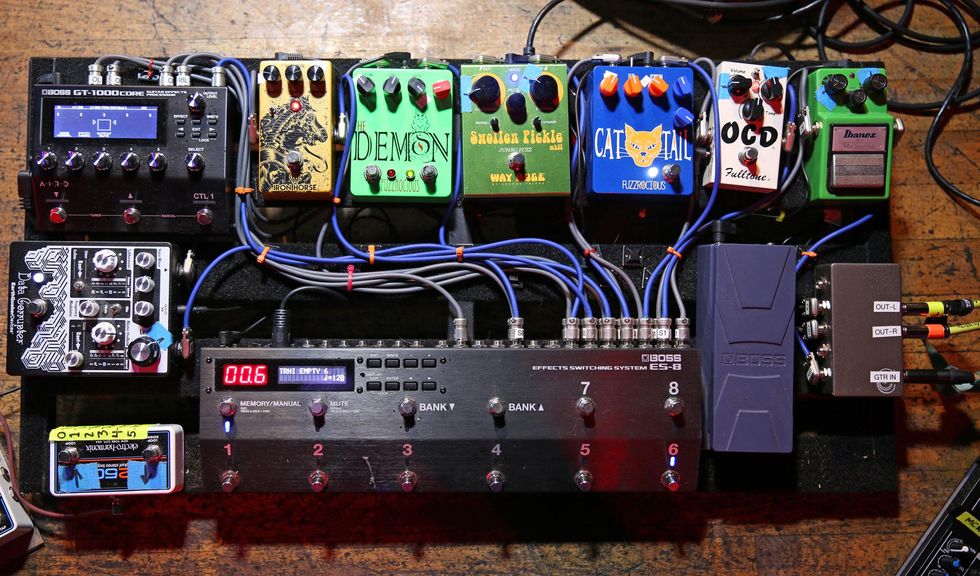 The majority of Travis' tone comes from here. And at a quick glance you have two takeaways: He loves grimy gain (see the top row) and keeps a tidy workspace. His Ibanez TS9 Tube Screamer is always on. ("It's just a slight push, but you notice it when it's not there.") The other top-row terrorizers are a Fulltone OCD, Fuzzrocious Cat Tail, Way Huge Swollen Pickle, Fuzzrocious Demon King, Walrus Audio Iron Horse, and, off to the side, an EarthQuaker Devices Data Corrupter. Anything that includes repeats, modulation, and clean sounds is supplied by the Boss GT-1000CORE. For maximum control, he has a Boss ES-8 Switching System and Boss EV-30 Dual Expression pedal.
Addendum Effects
Off Travis' main stomp station is an auxiliary board that holds a RapcoHorizon Straightline Passive Direct Box and an Electro-Harmonix 22500 Dual Stereo Looper that keeps some pre-recorded tracks.
Go For the Gold!
Frontman and Microwave cofounder Nathan Hardy unsuspectedly strolled into Atlanta's Earthshaking Music and walked out with this Rivolta Guitars Mondata II HB finished in a marvelous capo gold. The used score still has its original Rivolta "Brevetto" PAF-style humbuckers. Other highlights include a mahogany body—with a raised center block à la a Firebird—and a maple neck paired with a pau ferro fretboard.
Baritone Bruiser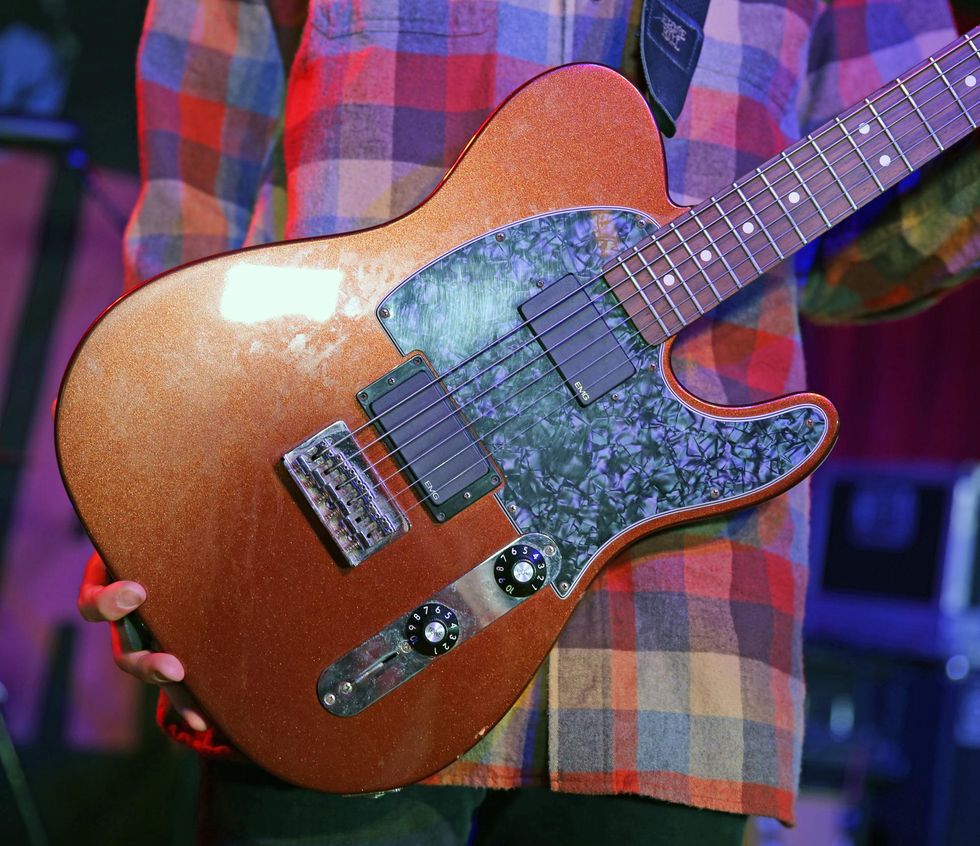 Microwave's 2019 album Death Is a Warm Blanket requires some beefy bari parts, so Hardy found this Fender Blacktop Baritone Telecaster that originally started life in an HSS format. When he bought it, the previous owner had swapped in a set of TV Jones Filter'Trons. To better fit the crisp heaviness Microwave heats the stage with, Hardy had a tech friend drop in a set of EMG 81/85s. Nathan employs Ernie Ball 2220 Power Slinkys (.011–.048).
Nothing Stays Forever
If Travis Hill's pedalboard is Felix Unger, then Hardy's has to be Oscar Madison. Nathan admits in the Rundown that everything on his board has an expiration date. He loves swapping in and out stomps, chasing perfect pedal pairings. The current construct of his tone-tweaking platform harbors some powerfully paranormal boxes—specifically the Gamechanger Audio Plasma (high-voltage distortion pedal) and the Hologram Electronics Dream Sequence (sequencer, envelope shaper, pitch shifter, sampler, and more). The rest of the pedals are fairly standard: Boss BF-3 Flanger, DigiTech Whammy, Ibanez TS Mini Tube Screamer, EarthQuaker Devices Gray Channel, Greer Amps Super Hornet, Boss PH-3 Phase Shifter, Boss DD-500 Digital Delay, Boss GE-7 Equalizer, and TC Electronic Mimiq. The pair of guitars are kept in check by the Boss TU-2 Chromatic Tuner and a Voodoo Lab Pedal Power 2 Plus juices the pedals.
Singing Stomps
Hardy hits his voice with some effects from the Line 6 DL4, Electro-Harmonix Small Clone, and Pro Co RAT.
Rhett and Zach unpack the big news for secondhand guitar sellers and buyers: Sweetwater has launched their new Gear Exchange. How does it compare to Reverb, Craigslist, and Marketplace? To find out, Zach takes the site for a spin and buys a pedal. He calls the process both "very easy" and "normal." They discuss the pros and cons of the various used-gear outlets and share tips for not getting got when buying gear. Plus, Zach grew a mustache, Mythos Pedals is moving, and he talks about his forthcoming line of Strat pickups inspired by Hendrix's reverse-stagger setup.
Sweetwater vs. Reverb

A highly versatile sonic tool, the pedal can deliver a broad range of tones – everything from mild, wonderfully organic overdrive to medium-gain crunch with a richly satisfying midrange kick.
The pedal is a collaboration between Shnobel Tone and guitarist, songwriter, composer, and record producer Frank Simes. Based in Hollywood, Simes' long list of credits includes work with A-list artists such as Don Henley, Stevie Nicks, Warren Zevon, RodStewart, Roger Waters, Roger Daltrey, and Martha Davis from The Motels. Additionally, Simes was the musical director for The Who for many years.
Its touch sensitivity makes it a perfect choice for guitarists who rely on precise right-hand technique, and it cleans up nicely when you roll back your guitar's volume knob.
Frank Simes Overdrive features include:
Three knobs: Volume, Gain, and Tone controls
True bypass foot switch
Top mounted power and in/out jacks
Hand-built with through-hole components
Crinkle-coated diecast aluminum enclosure, dimensions 4.7 x 3.7 Inches
Standard 9v center negative power – no battery compartment​
Frank Simes Signature Overdrive
Shnobel Tone's Frank Simes Overdrive has a suggested retail price and MAP of $249.
For more information, please visit shnobeltone.com.
The Reference II Series 112 and new 115 feature a new look, ceramic magnets, and Poplar ply shells.
​With gigging musicians in mind, portability was paramount to the design of these cabinets, which still feature all of the power that you expect from Bergantino. Using a lightweight Poplarply shell and Baltic Birch baffles to encase the ceramic-based speakers, these cabinets are extremely easy to transport, while still packing all of the low-end presence and warmth that is required for professional bassists in any genre of music. Covered with rugged tolex finishes and cloth grills, these cabinets look as good as they sound and provide long-term durability that is required for the wear and tear of touring and gigging musicians.
​The Reference II Series utilize ceramic magnets with vented pole pieces for the fullest and roundest low-end possible. Along with their high-power handling capability, the Reference II Series cabinets boast versatility fit for players who utilize fingerstyle, pick, slapping, and tapping techniques. Their presence and punch matches their low-end output and produce an accurate, full-bodied, and authentic representation of your bass guitar in both live and studio settings.
Reference II Series 112
​The Reference II Series 112 is new and improved, featuring the tone that bass purists love, but in a lighter package without sacrificing any of the full-bodied, robust properties that have made this a favorite. The 112 can achieve any sonic palette you desire while faithfully reproducing the natural tone that comes directly from your bass and your fingers. Many bassists love the Reference II Series 112 because of the "blank canvas" it provides the player seeking a solid, no-frills bass tone, and this updated edition upholds that, but with noticeable improvements. Seamless, tight, quick, and responsive, this cabinet is the right choice for players of all levels.
Reference II Series 115
​After receiving many requests to bring back our 115 cabinets, lovers of rumbling low-end can rejoice, as the latest edition to our lineup is here to maximize your bottom end with a responsiveness second to none. We've taken everything our players loved about our previous15" offering, shaved some weight, and updated its design to fit our high standards of the Reference II Series. With our proprietary speaker curves, it can be made to sound full and modern or vintage and rolled off, but never dry. The 115 cabinet provides a massive sound in a lightweight, easily transportable package that is ready for small venues, arenas, and everything in between.
Reference II Series 112: $1059.00
Reference II Series 115: $1099.00
These Cabinets Currently Shipping in the USA. For more information, please visit bergantino.com.
The Royale was designed to deliver loud and vivid clean tone with a responsive, tactile low end.
Designed to offer massive headroom, the 50-watt Royale Head lets you indulge in smooth clean tones at even higher volumes on stage without any breakup. Select between class A and class AB modes, with its variable mode switch, so you can choose between gushing Supro tone or a punchier, tight midrange response.⁠

Introducing the Royale Head & Extension Cabinet | Supro
The Royale 1x12 Extension Cabinet features the custom Supro BD12 high-power driver, offering the same mid-range punch and clean articulation as the Royale combo but with additional stage volume. ⁠More info: suprousa.com.
Royale Head | $1,499⁠.99⁠
Royale Cab | $669.99