Whether backing Jason Mraz or fronting her trio, she just needs a 335, a Princeton Reverb, and a plane-ready pedalboard to make the world a groovier place.
Facing a mandatory shelter-in-place ordinance to limit the spread of COVID-19, PG enacted a hybrid approach to filming and producing Rig Rundowns. This is the 39th video in that format.
The doctor is in! Dr. Molly Miller has been backing up Jason Mraz for years (she has been featured on Know. and Look for the Good), worked with the Black-Eyed Peas, Donna Missal, and Morgxn, fronts her own trio, and is part of ABC's house band for The Bachelor's Listen To Your Heart. Oh yeah, and that doctor thing, she earned a Doctorate in Musical Arts from the University of Southern California in 2016 and soon after she became the chair of the Guitar Department at Los Angeles College of Music.
In between recording projects, livestreaming performances, and producing gear demos (she's clearly not letting the pandemic slow her down), Miller virtually welcomed PG's Chris Kies into her home jam space in Los Angeles, CA. In this Rig Rundown, Miller details her "soulmate" semi-hollow and the dependable Fender Tele (with a brand new neck) that have taken her around the world. Then the self-proclaimed stomp simpleton shows off her favorite pedal pairings that range from subtle, spacy pulsing to a spicy, snarky punch. And she explains why guitar diarrhea isn't ok.
Molly Miller has a forthcoming trio album entitled St. George, which will be released on GSI records on June 4. The album's first single "Spry" is out now. Or check out a live version.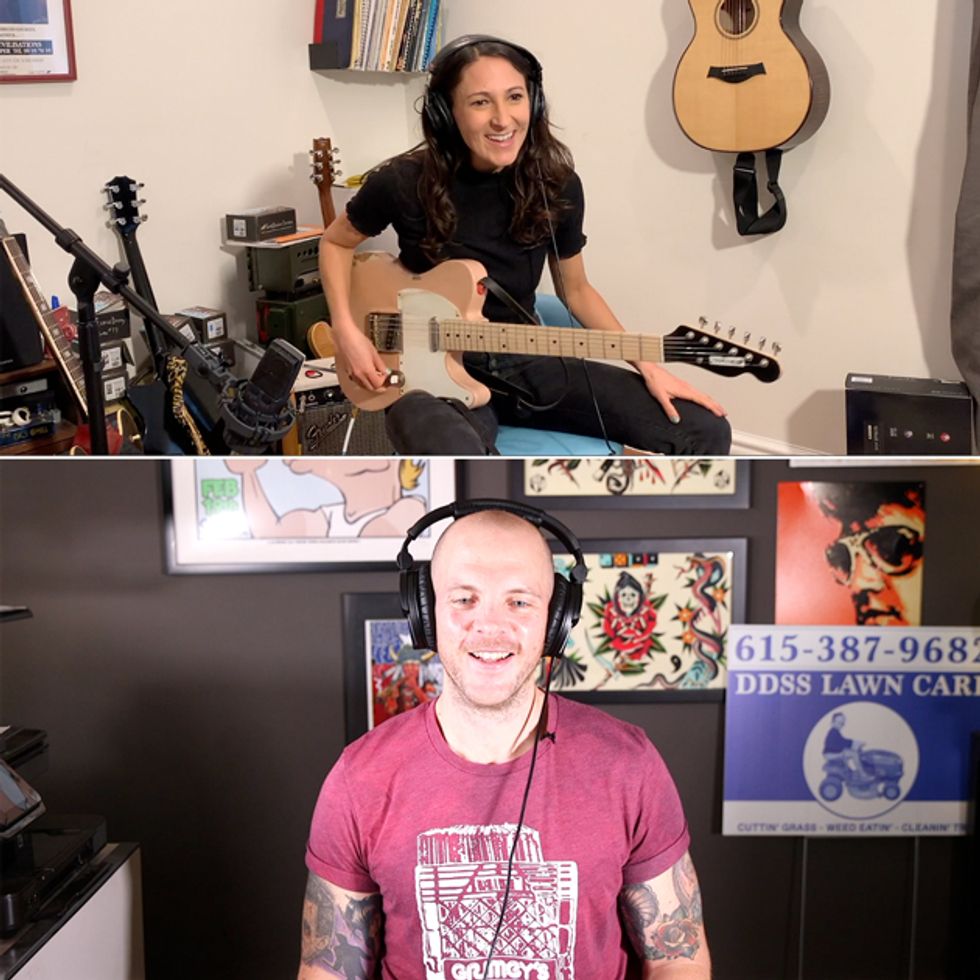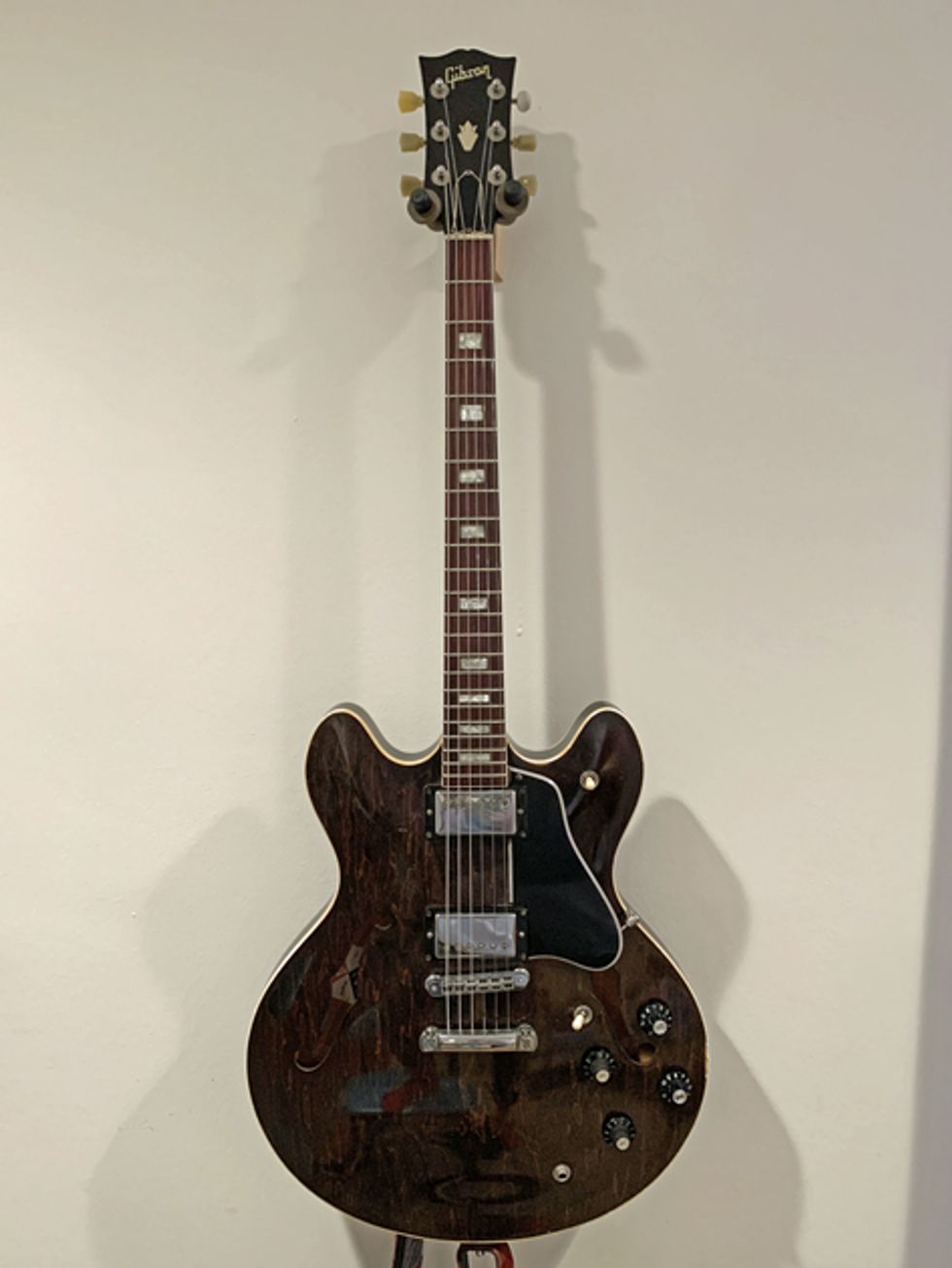 "This is kinda my baby—it's sorta my soulmate of guitars. There's a lot of attachment here and it's become a limb," swoons Molly Miller when introducing her 1978 Gibson ES-335 finished in the subdued walnut. She's been with this semi-hollowbody since Miller was 17 and scooped it up at her home base guitar store, Rhythm & Notes, in Redondo Beach.
The last gig before quarantine earned the 335 a battle scar (replacement G-string tuner) after she dropped it onstage. She's had a refret done to it, but other than that it's like the day she bought it. For strings, Miller rocks .011s from either Ernie Ball (Slinkys) or Gabriel Tenorio and she uses Copperpeace leather straps.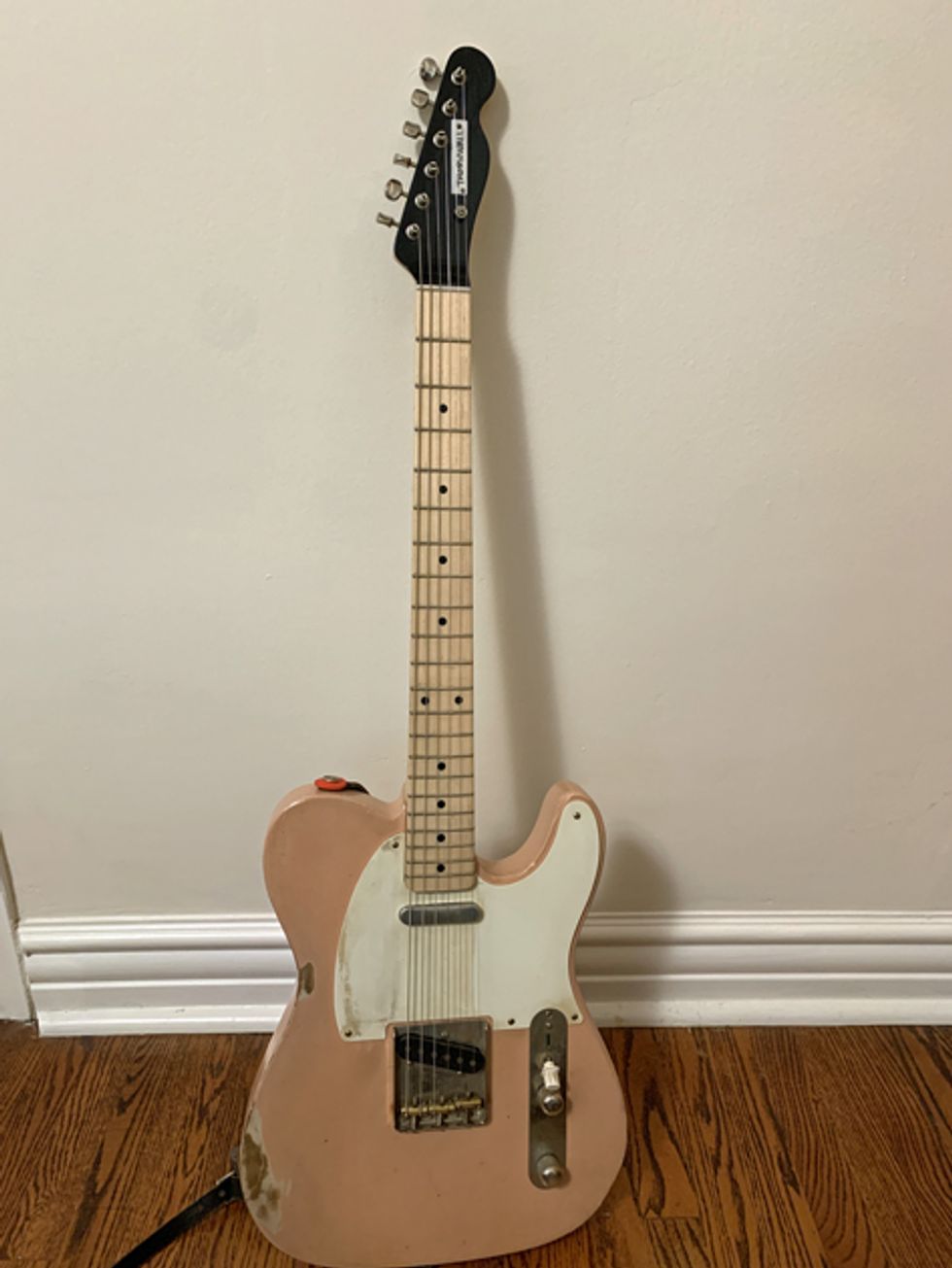 Originally sourced as a road dog fill-in for the 335, this run-of-the-mill Fender Tele has become a reliable ally for Miller. Her bond with the flexible workhorse has appreciated because it keeps her out of more boxes or redundant traps than the 335.
Just before filming the Rundown, the Tele returned with a new neck made by L.A. tech Mike Cornwall. She describes it in the video as "the top part is angular and the bottom half is rounded, but it plays like butter and is silk [laughs]."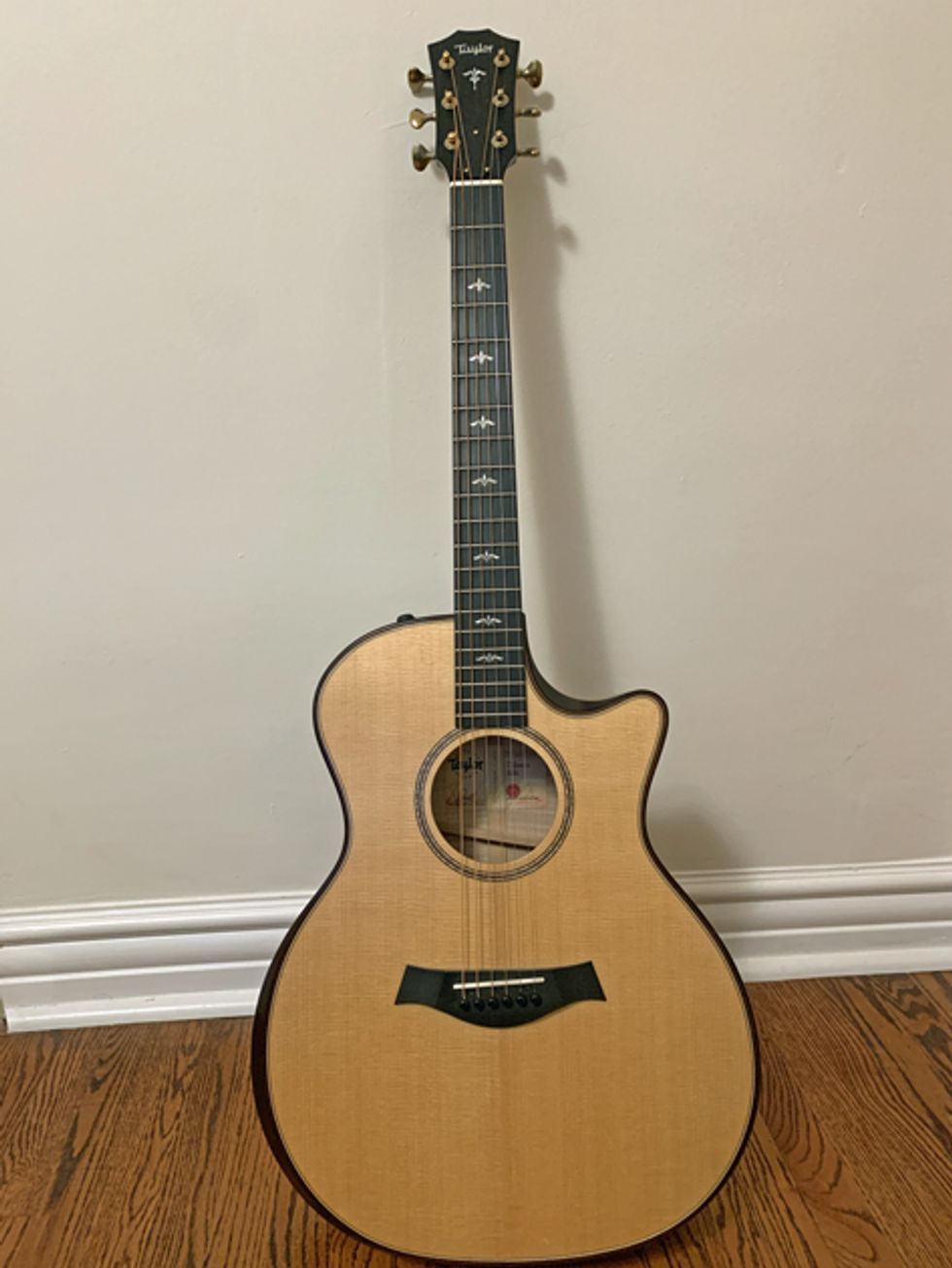 Here is Miller's Taylor Grand Auditorium Builder's Edition 614ce.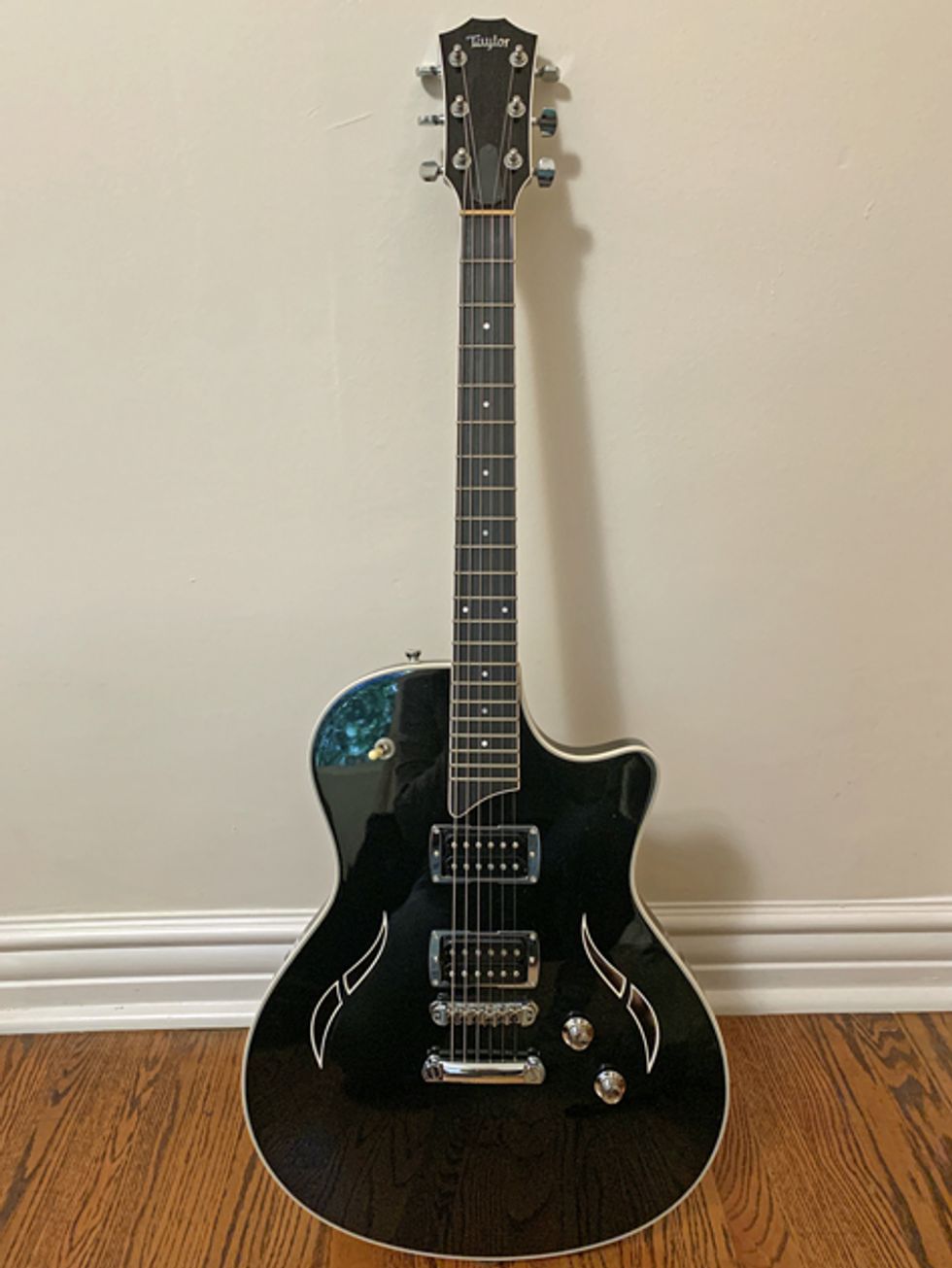 Another semi-hollow sweetie is this Taylor T3 that offers Molly a smaller-bodied option to her beefier 335.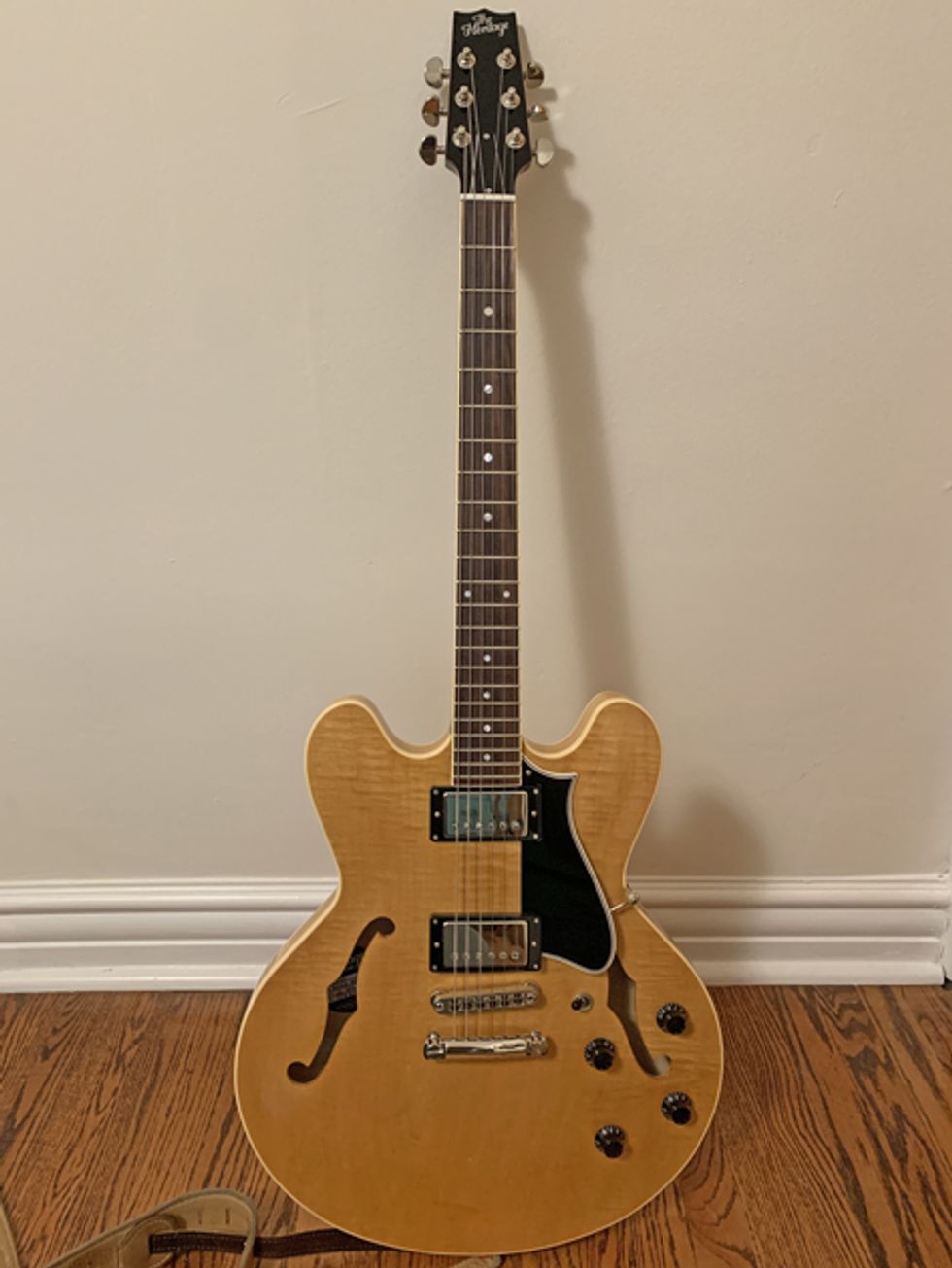 Always on the hunt to find a road replacement for her '78 ES, she scored one from where the 335s were originally built in Kalamazoo, Michigan. She says the newer Heritage H535 (loaded with Seymour Duncan '59 humbuckers) is a bit brighter than her main semi-hollow, but it certainly could see stage time when touring resumes (hopefully in 2021).
[Editor's note: Gibson HQ was founded by Orville Gibson in Kalamazoo in the late 1800s. He eventually moved production to 225 Parsons Street in 1917 and produced instruments until 1984 when Gibson moved to Nashville. A few former Gibson employees banded together and started Heritage in 1985 on those same hallowed grounds.]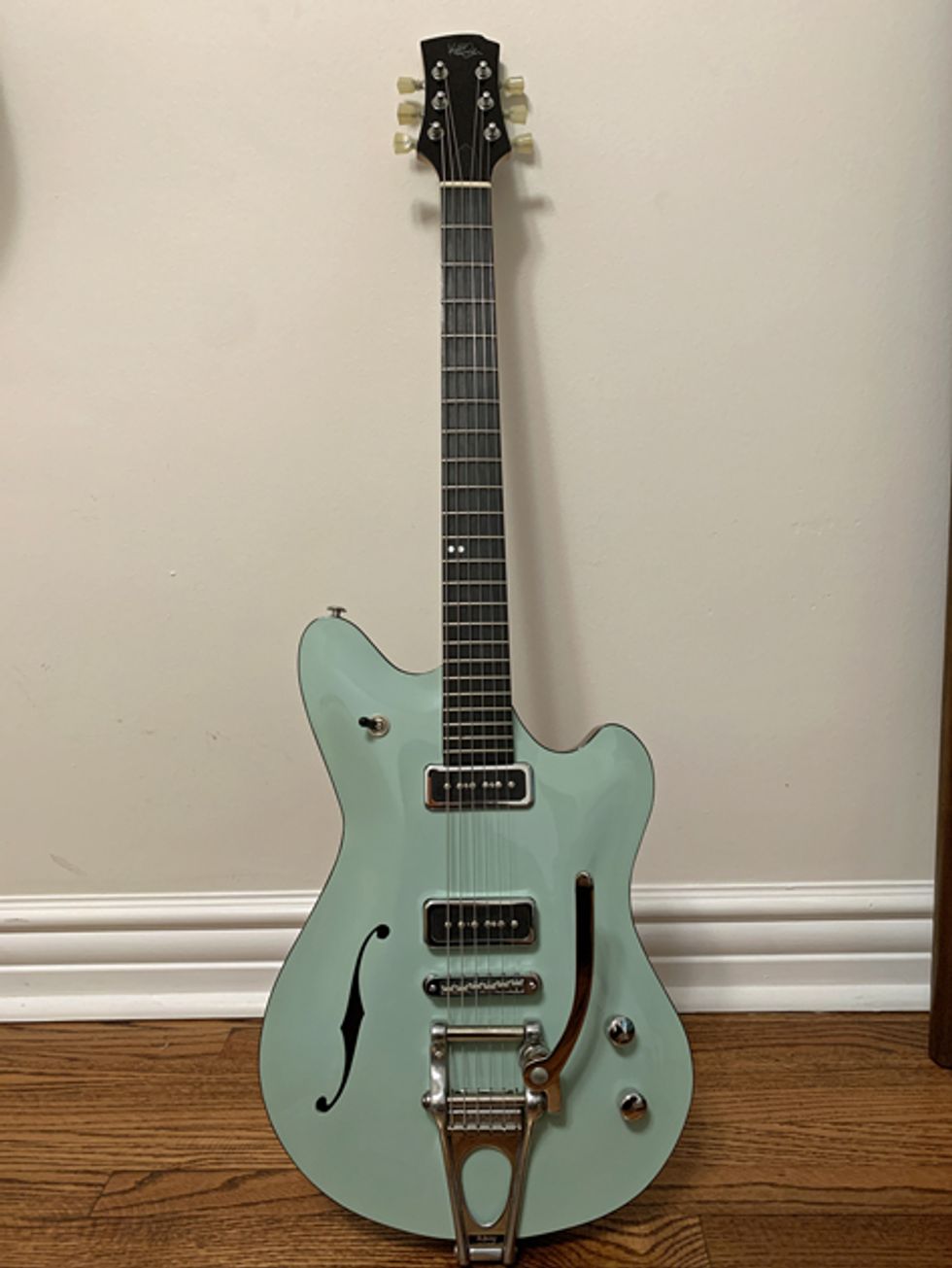 While Molly waits for her own semi-hollow Ashbord to be built by luthier Kevin Equitz, she's taking good care of her friend's lovely 6-string.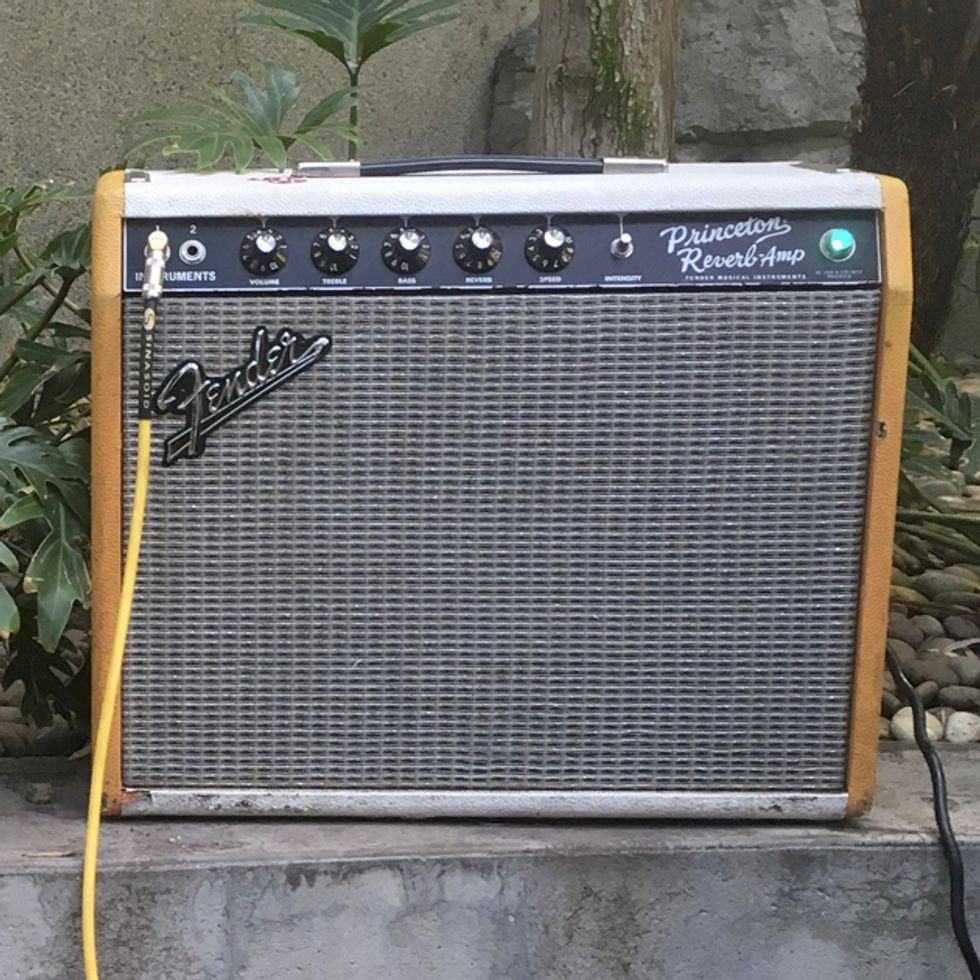 If she's amplified, she's probably plugging into this modern reissue Fender Princeton Reverb combo that was modded at some point to make its narrow midrange voice a "wider" sound.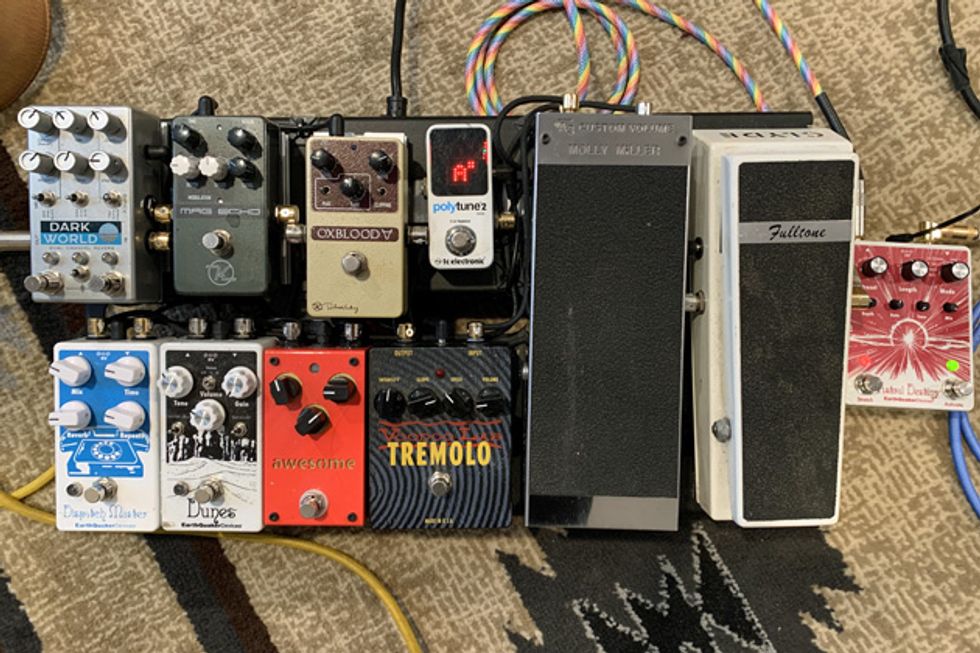 As you see here, Molly Miller is one for maximizing space. Not a wasted inch on this A3 Stompbox-built board that is home to a Chase Bliss Dark World, a couple of Keeleys (Mag Echo and Oxblood), a pair of EarthQuaker Devices (Dunes and Dispatch Master), A3 Stompbox Awesome overdrive, and Voodoo Lab Tremolo. Her two foot-controlled pedals are a A3 Stompbox custom volume pedal (left) and Fulltone Clyde Standard Wah (right). Molly's guitars are kept in check with a TC Electronic PolyTune 2 Mini and she added the brand new EarthQuaker Devices Astral Destiny for some freaky tones during the Rundown.
---
Click below to listen wherever you get your podcasts:
---
D'Addario Pro Plus Capo:https://ddar.io/ProPlusCapo.RR
---
---
Looking for more great gear for the guitar player in your life (yourself included!)? Check out this year's Holiday Gear Finds!
Outlaw Effects introduces their next generation of NOMAD rechargeable battery-powered pedal boards.
Available in two sizes, NOMAD ISO is a compact, versatile tool that offers the convenience of a fully powered board plus the additional freedom of not having to plug into an outlet. NOMAD ISO is ideal for stages with limited outlet availability, quick changeovers, busking outdoors, temporary rehearsal locations, and more!
NOMAD ISO builds upon the legacy of the ultra-convenient and reliable NOMAD rechargeable pedalboard line originally launched in 2018. The brand new NOMAD ISO editions feature eight isolated outputs (1 x 9V DC, and 1 switchable 9V/12V DC) for even more versatility and clean, quiet power. With an integrated lithium-ion battery pack boasting 12800mAh capacity, NOMAD ISO can fuel a wide array of pedals, and will last over 10 hours* on a single charge.
Each NOMAD ISO pedal board includes adhesive hook & loop pedal-mounting tape, eight (8) standard DC connector cables, and one (1) reverse polarity DC cable, giving you everything you need to build your ultimate "off-the-grid" rig. A rugged, road-ready padded gig bag with shoulder strap is also included, to safely protect your gear while you're on the move.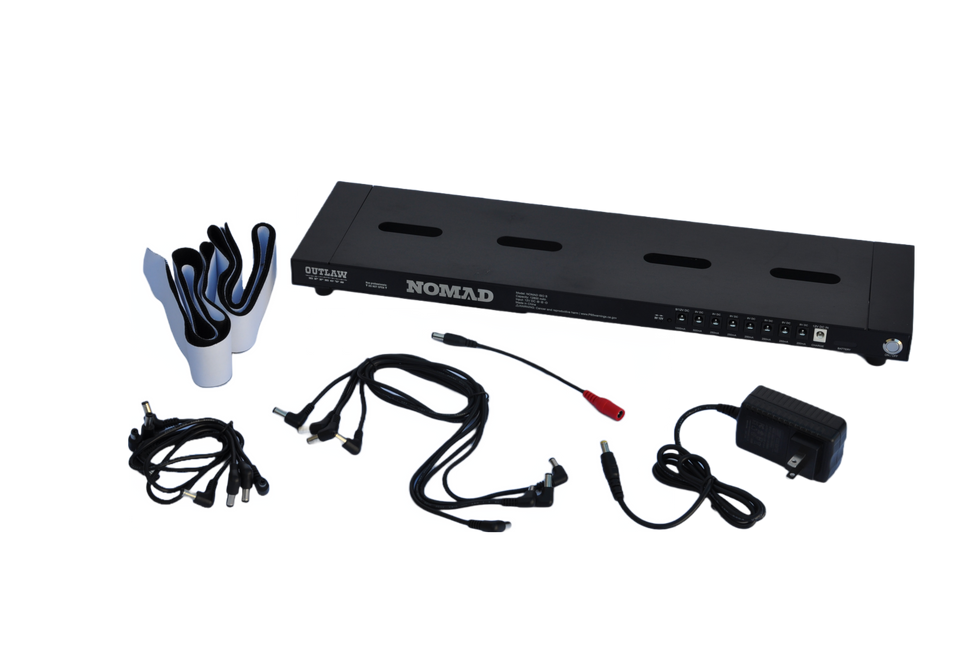 Dunable announce new Minotaur model featuring Grover Rotomatic Keystone tuners.
The Minotaur's DNA is rooted in their classic Moonflower model, which Dunable discontinued in 2017. However, they have long since wanted to create a fresh take on a carved top guitar design, and various attempts to rework the Moonflower led them to a brand new concept with the Minotuar.
Dunable's goal is to give the player a guitar that plays fast and smooth, sounds amazing, and gives maximum physical ergonomic comfort. The Minotaur's soft and meticulous contours, simple and effective control layout, and 25.5" scale length are designed to easily meet this criteria.

Dunable Minotaur!
Features
25.5" scale length
Dual Humbucker
one volume, one tone, push pull for coil splitting
Grover Rotomatic Keystone tuners
Grover Tune O Matic bridge with brass Kluson top-mount tailpiece
jumbo nickel frets
12" fretboard radius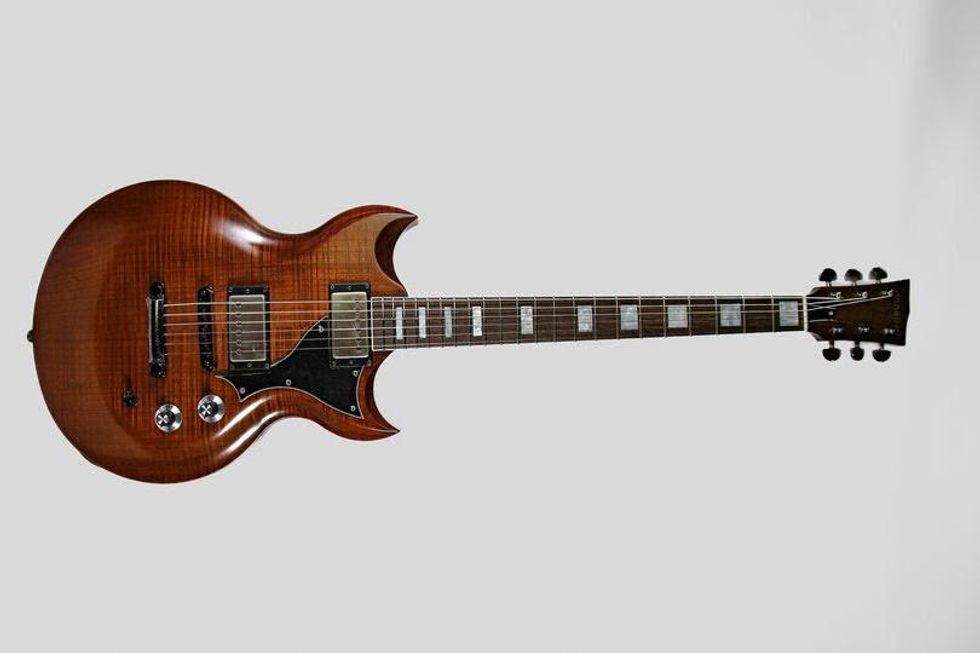 Dunable
This full-amp-stack-in-a-box pedal brings a new flavor to the Guitar Legend Tone Series of pedals, Missing Link Audio's flagship product line.
Adding to the company's line of premium-quality effects pedals, Missing Link Audio has unleashed the new AC/Overdrive pedal. This full-amp-stack-in-a-box pedal – the only Angus & Malcom all-in-one stompbox on the market – brings a new flavor to the Guitar Legend Tone Series of pedals, Missing Link Audio's flagship product line.
The AC/OD layout has three knobs to control Volume, Gain and Tone. That user-friendly format is perfect for quickly getting your ideal tone, and it also offers a ton of versatility. MLA's new AC/OD absolutely nails the Angus tone from the days of "High Voltage" to "Back in Black". You can also easily dial inMalcom with the turn of a knob. The pedal covers a broad range of sonic terrain, from boost to hot overdrive to complete tube-like saturation. The pedal is designed to leave on all the time and is very touch responsive. You can get everything from fat rhythm tones to a perfect lead tone just by using your guitar's volume knob and your right-hand attack.
Features 
Three knobs to control Volume, Gain and Tone
Die-cast aluminum cases for gig-worthy durability
Limited lifetime warranty
True bypass on/off switch
9-volt DC input
Made in the USA
MLA Pedals AC/OD - Music & Demo by A. Barrero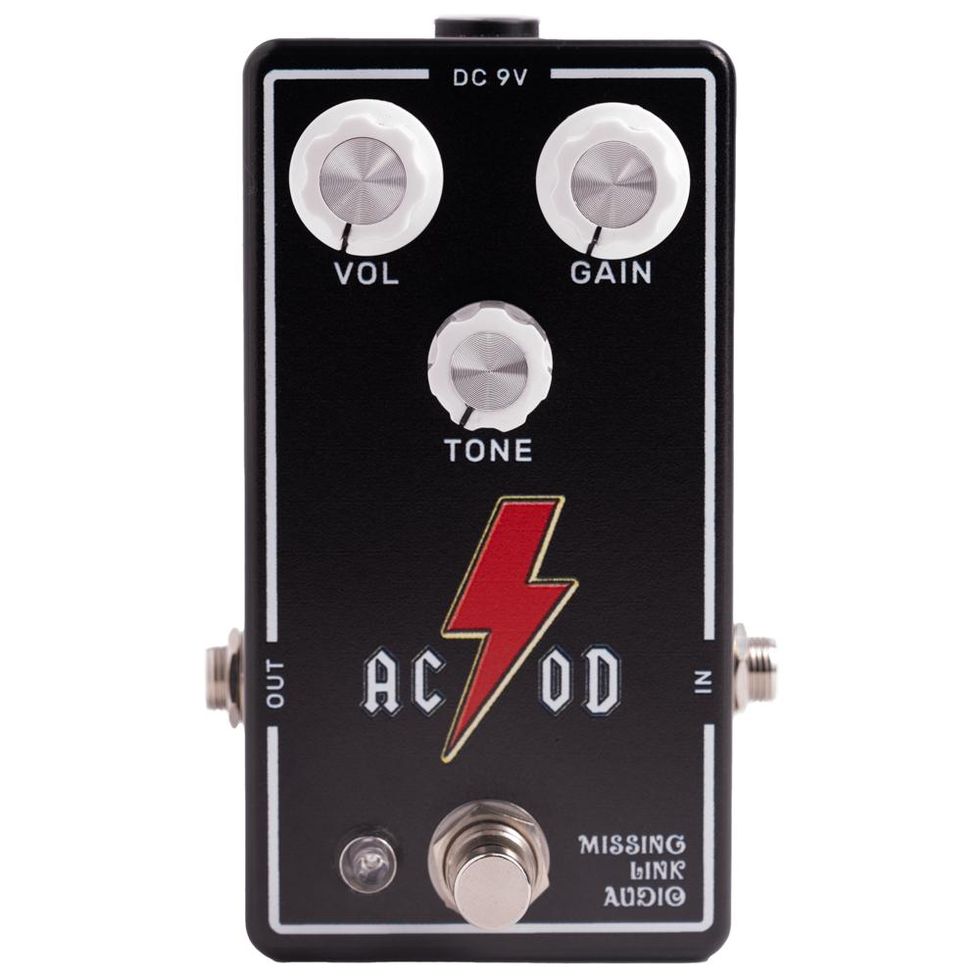 www.mlapedals.com.