Rig Rundown: The Dead Daisies [2021]
Classic-rock warriors Doug Aldrich and Glenn Hughes show us their latest touring setups.
The Dead Daisies play classic rock—a catalog of songs practically etched in the granite of popular music history.
---
When we rolled into Nashville's Mercy Lounge during soundcheck, the band was roaring through the Deep Purple classic "Mistreated," with Glenn Hughes hitting all the requisite high notes and Doug Aldrich laying down the song's heavy riff. Drummer Tommy Clufetos and bassist Hughes had the groove in a headlock, and guitarist David Lowy—who leads this musical collective—was grinding out the rhythm.
After the check, we talked to legends Aldrich, of Whitesnake and Dio fame, and Hughes, whose bona fides include Deep Purple, Black Sabbath, and Black Country Communion, about the gear they're using to push up Daisies, who have a new album called Holy Ground . So, get ready for gold tops, Marshalls, a killer Nash bass, and a couple stacks of Orange-flavored goodness.
[ Brought to you by D'Addario's XPND Pedalboards: https://www.daddario.com/XPNDRR ]
Doug's Gold and Black Beauty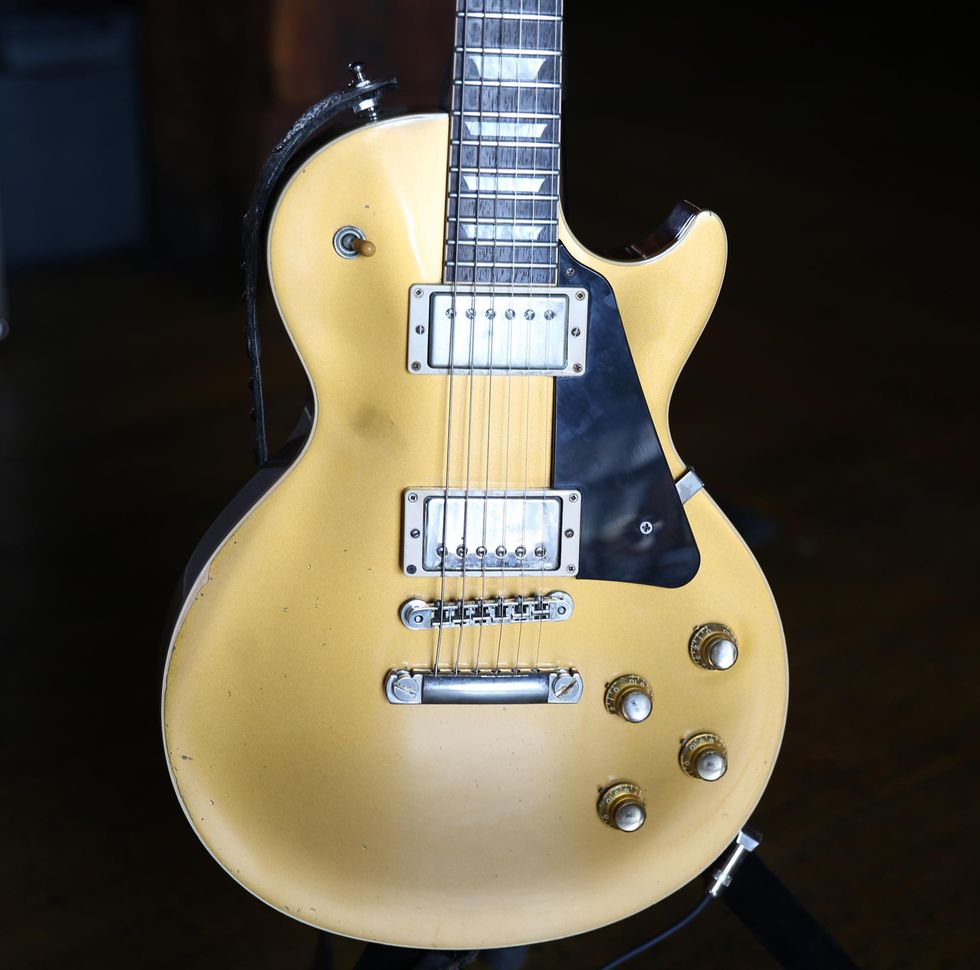 For the Dead Daisies' current tour, Doug Aldrich is slinging three LP-style gold tops. His main instrument is this black-pickguard-wearing road-warrior. It's his favorite among the six gold tops he owns, yielding what he describes as a "big, open sound." (True that!) He acquired this '57 Gibson Custom Shop reissue in 2008 and replaced the pickups with his Suhr signature high-outputs. The tuners are by TonePros and the well-played axe has been refretted by Bruce Nelson of L.A.'s Nelson Guitar Works. Otherwise, it's stock. And he uses .11–.50 Dunlop strings and tunes down a whole step on all his guitars for Dead Daisies.
The Golden Ruby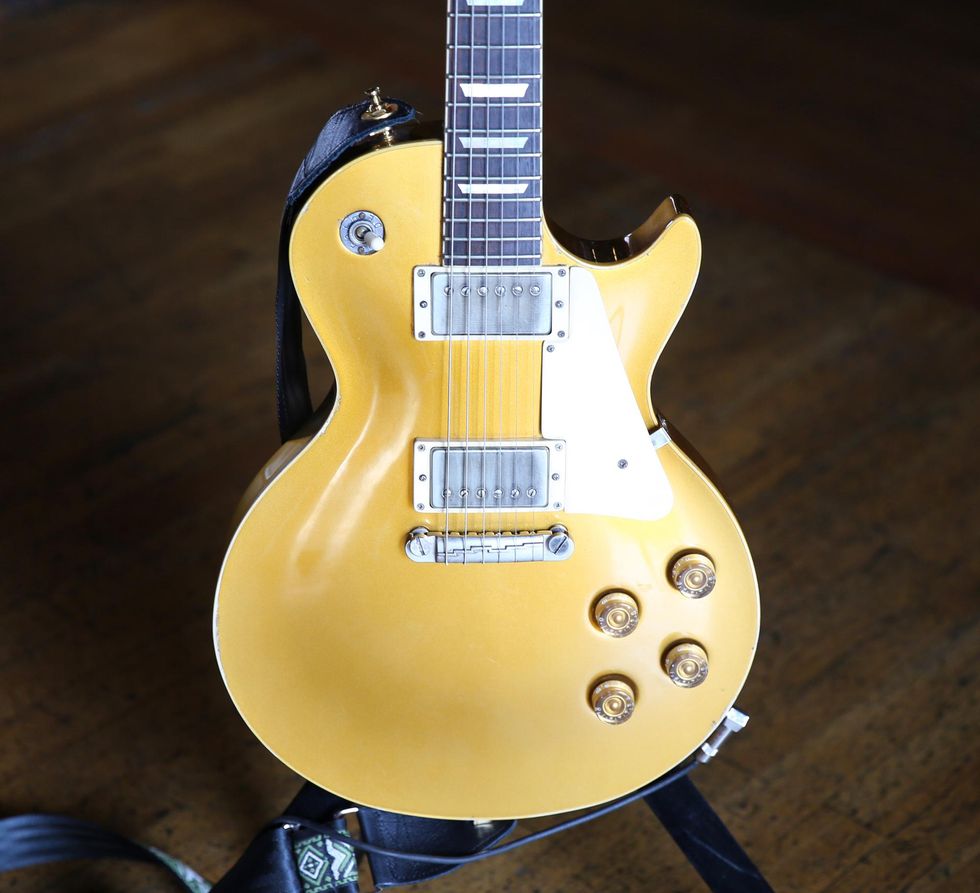 The Golden Ruby was built by Leo Scala and named for Aldrich's pre-school-aged daughter. In addition to being onstage, it's gone to class with her for show-and-tell. It's a bit different from his Gibsons, although it also sports his Suhr signature pickups, in that the neck's got a slightly thinner profile—"but still chunky," Doug adds. "I like a chunky neck." There's also a wraparound bridge and, like most L.P.-style guitars, it's got a mahogany body and maple top.
Head Games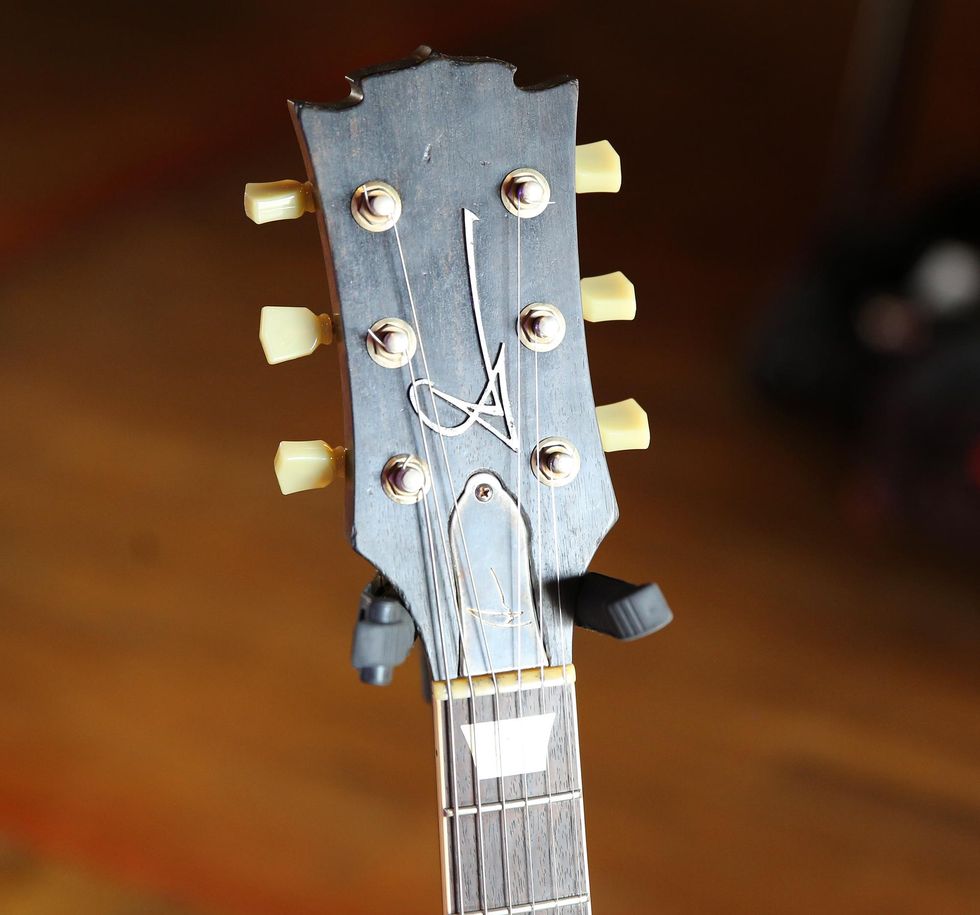 The most immediately noticeable difference on Aldrich's Scala L.P.-style is its hand-tooled headstock, which features a distinctive top cut and Scala's signature logo.
A Real Signature Model
And Ruby's done a little customizing on this Scala herself. It took a few practice runs to nail this autograph for daddy.
Born on the Sunburst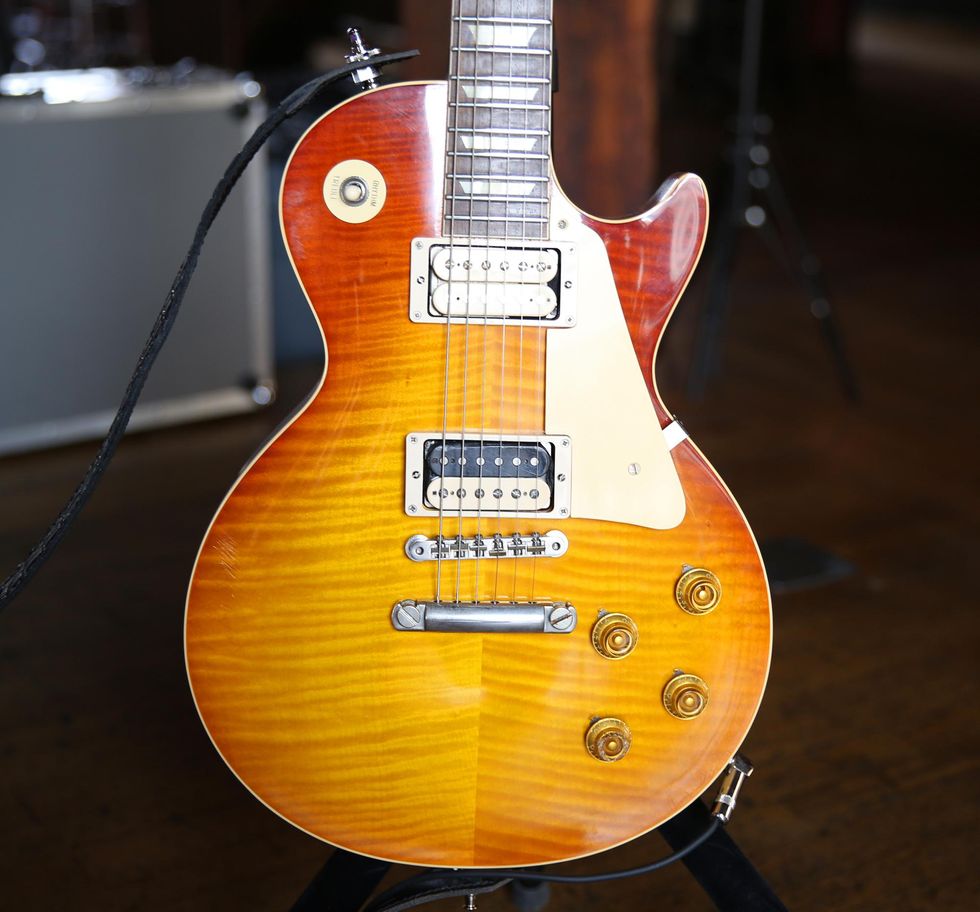 It was love at first site when Aldrich saw this '59 reissue at a friend's house during the COVID lockdown. It was sent to his pal by Gibson, and the high eye-appeal of its flame top made it a must-have. This one has Gibson tuners and his signature Suhr pickups. He also had it refretted. And there's another customization—tooth marks on its bottom, top, and one dial courtesy of another COVID acquisition: a Boston terrier puppy. This guitar's voice accents the high-mids a bit, making it perfect for covering Ritchie Blackmore leads.
Did You Say Marshall?
You want rock tone? You get rock amps. Aldrich plays a pair of John Suhr-modded 100-watt Marshal JMP heads. The one on the left is from 1978 and was a one-master 4-input head until Suhr added another master "so I can kick it up a little bit for solos," the guitarist explains. There's also an effects loop. In that loop resides an Eventide H9, set only on 27.DIGD to provide a reverb sound its owner loves.
On the right, a 1979 model with an added master. It's the first amp Doug bought when he moved to Los Angeles in 1981. The 4x12 cabs are both reissues, with Celestion Vintage 25s. The cabs are always miked live with SM57s and behind them lurks a Palmer line driver.

Doug Aldrich's Pedalboard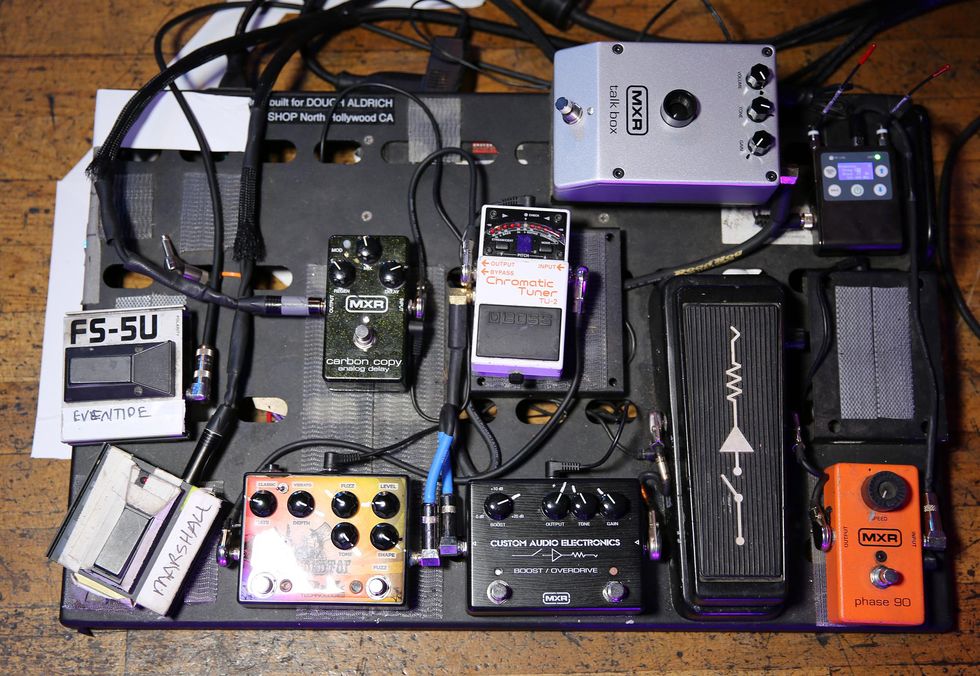 Aldrich is big fan of the tried-and-true sounds of MXR pedals. First stop on his board is a Phase 90 set slow, and then a Dunlop-made Custom Audio Electronics (CAE) wah, a CAE Boost/Overdrive, a DVK GoldTop (which was standing in until his preferred Dunlop Authentic Hendrix '69 Psych Series Uni-Vibe Chorus/Vibrato pedal arrived just in time for the gig), a Boss TU-2 Chromatic Tuner, an MXR Talk Box, an on/off for the Eventide, and a boost switch for the amps. His wireless is a Lectrosonics.
Glenn Hughes' Main Bass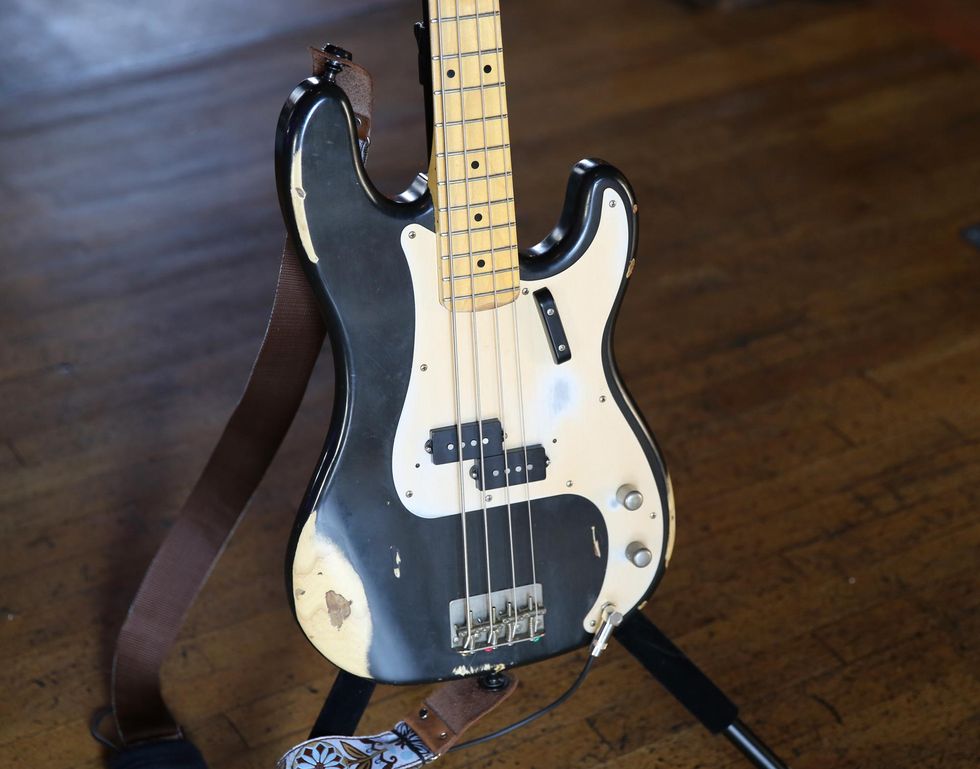 This custom Bill Nash-built bass has traveled with Glenn Hughes for 12 years. It's a JB model with Lollar pickups and a custom thin neck. And has it got a voice!
Orange Squeezers
Hughes powers up two Orange AD200B MKIII heads running through two 8x10 Orange OBC810 cabinets.
(A second tower is at stage right of the drum kit, and those are David Lowy's Friedmans at front-view right.)
Glenn Hughes' Pedalboard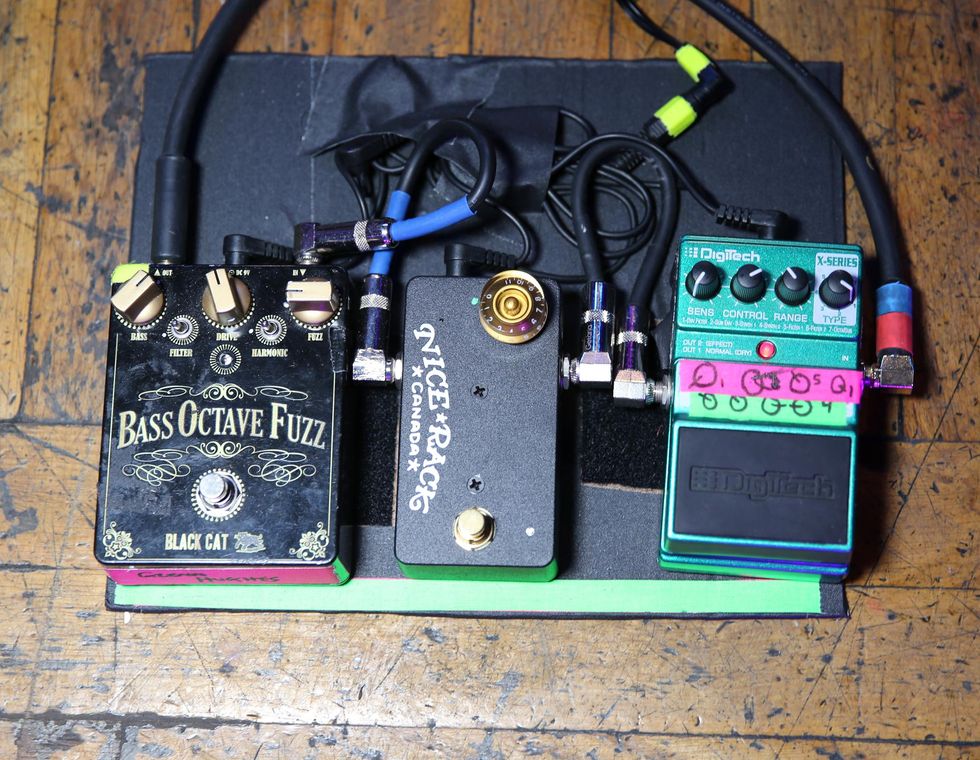 It's a short but sweet affair: a Black Cat Bass Octave Fuzz, a Nice Rack Y-boost, and a DigiTech X-Series delay.