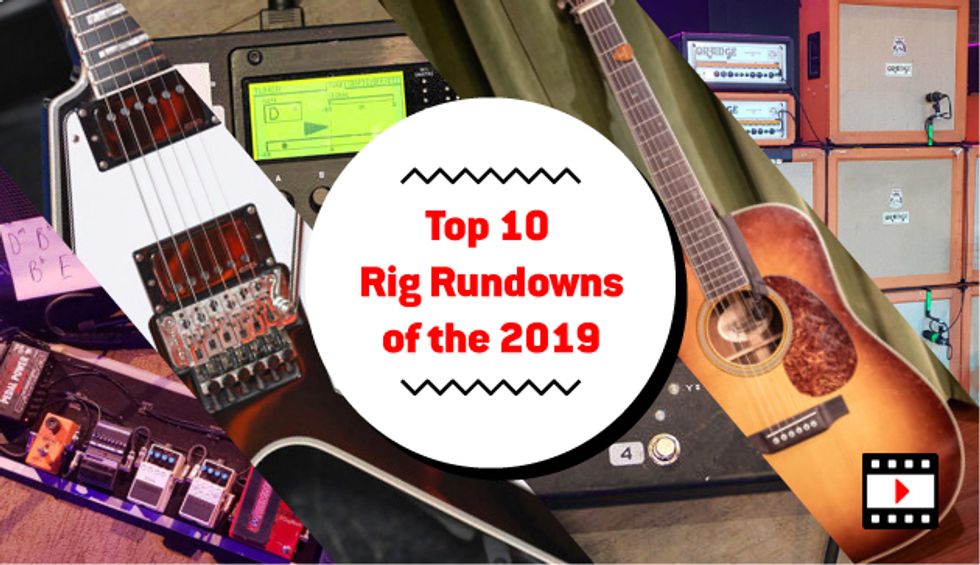 We've based these rankings on a combined viewership from PremierGuitar.com and YouTube to compile this year's top 10. Fripp and Isbell's band were included because they nearly cracked the top 10 while only being online for less than a few months.
---
Honorable Mention #2: King Crimson's Robert Fripp
Although Fripp and King Crimson will forever be known for pioneering the prog-rock movement with 1969's In the Court of the Crimson King, his innovation on guitar technology and craft is staggering. His collaborations with Brian Eno, David Bowie, and Andy Summers are highlights of a solo career nearing 50 years. John Bohlinger went to Nashville's Ryman Auditorium to get the details from Biff Blumfumgagnge, Fripp's main road tech since 2005. Blumfumgagnge demoed Fripp's gear and explained the engineering behind the alchemy.
---
---
Honorable Mention #1: Jason Isbell and the 400 Unit
Back in the fall of 2015
PG
traveled south to the Tivoli Theatre in Chattanooga, Tennessee, to catch up with Jason Isbell, guitarist Sadler Vaden, and bassist Jimbo Hart. At the time, the band gave us so much time and so much gusto about their piles of gear, the resulting Rundown became the longest ever at 65 minutes.

Fast forward four years and now Perry Bean finds himself onstage, surrounded by even more gear, at the historic Ryman Auditorium in the middle of Isbell's annual October run. This year saw the Alabama native and his bandmates sell out seven consecutive shows at the Mother Church. And before the 4th night, we basically filmed a feature film spotlighting all the new inspiring additions to their arsenal and how it all further propels the 400 Unit's sonic quest.
---
---
10. Covet's Yvette Young
One would never confuse music as sport. However, for Yvette Young, who took up strict piano lessons at four and added on violin at age seven, the internal pressure and external expectations became too much and broke her. The weight of it all hospitalized her due to an eating disorder. And while still in the hospital, rehabbing from her battle, the struggle's silver lining appeared in the shape of a guitar. Yvette's love affair with the instrument began while she was still in bed and has remained tried and true ever since.
She admits to starting out like any guitarist, learning basic chords and shapes in standard tuning, but never really finding
her
voice. The generic, sounding-like-everyone qualities plagued her until stumbling upon alternative tunings by way of influencers like Japanese post-rockers Toe and math-rock aerialists American Football. Through these open tunings (for example: F–A–C–G–B–E), Yvette unlocked her guitar creativity and began expressing herself in solo two-hand tapping compositions. One way she pushes her dexterity and fretboard knowledge is to start an idea out as a vocal melody. Yvette then chases that vocal melody for hours on the fretboard, trying to accompany it with simpatico harmonies on the guitar.

Eventually, electric guitar grabbed ahold and the need for fuller, collaborative jams took root and she began work as a power trio with bassist David Adamiak and drummer Keith Grimshaw. (Now Forrest Rice is the band's drummer.) Over the last five years she's released a handful of records and EPs (full band and solo), including 2014's
acoustics
, 2015's
Currents
, a live performance at Audiotree in 2016, 2017's
Ares
, 2018's
effloresce,
and most recently
, acoustics2
.

Before Covet's Nashville gig at the High Watt,
PG
's Chris Kies swooped in for a post-soundcheck hang with the band's founder and 6-string melodist, Yvette Young. Within the 30-minute video, you'll witness how her finger-tapping approach, bolstered by gobs of modulation and influenced by formal training on the ivories unlocks fresh, polyphonic compositions that flourish over a bed of atmospheric, transcendent post-rock clouds.
---
---
9. Judas Prieest
Premier Guitar
's John Bohlinger met with Judas Priest founding bassist Ian Hill and guitarist Richie Faulkner for a walk-through their paint-peeling, mountain-crushing rigs.
---
---
8. Dream Theater
Dream Theater's
The Distance Over Time Tour
is nirvana for the band's fans, who are devout. It's a three-hour sonic journey through the new
The Distance Over Time
album, a selection of fan favorites, and the entire
Metropolis Pt. 2 Scenes from a Memory
, which is being played in full to mark the 20th anniversary of its release.

We met with Petrucci, Myung, and chief axe tech Maddi Schieferstein onstage at Nashville's Tennessee Performing Arts Center before a soundcheck for the band's sold-out April 17 concert. The video covers everything—and the still photos provide a closer look at Petrucci's new-for-2019 signature models, Myung's bass, effects, amps and more.

And yes, I know I said "speakers" instead of "pickups" and "alder" rather than "ash" early in the video. Send coffee and hate mail in care of the magazine. Or just troll me in the video's comments section, for your convenience. But more important, dig into this supercool Rig Rundown.
---
---
7. Polyphia' Scott LePage
Before soundcheck,
PG
's Chris Kies swooped into Nashville's Cowan music venue to speak with sarcastic (and sweet) Scott LePage, one-half of the blistering guitar duo that mobilizes the genre-morphing band.
---
---
6. Christone "Kingfish" Ingram
Christone "Kingfish" Ingram is currently putting some serious miles in on his tour to support his debut album,
Kingfish
. Before his show at Songbirds in Chattanooga, Tennessee, "Kingfish" met up with
Premier Guitar
's John Bohlinger to talk through his rig and display some fiery guitar playing.
---
---