Mod Garage: "Jimmy Page" Les Paul Wiring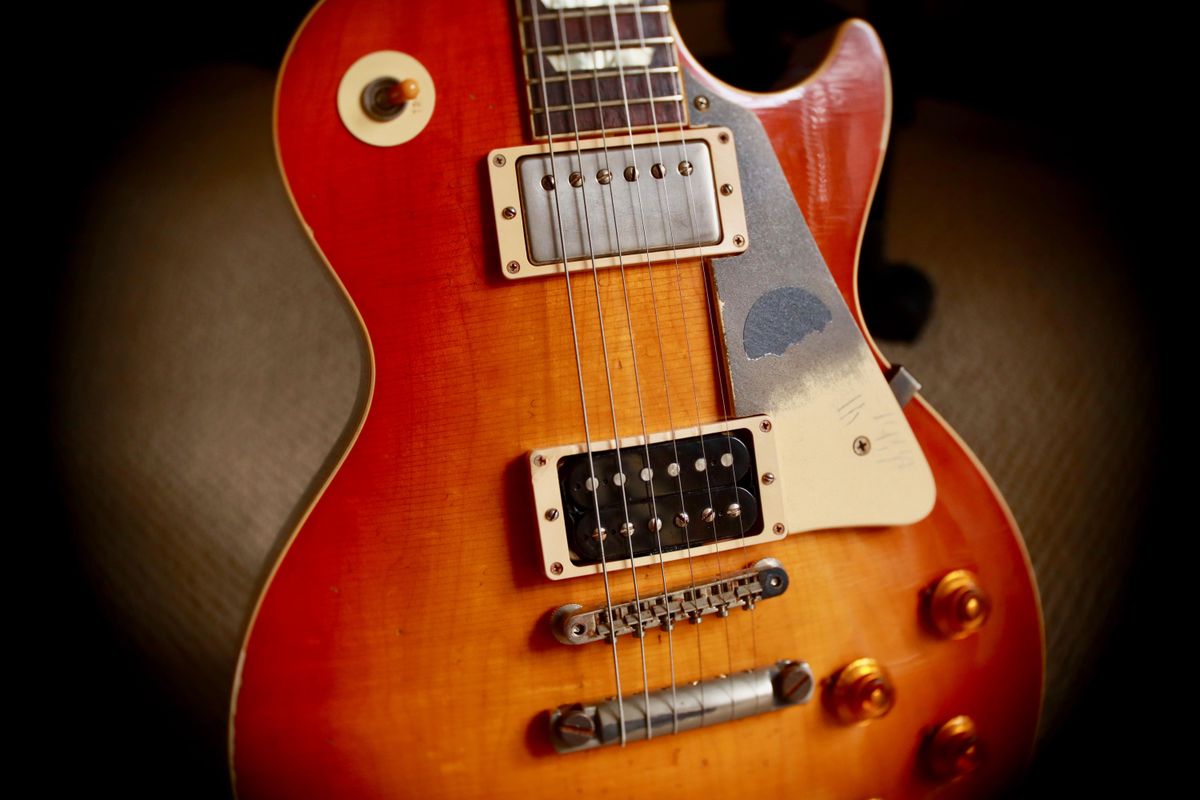 With 21 switchable sounds, this mod can turn any LP-style guitar into a veritable tone monster.
If you're ready for a challenging project, I have something special for you. It's a complex and super-flexible wiring scheme for guitars equipped with a pair of 4-conductor humbuckers that are each connected to a set of volume and tone controls. This has become a famous
Les Paul
mod and, in this context, it's widely known as the "Jimmy Page" wiring. But again, it's not limited to a Les Paul. As long as you have the requisite humbuckers with individual controls, you're in.
---
Essentially, here's what's happening with this mod: It lets you split both humbuckers into single-coils and also lets you access series/parallel and out-of-phase options when both pickups are engaged. (Remember, a minimum of two pickups is required for either in/out of phase or series/parallel switching.) The mod offers 21 different tones—10 of them hum-cancelling. That's a lot of sonic options! However, you have to be ready to put in a lot of work to benefit from this wiring. Are you game?
Let's review the price of admission: Both humbuckers must have 4-conductor wiring—this mod won't work with traditional 2-conductor wiring. If you have modern 4-conductor humbuckers, you're set, but if you have stock PAF-style humbuckers in your guitar, you have to take action. Of course, the simplest option is to swap them out. Pickup manufacturers often offer the same model in either 2- or 4-conductor versions, so if you like the sound of what's already in your instrument, but simply want a 4-conductor edition, you might be in luck.
Alternatively, if you really want to keep your stock PAFs because you love their tone and response, you'll need to convert them into 4-conductor pickups. This is a difficult job and it's easy to destroy a pickup while attempting it. I strongly recommend hiring someone who has the skills, tools, and nerves for it—a pickup maker or an experienced guitar tech.
A tip for avid modders: When buying new humbuckers that come with either 2- or 4-conductor wiring, consider choosing the 4-conductor version. Even if you don't have immediate plans to tinker with phase or coil-split switches, you'll have the potential to do so in the future. It's always better to have this option and not need it, than need it and not have it.
Both humbuckers must have 4-conductor wiring. This mod won't work with traditional 2-conductor wiring.
You also need two single-pole, single-throw (SPST) switches for coil-splitting the two humbuckers, and two double-pole, double-throw (DPDT) switches for series/parallel and out-of-phase switching.
In terms of switch design, you can either replace the standard volume and tone controls with push/pull or push/push pots, or add mini-toggle switches—assuming you have enough room for them. It's a challenge to add mini-toggle switches to a standard Les Paul because of its thick top, as well as the limited space in the control area. Although you might be tempted to drill holes in the control cavity backplate to house the mini-toggles, it will be hard not to accidentally engage the switches while playing. Furthermore, reaching for switches on the back of the guitar to dial in a specific tone will be frustrating.
For Les Pauls and similar guitars, the most reasonable switching solution is to replace all four stock controls with push/pull or push/push pots. Such pots are typically equipped with a DPDT switch and that's perfect for this mod. For the two coil-splitting SPST switches, you'd simply use one half of the switch and leave the other half unconnected. Another huge benefit of this approach is that your guitar's visual appearance remains unaffected.
This mod will be expensive, if you end up purchasing two 4-conductor humbuckers and four push/pull or push/push pots. So take a deep breath and think twice before spending your hard-earned cash. Do you really need all these tonal possibilities? If the answer is yes, I'll show you how to do it right.
You can find countless drawings and schematics for this mod on the internet. Some of them work, while others don't. But they all share one disadvantage: With the series/parallel switch set to series and the 3-way pickup selector in the neck position, the guitar will be silent. Some players get used to this and simply avoid this switching configuration or use it as a kind of kill switch when not playing. However, most players will be annoyed by this "dead zone," so let's see if we can solve that problem.
Fig. 1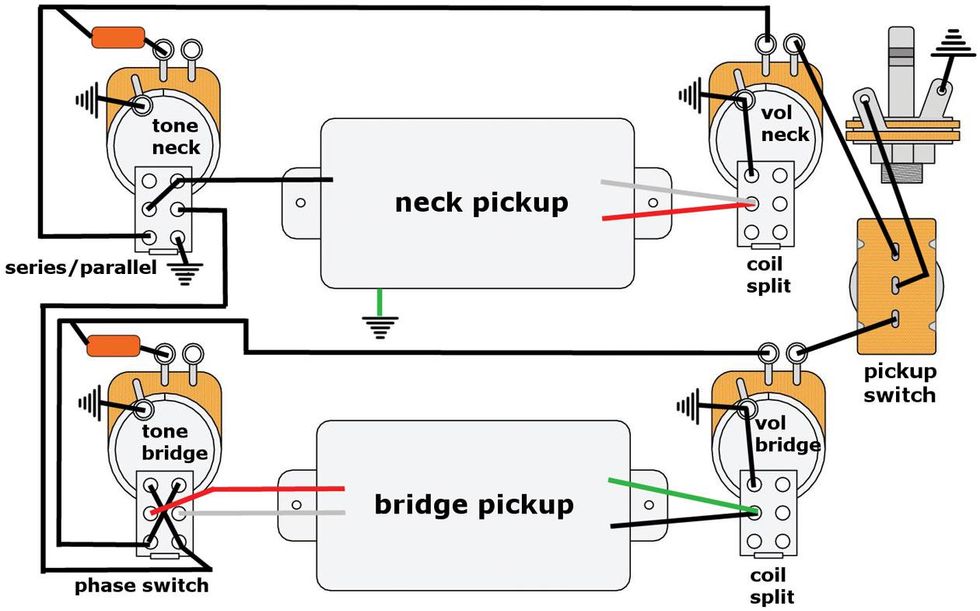 Fig. 1 — This "Jimmy Page" dual-humbucker wiring has enhanced hum-cancelling functions and eliminates the dead zone that plagues other versions.
Schematic courtesy of singlecoil.com
As usual, I'm following the Seymour Duncan color-code scheme for the wiring (Fig. 1). If you use pickups from a different company, you can easily adapt this schematic by using one of the color-code transfer charts you'll find on the internet. All you need to do is determine which colored wire from your pickup replaces a given color in the drawing. (We've discussed this before, so I won't repeat my rant about lack of standardization in the pickup world.)
All right—we're almost there. Compared to the drawings on the internet, this schematic contains two important modifications:
With the series/parallel switch set to series, there's no longer a dead spot when the pickup selector is in the neck position. With the pickup selector in the up and middle positions, only the neck pickup is active. When the pickup selector is in the down position, both pickups are active in series.
The wiring is slightly modified to enhance the hum-cancelling option, which is now active whenever both single-coils are chosen.
Okay, now you're ready to study the new, enhanced schematic for the Jimmy Page wiring. Take your time. We don't actually know if Pagey has some of his guitars wired this way, but who cares? It's a cool mod that's perfect for tone-tweakers of all musical persuasions.
Next month we'll explore more pickup parameters by taking a close look at inductance, resonant peak, and quality factor, aka Q. Until then ... keep on modding!