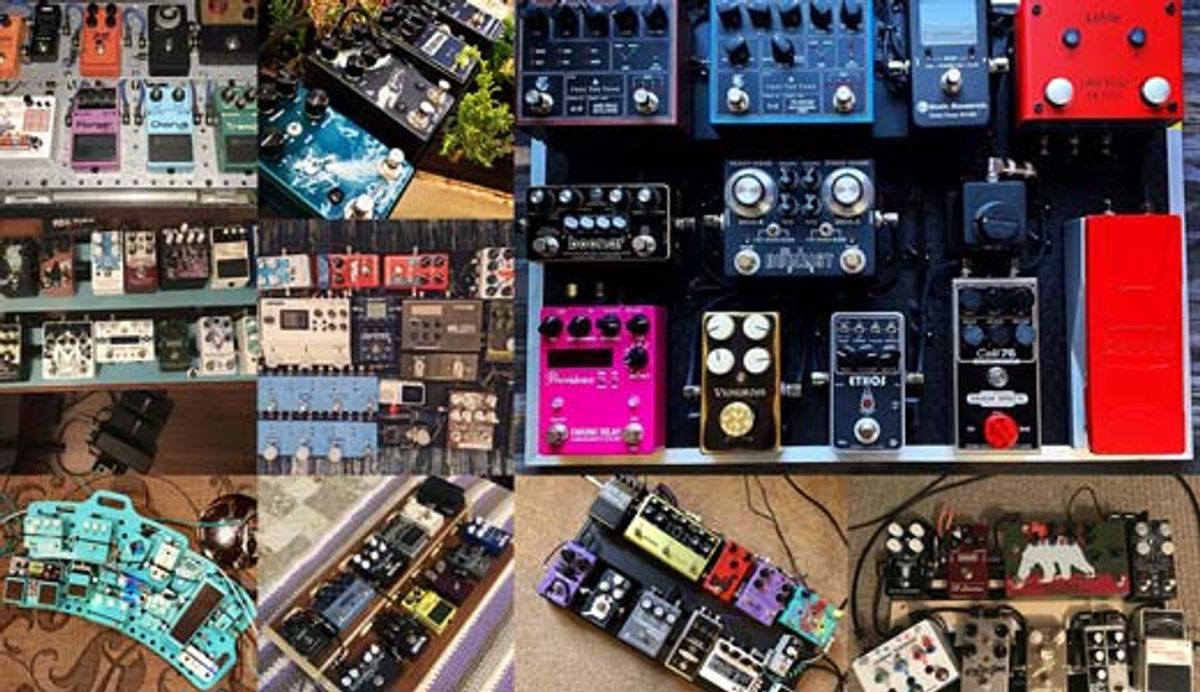 PG's axe-wielding disciples show us their personal pedal masterpieces.
This year, PG received more pedalboard submissions from readers than any previous year, which makes us very happy. If you're discerning and passionate about your effects, you've come to the right place.
---
Discovery awaits! Learn how a San Diego guitarist maximizes his sonic reach while doing the heavy lifting in a duo with only six effects at his feet. Have you ever heard of a condition called synesthesia? One reader explains how his unique sensory interpretation causes him to experience his pedalboard differently from most. A deployed military serviceman spent his days dreaming of the stomp station he'd build when he returned home. Thankfully, he got his chance to build it.
Some players take a less-is-more approach, while others delight in having an outrageous bevy of options. Size doesn't matter, friends: The magic is in the details. Step on and bask in the craft of the pedalboard.
Arturo Alvarez: Small and Succulent
Regards from Guadalajara, Mexico! I switched to a mini pedalboard about a year ago. It has only the stompboxes I really need to perform with my band. From left to right: Walrus Audio Fathom Multi-Function Reverb, Walrus Audio ARP-87 Multi-Function Delay, Friedman BE-OD, Demeter DRV-1 Over Driveulator, CKK Electronics Gears Compressor.

Alex Rivera: Where the Magic Happens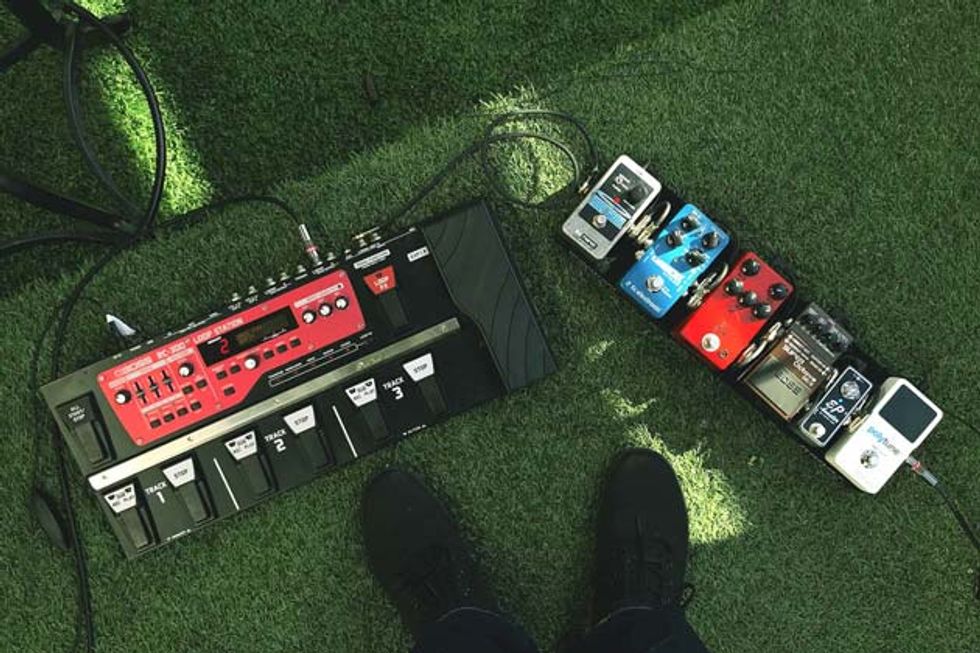 I use this setup when performing in a duo in San Diego, California, covering diverse genres from Amy Winehouse to Al Green to Dr. Dre.

The TC Electronic PolyTune 3 is amazingly accurate and fast. The Xotic EP Boost gives my single-coils a magical tonal push. It's always on and powered at 18 volts using an Xotic Voltage Doubler. The Boss OC-3 Super Octave is always on in polyphonic mode. It tracks extremely well with chords. The range is set very low, so it only affects certain bass frequencies and doesn't muddy up. Direct level is maxed out, and octave level is set low, so it subtly sits in the back of the mix without drowning out the rest of the sound. It's hard to notice when it's on, but easily noticeable when it's off. JHS Angry Charlie is set at a low-drive level, in overdrive territory. It really makes solos sing with sustain. It has a very amp-like reaction to my playing. I have the TC Electronic Flashback set in tape mode, short delay time, and low level. It adds nice depth and dimension to overdubbed arpeggiated chords, single-picked notes, and solos. The Electro-Harmonix Holy Grail is one of the most natural-sounding reverbs I've played: it's always on around 11 o'clock. These pedals are sitting on a Pedaltrain Nano+ powered by a Truetone 1 SPOT daisy chain and patched together using Lava Mini ELC cables with pancake plugs made by Tight Squeeze Cables. The pancake plugs allow me to use maximum real estate on such a small board.
The pedalboard feeds a Boss RC-300 Loop Station. This is where the magic happens! Playing in a duo, I'm required to fill in most musical frequencies, often beginning a song with a percussive rhythm loop created by muting, plucking, scratching, and smacking my guitar strings. Using multitrack mode on the RC-300, I then overdub bass lines, rhythmic chords, sustained triads, and any other artistic sounds I can create using six strings. I have the expression pedal set to affect the input volume, giving me absolute control of on-the-spot live mixing while performing at the same time—all at the soles of my shoes.
Chris Davenport: Drone Prone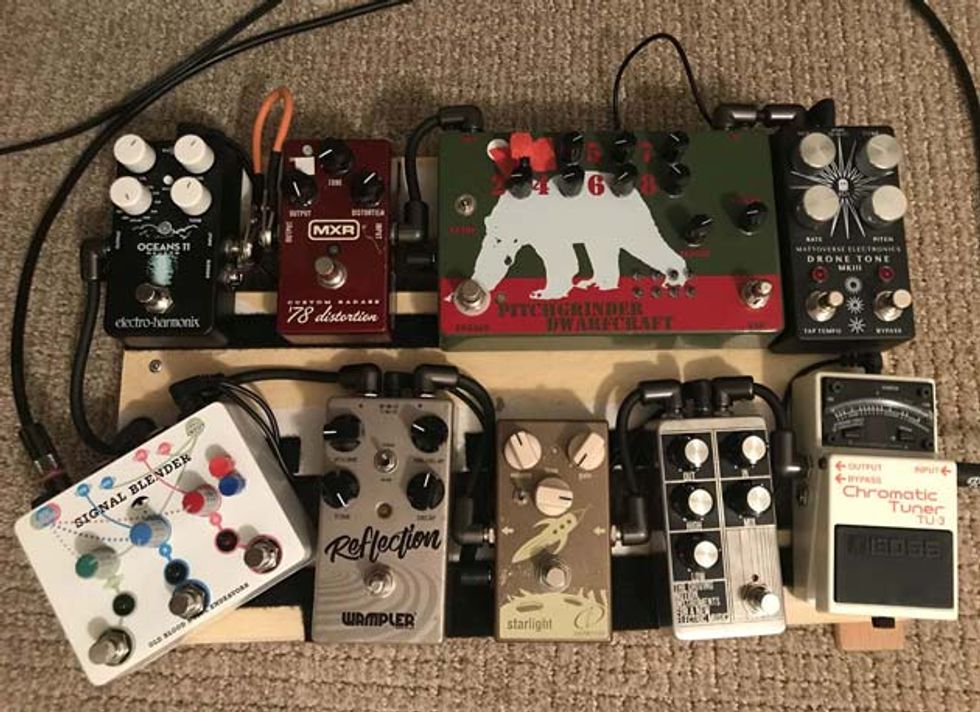 I designed this pedalboard to combine drone-y sounds with my guitar. I use it mostly with our band San Salida. I built the pedalboard itself out of old Ikea furniture.

The top row of pedals is specifically designed to generate drones or pitch sequences. The Mattoverse Drone Tone MKIII generates a single-note square wave, which can be turned into an 8-note sequence by the Dwarfcraft Pitchgrinder. Then the MXR Badass '78 adds distortion and the Electro-Harmonix Oceans 11 adds reverb.
The lower row is for my guitar (G&L Tribute ASAT Classic with a Curtis Novak Gold Foil pickup in the neck position), starting with a Boss TU-3 tuner into an Infanem Driving Notion, Crazy Tube Circuits Starlight, and Wampler Reflection. The guitar path and drone path are mixed with an Old Blood Noise Signal Blender and sent to my amp. Thanks!
Daniel DiMartino: Primary Colors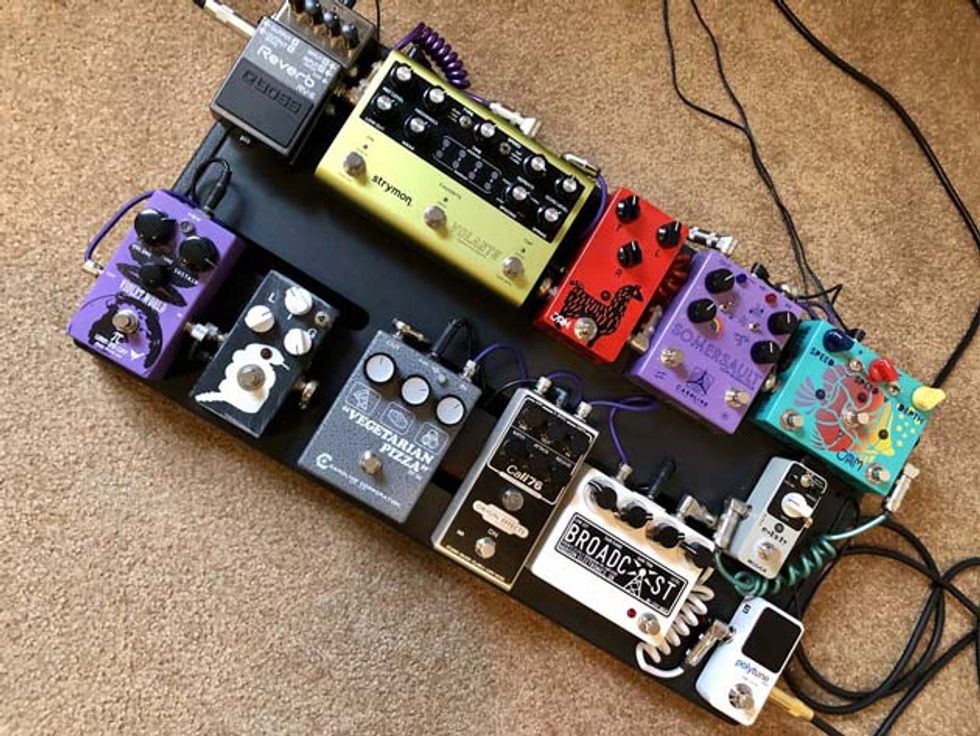 All of my old favorites are mixed in with some really nice new pedals on this board ... lots of special edition and cool colors, too. It sounds amazing. My drive section can get from simple, clean boost to light amp breakup to FuzzFace or RAT or Muff styles. I have all of the modulation I could ever want in my two favorite delays: the JAM Delay Llama and Boss RV-6. I've owned three different versions of the JAM Delay Llama and it's simply the best delay pedal for me.

I play an '84 Rickenbacker 360 and a '62 Tele reissue into a '68 Deluxe Reverb reissue. My signal chain is as follows: TC Electronic PolyTune Mini > Hudson Broadcast > Origin Cali76 Compact Deluxe > Caroline Vegetarian Pizza > JAM Rattler+ > Wren & Cuff Violet World > Mooer Elec. Lady > JAM RipplyFall > Caroline Somersault > JAM Delay Llama > Strymon Volante > Boss RV-6.
David Enríquez: Synesthesia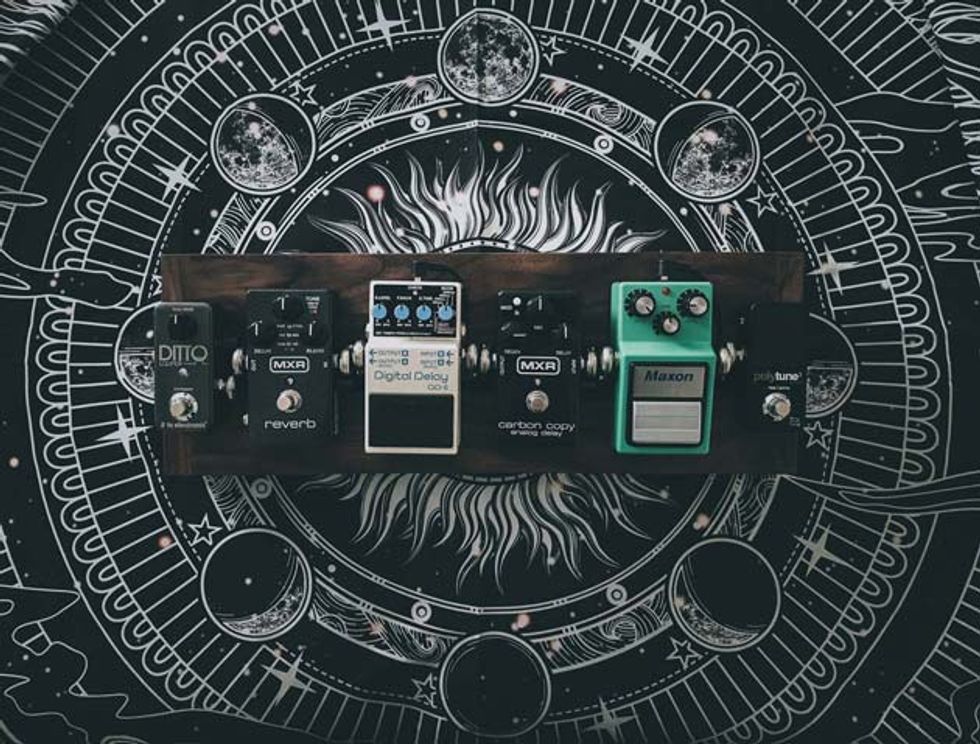 Hello Premier Guitar! This is a pedalboard a friend and I designed together, handmade out of walnut wood. It took us three months to achieve the result we wanted. It was inspired by Instagram posts like yours. We tried to achieve minimalist but classy looks, with compact pedals. When I look at pedals, for me they are like paint. I have a condition called synesthesia, which means I tend to mix senses. For example, for me, music and sound have colors, so I always think of my pedalboard in terms of: My pedals are like my paints and my guitar is like a brush.
Here's the detailed breakdown:

Handmade walnut pedalboard
Tuner: TC Electronic PolyTune 3 Noir Mini
Overdrive: Maxon OD-9
Analog delay: MXR M169 Carbon Copy
Digital delay: Boss DD-6
Reverb: MXR M300 Reverb
Looper: TC Electronic Ditto Looper
Power supply: Voodoo Lab Pedal Power 2 Plus
Cables: MXR 6" patch cables
Jerry Nepomuceno: Satellite Board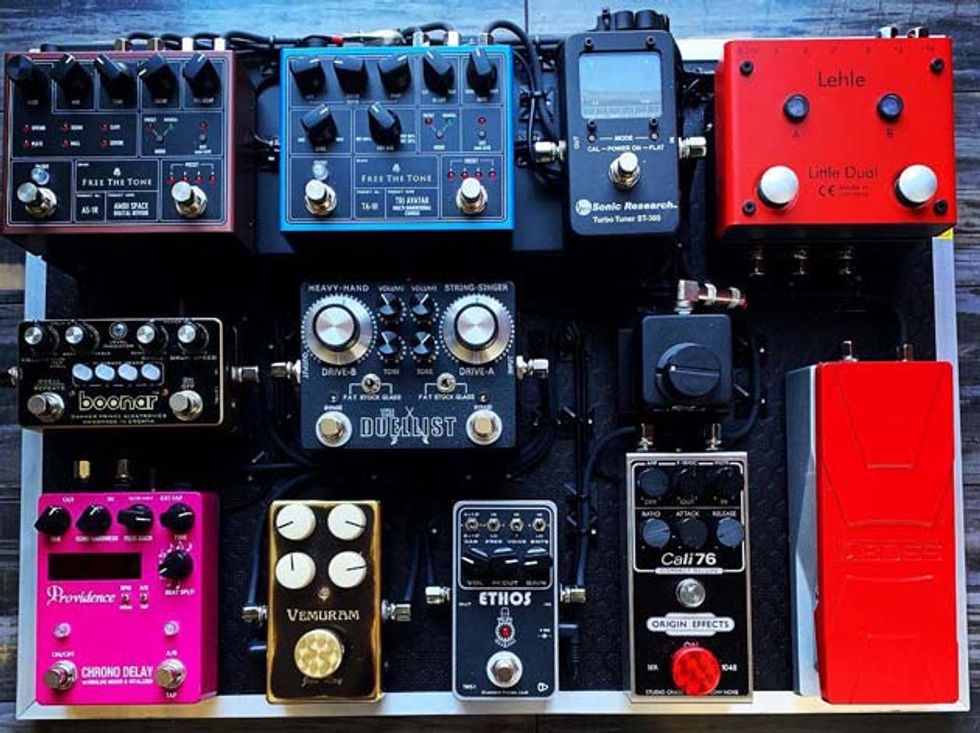 My board gets me through both studio and live gigs. It's portable and versatile, as I can plug in my satellite board when I need it or put it away if I don't. There's an "audition loop" in my interface so I can plug in a modulation pedal post volume pedal if I need to. And the interface has both a 9-volt Tao for powering pedals as well as a 24-volt jack to power the Strymon Ojai R30 on my satellite board. The satellite board can also be used on its own by just connecting the Strymon power transformer to the board. My amps of choice: Two-Rock Studio and Suhr Badger.

Here's my list of pedals: Xotic Wah, Boss EV-30 Expression Pedal, Dry Bell Vibe Machine V-2, King Tone MiniFuzz Si, pedalboard interface (under Lehle), Peterson StroboStomp HD tuner, Origin Cali76 Compact Deluxe, Ethos TWE-1, King Tone The Duellist, Vemuram Jan Ray, Boss FV-30 Volume Pedal, Dawner Prince Boonar, Providence Chrono Delay, Free The Tone TRI Avatar Chorus, Free The Tone Ambi Space Reverb, Lehle Little Dual, three Strymon Ojai R30 Power Supplies, Evidence Audio SIS /Monorail cable kit.
Josh D.: Ambient Playground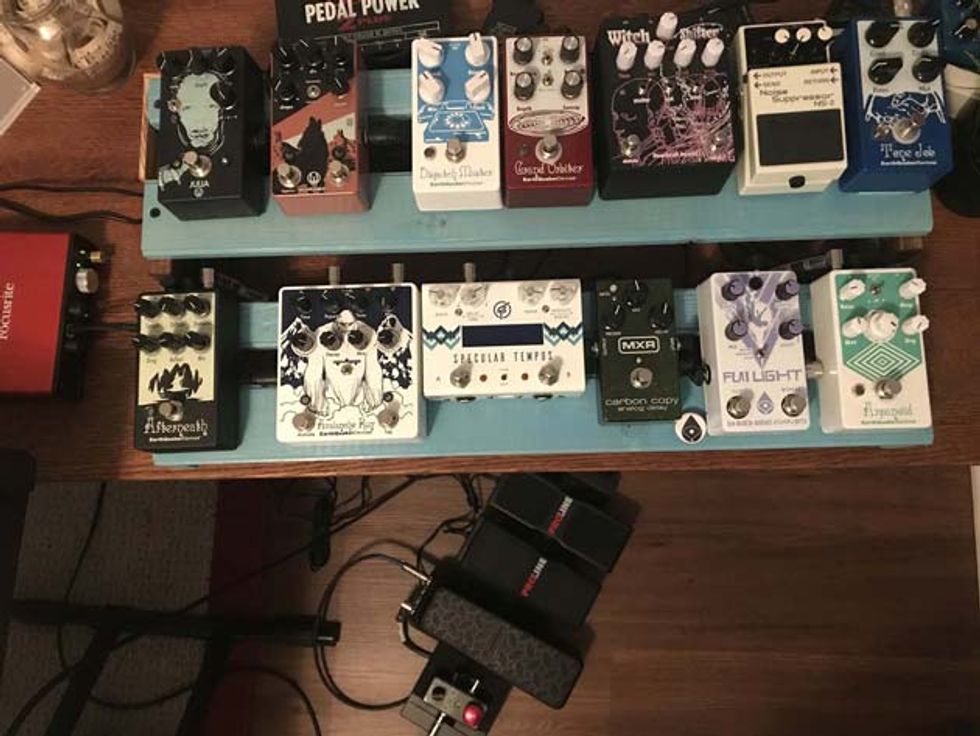 I make music under the name Spieglass in Austin, Texas. It's been an evolving solo project for almost three years, but over the last year it's stayed in the realm of ambient meets post-rock meets orchestral something or other. What I've done with a pedalboard is release six albums in 2019 alone on Bandcamp. So, it's not collecting dust any time soon.

The first thing to note is having my "foot" pedals separate. This is in my home music space, so I have the pedalboard on a chest by my side. Two dedicated expression pedals, a volume, and a looper pedal are on the floor while the effects (signal chain below) are at my reach, since I'm a constant tweaker when recording.
The board itself is a sort of Daphne blue stained wood affair from SoCal Pedalboards (it matches one of my guitars). I don't play live, so while my board is only used for recording, it has still seen its fair share of come's and go's. At the moment, the main idea is to have as many different effects available as possible for inspiration. It took me a while to get into modulation, for example, but since it clicked, I've bought and sold and rented more than I can count.
Another glaring note is the lack of distortion. As an ambient player, I don't use it. I do have a Boss BD-2 off to the side, but it's just for jamming. This is my ambient playground. I hope you like it, and I can't wait to see any submissions you may post.
Signal chain: Dunlop Volume X, TC Electronic Ditto Looper, EarthQuaker Tone Job, Boss NS-2, Dwarfcraft Witch Shifter, EarthQuaker Grand Orbiter, EarthQuaker Dispatch Master, Walrus Audio Monument (with expression), Walrus Audio Julia, EarthQuaker Arpanoid, Old Blood Noise Endeavors Flat Light, MXR Carbon Copy, GFI System Specular Tempus, EarthQuaker Avalanche Run (with expression), EarthQuaker Afterneath.
Kurt Fletcher: The Psychedelic Board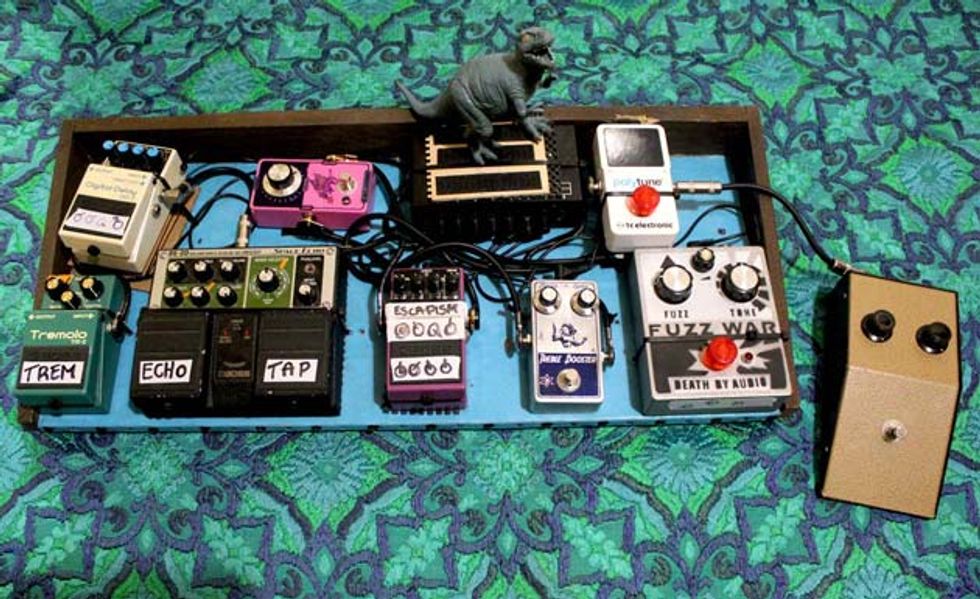 Here's my handmade pedalboard that I use with Raptor, the psychedelic rock band I sing and play guitar for. It's got sides on it to protect it from rowdy beer spills and has seen us through shows opening for Robert Plant (Led Zeppelin), Mick Ralphs (Bad Company), Dr. Feelgood, and the Groundhogs, as well as several U.K. tours. I'm not a fan of subtle effects, so everything is set hard to wildly change the sound of my guitar. Here's the signal chain in order:

1) Handmade "Raptor" fuzz—a pedal I wired myself, which sounds similar to a classic late-'60s fuzz. It's got some knobs off an old Orange amp and I put it in a gigantic box so you can't miss it. This was the main fuzz I used on our Escapism album.
2) TC PolyTune: Simple and a nice big screen to see what's going on when I lose my glasses onstage, which happens pretty often.
3) Death By Audio Fuzz War: Big, beautiful, and beastly. One of my favorite fuzzes.
4) Handmade 8-Bit Dragon Crusher: A lovely pink pedal designed by my brother Adam, who drums for Raptor. Made to crush the hell out of your signal and make lo-fi "Game Boy" sounds.
5) Handmade Ranger Treble Booster: Another pedal built by Adam, styled on a classic Rangemaster boost, which sounds great in front of a distorted amp.
6) Boss BF-3 Flanger: Used for swooshing rocket-ship sounds and wobbly freak-outs.
7) Boss RE-20 Space Echo: We had the privilege of using a real Roland Space Echo in the studio last year, so I picked this up to recreate a lot of the spacey, atmospheric sounds from the album.
8) Boss DD-3 Digital Delay: Another delay set to do long repeats and mad things with. Step on with caution.
9) Boss TR-2 Tremolo: Killer tremolo, set hard to square wave for stuttering intros and sections.
Mau Méndez: Proud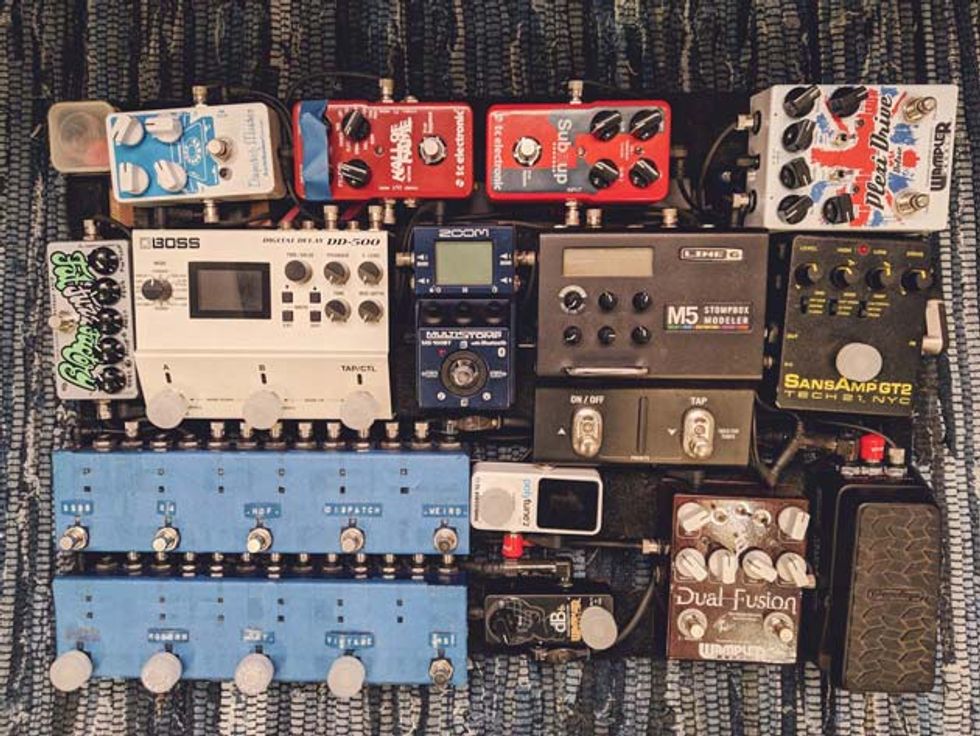 Hello Premier Guitar! I'm sending you a pic of my board because I'm very proud of it. (Who isn't proud of their board?) I'm really happy with this setup. This configuration has been the longest time I've spent without making a change. Not that I don't want to, it's just that I don't really need to. I can cover almost any ground with it. It's been about two or three years since I made a change. That's a lot of time in the pedalboard world. My pedalboard is a Pedaltrain 3. Here is the pedal list, broken down by row.

Top row, from left to right: pick tray, EarthQuaker Dispatch Master, TC Electronic Hall of Fame, TC Electronic Sub 'N' Up, Wampler Plexi Drive Deluxe.
Middle row, from left to right: ZVEX Fat Fuzz Factory, Boss DD-500, Zoom MS 100-BT, Line 6 M5, Tech 21 SansAmp GT2.
Bottom row, from left to right: Pedrone Penta5witch (x2), TC Electronic PolyTune (top), Wampler dB+ (bottom), Wampler Tom Quayle Dual Fusion, Dunlop DVP4 Volume (X) Mini.
Under pedalboard, left to right: Homemade patchbay, Westminster Effects Buffer, Truetone 1 SPOT Pro CS12, Malekko Chicklet, TC Electronic HyperGravity.
I wanted a versatile rig. I love using my amps effects loop, but I don't always get to use my amp live. So, I made a patchbay that would let me connect either in front of an amp or with a four-cable method. All the pedals underneath are always on. Compressor, a touch of spring reverb, and a buffer. The heart of the pedalboard is the switchers. One is for the pedals that go in front of the amp (bottom) and the other for the pedals that go in the loop (top).
The only pedal that's not in the switchers is the Tech 21 SansAmp. My dirt pedals cover a huge range. Tech 21 does the Bassman sound, Plexi Drive does the ... you guessed it, Plexi sound. The Wampler Dual Fusion does my drive and lead sound. I chose two different "Swiss knife" pedals to cover lots of ground: the Line 6 M5 and Zoom multi-stomp. Line 6 covers my synth sounds, filter sounds, and modulation when I want it before my drives. The Zoom does all my modulations and some other weird stuff. My secret weapon is my EarthQuaker Dispatch Master. That pedal is amazing. There's no other pedal that can mimic what it does. I chose the Wampler dB+ Boost/Buffer because with so much cable and switchers, two buffers are needed in this rig. I love your magazine. (Why would I be writing all this if I didn't?) Happy 2020 and cheers from Mexico.
Mojoe Boes: Seafoam Surprise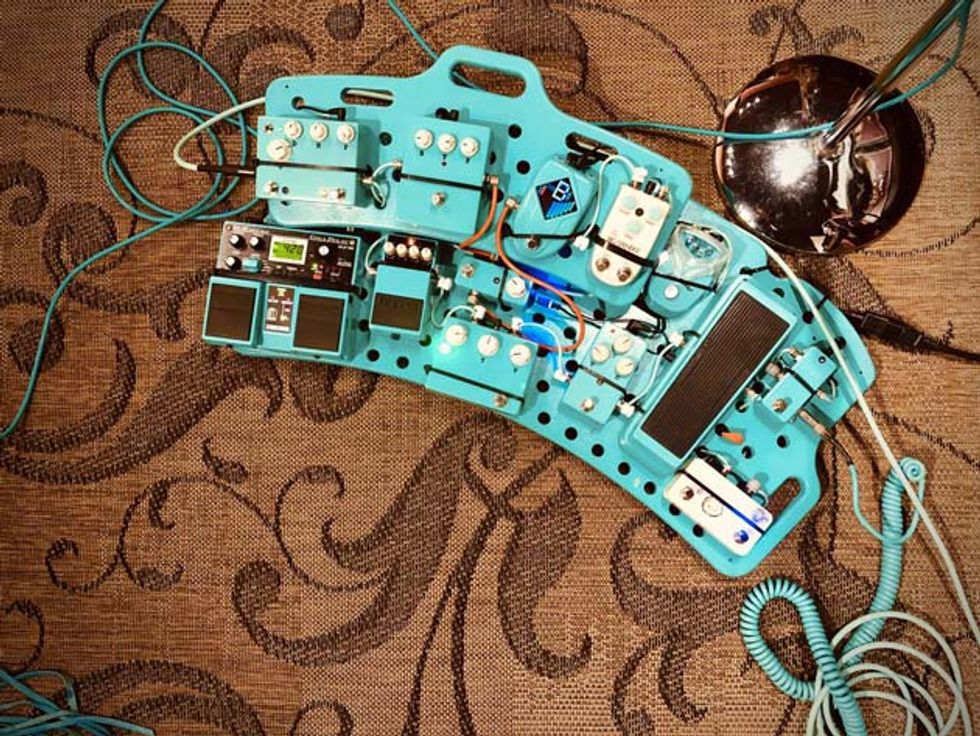 I like seafoam green, and I've acquired a lot of it over the years. I happened to stumble across Glen Wheatley, from Rockin Tones, on Instagram. He built a few pedals on this board and repainted a few as well.

Here they are: Boss DD-20 (repainted), Rockin Tones Tremoverb, Boss CS-1 (repainted), Electro-Harmonix #1 Echo Digital Delay (repainted), Rockin Tones Klone, Rockin Tones Dirty Boost, Snark tuner (repainted), Rockin Tones Rat MKlll, Danelectro Big Spender Spinning Speaker, Danelectro French Toast Octave Distortion, Dunlop EVH Wah (repainted), Lovepedal Tchula, Rockin Tones Bypass Loop, seafoam Holeyboard pedalboard, Truetone 1 SPOT Pro CS12, Lava and Covenant cables.
Nagui "Louis" Yassa: Vibin' on Strymon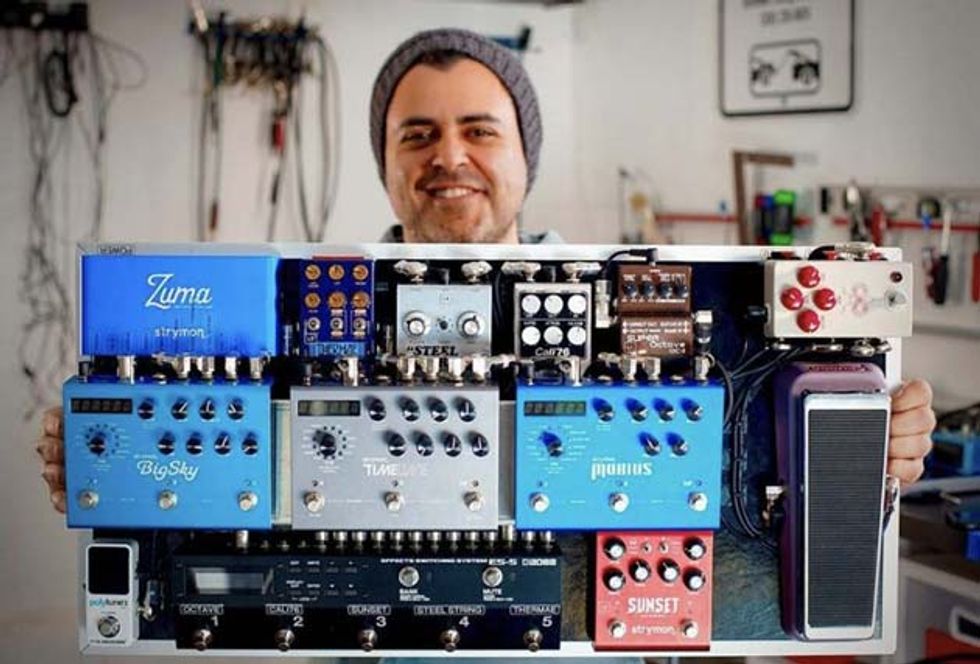 I'm based in San Francisco, California, and am the founder of the Missing Head (@themissinghead). I use this stereo pedalboard live and in the studio, both for guitar and bass (especially the Origin Cali76 Compact Deluxe and the Vertex Steel String, which sound great plugged straight into the desk). The board fits nicely in a padded Pelican case. One single power cable to power the whole board, no BS, tons of combination!

These are my pedals: Boss ES-8 switcher, Strymon Zuma, Strymon TimeLine, Strymon Mobius, Strymon BigSky, Strymon Sunset, Chase Bliss Thermae, Boss OC-3 Super Octave, JHS Pollinator Fuzz V2, Vertex Steel String, Origin Cali76 Compact Deluxe, Buddha Wah, TC Electronic PolyTune 2.
Richard Stevens: Old Meets New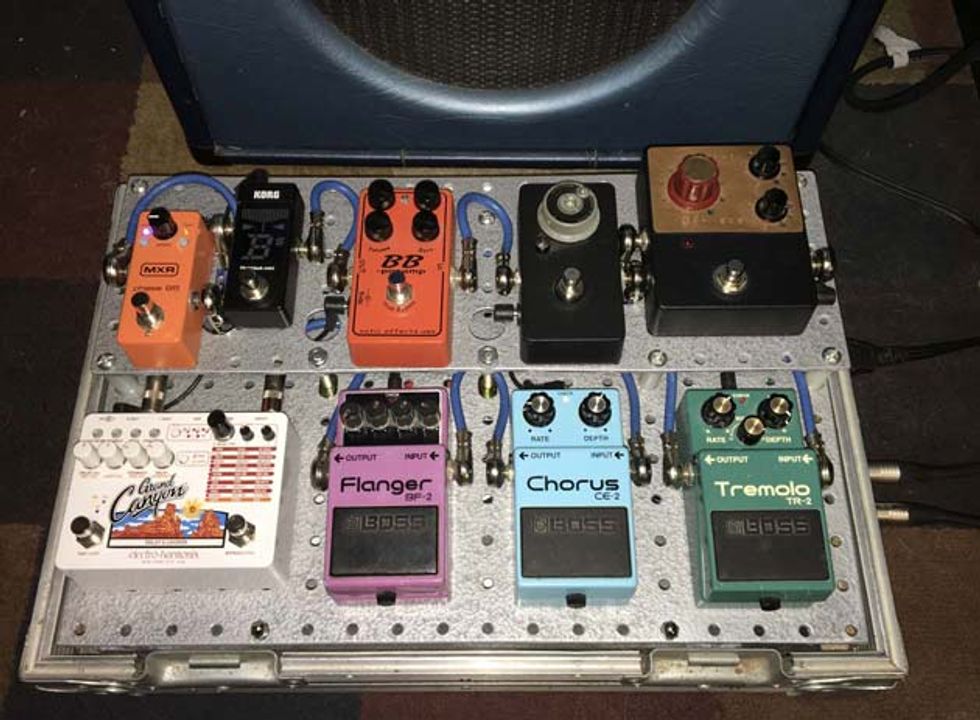 The flight-case-style housing and a few of the pedals have been with me since the '80s. External connections for power and audio mean I don't have to take the beer-proof lid off until right before show time.

The guts have evolved over the years from a DIY power supply to the Voodoo Labs Pedal Power 2+ that's presently hidden under the deck. Early versions of this board had only five Boss pedals. GAS induced by the stompbox explosion of the early 21st century (and internet coverage thereof) prompted me to add the upper deck around 2010 to make room for more. I had to make a few compromises in layout just to squeeze them all in, but it works well and sounds great. In order of signal flow, they are:

1. DIY Triangle Muff clone
2. DIY Alembic Stratoblaster
3. Xotic BB Preamp
4. Korg Pitchblack Mini
5. MXR Phase 95
6. Boss CE-2 Chorus
7. Boss BF-2 Flanger
8. Electro-Harmonix Grand Canyon Delay
9. Boss TR-2 Tremolo
It's a mix of new tech and '80s nostalgia. My old college bar band gets together for reunion shows every few years (last year was our 35th), and playing the old tunes just wouldn't be the same without the old board.
Ryan Chamblee: Hoarder Board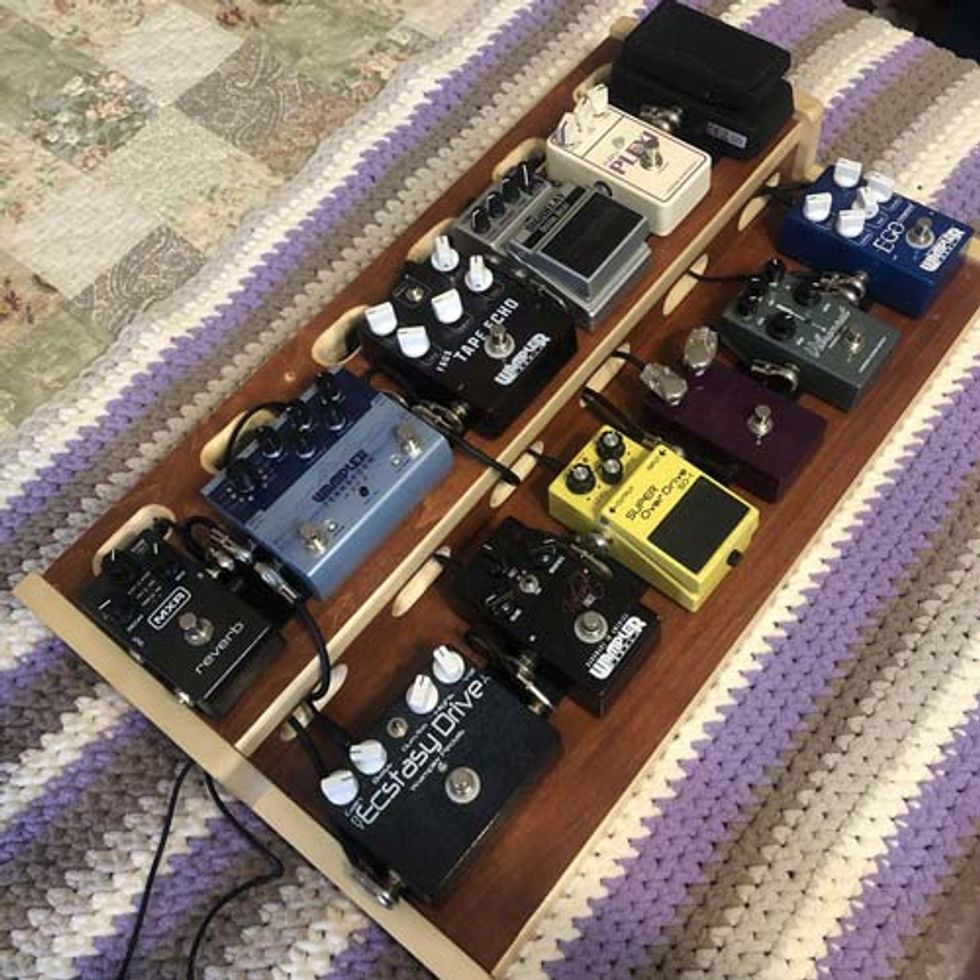 I had a few pedals, but after acquiring my first tube amp I started selling some old rack gear to fund pedals to pair with my amp. I continued buying used pedals when a good deal came along that I could sell for a profit and upgrade if I wanted.

After a of couple years, I had a good collection and designed my board using drafting software while on my lunch breaks at work (I'm an engineer). My dad has a small wood shop and found a piece of wood that was the right size for the board, which we built during a couple of visits to his shop. This is the latest pedal layout.
Pedal chain: Dunlop Cry Baby Mini Wah, Wampler Ego Compressor, Lovepedal Vibronaut, Lovepedal Believe, Wampler Terraform pre-out (auto wah, flanger, phaser, u-vibe, envelope filter), Boss SD-1, Wampler Velvet Fuzz, Wampler Ecstasy Drive, Lovepedal Purple Plexi, DigiTech DigiDelay, Wampler Faux Tape Echo, Wampler Terraform post-out (rotary, auto swell, tremolo, harmonic tremolo, dimension, chorus), MXR M300 Reverb.
Note: I use an Ibanez TSA15H tube head, which has a built-in Tube Screamer. I can use the amp's effects loop to place the board after the Tube Screamer circuit and before the preamp to add a Tube Screamer to the front of my signal chain.
Steve McGill: Deployment Daydream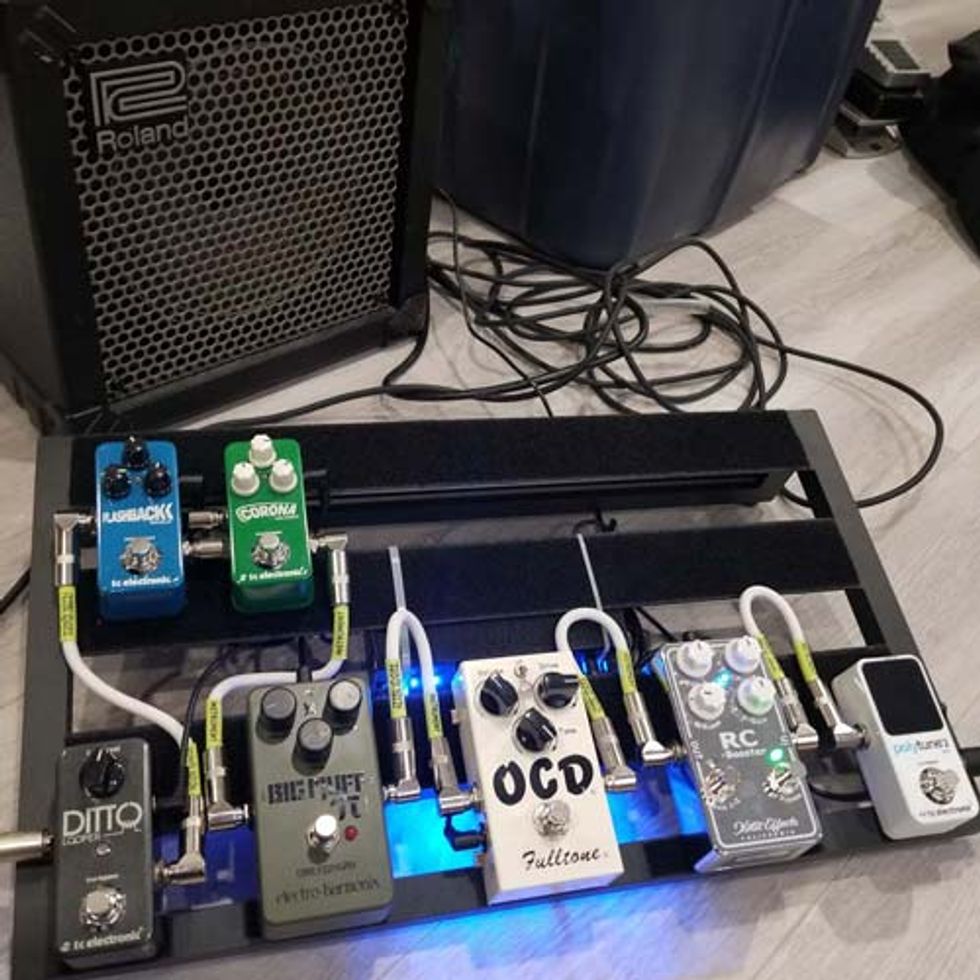 Hey folks! I just spent the last summer deployed, as I'm in the military. On those long, hot summer days of 130 degrees, I cleared my mind by dreaming of which additions I'd add to my pedalboard to complete "my" tone. I ordered all the pieces while I was overseas, and they were waiting for me when I got home. My first idea was that I must have the Xotic RC Booster, and it didn't disappoint. Followed by the Corona Chorus and Flashback Delay by TC Electronic. TC's Tone Print tech is insane! The other pedals I chose are a TC Electronic PolyTune 2 tuner, Fulltone OCD, Electro-Harmonix Green Russian Big Muff, and a TC Electronic Ditto Looper. Under the board is a Donner isolated power supply. As you can see, there's room on the board for growth. I'm not sure what will be next, but I'd love to afford a Strymon TimeLine. I had a lot of fun building it all and even more fun using it. #tonefordays. Guitar for life!

Trey Wolfe: Brooklyn Board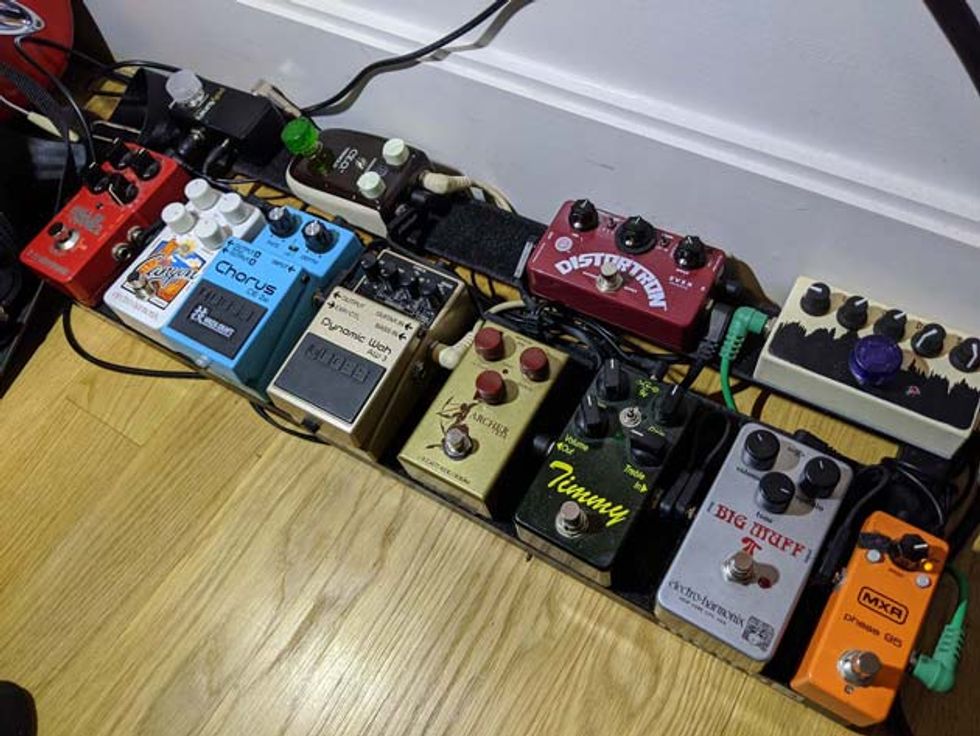 I'm a guitarist and guitar salesman living in Brooklyn, New York. When you live in a big city, you almost never bring an amp to a gig. This is for several reasons, but mostly because most of us don't have cars. So, you need pedals you can rely on to give you everything you need. Sometimes you get to a gig and it's a Twin Reverb. Sometimes it's a 1998 Crate solid-state amp with no reverb, or a keyboard amp, or a bass amp. You need to be able to make anything sound great in the time it takes to set up between sets. Never a soundcheck.

For me that's a solid reverb pedal and one dirt pedal that has enough character to make anything sound like a real amp. My dirt of choice is a ZVEX Distortron. It stays on pretty much all the time, gain set to low. Everything else is icing, but I totally need all of it.
Signal flow: No Name Fuzz Factory Clone, MXR Phase 95, Electro-Harmonix Ram's Head Big Muff Pi, Paul Cochrane Timmy (yes, it's green and yellow), ZVEX Distortron, J. Rockett Archer Ikon, Danelectro CEO Tremolo, Boss AW-3 Dynamic Wah, Boss CE-2W, Electro-Harmonix Canyon, TC Electronic Hall of Fame 2 Reverb, TC Electronic PolyTune Mini. I'm using the new MXR Mini Iso-Brick to power it up. Feast your eyes! Enjoy!