Your Pedalboards 2020: Part Deux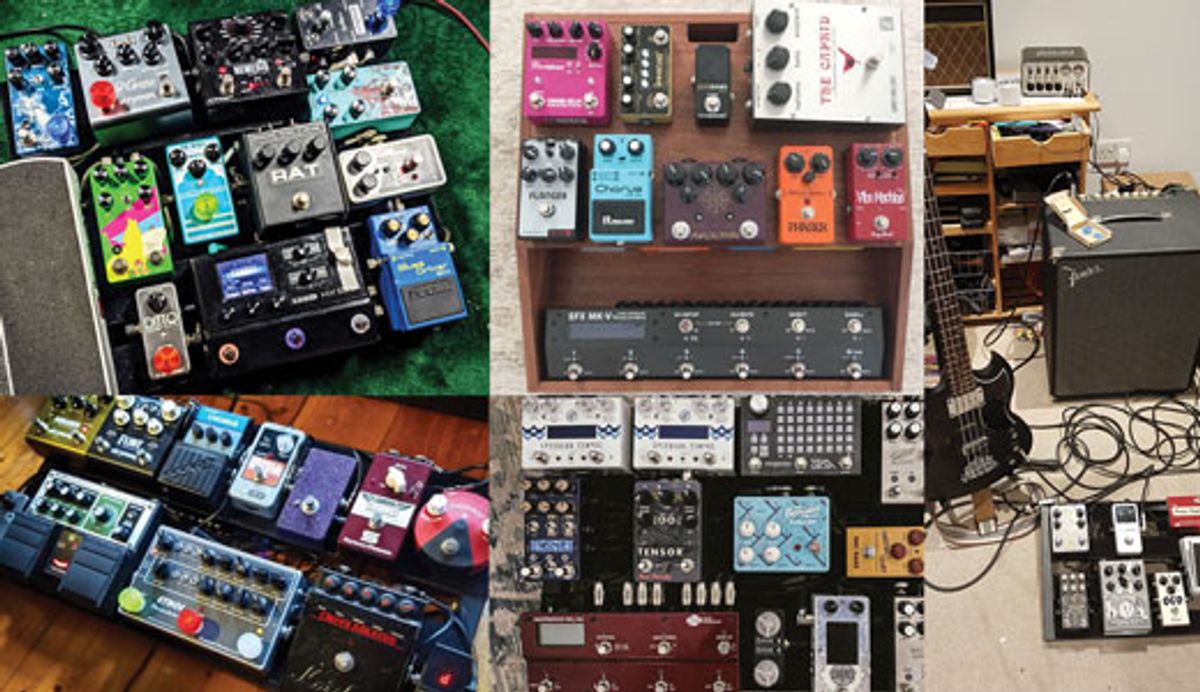 We received so many submissions from readers, we had to do a round two. PG's axe-wielding disciples show us their personal pedal masterpieces.
1. Adam Kingsley: Monochromatic Filth Machine
This is my bass board. It started off as a an Electro-Harmonix Bass Big Muff and a Korg Pitchblack tuner, and over the years has morphed into this monochromatic filth machine (unintentional, but glorious). I play a Gibson SG bass through this into a Fender Rumble V3 500-watt amp (the combo with 2x10 speakers).
This is the signal chain: TC Electronic PolyTune 3, Dunlop Cry Baby Mini Bass Wah, Fulltone OCD V2, Stone Deaf Fig Fumb, Chase Bliss Warped Vinyl Analog Chorus/Vibrato, Caroline Guitar Company Kilobyte Lo-Fi Delay. It's powered by a T-Rex Fuel Tank Junior.
You can hear some of these in action in my current band, Muscle Vest, and my old band, Thunder on the Left.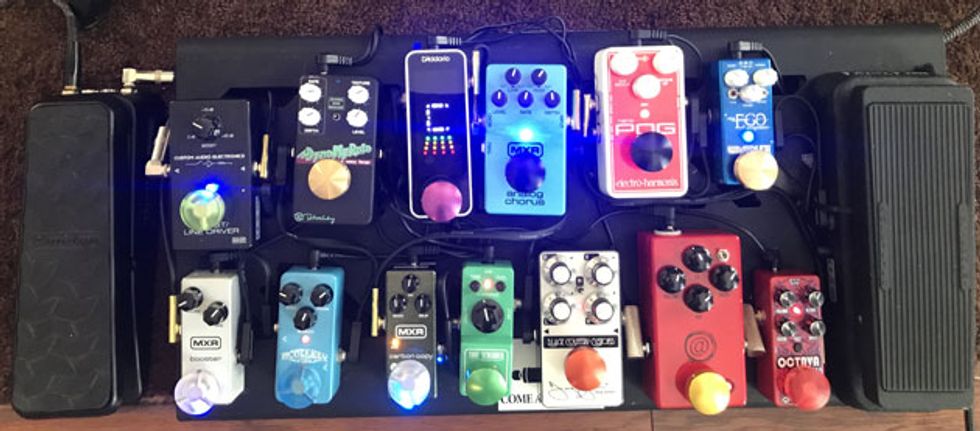 2. Ben Jacobs: Technicolored Targets
Here's my current big board. I also run a small one with only a Boss Blues Driver, Danelectro delay/chorus, and a Dunlop Octavio for most occasions. However, this big board is the possession I'd run into a house fire to retrieve. It just makes me play better!
I'm a Texan (Houston) and I wear boots most of the time. Not really boots conducive to pinpoint accurate pedal stomping, so the knobs give me a bigger target, and also allow me to color coordinate. When playing with a set list, I keep markers in my bag, so I'll make a mark by the tune for what effects I typically use (gold for high overdrive, green for delay, etc.).
My pedals are, in order of signal chain:
1. Dunlop Clyde McCoy Cry Baby Wah
2. Wampler Ego Compressor
3. Electro-Harmonix Micro POG
4. MXR Analog Chorus
5. D'Addario tuner
6. Pigtronix Octava
7. JHS AT+ Andy Timmons Signature Overdrive
8. Laney Black Country Customs Tony Iommi Boost
9. Ibanez Tube Screamer Mini
10. MXR Carbon Copy
11. Keeley Dyno My Roto (used as Leslie simulator)
12. NUX Monterey Vibe
13. MXR Booster
14. MXR CAE Boost/Line Driver
15. Dunlop volume pedal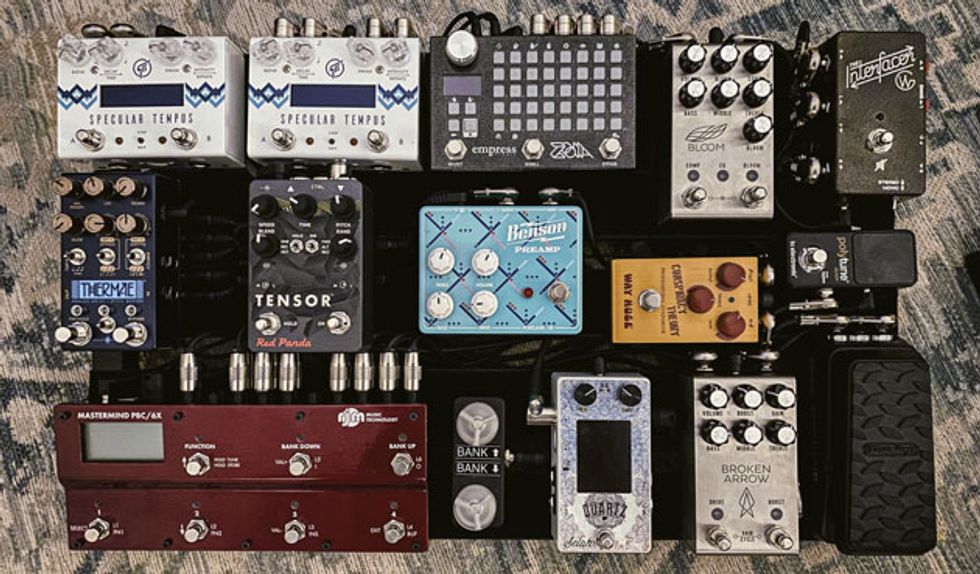 3. Bradford Mitchell: Linear Loops
I'm a worship leader based in North Carolina. Here's the signal chain to my pedalboard, which is a Pedaltrain Novo 24:
First, I have a Goodwood Interfacer out to a TC Electronic PolyTune Noir, to a Jackson Audio Bloom, which then hits the RJM PBC/6X.
Loop 1: Benson Preamp
Loop 2: Way Huge Conspiracy Theory
Loop 3: Jackson Audio Broken Arrow (boost is TRS-controllable with a button I set up on the RJM PBC/6X)
Loop 4: –empty–
Dunlop volume pedal in the insert loop.
Loop 5: Stereo loop split in two. One side is the Red Panda Tensor and the other is the Chase Bliss Thermae.
Loop 6: Empress ZOIA in stereo (I have another button on the RJM PBC set to give me instant access to a ramping speed tremolo sound from the ZOIA.)
Stereo out of the PBC to two GFI Specular Tempus pedals. I use one for delay and one for reverb.
Return to the Goodwood Interfacer.
Selah Quartz is a MIDI box for the Thermae, and I prefer to handle tempo that way.
It's all powered with two Strymon Ojais and wired up with Sinasoid cables.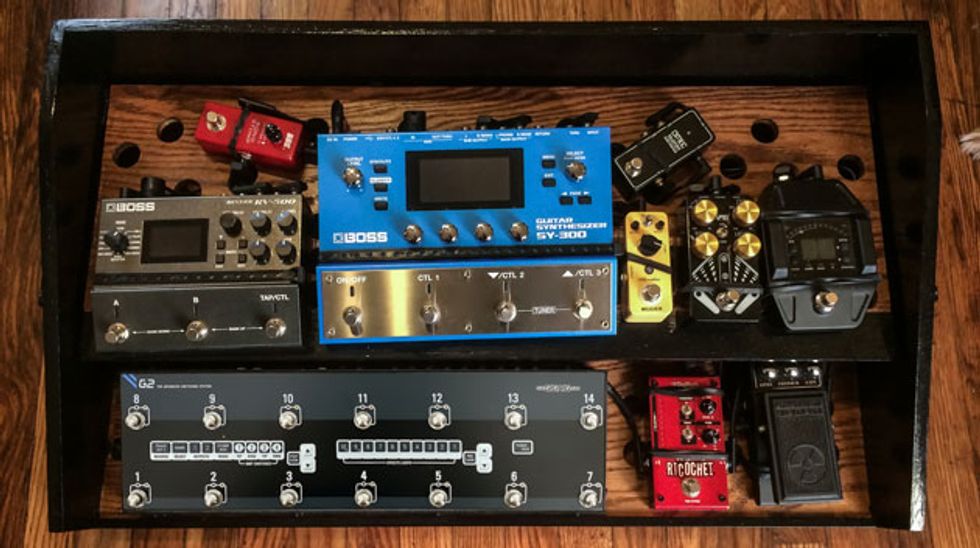 4. Dale Atkinson: No Velcro Please
I live in Johnson City, Tennessee, and use this board in my band, Decade of Deceit. It was custom-made by me and has a flip-up top panel that hides a Truetone 1 Spot power supply, all of the cables, connections, and a vintage Japanese Boss HM-2. The front row features a Plutoneium Chi-Wah-Wah, a DigiTech Whammy Ricochet, and a GigRig G2 controller. The top row has a Shure wireless unit, VFE Pinball EQ, Mooer Acoustikar, OMEC Teleport, Boss SY-300, and a Boss RV-500 and BBE MS-92 Mini Sonic Stomp, both of which go through the effects loop of a Kruse-modded Marshall JVM410HJS. The side has a Rockboard Patchbay installed for easy hook-up. I'm not a fan of Velcro, so I found a solution with special band ties that are easily moveable that keep the standard-sized and mini pedals secure. It looks like a lot for a pedalboard, but I wanted the versatility to basically create any sound to cover clean, distorted, and acoustic guitar sounds as well as keys, synth, organ, or other parts whenever necessary and to create new sounds and textures.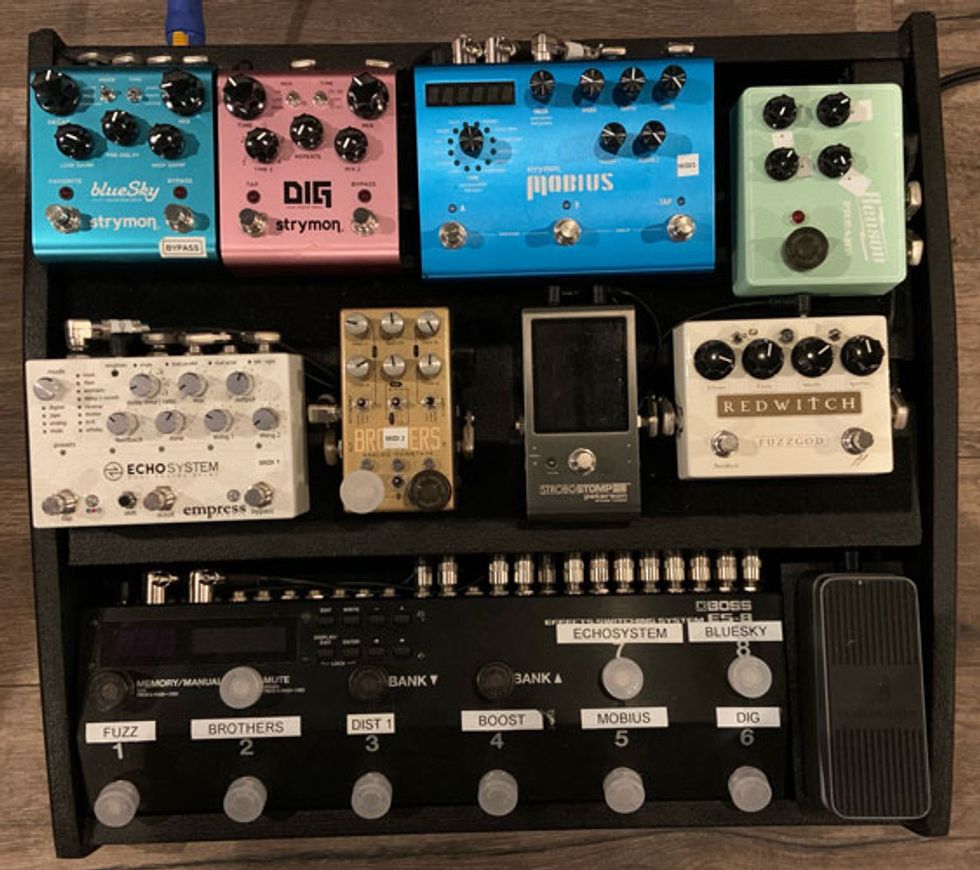 5. Dan Brodbeck: Honing Tone
I made my pedalboard from scratch using a Schmidt Array board as inspiration. There's also a Radial StageBug in there, when using two amps, to eliminate ground loops. After seven years of using a Kemper Profiler, I rediscovered tube amps and pedals to really hone-in on my own tone. The board is mainly used in the studio into a Victory V40 Deluxe and a Fuchs ODS 50.
Pedals on the top deck: Benson Preamp, Peterson StroboStomp, Empress Echosystem, Chase Bliss Brothers, Strymon Mobius, Strymon DIG, Strymon blueSky, Red Witch Fuzz God, Boss ES-8 Switching System.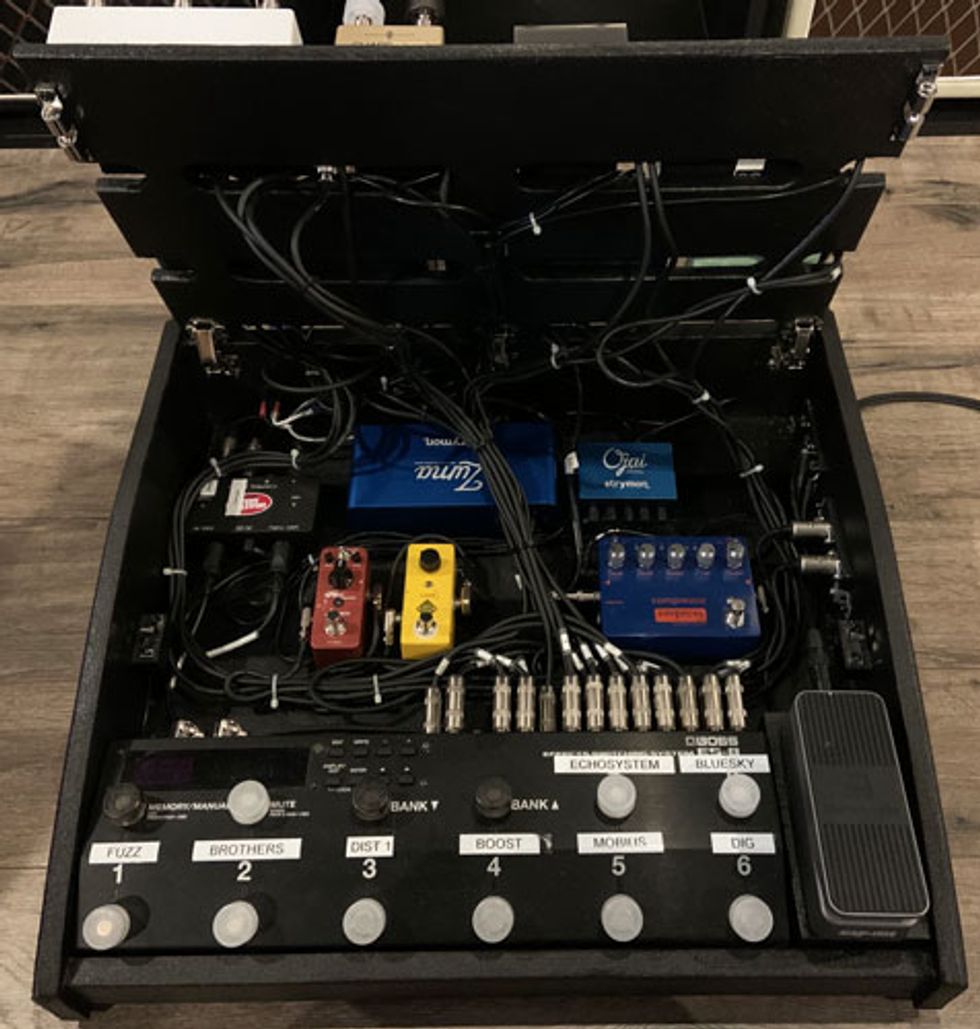 5. Dan Brodbeck: Honing Tone
Pedals in the bottom deck: Empress Compressor, Donner Morpher Distortion, custom clean gain.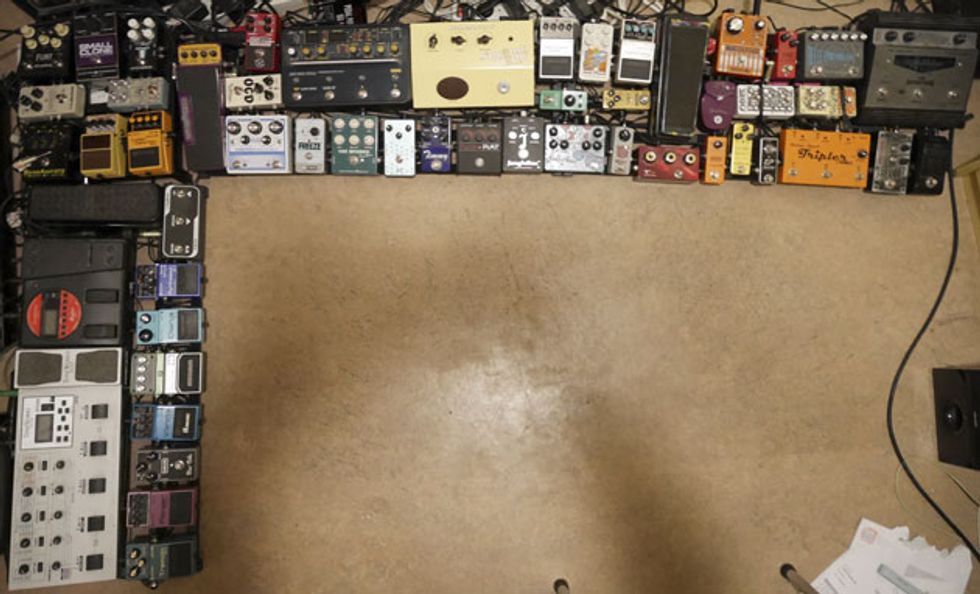 6. Gustav Nilsson: The Biggest Board of the Year
I'm from Stockholm, Sweden, and this is my "more is more" pedalboard, with 53 pedals. I tried my best to get everything in focus, but the board is so big that it got a bit troublesome. The boards are built by my father (he's a blacksmith), who forged together pipes from my sketches and painted them black. This is what I use at home with four different amps. Of course, it's impossible to bring the board to gigs, so then I have to choose the most necessary ones for the gig and fill a smaller board with them. Power is provided by a Cioks Pussy Power, Voodoo Lab Pedal Power ISO-5, Voodoo Lab Pedal Power 2 Plus, Decibel Eleven Hot Stone Deluxe, and a Cioks TC10 (and some pedals also have their own power supplies).
Here's the order: Black Cat Monster K-Fuzz, Jam Pedals Wahcko Wah, Keeley Monterey, Analogman Beano Boost, Lehle Sunday Driver buffer (placed under the board), Korg Pitchblack tuner, DigiTech FreqOut, Morley George Lynch Tripler. The Tripler sends to three different chains.
Chain 1: Korg AX1G, Korg AX100G, amp.
Chain 2: DigiTech Jimi Hendrix Experience Pedal, amp.
Chain 3: MXR Dyna Comp Mini, Danelectro French Fries Auto Wah, Xotic EP Booster, One Control Lemon Yellow Compressor, MXR Phase 95, Toneworks AX1000G, Wampler Tumnus, Ibanez Mini Tube Screamer, JangleBox, Pro Co Turbo RAT, Paul Cochrane Timmy, One Control Baby Blue, Olsson Amps The Wizard OD, Fulltone OCD, Boss DS-2, Boss FBM-1, Tech 21 SansAmp GT2, Electro-Harmonix Small Clone, Boss SY-1, Boss CE-2, DigTech SP-7, Boss VB-2W, MXR Uni-Vibe, Boss BF-2, Boss TR-2, Dunlop DVP3 Volume (modded, also used as expression pedal for K-Fuzz, SY-1, Monterey, and Belle Epoch Deluxe; works with a switch built by Reaper Pedals that's mounted under the table), Hughes & Kettner Rotosphere, Catalinbread Belle Epoch Deluxe, DigiTech Obscura, Catalinbread Zero Point, Boss DD-3, Electro-Harmonix Canyon, Boss FB-2, Danelectro Spring King, Electro-Harmonix Freeze, DOD Rubberneck, Electro-Harmonix Oceans 11, Keeley 30 ms Automatic Double Tracker, Korg SDD-3000, DigiTech Polara, Strymon Flint, TC Electronic Mimiq, one signal to Road Rage buffer (under the table) and then to stereo amp, one signal to One Control BJF buffer/splitter (under the table), which sends one signal to stereo amp, one signal to another amp.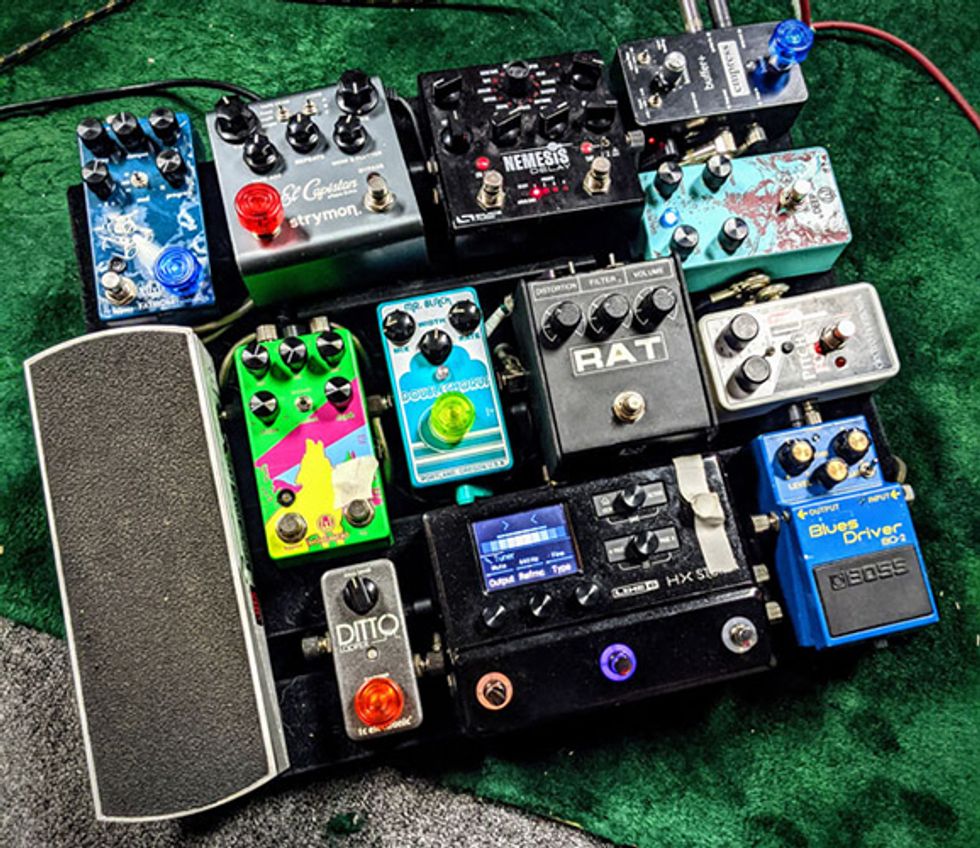 7. James Forbes: Better for the Back
Here is my humble board. This board has gone through countless iterations until I "settled" on this version. (Let's be honest, do we ever really settle?) I started my pedal journey in 2013, purchasing and attempting to mod the Boss Blues Driver, along with some other pedals, for bass. Eventually, with the mantra of "buy for what you'll get" and a move to guitar as my primary instrument, I purchased a Pedaltrain Pro and filled it to the brim. Since then, I've trimmed down a bit to this Pedaltrain Novo 18 (my back thanks me). Sadly, trimming it down means I had to leave my beloved Line 6 DL4 and DigiTech Whammy off the rig. They just take up so much space!
Signal flow: Empress Buffer+, Walrus Audio Deep Six Compressor, TC Electronic Sentry Noise Gate (mounted beneath the board), Electro-Harmonix Pitch Fork, Keeley-modded Boss Blues Driver, modded Pro Co RAT (LM308 and another diode mod), Mr. Black DoubleChorus, Special Edition Walrus Audio Monument, JHS-modded Dunlop VP Jr, Line 6 HX Stomp (effects loop is Source Audio Nemesis, Strymon El Capistan, Walrus Audio Fathom), Ditto Looper. All of that goes back into the Empress Buffer. It's powered by a Truetone 1 Spot Pro CS12. I primarily play into a Fender '65 Deluxe Reverb Reissue, with an extra cab that has a 16 ohm Celestion Creamback in it.

8. Jimmy Takacs: Kid in a Candy Shop
I have my pedal chain split between two boards, which is done in consideration of my back, but also as a matter of convenience, being that I have one pedalboard set up to run by itself if the gig calls for it. I would miss all my swirly, loopy-delayed goodness on board two, but I can omit it if need be.
Since the first time I saw the guitarist for my dad's wedding band (they're in their 80s and have played together more than 50 years) crack out his brand new Boss CE-2, HM-2, and DM-2, I've been fascinated by these brightly colored soundboxes. To sum it up: I'm a kid and they're my candy and that's that.
The flow of my signal goes as follows:
DOD Octoplus (I get the best response out of monophonic octavers by putting them first in the chain.)
DOD FX-17 Wah (crazy sweep range)
MXR Dyna Comp (awesome comp)
K Pedals PLL (Data Corrupter clone)
Boss PS-6 (used only for dive bombs)
Electro-Harmonix Silencer (I run my dirt chain through the send/return, so they're muted when I'm not playing.)
*Dirt Chain*:
Behringer Super Fuzz (set to fuzz 2)
Boss SD-1 (low and mid switch mods)
Peper's Pedals 1 knob fuzz (gnarly)
TC Electronic Dark Matter (main dirt)
Electro-Harmonix Tone Wicker Big Muff (a staple)
*End Dirt Chain*
BBE Two Timer (bucket brigade delay)
Electro-Harmonix Memory Toy (feedback set high, mix set low, rate twisted on the fly for the purpose of making rad oscillation noise)
Ernie Ball VP Jr (using the tuner out to run to the Korg Pitchblack on board 2)
DigiTech Obscura (mix set high, using the tap for crazy tape running sounds)
TC Electronic Brainwaves (using 1 octave up and 1 octave down to fatten specific parts)
DOD Phasor (awesome vintage phaser)
TC Electronic June-60 Chorus (lush)
Marshall Echohead (used for panning delay, with Saturnworks tap on bottom)
Electro-Harmonix 720 Looper (used for stored loops)
Line 6 DL4 (Used for on-the-fly looping, I recently reacquired this iconic pedal after a long period of experimenting with other loopers and finding no other pedal that does the Play Once retriggering à la Dave Knudson that I've been missing.)
Honorable mention goes to the Bob Ross tin of happy little picks.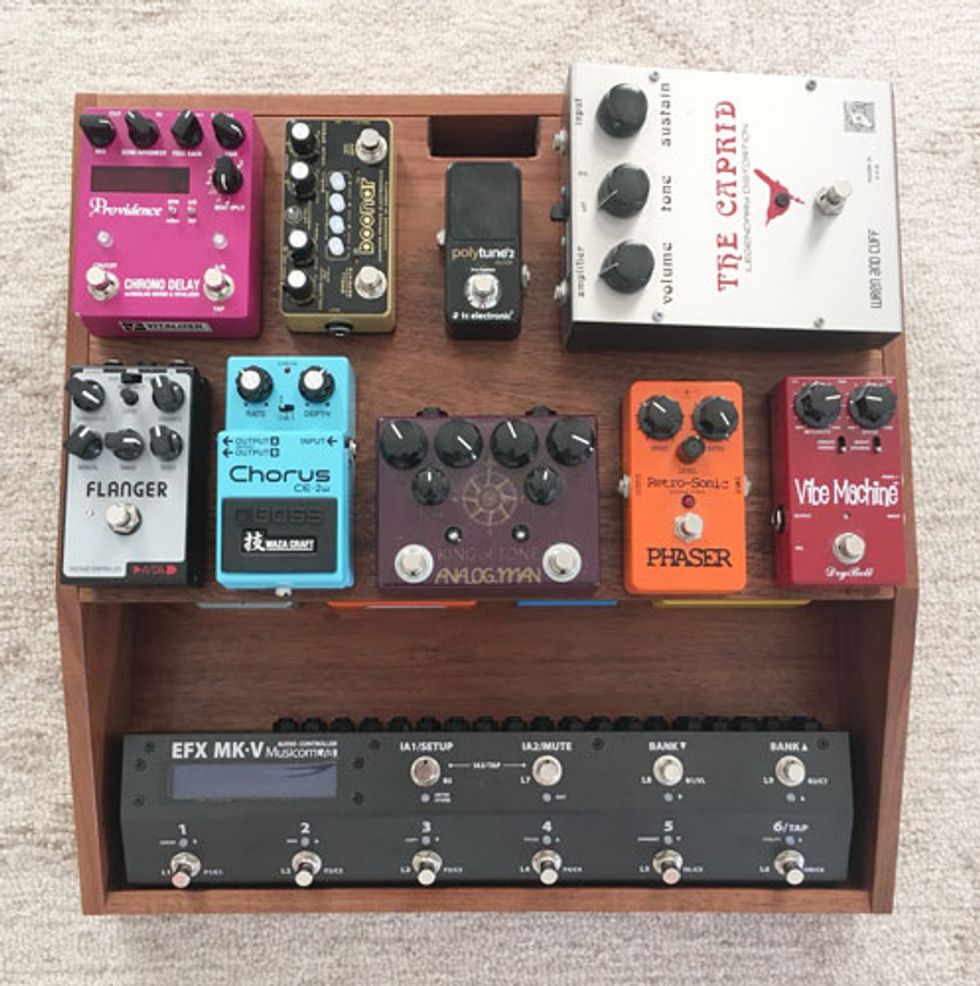 9. Kent Bawden: Tasmanian Devil
This has been a 20-year journey with hundreds of effects pedals bought, tested, and sold with the cycle repeating until I landed on the below pedalboard configuration. Here's the pedal chain and reason I picked each effect for the pedalboard I made by hand out of Tasmanian blackwood. I live in Tasmania, so I wasn't able to pop down to the local guitar store and get Evidence Audio patch cable as they don't stock this brand, but I've ordered online.
MusicomLab EFX MK-V: I wanted a GigRig but couldn't afford one, so I settled on this. I have no regrets. It's a super versatile unit and I love the ability to change the order of effects per preset, along with naming presets and song mode allowing you to have intro-verse-chorus-verse-outro, etc.
Real McCoy Picture Wah (not pictured run before board): Inspired after the original VOX wah pedals of the time, this one is a great interpretation including the Halo inductor. It also plays well with Fuzz Face circuits. This into the Eric Johnson Fuzz Face with Vibe-Machine and Boonar is a sound to behold.
Dunlop Eric Johnson Fuzz Face (not pictured run before board): As many know, the Fuzz Face circuit can be temperamental. I went through many transistors, silicon BC (108, 109, 183) and germanium variants, but landed on the Eric Johnson signature with BC183 transistors. It has a unique ability to play chords and still pick out each note whereas many of the others I tried were great with single-line work but as soon as you added in a power chord, it was mush.
Loop 1 – Diamond Compressor: I've never been a huge fan of compressors, as you tend to lose dynamics, but when I came across this one, it wasn't as squishy as others. It sits better in the mix and doesn't overpower your tone, along with playing nicely with gain pedals.
Loop 2 – Drybell Vibe Machine and Retro-Sonic Phaser: I have the V1 Vibe Machine early serial number and the same one Andy Martin uses from Andy Demos. I don't have vibe and phaser on at the same time, so I put them in a shared loop, and because the pedals sit on the top front row, I can easily change between the two.
Loop 3 – Fulltone Octafuzz: A great clone of the Tychobrahe circuit, this does what you would expect extremely well. My favorite use for this is Vibe Machine, Octafuzz, and Boonar = magic!
Loop 4 – Wren and Cuff The Caprid: This rare big-box version from Wren and Cuff of the Big Muff Ram's Head circuit goes so far as to trace out the circuit board to stay vintage correct. It sounds amazing. To send it out of control, I add the Buffalo FX Power Booster (loop 6) and it comes alive even more.
Loop 5 – Analogman King of Tone: Arguably the greatest overdrive pedal of all time. I have the right side (red) with the high-gain mod set to overdrive on the DIP switch and the left side (yellow) standard gain set to boost with the internal treble trimmer up to add a bit more bite.
Loop 6 – Buffalo FX Power Booster: In its day, this circuit was key to many guitar players' tone. I'm unsure why I don't see this pedal on more pro players' pedalboards. It's killer! It's one of those pedals when set to a clean boost and it's turned off you go, "what just happened?"
Loop 7 – A/DA PBF Flanger and Boss CE-2W: Even though you can get chorus tones from the A/DA, I wanted that correct tone from the CE-2, which was David Gilmour's mainstay from 1981–2005, and this nails it. Added bonus: With the CE-1 setting, you can cover Frusciante tones.

Loop 8 – Dawner Prince Boonar: David Gilmour uses one on his board. That's probably enough said. However, the Boonar sounds so close to an original Echorec. Some pedals just have mojo and inspire you to play and come up with new music. This one does that for me.

Loop 9 – Providence Chrono Delay DLY-4: David Gilmour also uses two of these. It's just a great straight-up digital delay that's not too harsh or brittle.
Catalinbread Talisman: Last in the chain and always on. I'm a huge plate reverb fan over any other class of reverb. Given the size of a real plate unit, this one fills the void perfectly and, although a one-trick pony, it's the best plate reverb I've tried.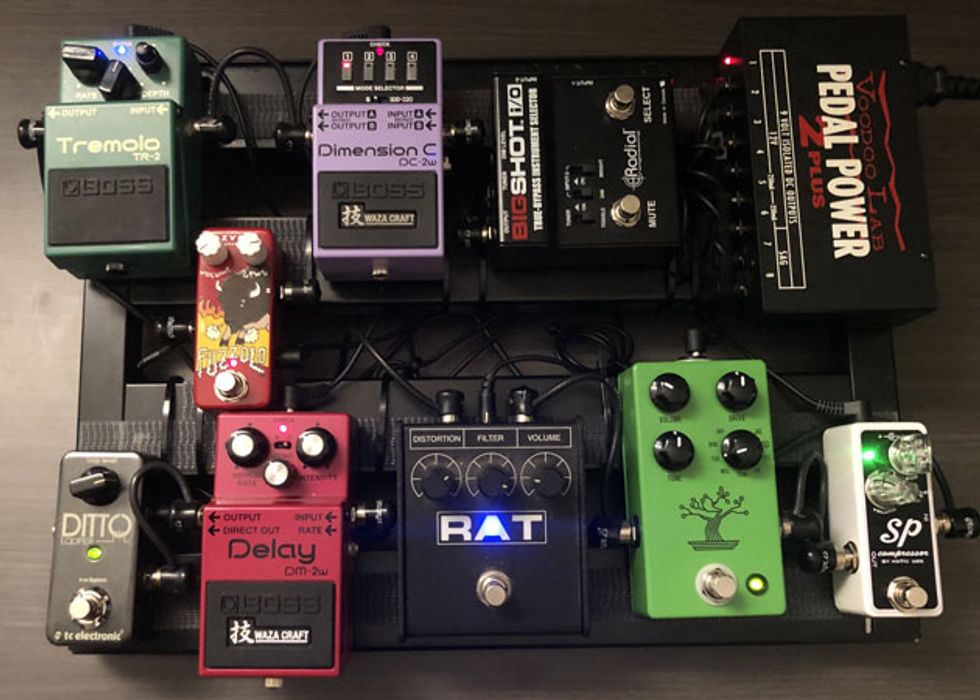 10. Kurt Nolen: Jingle Board
I spent over a decade in the film industry as a camera/steadicam operator and cinematographer (and yes, you've likely seen things I've worked on), but before that I was a studio musician. Once I had two young children at home, being gone for eight months out of the year working on location shoots just wasn't tenable, so I turned in my union card and took a job as Gonzaga University's in-house filmmaker in their marketing and communications department.
Sitting at home one very snowy Saturday night last February, it occurred to me how much I genuinely missed playing music. And I was constantly needing music for projects at work. So I pulled out one of my old pedalboards, spent probably two weekends just cleaning 20 years of Velcro glue and crap off of it, and started putting together the perfect one-stop marketing jingle pedalboard that could hang out in the studio at work and lay down whatever tones I needed for the variety of projects that come across my desk. I already owned a Keeley-modded RAT, the Voodoo Lab Pedal Power 2+, the ZVEX Fuzzolo, and the Keeley-modded Boss TR-2, but the Boss DC-2W Waza Craft pedal's augmentations to older Boss units I already owned were intriguing. Like any self-respecting guitarist, I felt compelled to buy new toys. I've always flown a couple different flavors of Tube Screamers in my board at the same time, and the JHS Bonsai was just the best thing I've seen in ages.
It was great to haul out stuff that had been sitting in a crate for over a decade, breathe some new life into it, and get back into playing on a regular basis (and get paid for it).
Here's what's on the pedalboard I use at work. Signal chain: Radial BigShot I/O, Xotic SP Compressor, JHS Bonsai, Keeley-modded RAT 2, ZVEX Fuzzolo, Boss DC-2W Waza Craft, Keeley-modded Boss TR-2, Boss DM-2W Waza Craft, TC Electronic Ditto Looper.
All powered by a Voodoo Lab Pedal Power 2+ and sitting on a mid/late '90s Pedaltrain. (Hence the PP2+ having to go on top of the board, because they weren't making them with enough clearance to sling the power supply under the board yet.)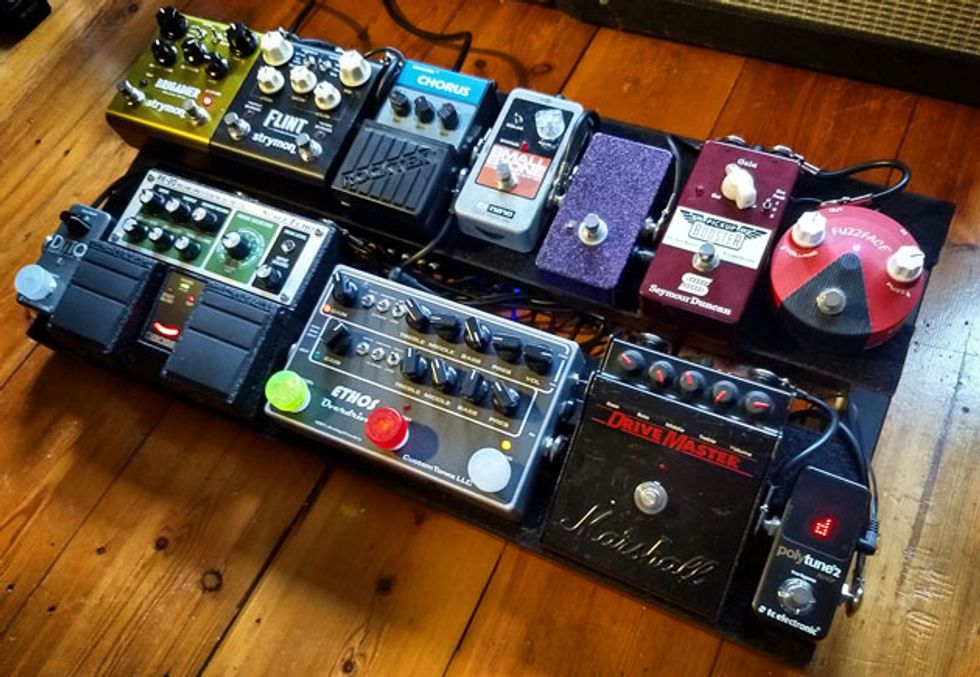 11. Nick Werner: Never Enough
Maybe I have too many pedals! My board is always changing but this is what I currently have: Band of Gypsies fuzz, Seymour Duncan Pickup Booster, Electro-Harmonix Octave up-small stone, PolyTune 2, Marshall Drive Master, Ethos Overdrive, Boss RE-20 Space Echo, Rocktek Chorus, Strymon flint, Strymon Brigadier, TC Electronic Ditto Looper, MXR EQ under the pedaltrain. All powerd by a Truetone 1 SPOT Pro CS12 and a GigRig Isolator.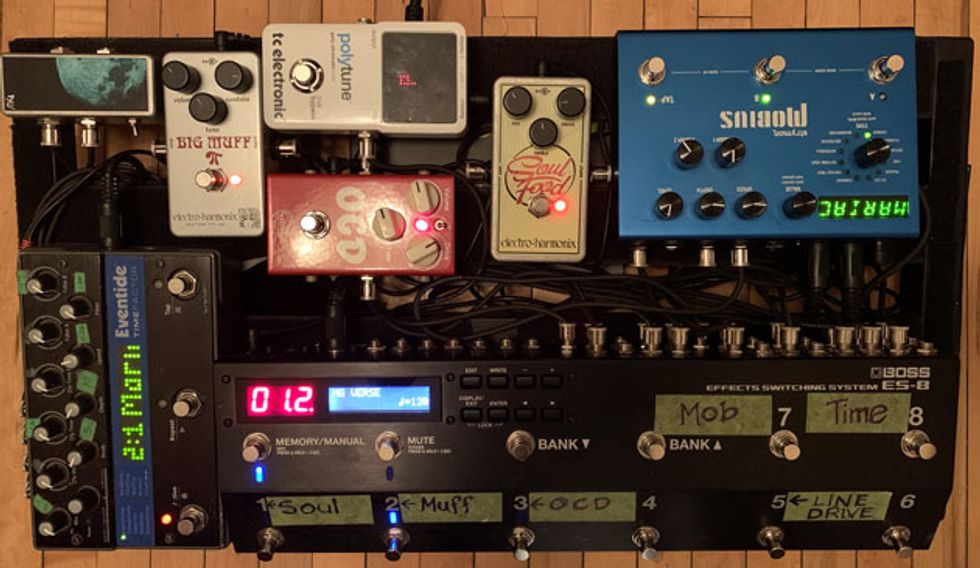 12. Rafael Reyes: Almost There
I'm from Winnipeg, Manitoba, Canada. I play in a band called
the Mariachi Ghost
. My pedalboard has been an evolution over the years, and I'm not quite there yet, but I'm on track to make it better.
I run a 2014 Gibson LP Custom (ebony) and a modded American Strat (from 1998 and 2004 parts, with a Seymour Duncan SSL-5 on the bridge) with S-1 switching. I usually run a stereo setup with two Deluxe Custom Reverb '68 reissues, but I can use the splitter to make a mono out when I can only source one amp while on tour.
Here's my current lineup: Pedaltrain Classic 2 frame (older version), TC Electronic PolyTune, Electro-Harmonix Ram's Head Big Muff Pi reissue, Fulltone OCD (candy apple red), Electro-Harmonix Soul Food, MXR MC401 Custom Audio Boost/Line Driver, Eventide TimeFactor, Strymon Mobius, Saturnworks Stereo Splitter/Summer, Boss ES-8 Effects Switching System. It's all powered with a Truetone 1 SPOT Pro CS12.
This year, PG received more pedalboard submissions from readers than any other year, which makes us very happy. If you're discerning and passionate as ever about your effects, you've come to the right place.
A few of you mentioned catering your boards to lighten the load on your backs, which makes sense considering that this roundup includes one of the biggest boards ever submitted: It has 53 pedals. Seriously! We've got some rocket-scientist level tone tweakers in the house, and we're extremely impressed at the clarity and nuance with which they've explained the wiring setups and how they use these boards. So here we go … step on, and bask in the craft of the pedalboard. Until next year!
---