Pedal Alley 2019: Reader Boards
Whether it's collections of old-school straightforward stomps or elaborate circuits for spacey experimentation, each year we're blown away by the different pedalboard setups our readers come up with. Here's a dozen for the tonal takeaway.
9. Stephen Kelly Hunt
I'm a guitar player who lives and works in Nashville, Tennessee. I spend my time playing 8-12 gigs per week on Broadway, I tour during the summer months, and play studio sessions when I'm able to snag one. This is my board, born out of utility. I go from Def Leppard to Alan Jackson in gigs, so I need a board that can cover pretty much everything. I play my amps clean and have been happiest playing my 30-watt Bad Cat amp, or my 15-watt Shaw, through a 1x12 cabinet.

I start with my Electro-Harmonix Micro POG, mainly for making baritone guitar sounds, but also for creating the timbres when I need to play a fiddle part (which is often!). I use the "dry out" of the POG to provide an always-on signal to my TC Electronic PolyTune 2, set to strobe mode. I use the "wet out" of the POG to send to my Cali76 Compact Deluxe compressor, on which I use a fast attack and fast release. Out of the Cali, I send to my 1981 DRV gain stomp, a pedal made here in Nashville, which I use for liquid high-gain sounds. From there, it's the Greer Amps Lightspeed, which I use for crunchy, driven Vox or Marshall plexi sounds. From there, it's the Xotic RC Booster, which is my "can't live without" gain pedal. I use it to make lightly driven Fender amp sounds. Next is my TC Electronic Spark Booster, as I often play low-wattage amps, and just hitting them with a clean boost can be just the right overdrive sound. From there, it's the Boss FV-500L low impedance volume pedal—the most important tool on my board! Out of the volume pedal, I send to the Boss CH-1 Super Chorus, which I constantly move around from subtle to dramatic. I mainly use it to slightly widen sounds and fill up sonic space, since most bands I play in are three-piece bands (welcome to Nashville's Lower Broadway). From the chorus is the Shape Shifter from Seymour Duncan, which is a tap-tempo tremolo. Last in the chain is a Boss DD-20 delay, which I use for two settings: eighth-notes and dotted eighth-notes. I toggle between the two, depending on the part requirements of the song, and I tap tempo each song. Underneath the board, I have a Voodoo Lab Pedal Power MONDO power supply, and a Shure GLX wireless unit.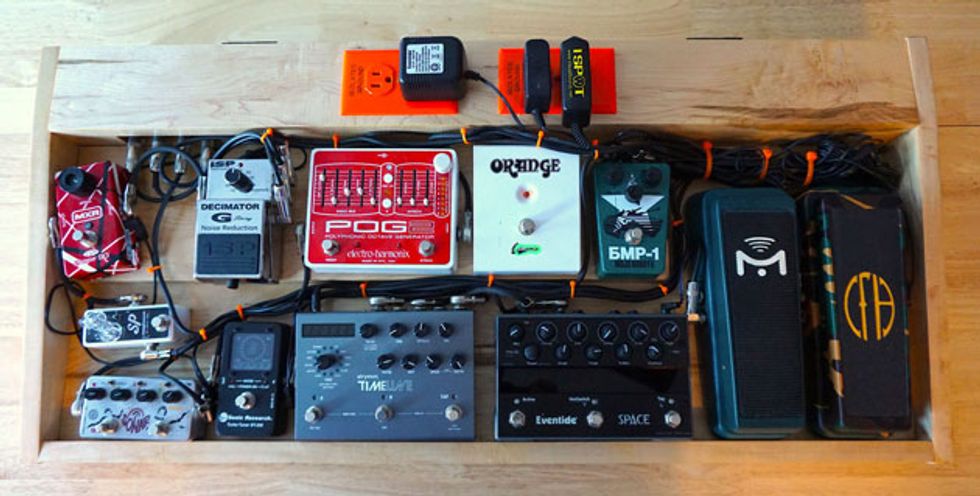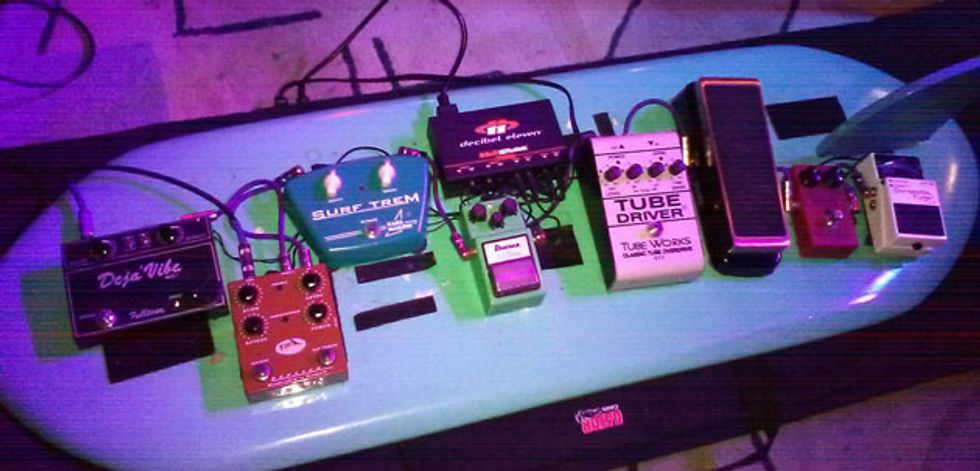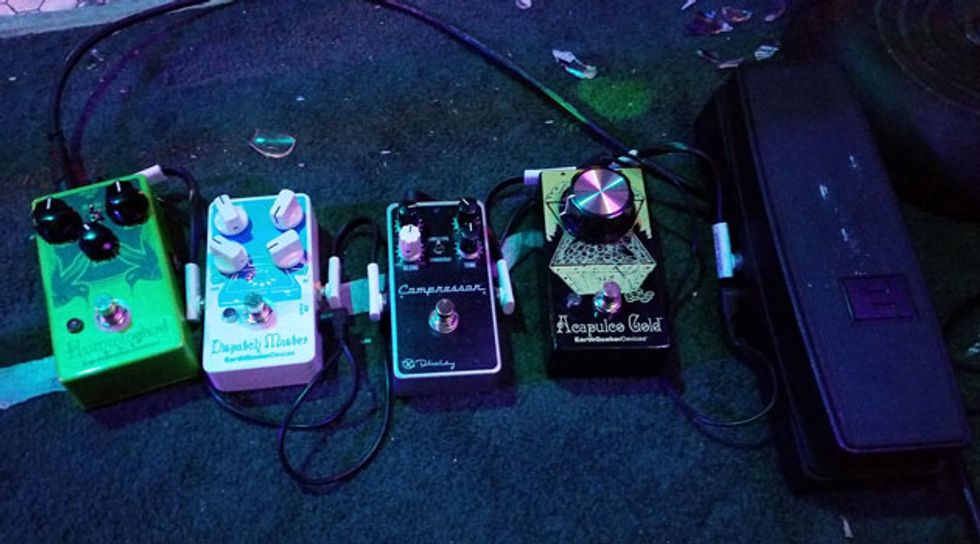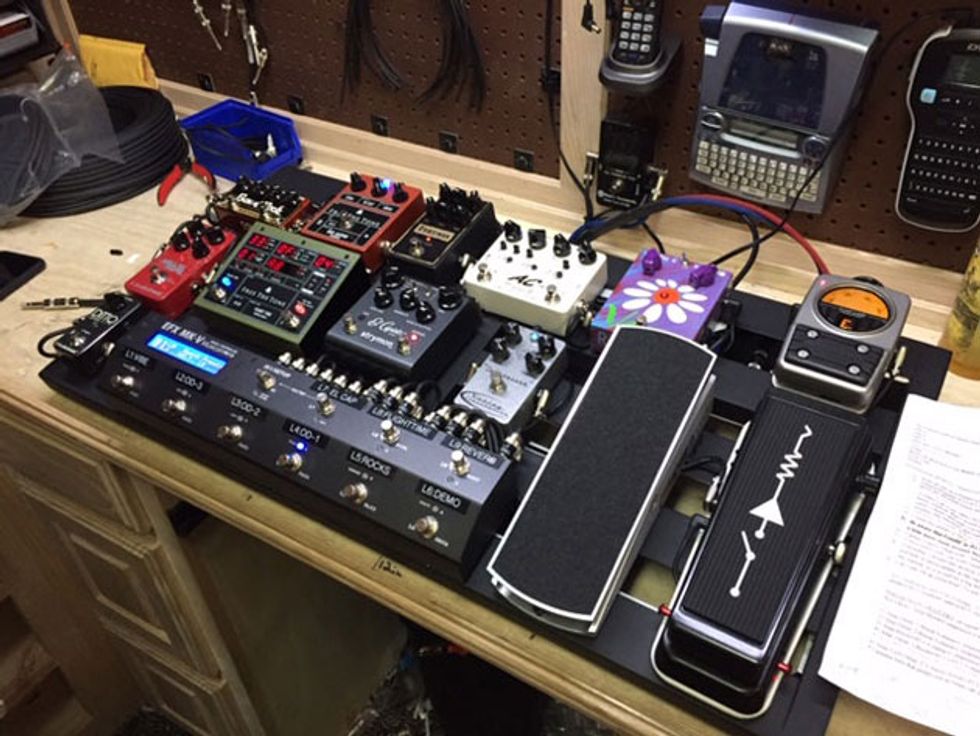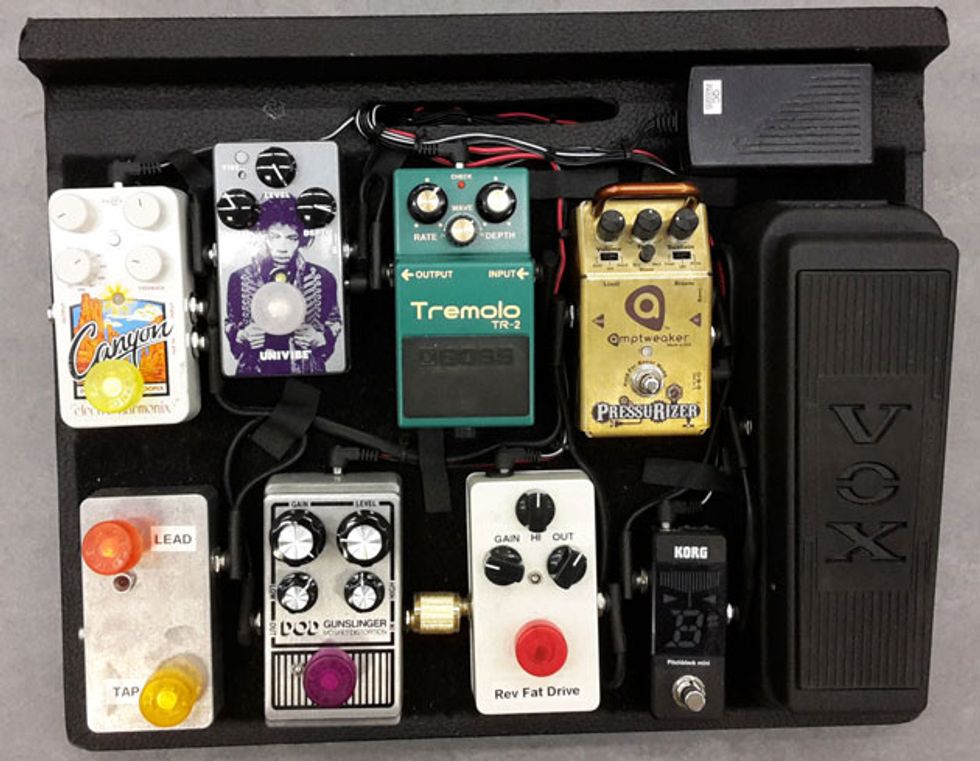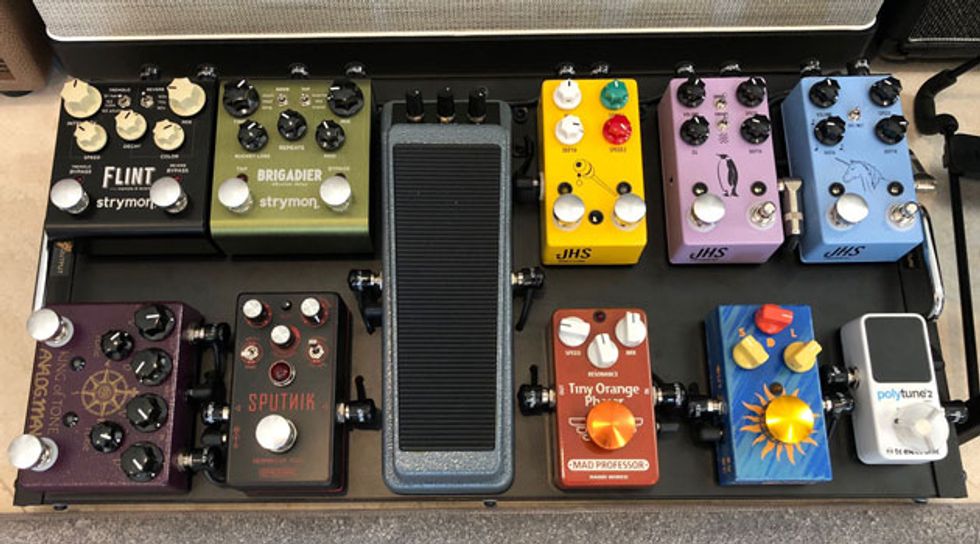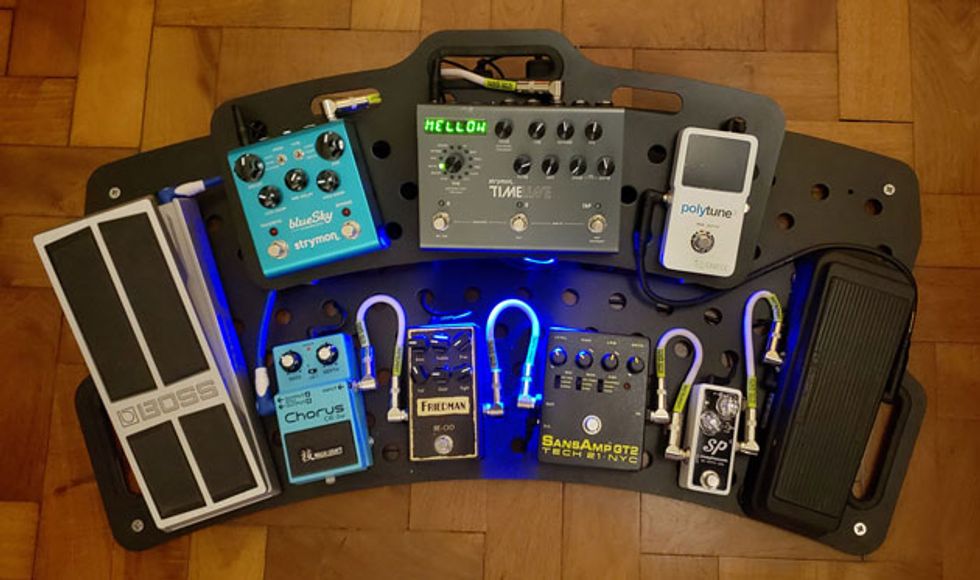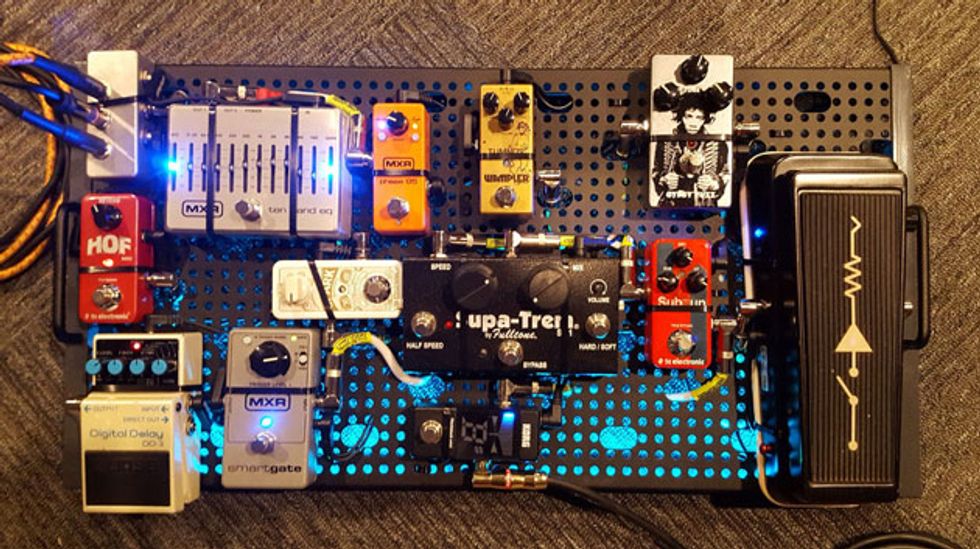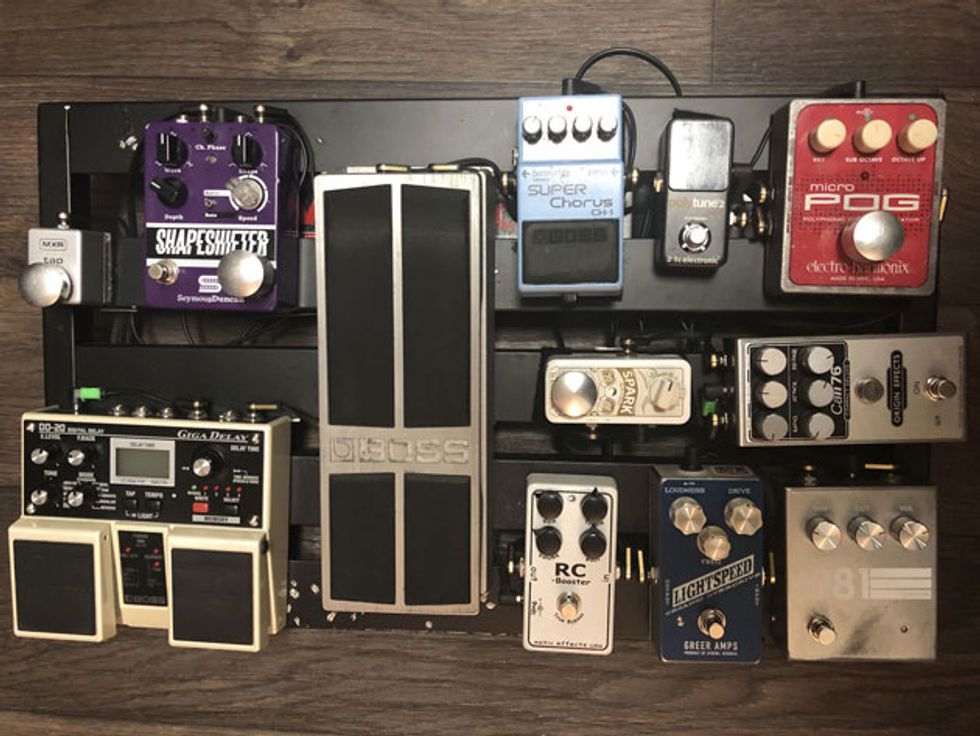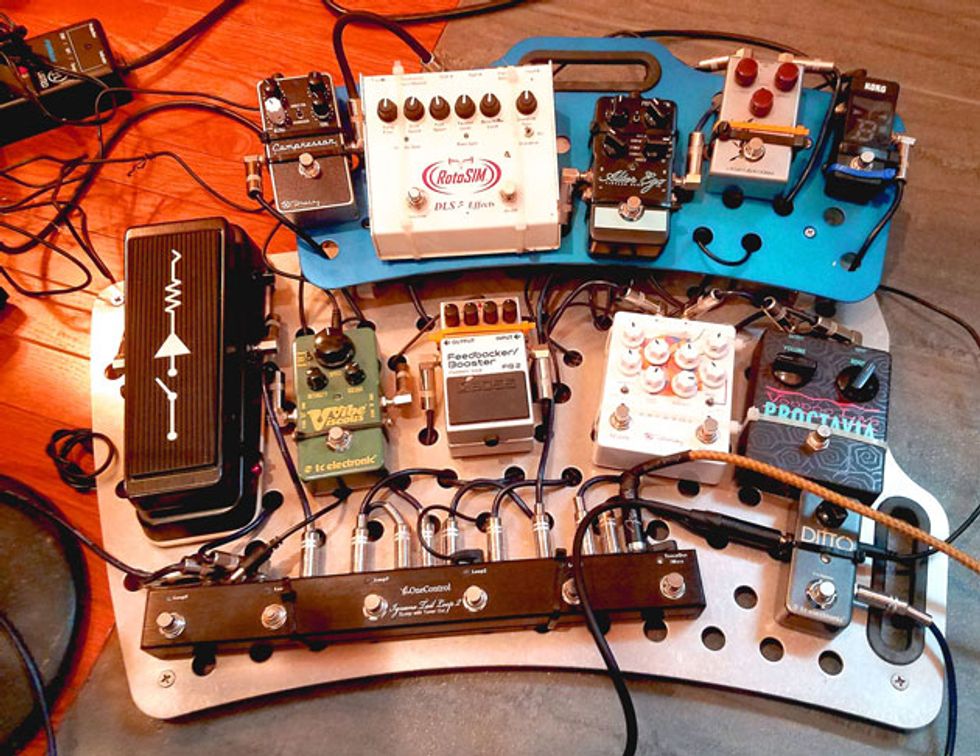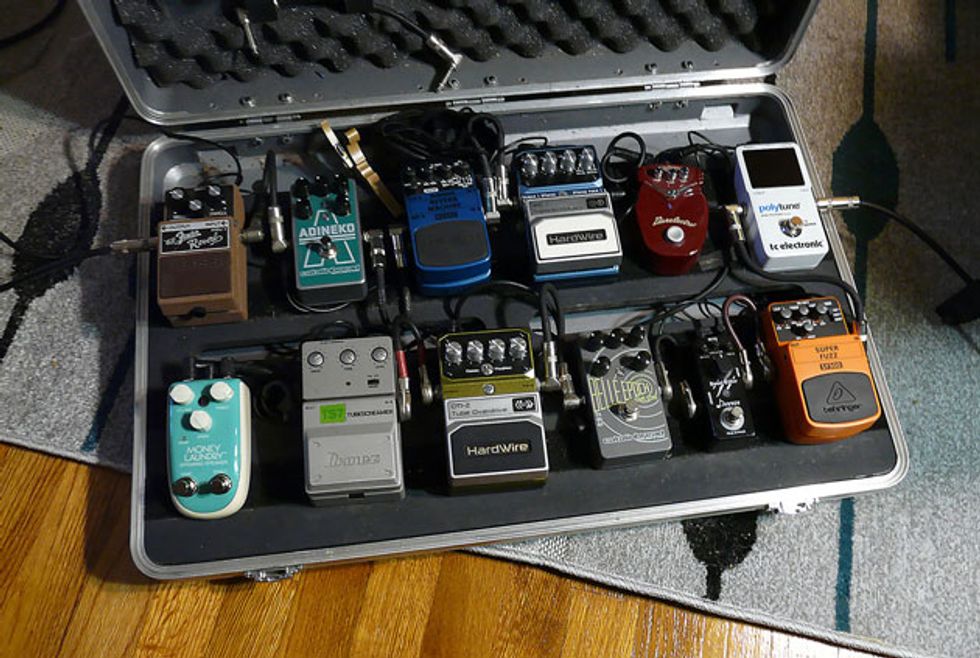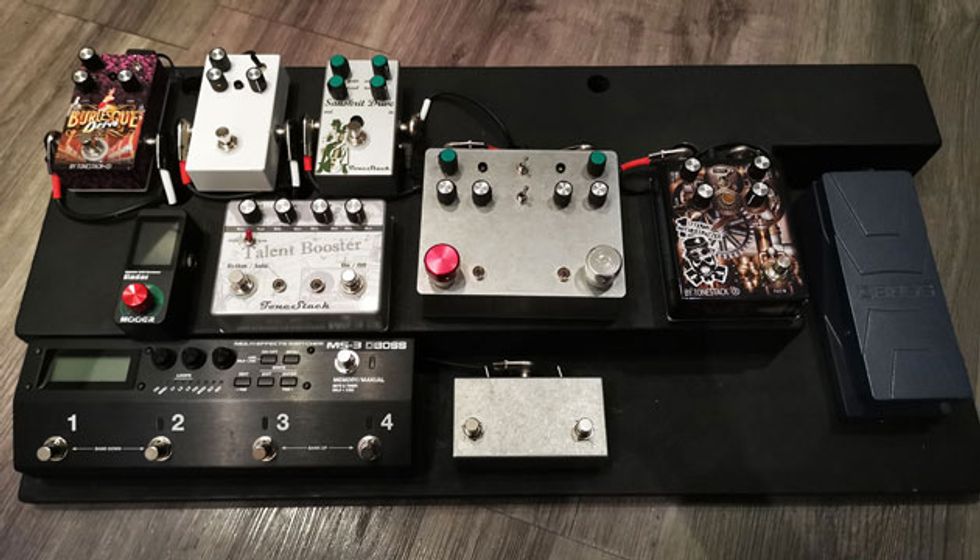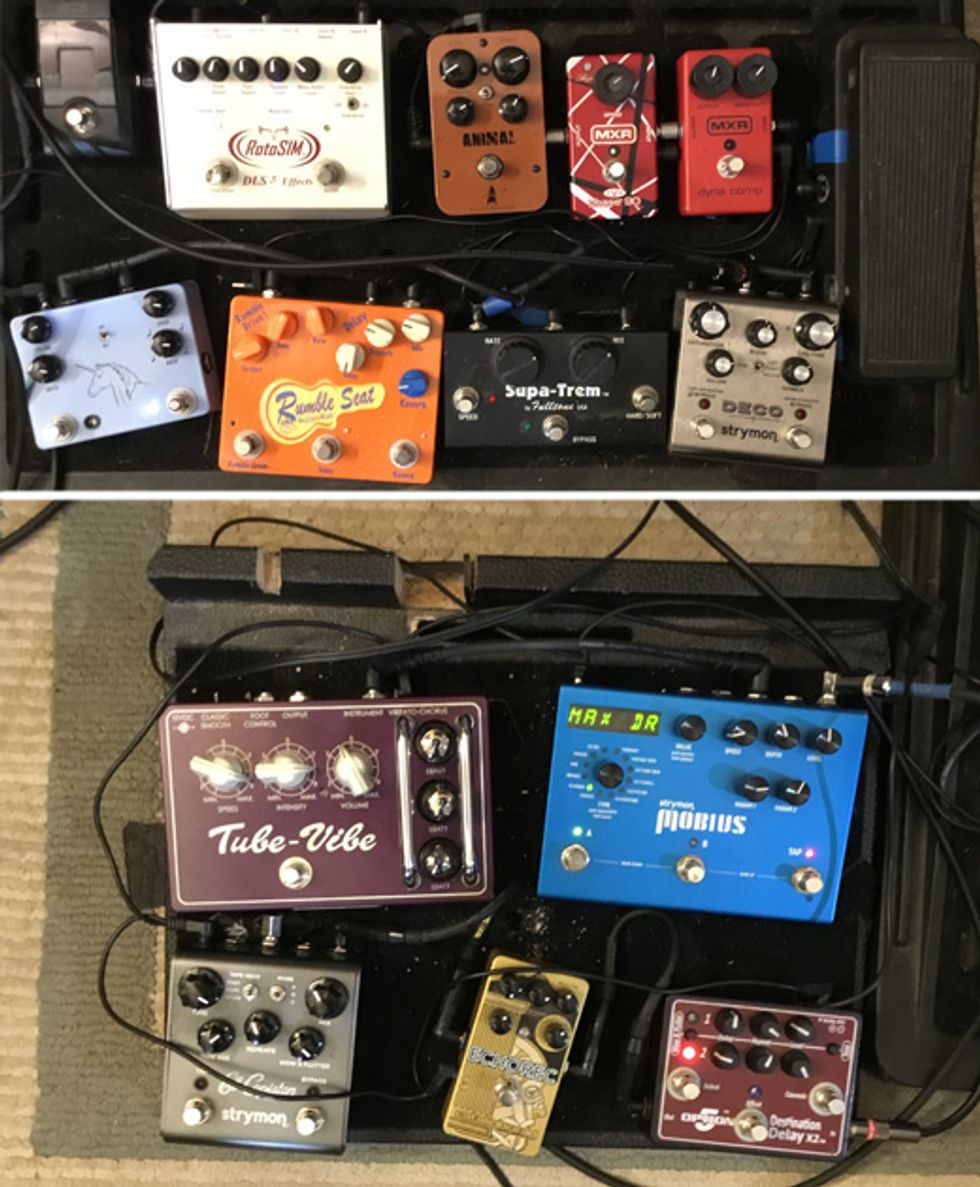 It's that time of year, when Premier Guitar readers wow us with the intricate details of their pedalboards. A few highlights for 2019 include a surf board station, a bright board with LED lighting, a Nashville guitarist who gigs on Lower Broadway, and a pedal setup with no frills … and literally no board at all. (All this player needs is beer and broken glass.) As an added bonus, a pro pedal builder shares his demo board and tells us why and how he started building pedals from scratch. Read on, play on, stomp on!