Rig Rundown: Thelma and the Sleaze
Punk-rock riffin', patriarchy-smashin', struttin' shredder LG introduces us to her custom axes—a "Fancy" SG & skateboard Tele—and fave signal agitators.
Facing a mandatory shelter-in-place ordinance to limit the spread of COVID-19, PG enacted a hybrid approach to filming and producing Rig Rundowns. This is the 33rd video in that format.
Founding guitarist/frontwoman Lauren "LG" Gilbert took some time in between recording episodes for her podcast ( Queen of Shit Mountain ) and virtually welcomed PG 's Chris Kies into her undisclosed tone bunker. In this Rig Rundown , she opens up about commissioning two custom builds (one that was eventually used for onstage self-defense), explains why she's a "Peavey princess," and implores gearheads (providing proof) to get off the internet and hunt for their missing tone link in pawn shops and guitar stores.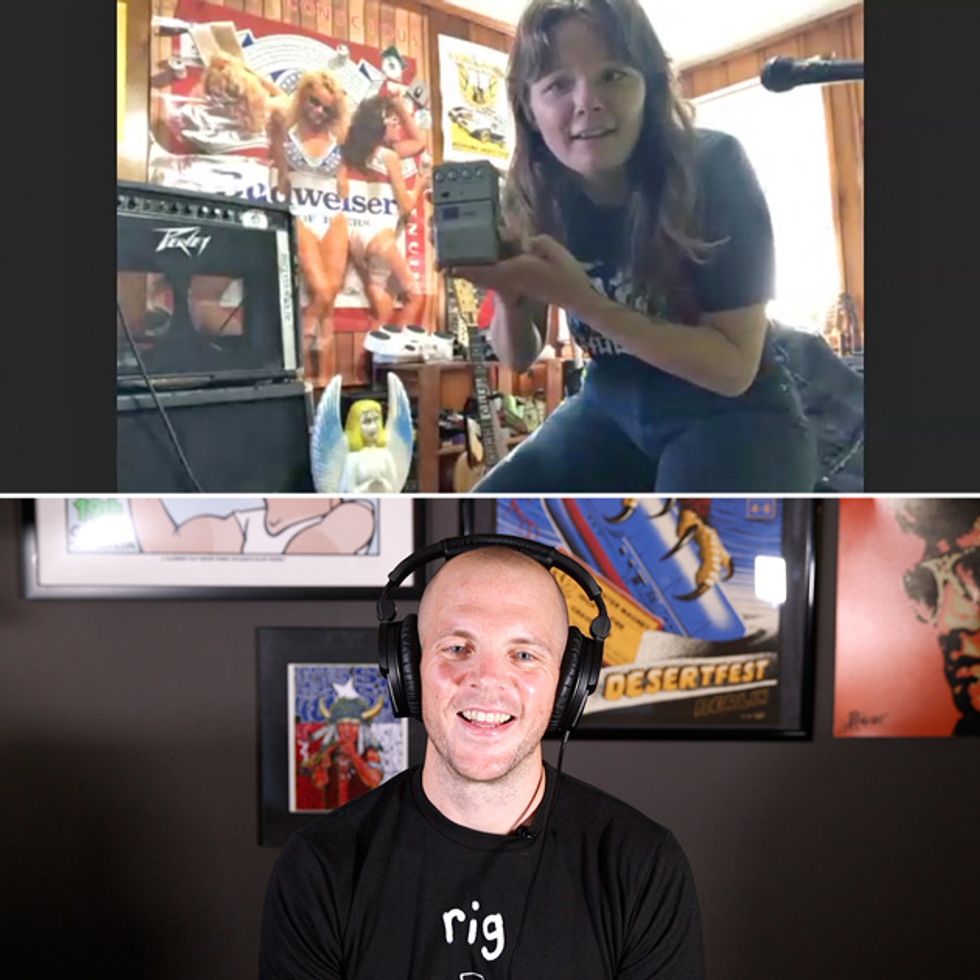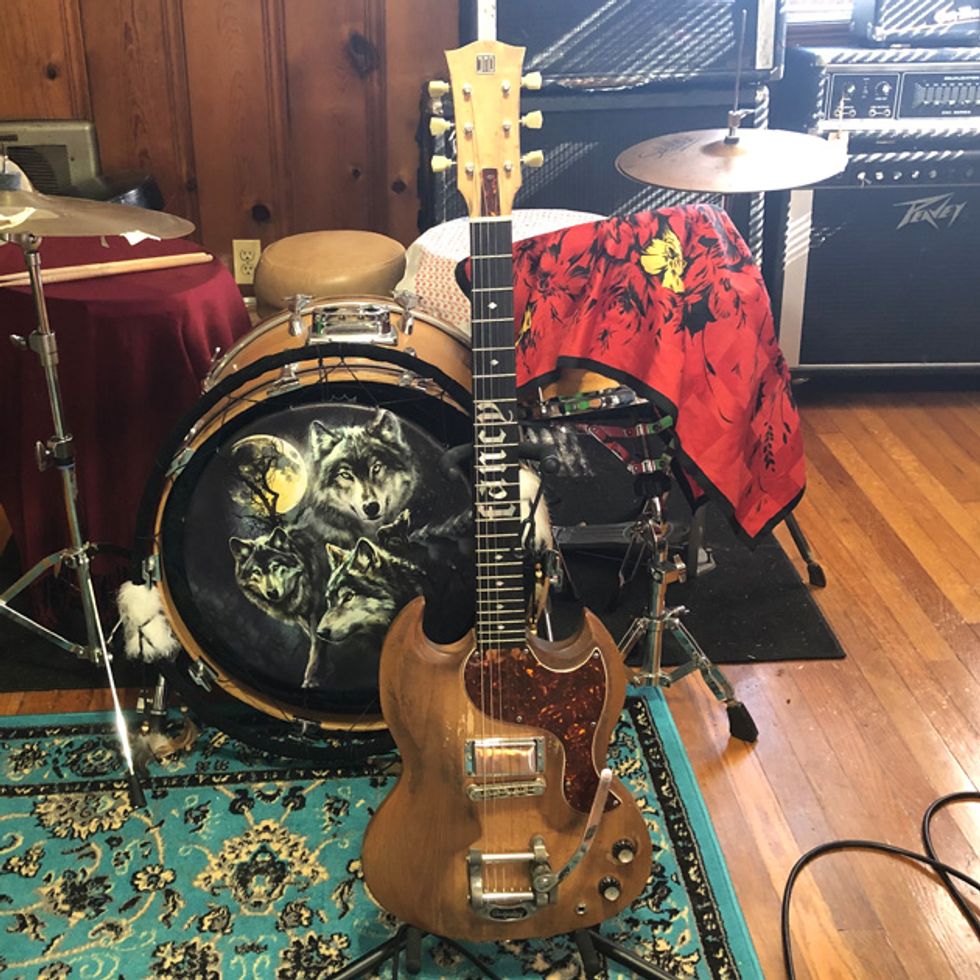 "This was my first nice guitar," remarks LG. Nashville luthier Dave Johnson ( Scale Model Guitars ) built this custom ride from a photograph LG provided of an early '60s, natural-finish SG Special that was owned by her uncle. It has a single Burstbucker 1 humbucker and the Bigsby was acquired for "party time" and was gifted to her by Fly Golden Eagle. She requested that Johnson keep the gun-oil finish to a minimum, so it didn't stay "new" for too long. The "Fancy" fretboard inlay is an ode to her favorite "white trash" song penned by Bobbie Gentry and popularized by Reba McEntire.
Gilbert uses Ernie Ball Super Slinky Classic Rock N Roll strings (.010–.046) and plays in standard tuning.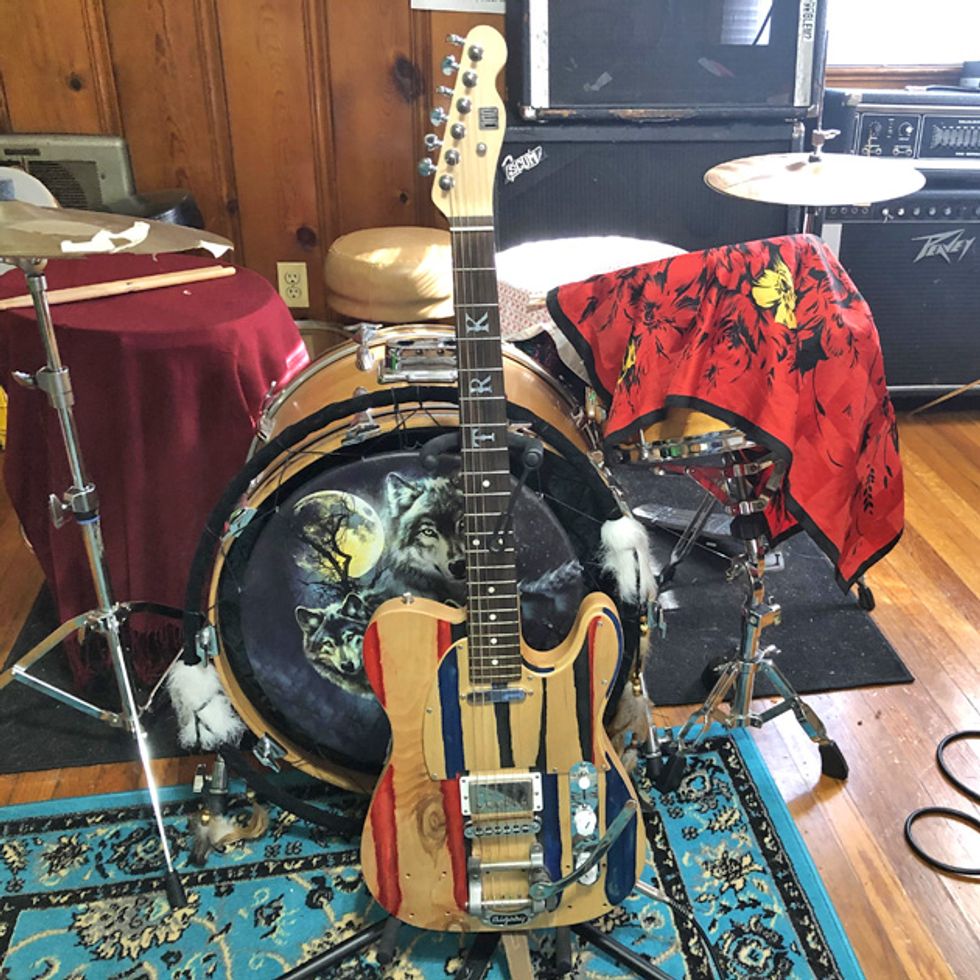 A chance meeting at a NAMM booth and love for reusing old materials directed her on a quest for a guitar that incorporated a skateboard deck. Again, relying on Scale Model Guitar's Dave Johnson to bring it fruition, he used old skate decks LG found for the body and pickguard. The "T.R.K." fretboard inlays on this one is a nod to LG's grandfather ("because he's the reason I play guitar") who built and sold guitars during her youth. And even though this guitar is a pain in the neck (literally, it's over 10 pounds), she loves how it sounds onstage thanks to the Bare Knuckle Yardbird pickups.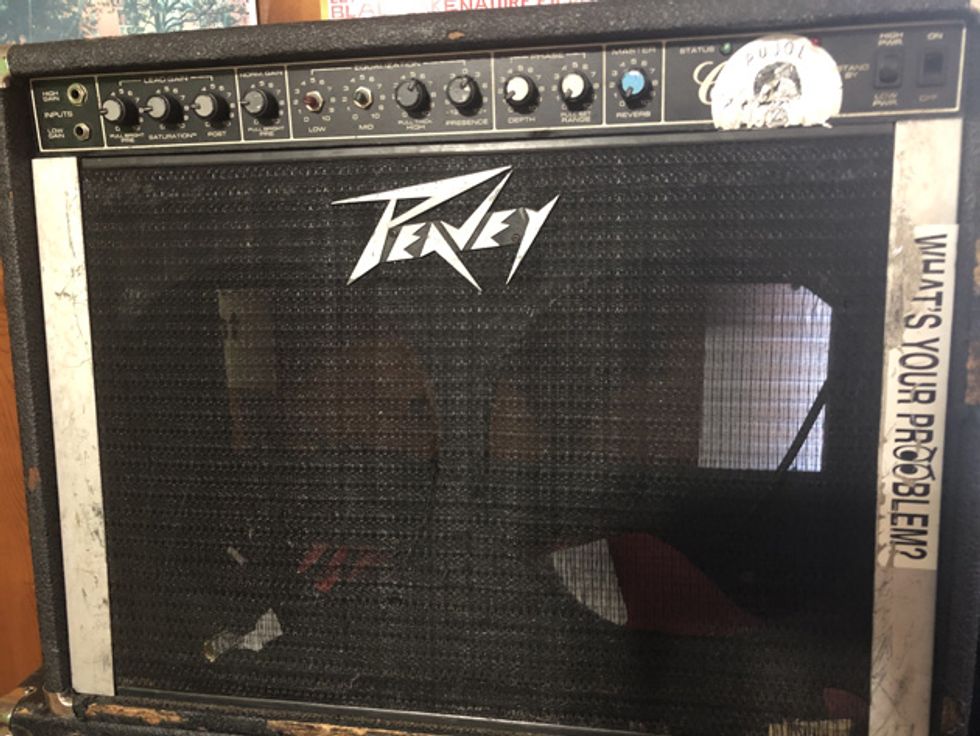 "A true Peavey should be able to be thrown off the Empire State Building and then play a fucking arena," laughs LG. She loves this '80s Peavey Classic VTX Series 65-watt 2x12 combo. She took the 12" speakers out and now routes it through a Fender 4x10 cab with Celestions that has added clarity and focus to her tone.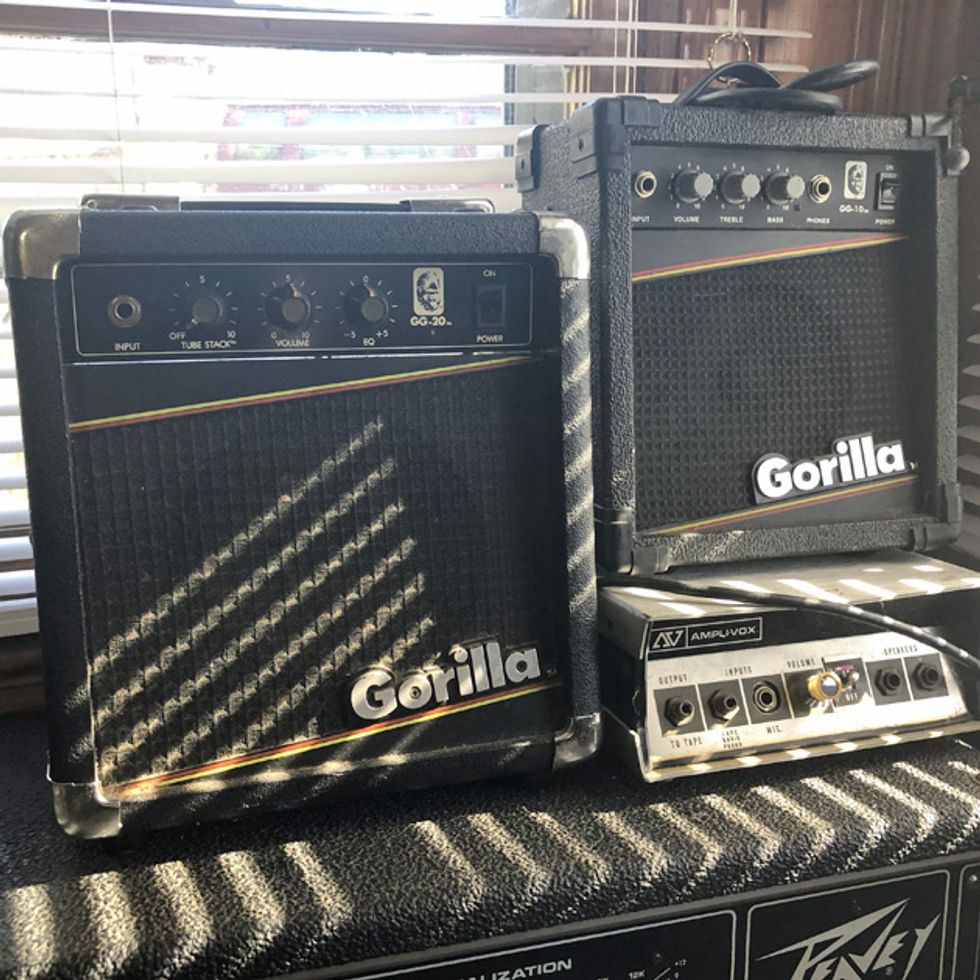 "I wouldn't even play this thing at home," says LG. However, she did use the Gorilla GG-20 to record the bulk of her 2019 record, Fuck, Marry, Kill .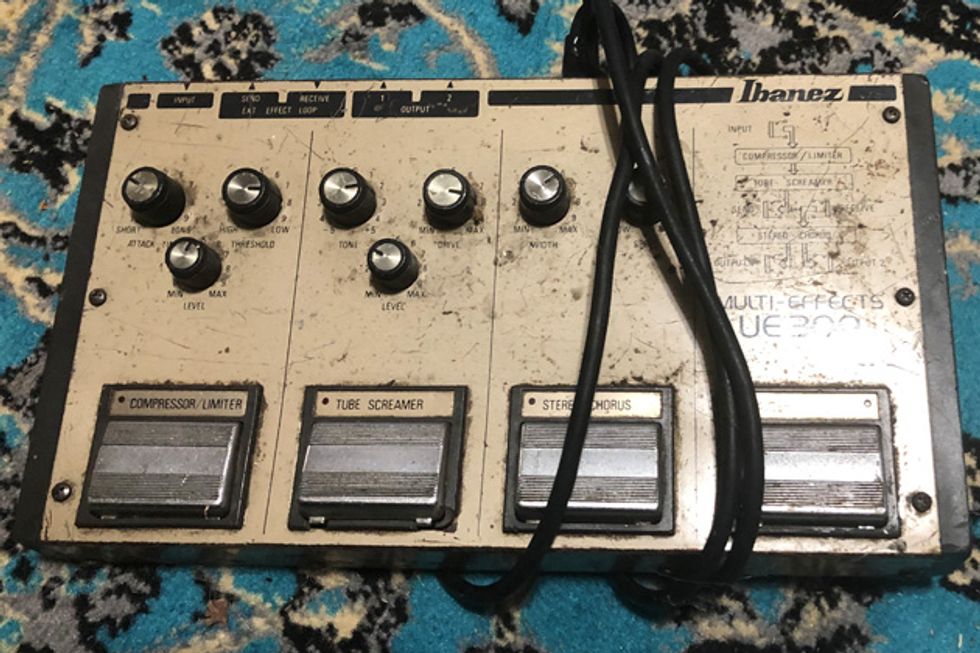 Her longtime stage steward was this Ibanez UE300 multi-effects unit that houses a compressor/limiter, Tube Screamer, and a stereo chorus. It became too finicky and encroaching beers gave her too much anxiety, so she has retired it from the road.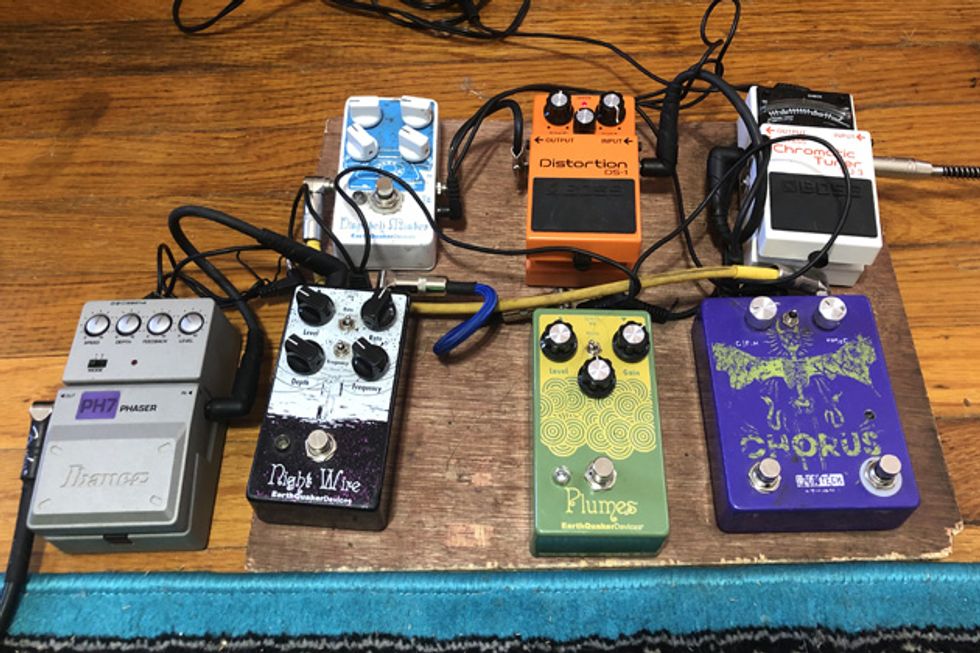 Covering the void (and adding some new mayhem) left by the UE300 is her shapeshifting board that currently has a trio of pedals from her former employer EarthQuaker Devices (Dispatch Master, Night Wire, and Plumes). Other stomps include an Ibanez PH7, Boss DS-1 Distortion, and a Rude Tech Chorus. A Boss TU-3 Chromatic Tuner keeps her guitars in check.
---
Click below to listen wherever you get your podcasts:
---
D'Addario Auto Lock Strap: https://ddar.io/AutoLockStrap
---
---