Gibson's 'Birds of a Feather, Flocked Together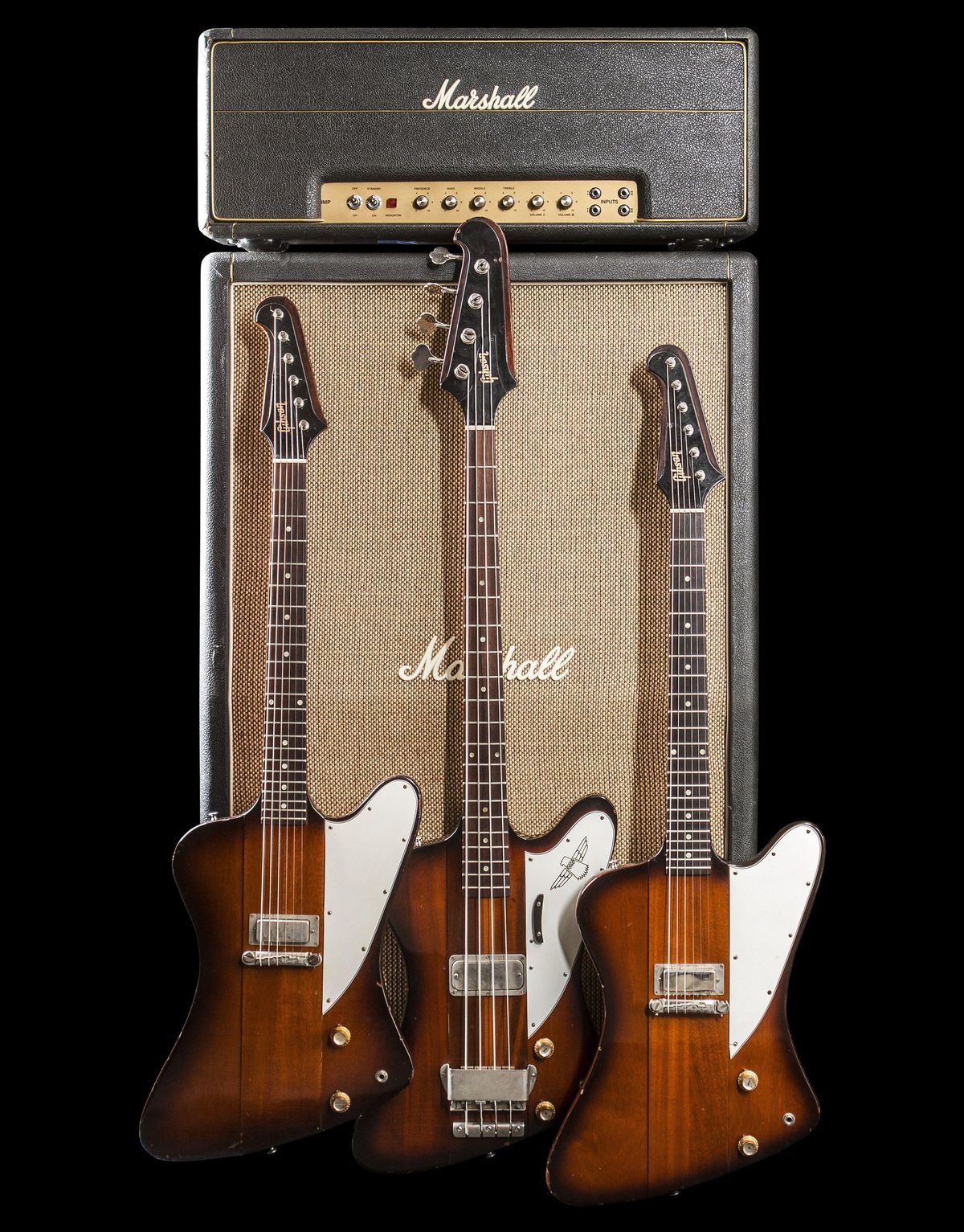 This pair of Firebird I guitars and a Thunderbird II bass, from 1964, were tucked in a closet for decades. Now, they're ready to rock again.
With help from noted automobile designer Raymond Dietrich, Gibson introduced the Firebird and Thunderbird lines in the spring of 1963. They were an effort to compete with Fender's offset body instruments: the Jazzmaster, the Jaguar, and the Jazz Bass. Dietrich, who was famed for his work with Chrysler, Packard, and Lincoln, created the contours of four guitars—the Firebird I, Firebird III, Firebird V, and Firebird VII—and the Thunderbird II and Thunderbird IV basses.
Each of these instruments had an asymmetrical body shape comprised of two mahogany wings attached to a long mahogany neck running all the way through the center. Their resemblance to the smooth fins of now-vintage automobiles remains striking. The guitars used Seth Lover's mini-humbuckers, which were invented in the late '50s. The basses had a new humbucker design that used molds from earlier lap-steel pickups. Another departure from Gibson tradition for the guitars was the use of six banjo-style tuners positioned in a row along the right side of the headstock—the opposite of Fender's arrangement. More typical heavy-duty four-in-line tuners were required for the hefty strings of the basses, however. The standard finish was a dark tobacco sunburst, but any of 10 custom colors—similar to Fender's, but with different names—could be ordered for an additional $15.
The instruments pictured here were originally purchased by a reform school for boys, to be used by its music department.
The guitars were numbered according to price, with the single-pickup Firebird I—outfitted with just two dials for tone and volume—selling for the lowest amount. The neck of the Firebird I has dot inlays and no binding, while more costly models have binding, and some have trapezoidal inlays. The 1963 catalog described the Firebird I this way: "The new solidbody by Gibson that is priced for the growing economy-minded market. Gives you all of the fine performance of this exciting new series of guitars at a price you can afford. You have to try it to believe it." And here's how that catalog described the Thunderbird II: "A fine, new economy-priced bass by Gibson. It offers clear sustaining response, that throaty bass tone, and the easy fast low-action that allows you to always play at your best." The T-bird II is also a single-pickup model, with the same control set as its Firebird I counterpart.
The Firebird I sports a single mini humbucker. With fewer windings than a PAF, these pickups tend to have a brighter sound.
The instruments from 1964 pictured here—a pair of Firebird I models and a Thunderbird II—were originally purchased by a reform school for boys, to be used by its music department. At some point, they were put in a store room and spent the next few decades undisturbed. Recently, a new employee who knew a bit about guitars discovered them. Realizing their value, he reached out to multiple dealers and Gibson to bid on the instruments. Our store was able to acquire them and keep them together as a set. The original price for a Firebird I was $189.50. The current value is $12,500. The original price for a Thunderbird II was $260, and the current value is $9,000.
Lap-steel pickups were the inspiration for the Thunderbirds' pickups. Versions from the '60s have a reputation for prominent mid and treble response, with rich core lows and a tad of inherent distortion.
The lure of the Firebird's modernist look and its bold tone has appealed to a host of blue-ribbon players over the decades, including Allen Collins, Eric Clapton, Clarence "Gatemouth" Brown, Phil Manzanera, Gary Moore, Brian Jones, Dave Grohl, Warren Haynes, and Johnny Winter. And notable Thunderbird players include Kim Gordon, Adam Clayton, Mike Watt, Tom Hamilton, Tom Petersson, Jared Followill, and Jackie Foxx.
The Thunderbird's upper bout has a distinctive emblem based on Native American art. The Firebird has a similarly positioned logo of a phoenix rising from ashes.
Behind the 'Birds is a 1969 Marshall Super Bass 100-watt plexi head, formerly owned by Eric Johnson. The cabinet is a rare late-'60s 8x10. The current value for the head is $5,000, while the cabinet is worth $2,500.
Sources for this article include
Gibson Electrics
by A.R. Duchossoir;
Flying V, Explorer, Firebird: An Odd-Shaped History of Gibson's Weird Electric Guitars
by Tony Bacon;
Gibson Guitars—Ted McCarty's Golden Era: 1948-1966
by Gil Hembree; and
Gibson Amplifiers: 1933-2008
by Wallace Marx Jr.