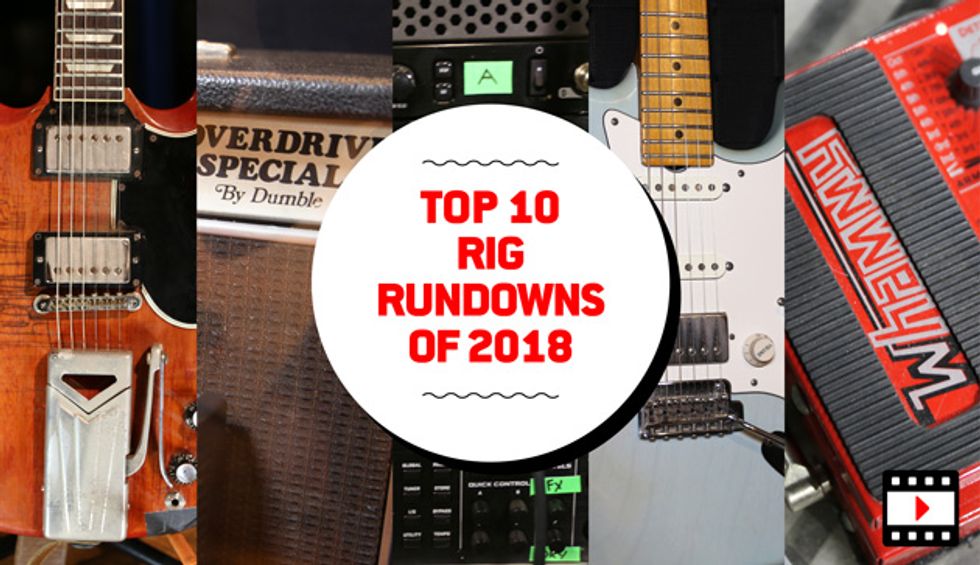 We've based these rankings on a combined viewership from PremierGuitar.com and YouTube to compile this year's top 10. G.E. and Julien Baker were included because they nearly cracked the top 10 while only being online for less than four months of 2018.
---
Honorable Mention #2: G.E. Smith
Few guitarists have had a more illustrious career then G.E. Smith. From his run with Hall & Oates to his decade of leading the Saturday Night Live band, Smith has played with nearly everyone including Mick Jagger, Tina Tuner, Eddie Van Halen, Buddy Guy, Al Green, and Bob Dylan. Smith hung out with Premier Guitar's John Bohlinger after soundcheck before a recent show at Nashville's City Winery during the Masters of Telecaster tour and gave an up-close look at his killer, old-school rig.
---
---
Honorable Mention #1: Julien Baker
PG
's Chris Kies visits Nashville's Diamond Sound Studios before Julien Baker ventured on her joint tour performing as a solo act and with her songwriting compatriots Phoebes Bridgers and Lucy Dacus who all compromise boygenuis. Before launching the tour at the Ryman, Baker walks us through her sparse rig, before getting colorful and spacey with a plentiful pedalboard of modulation and 'verbs.
---
---
10. Lindsay Ell
Lindsay Ell hung with Premier Guitar's John Bohlinger before her show at Nashville's Bridgestone Arena where she was opening for Sugarland. Ell, a full-on guitar geek, could not wait to spill the details on her rig.
---
---
9. Nine Inch Nails
Robin Finck and Alessandro Cortini of Nine Inch Nails detail their high-tech rigs that include a formidable army of custom axes, sophisticated wireless MIDI and digital presets paired with analog effects, all streamlined to help them create intricate, scorching industrial rock soundscapes.
---
---
8. Lynyrd Skynyrd
Skynyrd's three-guitar army of original member Gary Rossington, Rickey Medlocke and Mark Matejka takes PG's John Bohlinger through their cadre of vintage guitars, high-powered amps, subtle effects, and the stories behind their legendary run.
---
---
7. Robin Trower
Premier Guitar's John Bohlinger met with guitar legend Robin Trower before his show at Nashville's Marathon Music Works. When you watch this video, you get the impression that Trower's epic tone has way more to do with his hands than his gear. It's like alchemy.
---
---
6. Eric Johnson
Premier Guitar's Ted Drozdowski met with guru of tone Eric Johnson before his show at Nashville's City Winery. Johnson revealed his absolute commitment to recreating his trademark sounds with his carefully selected array of guitars, a four-amp setup, and his resurrection of his original Ah Via Musicom pedalboards.
---
---